Monster Hunter Stories 2: Wings of Ruin is out now and is a pretty awesome entry to the series, especially if you love turn-based RPGs with monster-collecting mechanics. While Capcom's RPG spin-off of its money-making franchise might remind you of Pokemon, it goes further than just the collecting and monster-battling aspect once you passed the 10-hour threshold.
Here's a quick guide on early game Monsties and how to find those eggs to hatch to get the best ones.
How To Find Monstie Eggs
You have to find Monster Dens in an area. They're easy to spot, with grey dens being regular versions and gold being rare dens. These are randomly generated, so occasionally they'll be very short and you immediately have the chance to grab an egg from a nest, or you'll have to explore a little and fight off the monsters that run the den (parents or otherwise).
Finding & Hatching The Best Monsties
When you approach a nest, you'll get up to 3 safe attempts at picking an egg. Your pal Navirou will give you a summary of the egg – light eggs are common while gold, heavy, & smelly eggs feature rare Monsties. The rainbow eggs will usually be the best of the lot.
You want to get the latter, but you only have a few chances. When you have the egg you want, you then run out of the den. And that's it: the egg is yours.
To hatch the egg, you have to head back to your hub town/village of your choice through the course of the story. Head to the stable and talk to the felyne to hatch your spoils. Keep in mind that you'll need to progress further in the story if you want the heavier and smellier eggs.
How To Get Rare Eggs From Dens
One way to boost your chances of getting a better quality egg is by using a Gathering Charm at the village pot and offering a Finding Prayer. Gathering Charms increase your chance of finding rare items, and the Finding Prayer raises an egg's chance of having rare genes.
Here's a list of Monsties you'll get.
Velocidrome
How To Get: Kayna gives you one at the start of the game.
Area Found: Hakolo Island
Field Skill: Jump
Type: Speed
Velocidromes are awesome because they give you the best field ability you'll be using the most – jumping. It's also pretty speedy and deals good damage; perfect to complement your basic fighting style at the start of the game.
Zamtrios
How To Get: Eggs with thin, vertical, staggered lines. They are everywhere and quite common.
Area Found: Loloska
Field Skill(s): Swim and Monster Search
Type: Technical
Having a monster with two key field skills is nice, and can also help you find monster dens for better replacements.
Nargacuga
How To Get: You'll have a chance to get an egg for one immediately after a story mission. Its eggs have a pink striped tiger pattern on them. They're rare.
Area Found:Â Alcala
Field Skill(s):Â Stealth
Type:Â Speed
If you want to get through the game with as little conflicts as possible, use this Monstie. It has stealth, which is helpful if you want to get eggs from dens without fights.
Royal Ludroth
How To Get: Monster dens in Alcala
Area Found: Alcala
Field Skill(s): Swim
Type: Power
Need a heavy hitter who can swim and has water abilities? You should try to get this Monstie while you're in the Alcala region.
Kecha Wacha
How To Get:Â Eggs, in particular the ones with sort of a spiked clump pattern on them.
Area Found:Â Loloska
Field Skill(s):Â Bug Search and Ivy Climb
Type:Â Technical
You need a Monstie who can climb ivy patches; this beast can do that. Kecha Wacha can also mark bugs which you'll need for future use.
Basarios
How To Get: You'll want a beige egg with brown tiger stripes. I've also only found them in Rare Dens.
Area Found:Â Alcala
Field Skill(s):Â Ground Dive and Ore & Bone Search
Type:Â Technical
Not only does Basarios has great defense, it also has the Ground Dive field skill to help you gather resources at Ground Dive spots.
Lagombi
How To Get: You'll only find them in eggs. They'll be white with pointed splotches on them.
Area Found:Â Loloska
Field Skill(s):Â Dash and Rock Breaker
Type:Â Speed
This Monstie has decent stats for fighting as well as two key Field Skills. Dash around the map and break rocks while you're at it to clear your paths quicker!
Monoblos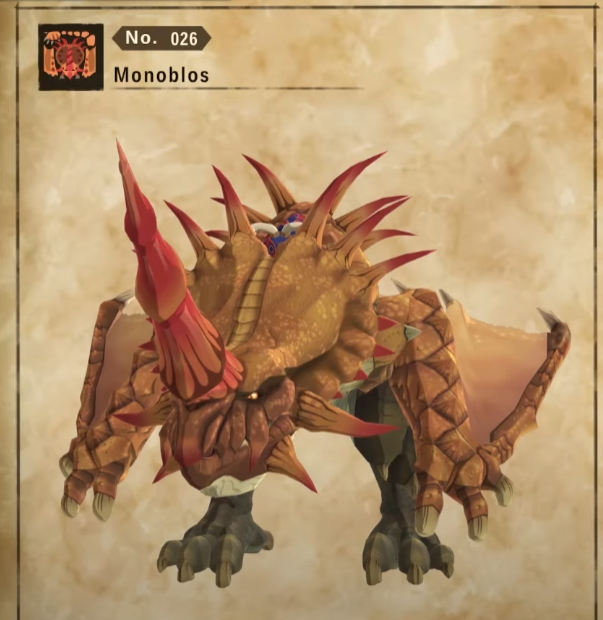 How To Get: Fight it first to obtain the egg. You can find it lying around in the west section of Alcalas.
Area Found: Alcalas
Field Skill(s): Roar
Type: Power
This is one of the few Royal Monsties you can find early in the game. Be sure you have Electric skills before tackling this beast.
So what's next after you finish Monster Hunter Stories 2: Wings of Ruin? Here's an endgame guide to sort you out.
Related