Update (12 August 2021): Game's coming out for PS4, PS5, Xbox One, and Xbox Series this 13th August. We're bumping our review forward; our score still stands.
Update (18 September 2020): The game is now out of Early Access. We've modified our review to reflect its current state. 
Platform: PC, Nintendo Switch, Xbox One, Xbox Series, PS4, PS5
Genre: Isometric action RPG roguelike based on revised Greek mythology
Who knew the tale of the son of underworld Greek god Hades escaping Tartarus could make for a lovely isometric roguelike with tight arcade hack-and-slash controls? That's pretty much the gist of Supergiant Games' "still-in-Early-Access" action RPG Hades.
Made by the same folks behind action-packed and narrative-focused titles Bastion, Transistor, and Pyre, they once again nail that balance between delivering an engrossing tale and making players work for it with challenges galore.
Hell Over High Water
You play Zagreus, the son of the title god of the Underworld who longs to get out of his dad's underworld domain. You make your way to the top, clearing many, many rooms and encounters dealing with a heckaton of lost souls, demons, and fallen heroes trying to stop you.
As far as stories and expositions go, Supergiant handles it just as pitch-perfect as they did with their previous titles. Though instead of relying on one narrator, they're going all-out with giving the best voices for everyone here.
Zagreus is charming and affable, but gets stuff done when needed. Pivotal characters like Hades, Nyx, Fury Meg, and even some side characters like housekeeper Dusa add a ton of character to an already curious Greek odyssey.
The Hades gameplay experience is an isometric action RPG styled like Diablo, but you have "arcade action game" controls. Not only do you attack, but you can also dodge and cast spells. Since the game is a roguelike, you start all the way from the beginning if you die and all new journeys will feature random encounters and events.
And expire you will! Your aggressors come in all sorts of shapes and sizes, like hulking brutes with clubs, wizards who shoot multiple projectiles at you, to even skeletons that throw bombs and explode when up-close.
There will be a lot of times when the screen gets almost overwhelmed with the equivalent of "bullet hell", where you're forced to move out of your corner on the map and just go mobile, dodging all the way. You'll definitely be tested and learn to ditch comfort zones and action game habits the hard way.
And you can't fault the controls for it; well, maybe if you're using keyboard and mouse. As far as I'm concerned, joypads will give you the precision and quick inputs you need to pull off split-second dodges and "just frame" dash attacks for maximized damage. There's a little bit of fighting game DNA hidden in Hades' action trappings, which I completely adore.
Git Gud: Supergiant Edition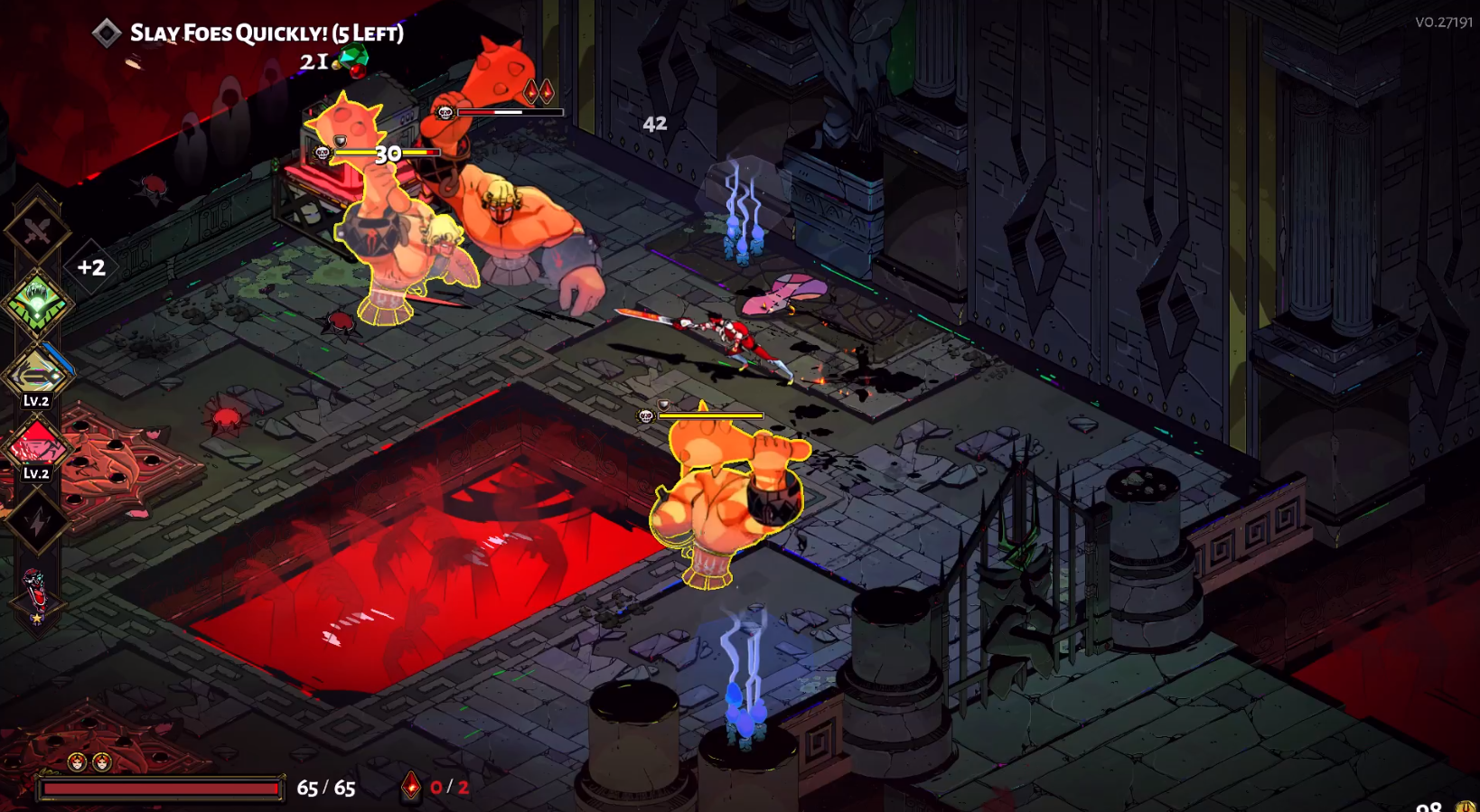 Fortunately like most roguelikes, death just means another opportunity to do better in a subsequent run & get buffed. When you return to Hades' domain upon death, you can check yourself out on the Mirror of Night to give Zagreus permanent upgrades, cashing in Darkness currencies you collect from encounters.
The Chthonic Keys you collected during your escape can either unlock more useful upgrades in the mirror, or acquire new Infernal Arms like the bow and arrow to the obvious Captain America Shield weapon.
For the record, I totally dig turtling using the latter. I not only can use a "Charging Star" Bull Rush move to plow through fools, but can also toss it to ricochet it on multiple enemies, especially with specific Boons I get halfway in the game.
Ah yes, the Boons. These bonuses are bestowed to Zagreus by notable Greek gods to help you on your quest and will last until you die. Different gods bestow different power-ups to your attacks, dodging properties, and spellcasting.
For example, Zeus will make your attacks shoot out lightning as per his specialty, while Ares will make you leave blade vortexes from the spot you dashed out of. Take note that you can leave multiple vortexes on the map, so if you love laying these sorts of traps, you may want to focus more on Ares' Boons.
And if you want specific Boons to appear frequently, you'll need to get specific keepsakes from certain gods by gifting them nectar. Want more homing "missiles" popping out from Zagreus if he so much as whiffs an attack? You may need to focus more on Artemis' Boons and gift her that sweet, sweet yellow gold.
You can also rig the encounters to your favour; gemstones you earn during your encounters can be spent to open up "healing areas" and special encounters that crop up in your next run onwards. And then there are also rooms featuring Chaos' Boons. Taking on these challenges will give you a nerf that will last a set amount of encounters, which then gets erased and replaced with a permanent upgrade for that particular run.
I could seriously go on with these additions that make Hades a rich action RPG roguelike experience, but I rather save that for a future guide. Point is, no two dungeon runs are ever the same and they're always going to be chock-filled with tense moments & randomness. Not only do you need to switch up your gear every now and then, but you also need to get used to experimenting with different boons and spellcasting options.
Your encounters and events per run are randomized, even with the "godly" rigging you'll be doing. Hades excels at making you improve your action RPGing game by being adaptable and overcoming challenges with your reflexes.
Write To Me And Escape
With the game finally out of Early Access, is it worth the hassle? Even in its early state in 2020, the game is more or less complete.Moreso than some triple-A titles that only get better over time and with multiple patches. And now with a proper ending and some post-game content, it's a steal for its RM44 price tag.
Hades is jam-packed with action, has a cool take on Greek mythology, and features a ton of replayability. It also looks and sounds stylish doing so thanks to its art style and guitar-savvy Darren Korb-composed background music. I urge you not to sleep on this escapade; it's a helluva good time.
Pros
Well-designed roguelike action RPG.
Random elements make every encounter different & fun.
Lots of tools to make every journey tailored to your favour.
Lovely narrative that doesn't get in the way of the action.
Spot-on controls…
Cons
… though keyboard and mouse combo still needs tweaking.
FINAL SCORE: 100/100