Platforms: Xbox Series (version played), Xbox One, PS4, PC
Genre: 3D platformer with psychic & mind themes, plus Tim Schafer Double Fine writing & wordplay
It's been many years since the first Psychonauts back in 2005, a 3D platformer from prolific video game director and writer Tim Schafer and his Double Fine production crew. It had great humour, an interesting premise about powerful psychics-to-be and the summer camp they're stuck in, and the same kind of feel-good storytelling, likeable characters, and fun gameplay you expect from the folks who made classics like Full Throttle and Grim Fandango memorable.
Okay, maybe the gameplay was a bit rote. But at the time 3D platformers were plentiful and had better mechanics, collectathon gameplay, and overall hooks.
Psychonauts 2 is essentially more of what made Psychonauts memorable to many fans, for better or worst. Personally, I'm all for it and really appreciate the updates and changes established in this long-time-coming sequel. And with not that many 3D platformers in the market, at least this title stands out a bit.
Change My Mind
Part 2 of main character Raz's story arc revolves around him getting the hang of being an intern in Psychonauts Headquarters called the Motherlobe. After a much-needed recap and a mission that thrusts you straight into the heart of things, you find out that someone in HQ is trying to resurrect an old adversary called Maligula who pulled the strings in the first Psychonauts game. There's a lot to unpack here, especially if you're interested in finding out how the actual HQ and Psychonauts group came to be.
To say more than that would be spoilers, but I'm glad to say that Tim Schafer and Double Fine did a fantastic job with the game's writing, story, and character development. The themes touched upon in the game's story include trust, forgiveness, and cleaning up past messes. They're all handled well amidst the bizarre-yet-lush landscapes you visit in many of each broken(?) character's mind palaces, from a cooking show to a trippy 70s Yellow Submarine fever dream. There are quite a few adult themes here and there that are written and handled with class, despite its cartoonish art style which I personally adore wholeheartedly.
The returning cast like Lili and your old mentor Ford still entertain, with new characters like Otis the gadget-maker -whose vending machines you see crop up- to the other interns who pick on you and eventually befriend have their moments of charm and levity. The jazz-laden soundtrack from Double Fine composer friend Peter McConnell also helps amplify the comedic & pun-laden vibe the game is going for.
Of course, you will miss some development if you beeline through the main story, which should last you about 12 hours or so. Don't do that: take your time exploring the HQ and its many hub worlds and surroundings, each with its own tourist map (for checklisting your collectibles; this IS a 3D platformer after all) and cast of characters residing in it. From the many Psychonaut agents like Agent Hollis to even Raz's acrobat circus family making an appearance, they're all interesting and colourful enough to talk to and help out.
It's a pity that some mainstays like Sasha and Mila only get a few scenes of screentime, though to be fair they were fleshed out in the past game.
Psycho Powered
Raz has a ton of powers at his disposal. Apart from his telepathic melee fists, he can also grab objects using Telekinesis, shoot Psi Blasts, summon fire with Pyrokinesis, float and roll on a Levitation ball, and see through the eyes of others with Clairvoyance (and find hidden objects). New powerups include Mental Connections, Time Bubble, and Projection. Mental Connection lets Raz connect thoughts to open up puzzle areas and also traverse hard-to-reach places by grabbing onto white "thought" dots. It can also drag enemies to him from a large distance.
Time Bubble summons a bubble that slows down anything in its radius from fast-moving platforms to enemies. Projection lets you summon a paper-thin version of yourself to slip through cracks and tiny spaces, as well as act as a decoy for enemies to wail on. It's also voiced by the same guy who played G.I.R. in Invader Zim, so you'll be summoning it a lot just to hear its cute high-pitch voice acting all cute and berating you. Your powers can be improved by spending Intern points onto it; you can make the Time Bubble bigger or have Mental Connections tap onto dark connections that lead you to better loot.
Speaking of which, you can collect figments of imagination to rank up Raz, meaning more Intern points and access to better powers. The Psytanium you collect, the in-game currency, lets you buy items like Psy-Pops and Badges that let you alter your Psychonaut powers in different ways. Though I don't really need them, save for the ones that let you store more Psytanium and Psy-Pops. Your mileage may vary, but savvy gamers will most likely stick to the powers they have and their respective Rank Up benefits and buffs.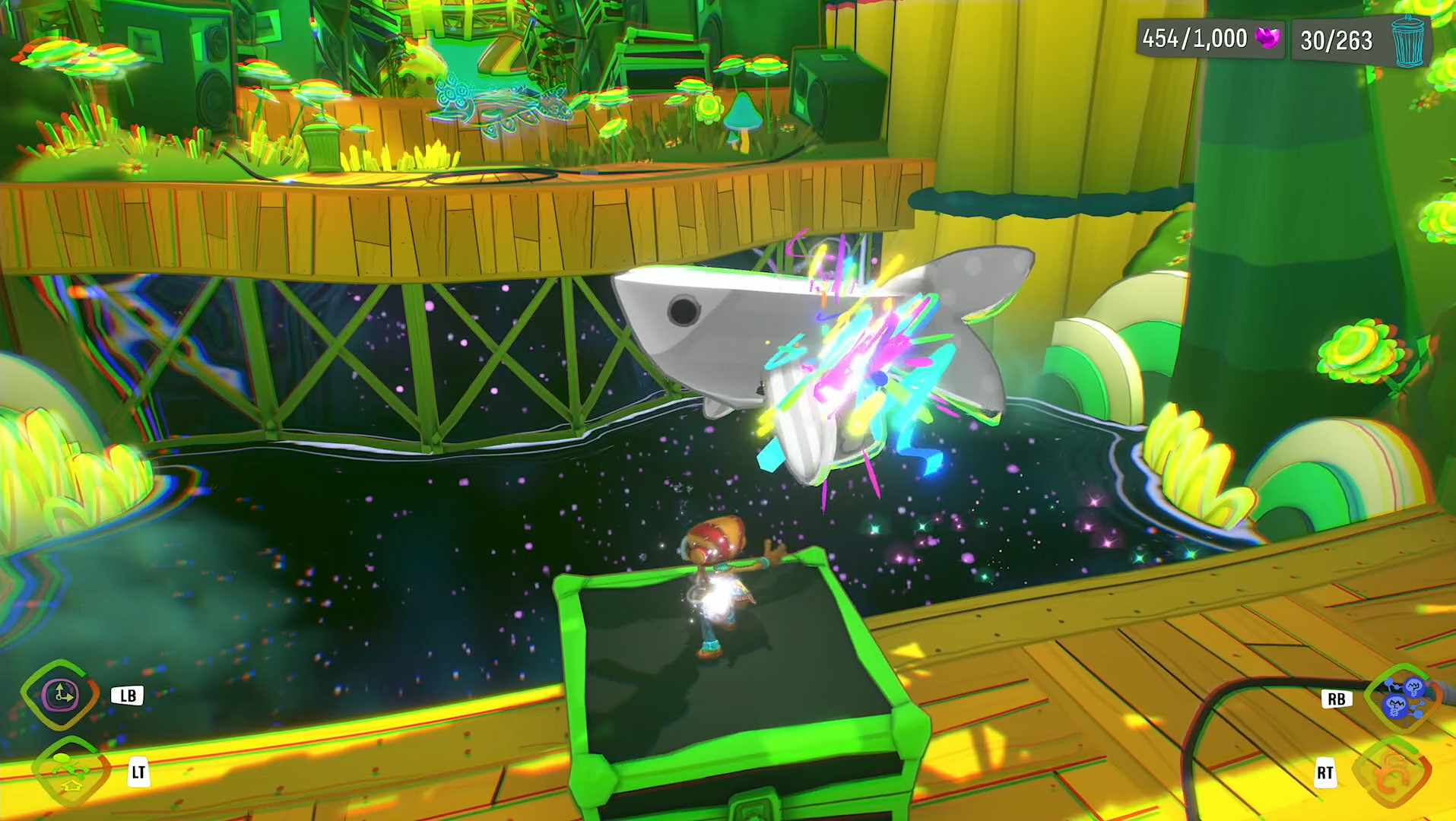 These powers are used to the fullest in all the game's many platforming puzzles and various obstacles, making them a thrill to play through and also revisit to collect whatever you missed. My favourites include one involving a "cooking show" where you have to beat the clock to get the dish out using the powers you have on tap, as well as a casino hospital hybrid where you need to connect the dots to activate certain areas.
Psychonauts 2 revels in its strong art direction, to the point where you want to just wander around each location you visit. Heck, even the Questionable Area abandoned amusement park, purposefully made dingy, has its many charms. It's really fortunate that these many, many areas also play well. Some of these segments can come off as challenging too; the platforming and puzzles can get tricky in later areas, and losing halfway in a major boss fight require you to play through the segment all over again. Even if you miss something on a stage be it an emotional baggage tag or a couple of hard-to-reach figments, there's an option to revisit inaccessible areas that are closed off for story reasons.
If it gets too hard, less-skilled players and most games journalists can toggle the game's "invincible mode" on and just enjoy the well-crafted story. I suggest you don't toggle it on; Psychonauts 2 isn't completely difficult. It gets tricky, but it challenges you to a good degree and its controls are tight.
Thought Process
Unless you hate 3D platforming and its collectathon quirks and hub world-exploring tendencies, you'll have a psychic blast with Double Fine's latest. That said, you may not feel as much love if you weren't a fan of the 2005 title, because it's more of the same but improved upon and bigger. Also, switching between your four powers can be a slight pain, and you need to open up the menu to select & map the ones you want in specific situations. At least the game has the decency to stop time while you're selecting & mapping, so it's a nitpick-ey issue at best.
Long story short, this is the sequel Psychonaut fans deserve. It fleshes out the game's lore to meaningful effect, it follows up on the game's tale from start to its epic finish, and its gameplay feels more improved and upgraded than before.
All in all, a mind worth probing for months on end.
Pros
Funky art style & aesthetics.
Fun 3D platforming and exploring, with lovely mind palaces/levels to explore in.
Great story & colourful characters.
Powers & skills are fun to use.
Cons
May require some context from the first Psychonauts for maximum enjoyment.
Few fan favourite characters get little screentime.
Final Score: 90/100
Xbox Series copy review provided by the publisher. Also, there is a bug we encountered on our review build during the Hollis section early in the game that forced us to restart our progress, but it's most likely fixed. We'll be sure to update our review if there are notable game-breaking bugs in the future.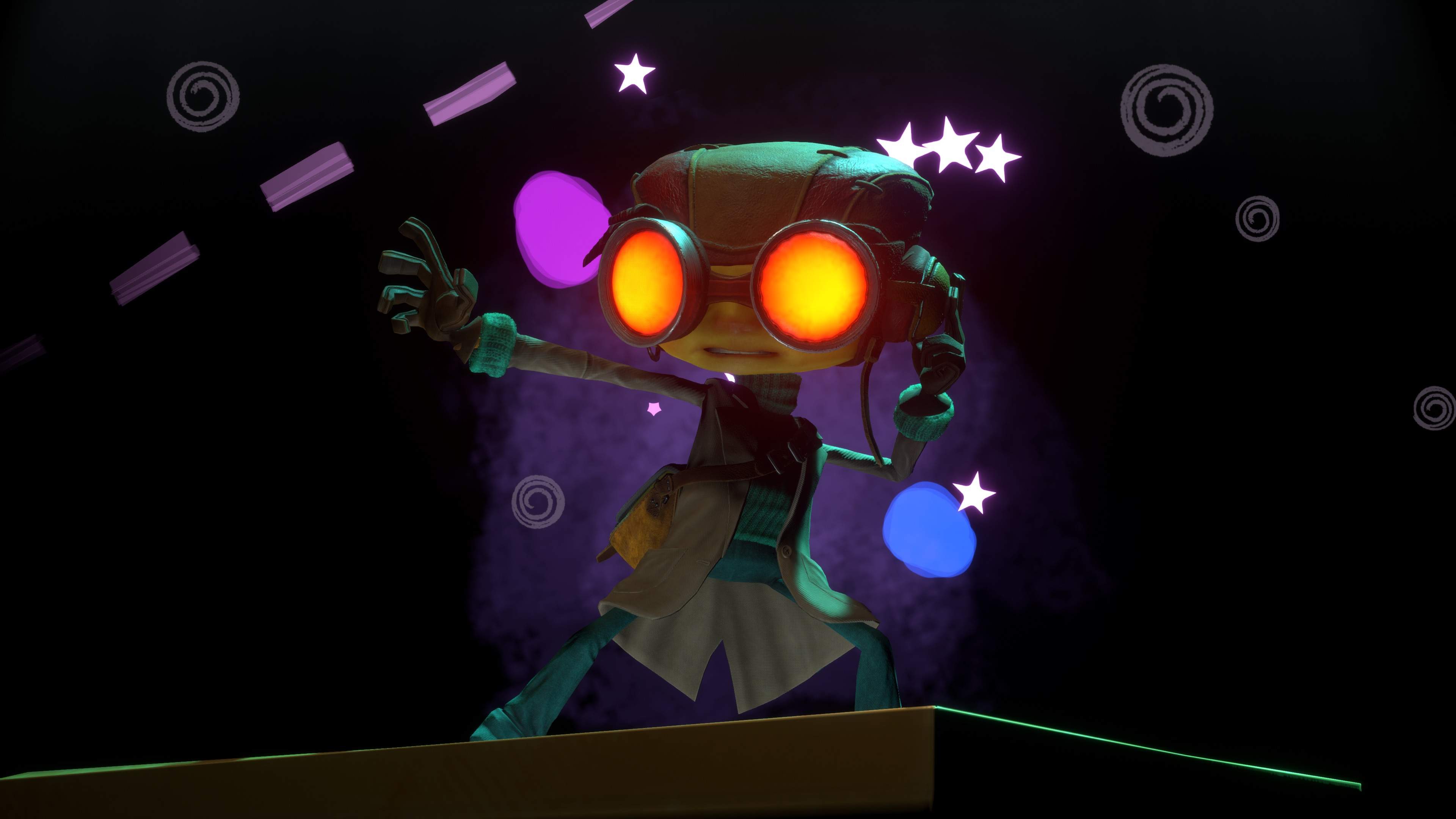 Related