The fourth episode of Marvel's What If…? is now streaming on Disney+ Hotstar Malaysia. I'll be discussing heavy spoilers so if you haven't seen it or want to avoid spoilers, now's your chance to stop reading.
Marvel's What If…? features fan-favourite characters, including Peggy Carter, T'Challa, Doctor Strange, Killmonger, Thor and more. The new series, directed by Bryan Andrews with AC Bradley as head writer and Brad Winderbaum as an executive producer, explores hypothetical stories in the Marvel Cinematic Universe.
It focuses on non-canonical stories like what happens if Peggy Carter became Captain Britain and if T'Challa/Black Panther was abducted by the Ravagers instead of Peter Quill/Star-Lord.
You can check out my previous breakdown of Marvel's What If…? Episode 1 here, Episode 2 here. and Episode 3 here.
If you haven't, you can check out my previous breakdown and easter egg articles for WandaVision Episode 1 and 2, Episode 3, Episode 4, Episode 5, Episode 6, Episode 7, Episode 8 and Episode 9.
For The Falcon And The Winter Soldier, you can check out my previous breakdowns for Episode 1, Episode 2 and Episode 3, Episode 4, Episode 5 and Episode 6.
For previous breakdowns of Loki episodes, check out Episode 1 here, Episode 2 here, Episode 3 here, Episode 4 here, Episode 5 here and Episode 6 here.
Courtesy of Disney+ Hotstar Malaysia, we were recently lucky enough to be the only Malaysian media to participate in a roundtable interview with Marvel's What If…? Executive Producer Brad Winderbaum, Head Writer AC Bradley, and Director Bryan Andrews. You can check out that interview by heading over here.
Doctor Strange Loses His Love, Christine Palmer, In The Accident
In this episode of What If…?, instead of losing his hands in an accident, Doctor Stephen Strange loses Christine Palmer; the love of his life.
However, just like in the MCU, this accident causes him to search for a magical or mystical means of restoring what he lost. In this case, it's Christine and not his hands. Still, he still goes on to become the Sorcerer Supreme and defeat Dormammu, just like the 2016 movie.
It's only after that that things start to turn unexpectedly…
Doctor Strange Uses The Time Stone To Change The Past, But Christine Keeps Dying No Matter What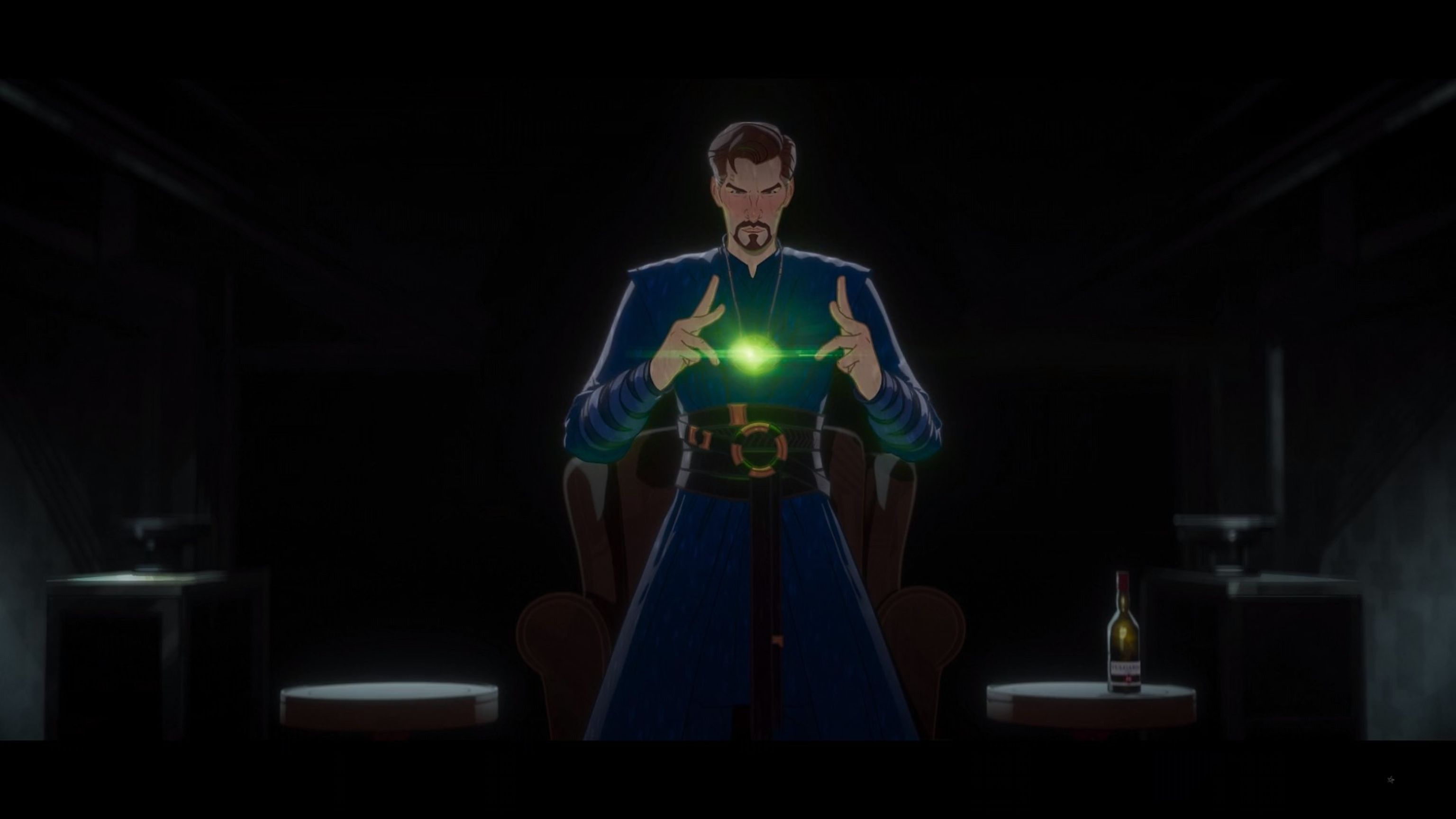 Doctor Strange repeatedly uses the Time Stone to go back in time and prevent Christine's death, but she keeps dying no matter what he does differently.
Why? It's because…
The Ancient One Appears To Doctor Strange, Christine's Death Is An "Absolute Point", Doctor Strange Goes To The Past To Find The Lost Library of Cogliostro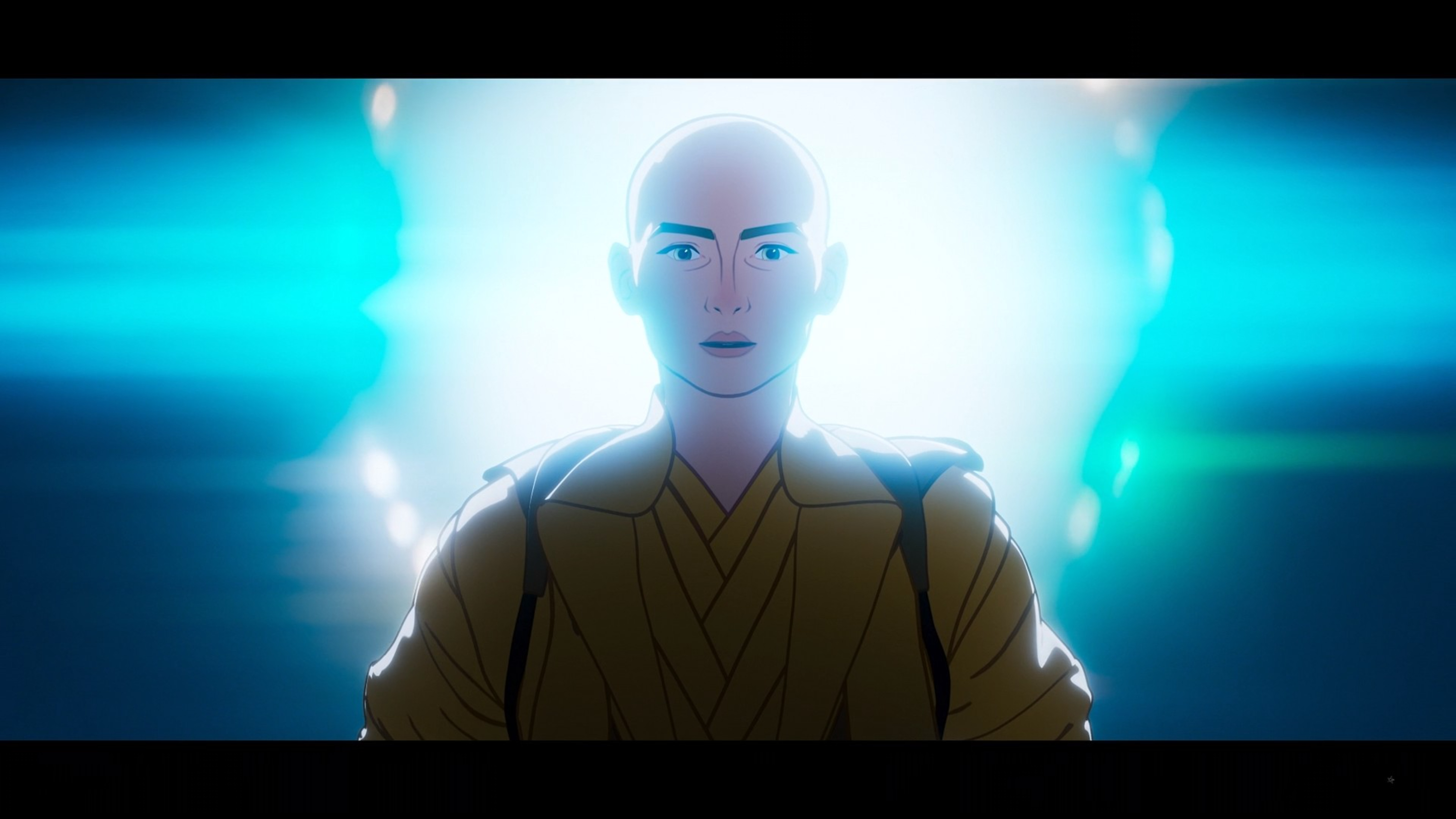 The Ancient One (Tilda Swinton) appears to Doctor Strange while he's in one of his attempts to prevent Christine's death and tells him that he "cannot reverse an Absolute Point".
She doesn't explain what an "Absolute Point" but it sounds like a fixed point in a timeline that would still happen no matter what else changes.
She later says that "this path only leads to darkness and the end of this reality", which might mean that Doctor Strange's actions are negatively impacting this universe.
As a result, Doctor Strange goes to the past to find the Lost Library Of Cagliostro to find the secret to break the Absolute Point.
Doctor Strange Has To "Gain The Power Through The Absorption Of Other Beings", The Tentacles From Episode 1 Returns
Also, Doctor Strange summons what seems to be the same tentacled inter-dimensional being from the end of Marvel's What If…? Episode 1. I predicted back then that it might be Shuma-Gorath but his name is never explicitly mentioned.
Shuma-Gorath is an ancient force of chaos, the immortal, nigh-invincible, and godlike ruler of nearly a hundred alternate universes, capable of energy projection, shapeshifting, teleportation, levitation, altering reality, and sympathetic magic, among many other feats.
He is one of the Old Ones (or Many-Angled Ones), so he's basically like Cthulhu from Lovecraftian lore. He even looks the part with one eye and tentacles.
However, in Marvel's What If…? Episode 1, we only see the tentacles and no eye so the monster is not confirmed to be Shuma-Gorath. Still, it could very well be. What else could it be? An octopus?
Plus, Shuma-Gorath is one of several villains that I predict could potentially be in 2022's Doctor Strange In The Multiverse Of Madness.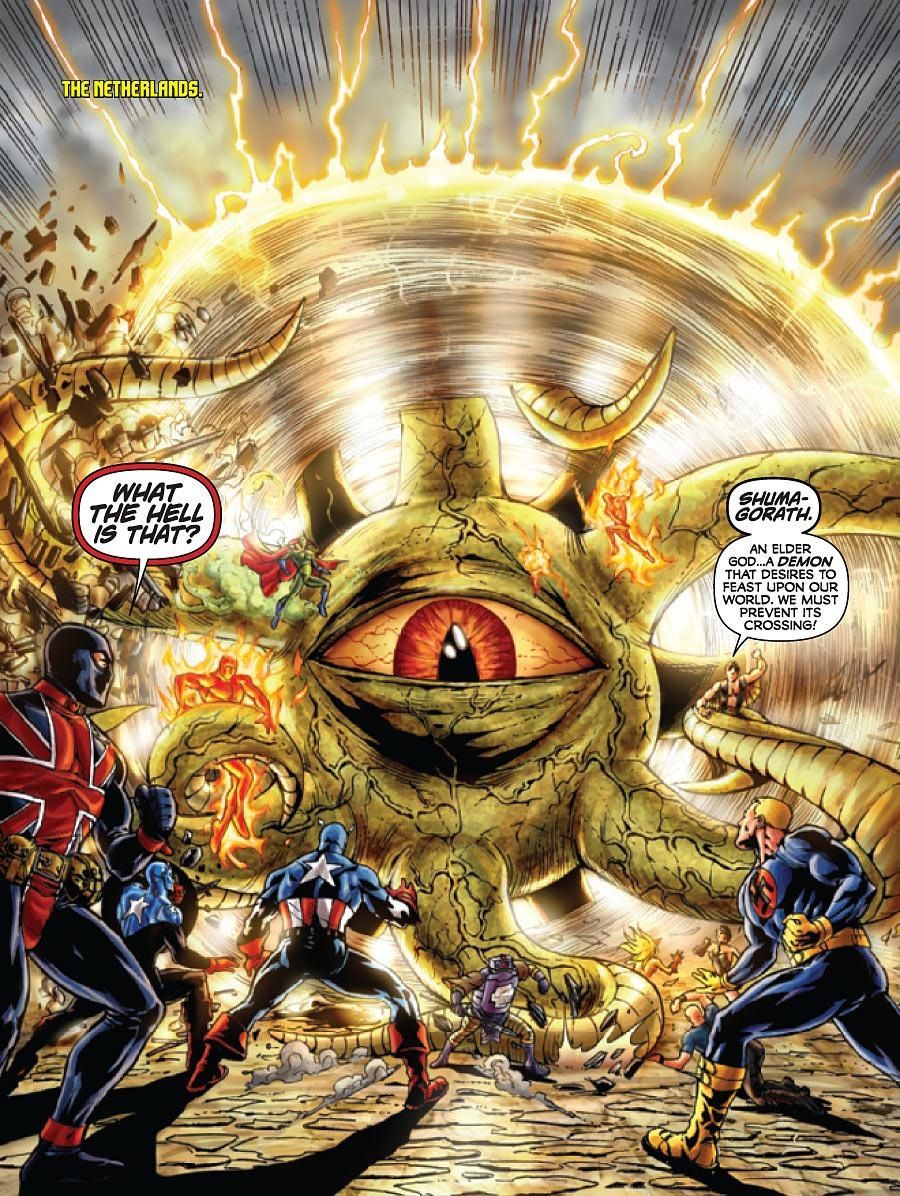 He Summons A Bunch Of Other Beings And Literally Absorbs Them, One Might Be An Insect Version Of Doctor Strange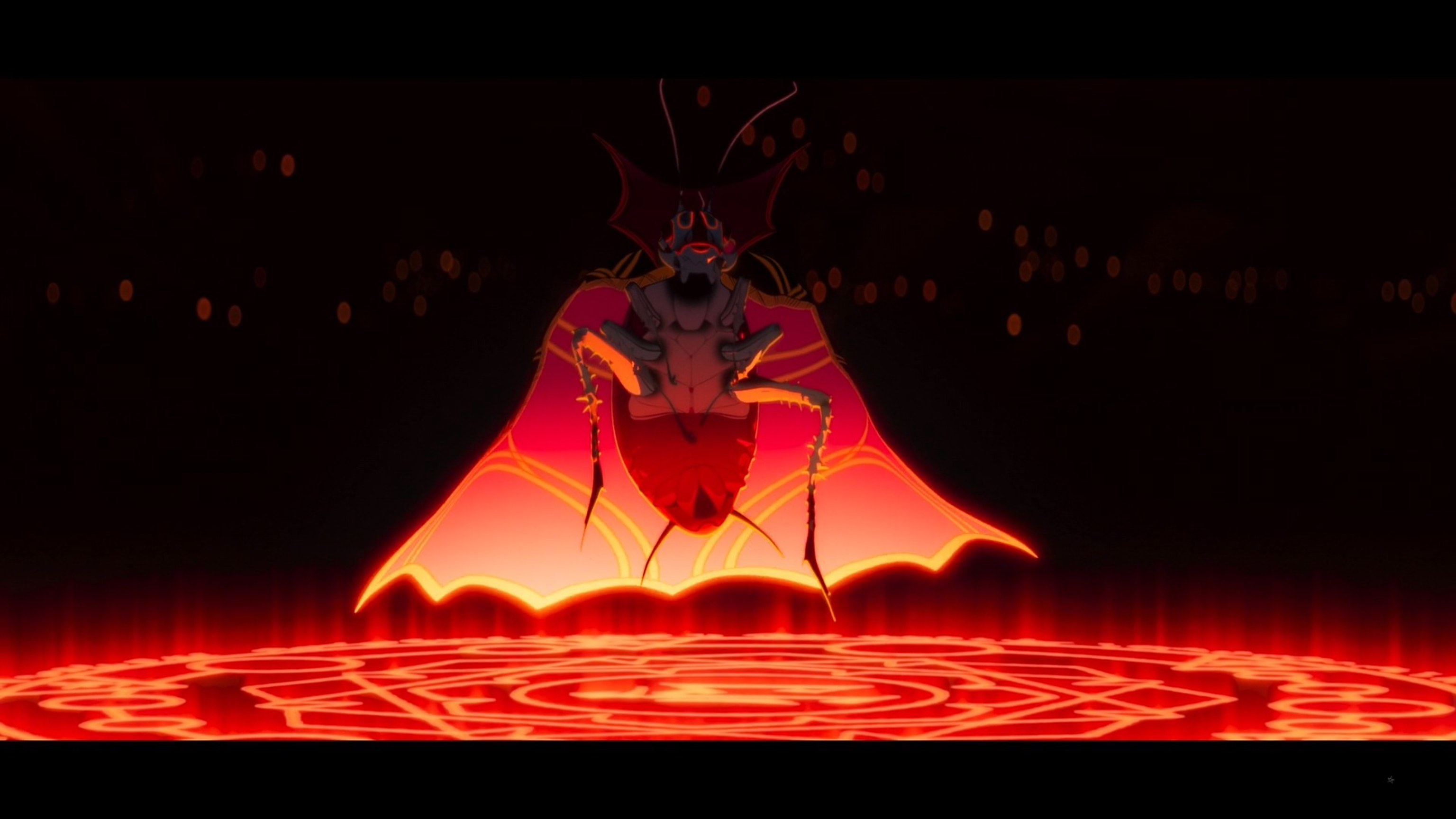 After failing to do anything with the tentacled monster, he summons a bunch of other beings. The first is a Gnome, who he absorbs. Then, he summons what seems to be an insect Version Of Doctor Strange. I say this because it is wearing a Cloak Of Levitation, which Strange takes for himself before sending Doctor Bug Strange back to its dimension.
The next being he absorbs is interesting, because not only does it look like a giant Raven, it also has six eyes. If that sounds familiar, DC Comics has a character named Raven (who's known to be part of the Teen Titans). Raven's father is a demon named Trigon, who has exactly the same six eyes styled in the way.
Could this possibly be a reference to Raven or Trigon from DC Comics? Who knows.
He also absorbs a bunch of other beings, including a fire-breathing dragon, a two-headed creature, a winged demon with a skull and antlers, and a lot more.
Lastly, he summons the tentacled being again but this time cuts off the portal before absorbing several of the being's tentacles, giving him even more power.
It Turns Out There Are Actually Two Doctor Stranges In This One Universe, Thanks To The Ancient One
When Doctor Strange goes to the past to find the Lost Library Of Cagliostro to find the secret to break the Absolute Point, the Ancient One used the powers of the Dark Dimension to split Doctor Strange into two individuals and two timelines, but both of which is happening in the same universe.
This is big because this establishes that multiple timelines can still exist in the same universe, which fills the Captain America plot hole in Avengers Endgame.
Doctor Strange Vs Doctor Strange, The 'Dark' Doctor Strange Wins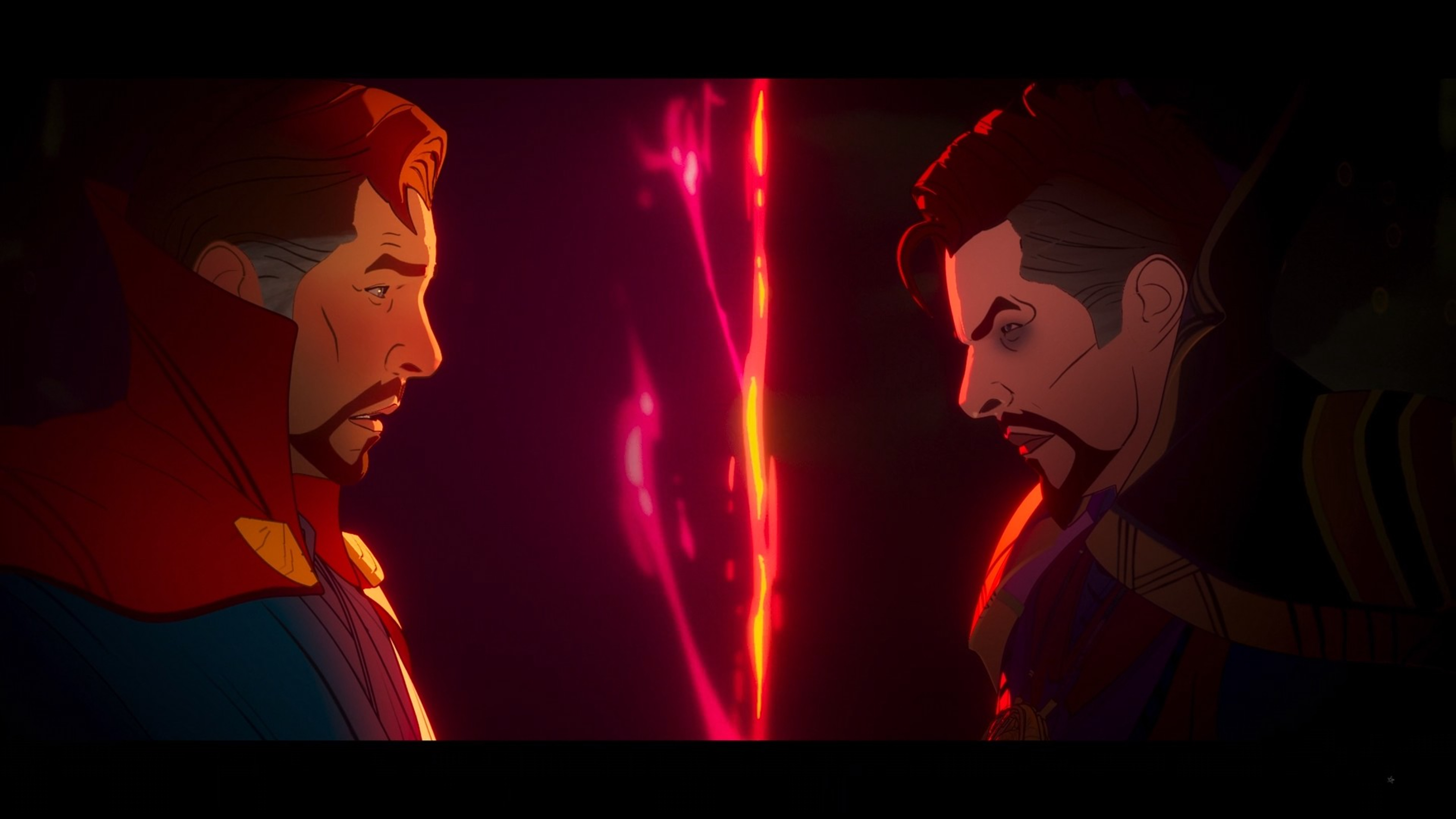 It's a fierce and long fight, but it ultimately ends with the dark and evil Doctor Strange re-absorbing the good Doctor Strange back into himself.
Dark Doctor Strange Goes Back And Saves Christine Causing The End Of The Universe, The Watcher Actually Interacts With Doctor Strange
Doctor Strange goes back in time and successfully breaks the Absolute Point by saving Christine. However, doing so results in the end of the universe, with a black void consuming everything.
In his desperation, Doctor Strange calls out to The Watcher and asks for his help. This marks the very first time that a character is aware of the Watcher's existence and is actually interacting with him.
Of course, The Watcher says that he can't interfere.
Doctor Strange Supreme Is Still Alive
The universe ends, but surprisingly, the dark Doctor Strange remains alive.
This is interesting. Why? One of the most prominent theories for one of the scenes in the Spider-Man No Way Home trailer was that this Doctor Strange with no cape and wearing darker clothes is an evil Doctor Strange variant from another universe.
However, it's important to note that the Doctor Strange in the Spider-Man No Way Home trailer (seen above) doesn't seem to be wearing the same clothes as the dark Doctor Strange from this What If episode. You can see that he still has his Cloak Of Levitation even at the end.
Still, it's very much possible that Doctor Strange Supreme from this What If…? episode has somehow found his way into the MCU, especially after the MCU's Doctor Strange seemingly tampered with the multiverse to make the world forget that Peter Parker is Spider-Man.
That's all for this week, folks. Until next week, Excelsior, true believers!