The Samsung Galaxy Z Flip 3 is more than just a gimmick. It is a near-perfect smartphone.
The Galaxy Z Flip 3 is a wonderful amalgamation of cutting edge technology, style statement and an awesome throwback to the late 90s and early 2000s. It was a unique point in time when mobile phone makers pushed the limit not only in what a phone was able to do but how they looked like before for some odd reason, settling into what is prevalent in today's market.
In a sea filled with smartphones resembling identical slabs of glass and metal, the Samsung Galaxy Z Flip 3 is a breath of fresh air. It stands out like a strawberry on a sundae. A Star Wars cosplayer at Star Trek Convention. Yours truly in Sunday school.
Note the "near-perfect" in the opening sentence? This phone does come with its flaws. But more on that later.
But before we go any further, here's a quick lowdown of what you get straight right out of the box; the phone itself unfolded, a sim card ejector pin and a USB-C to USB-C charging cable. Add these with several instruction papers and the plastic covering sheath for the phone, you can tell that Samsung just knows where your focus would be which is the phone itself. And on that note, we'll dive right onto the star of the show.
Clam Up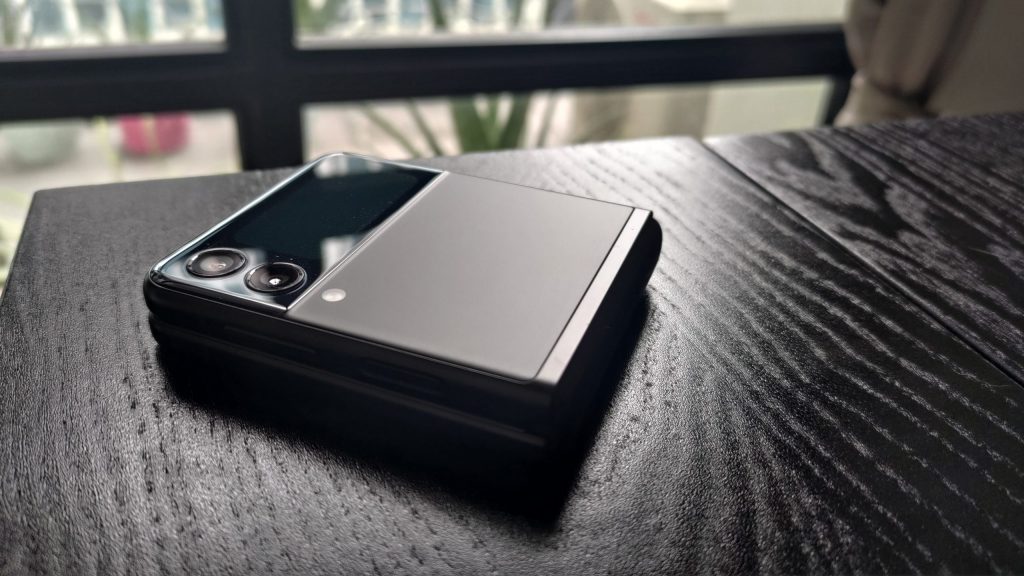 Samsung's second (third if you count the Z Flip 5G variation as a separate model) jab at the foldable clamshell factor, the Flip 3 ironed out most of the kinks and faults found in its predecessors. The reason they added the 3 you ask? your guess is as good as ours but we feel it was purely for marketing reasons since this model is being shipped out alongside the chunkier Galaxy Fold 3.
Before we delve much deeper with the specs and features, it is worth mentioning the biggest draw for the Z Flip 3 by far is its retail price. Starting at US$999 (or RM3999), while still commanding a flagship-tier retail price, the Z Flip 3 is much more affordable now compared to both its predecessors and rival brands alike.
If you are to spend almost a month's worth of salary on a phone, it better be a unique head turner right? And with this phone, you are ticking several boxes at once. As the saying goes; don't judge a book by its cover. For phones, 'Never judge a phone build quality by its price'.
The biggest surprise we got when picking up the review unit for the first time was how sturdy this phone is. One of the biggest weaknesses of the original Z Flip was its build quality. Not only were the covers fingerprint magnets, they felt almost comically toyish. Thankfully the engineers at Samsung were fully aware of this when it came to designing the Z Flip 3, almost entirely wiped out all the negatives of the first Z Flip.
On the outside, the Z Flip 3 is a scene-stealer despite its size. It easily captivates attention even when lying prone on the table and multiply that attraction factor by 10 when you whip it out. It is no larger than your average computer mouse and weighing only 187g makes it a joy to carry. Say goodbye to unsightly bulges when carrying your phone and for the ladies, the Z Flip 3 can be easily tucked into your purse and handbag.
Unhinged
Under the hood, the Z Flip 3 is equipped with the same processor and GPU as the brilliant S21 Ultra allowing a super fast and responsive device. Navigating through the menus, you'll instantly know it's one of Samsung's best devices in the market right now. Needless to say, we have nothing but praise when it comes to the user experience when operating this phone.
After much testing, we conclude that this year's model is much more robust. Solid when closed, equally secure when laid open and best of all, is waterproof. The Z Flip 3 is rated IPX8 which means despite being able to dispel water, dust remains its kryptonite. This is mostly due to its folding mechanism which is definitely still susceptible to being failed by that stray grain of sand, dirt or even pocket lint. But that's the compromise of living with a phone that comes with a hinge. It is quite ironic since in our books, the hinge is the star of this iteration.
Even when held screen facing down, the sturdy build ensures the phone remain firm in an opened position. When propped up in a 'seated' mode, the screen can be adjusted and remains in place – like a reclining chair turning the phone into a perfect accessory for teleconferencing utilizing either front-facing or its main rear cameras.
Speaking of screens, the Z Flip 3 main screen is made of Samsung's proprietary Ultra Thin Glass which is coated with a special panel layer and protective film. According to the boffins at Samsung, the glass on the Z Flip 3 is '80% more durable than last year's model and withstands up to 200,000 folds.'
REAL-WORLD CONTEXT: Now assuming you are a medium user and you stare at your phone about 50 times a day on average, that's 4000 days of constant usage until things start to fall apart!  
Not only is this year's screen tougher, but it's also brighter and faster too. The 120hz Dynamic AMOLED display is brilliant and is a joy to the touch. Measuring at 6.7 inches, the Z Flip 3 sports an awkward, tall-ish and narrow display. Not the most wieldy if you have small hands, but once tilted, is turned into an awesome media machine.
Movies and shows appear crisper; almost in the form they were intended to. The gaming experience on the Z Flip 3 is significantly improved mostly due to the additional screen space granted by this unconventional form. In Call of Duty Mobile, for example, my thumbs are now less obstructive to the overall view while on Mario Kart, the wider view provides easier steering.
Some may wonder whether the crease right down the middle of the screen is an issue and we can assure you this; you'll get used to it. Visual-wise, it sort of blends into the background and is only visible at specific angles. It is more noticeable to the touch especially when scrolling and one of the few compromises of using a folding screen.
Folding causes creases. It is just how physics work.
The cover screen also received a massive spec-bump. From a paltry 1.1 inch display on the original Flip, this year's make is almost double the size and is three times the fun. You can customize the cover screen with selective widgets to show the weather, time and even perform a number of limited tasks.
While you are also able to read your text messages, you cannot reply to them via this front cover, forcing you to open the main screen instead. We hope this little issue is remedied with a larger screen on next year's Z Flip 4 perhaps. As a side note, I never owned nor used a pager but swiping about on the cover screen to check my notifications with the phone closed is somewhat… satisfying and weird at the same time.
Like last year's model, you can also use the cover display as a preview screen for all three cameras available – one front-facing and the other two at the back.
Some may gripe about the lack of cameras on the Z Flip 3, which is a fair criticism. Equipped with a 10MP front-facing and two rear 12MP cameras, unlike the Fold 3, the Flip 3 has no telephoto camera in its arsenal. You can shoot 4K videos at up to 60FPS or even 960FPS if you set the resolution down to 720p. Generally, cameras on the Z Flip 3 are great but won't be winning any shootouts against other flagships currently in the market.
However, cameras have never been the major selling point of the Z line anyway. If you are on the hunt for a phone with the best camera in the market, the Z Flip 3 is not for you. We recommend the Galaxy S21 Ultra instead.
The Z Flip 3 has stereo speakers pumping out sound from the top and bottom of the phone but sadly lack a 3.5mm headphone jack. These speakers pump out a fairly decent, punchy sound – as expected from a device at this price point – but the fact that you can redirect the sound simply by adjusting the angle of your phone's tilt puts them on a different level.
The fingerprint scanner is responsive and is built into the power button. Some reviewers complained about the 'odd placement' of this power button but in my experience, works just fine. A light touch on the power button is all you'll need to unlock your device and you can even keymap it to launch specific commands by double-tapping it.
When in hand, you'd be forgiven to forget that in your hand is a device that carries flagship-tier internals with a screen that folds in half into a clamshell form. Those who grew up at the dawn of the millennium would instantly understand the allure of having a flip phone. They are just that cool but there are compromises.
First up, the battery life. With the host of spec bumps given on almost all other aspects of the phone, Samsung seemed to have left out the battery department in their list of things to improve on. The Z Flip 3 only comes with a 3300 mAh battery which for an average user, will take them through the day but that's about it. Based on my personal average daily use, I'd usually have about 20-35% of battery left by 7pm and by bedtime, my phone is on its last legs. Tack in several quick rounds on your favourite mobile game and watch the power reserve plummet.
Then again, you're not buying this phone for a prolonged gaming session, right? At the time of writing, not many of us are out and about due to travel restrictions which means a power socket would always be within reach. But in 2021, a 3300mAh battery in a flagship-tier phone is unacceptable.
Another gripe is the lack of expandable storage in the Z Flip 3. We understand that with a device sporting such a unique form, something's got to give and like battery size, internal storage also got the short straw with the maximum capacity of the Z Flip 3 being capped at 256GB. I hope to see 512GB storage space being set as the bare minimum for modern phones moving forward.
On the Flip Side…
The arguments about battery capacity and non-expandable storage seem petty when you consider that no one in their right mind buys the Z Flip 3 for battery capacity or how many 4K videos they are able to cram into the device. No one does. 3300mAh is more than enough to get an average user throughout a normal day – up to four hours of screen time – and anyway, if you need to stare at your phone that long in a day, perhaps you should be getting a proper laptop or device from the Note or Fold line instead.
Once you take a step back and look at the bigger picture, you will begin to understand that it is the novelty, engineering and coolness factor – all in one compact package – which should be the main reason to sway one's decision to pick up a Z Flip 3. These factors are what you're paying for in spite of the setbacks listed earlier.
Overall, the Samsung Galaxy Z Flip 3 is a brilliant foldable device that can only get better with further iterations down the road. Samsung banked on nostalgia, gave it a modern spin and presented in a wonderful construction made of hard glass and aluminum. Samsung has gotten the build and general concept bang on but sadly held back by the sub-par battery and lack of expandable storage.
If you enjoy being one of the earliest adopters to new technology, has gotten tired of the boring old candy bar phones and is willing to trade battery-induced inconveniences for a device that would excite even an iPhone store employee, then this phone is perfect for you.
Pros
By far the coolest looking smartphone out there
Lightweight yet sturdy build
Now waterproof (yay!)
Solid hinge construction = confidence in opening and closing phone
Larger outer screen adds wow factor
Cons
Battery life
No expandable storage
Final Score: 90/100
---
Vital Statistics
Platform: Android 11, One UI 3.1.1
Body: Unfolded 166 x 72.2 x 6.9 mm; Folded: 86.4 x 72.2 x 15.9-17.1 mm (183g)
Build: Plastic front, glass back (Gorilla Glass Victus), aluminum frame – IPX8 water resistant (up to 1.5m for 30 mins)
Chipset: Snapdragon 888 5G (5 nm)
CPU: Octa-core (1×2.84 GHz Kryo 680 & 3×2.42 GHz Kryo 680 & 4×1.80 GHz Kryo 680)
GPU: Adreno 660
Display: Foldable Dynamic AMOLED 2X, 120Hz, HDR10+, 1200 nits (peak)
Cover display: Super AMOLED, 1.9 inches, 260 x 512 pixels
Memory (Internal, non-expandable): 128GB 8GB RAM/ 256GB 8GB RAM UFS 3.1
Main Cameras: 12 MP, f/1.8, 27mm (wide), 1/2.55″, 1.4µm, Dual Pixel PDAF, OIS; 12 MP, f/2.2, 123Ëš (ultrawide), 1.12µm
Vide: 4K@30/60fps, 1080p@60/240fps, 720p@960fps, HDR10+
Sound: Stereo speakers. No jacks given
Battery: Li-Po 3300 mAh – Fast charging 15W, fast wireless charging 10W, reverse wireless charging 4.5W
Price: MYR 3999 (128GB/ 8GB); MYR 4199 (256GB/8GB) via Samsung Malaysia
A review unit of the Samsung Galaxy Z Flip 3 was sent to us for review courtesy of Samsung Malaysia.