Hailing from Vietnam, 13-year old Le Ha Anh Tuan is one who stands tall over his competitors. At a very tender age, he is one of the emerging esports stars in Southeast Asia and carries the hopes and aspirations of Thailand's Buriram United at the first season of Champions eFootball, competing against some of the best eFootball players in the region.
Underneath his youthful exterior, "The Vietnamese Prodigy" is a calm, collected and lethally efficient eFootball player. Having started to play the game since he was six years old, Le Ha Anh Tuan can be considered a veteran of the game. Mesmerizing fans and viewers since the start of the Champions eFootball, he has demonstrated total dominance against his opponents, scoring an astounding 39 goals in only 4 matches in the competition.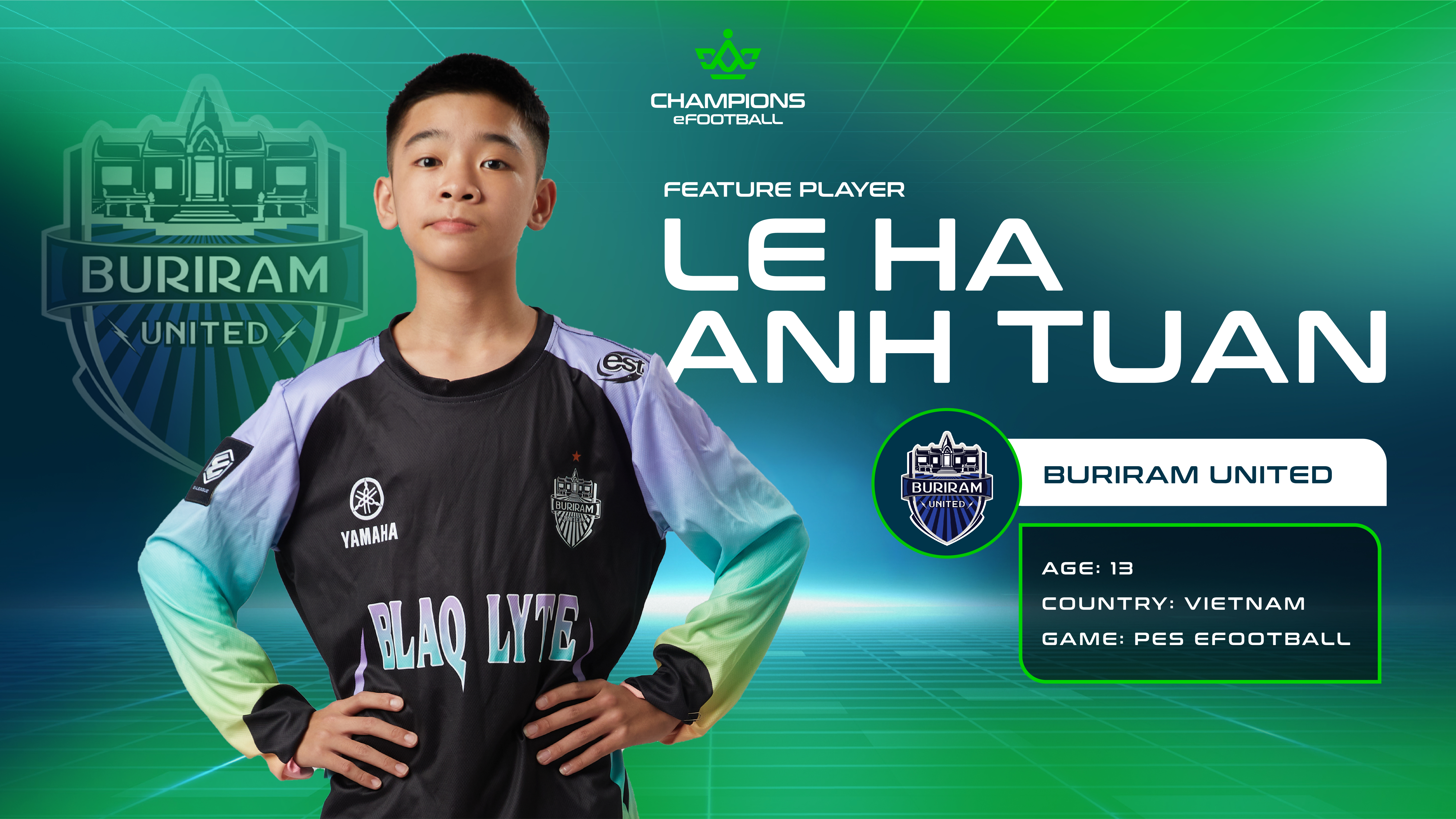 With a perfect winning record in the Group Stages and having overcome his toughest challenge against Chonburi FC's Akanichi in the Semifinals, he is undeniably a favourite heading into the Grand Finals of Champions eFootball's ELITE Category.
Commenting on his journey in the Champions eFootball so far, Le Ha Anh Tuan said "This has been a great experience for me to compete against some of the best and most experienced eFootball players in Southeast Asia. I look forward to performing at my best for Buriram United and I invite the supporters and fans to come and support me in the Grand Finals."
ELITE Category – Grand Finals
The Grand Finals of the ELITE category is expected to be Le Ha Anh Tuan greatest challenge as he faces off against Indonesian wonderkid Indra Sugandi representing Persib Bandung. At 27 years old, Indra is no stranger to eFootball and has multiple accolades to his name. Similar to Le Ha Anh Tuan, the Persib Bandung esports player is also on an unbeaten streak in his 4 matches in Champions eFootball.
This clash between Persib Bandung and Buriram United is expected to display the highest level of eFootball action the competition has seen yet. Besides the ELITE Grand Final, the final matchday will also feature a fight for 3rd place between Nor Haikal of Johor Darul Ta'zim FC against Vorravich Anantarak of Chonburi FC as both competitors were knocked out in the Semi-Finals against the finalists.
STAR Category – Grand Finals
Matchday 5 of the STAR Category will also feature the long-awaited Grand Finals between Beckham Putra of Persib Bandung against Prach Sopheakmanuth of Nagaworld FC. Both players have displayed tremendous feats in the matches leading up to the Grand Finals with consistent victories over their opponents. As fans of Persib Bandung and Nagaworld FC start to rally their support on social media, the players of both clubs are expected to put their best foot forward in the Grand Final Best-of-5 match
Not far behind, a silent battle brews for 3rd place in the STAR category between rivals Buriram United and Chonburi FC; Thailand's biggest football clubs. After dropping out in the Semifinals, Chitipat Tanklang of Buriram United faces Worachit Kanitsribumphen of Chonburi FC in a long-awaited rivalry match. After four matchdays of high-octane, top-tier eFootball action, fans can expect to see the best from both clubs, giving their best for the glory of their clubs.
As Champions eFootball arrives at the Grand Finals, fans will be treated with these four action-packed matches between rival football clubs performing at the highest level.
The Grand Finals of Champions eFootball will be live-streamed on the official CeF Facebook and Youtube channel on 7th October at 6:00 pm GMT +8.
For more updates and information on Champions eFootball (CeF), visit their website at www.championsefootball.com or on the CeF Facebook or Youtube page.