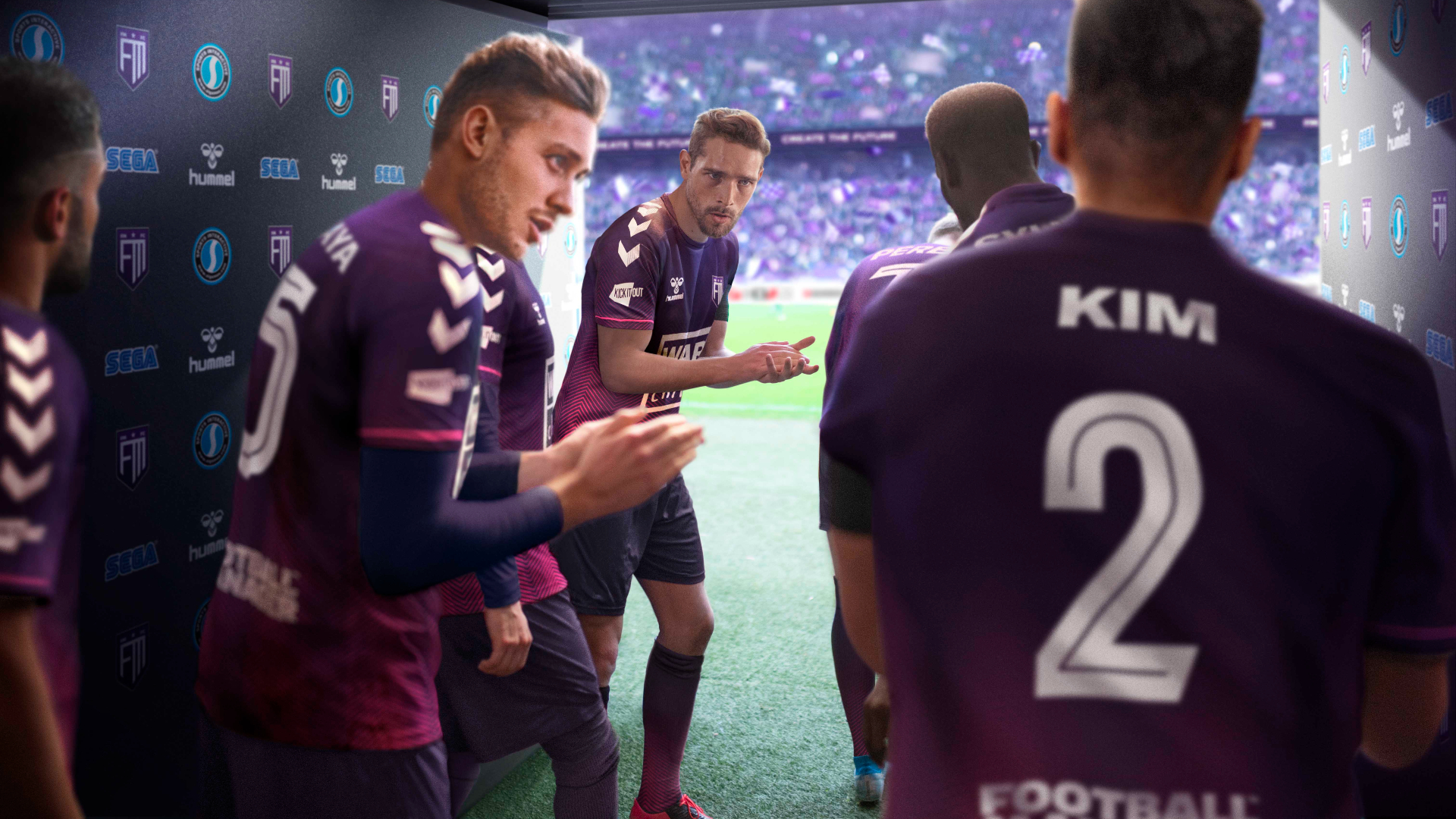 by in
Sports Interactive and SEGA reveal a further two headline features for Football  Manager 2022, debuting on 9 November 2021 on Steam, the Epic Games Store, and the Microsoft Store. FM22 will also be available Day One with Xbox Game Pass. 
Sports Interactive has taken insight from leading figures within the football industry to model an improved Transfer Deadline Day experience that better reflects the drama, excitement and suspense of the climax of the transfer window. Collaboration with the backroom staff has also been enhanced through the new weekly Staff Meeting which replicates the way that real managers interact with their coaches and key support staff. 
There is an in-depth look at both additions to FM22 in the second episode of 'In the Studio' hosted by James Allcott. James is joined by members of the Sports Interactive team as well as football transfers expert, Fabrizio Romano, and former Sheffield United manager, Chris Wilder, to discuss how Football Manager blurs the lines between game and reality. 
A series of blogs delving into both the headline features and other core areas of the game will be released in the coming days. Further features will be released on the Football Manager social channels (including Twitter, Instagram and Facebook) and Sports Interactive studio director, Miles  Jacobson's own channels (including Twitter and Instagram). 
Fans who pre-purchase Football Manager 2022 (for PC and Mac), from a SEGA-approved digital retailer up until launch will receive a 10 percent discount. They will also have the chance to kick off their managerial career ahead of schedule with Early Access to FM22. Early Access will be available roughly two weeks prior to the official street date and single-player careers started in that period can be carried across to the final game. 
An overview of all four headline features can be found below. 
Transfer Deadline Day 
A revamped Transfer Deadline Day experience in FM22 better replicates the drama and excitement of one of the most chaotic fixtures in the football calendar. Managers will be better informed of the latest done deals, rumours and offers from agents in a new Deadline Day hub. 
It's also easier for managers to master the transfer market in the whirlwind of Deadline Day activity.  Dedicated screens allow managers to monitor interest from other clubs in their players, capitalise on players whose contracts are close to expiring and see which players have been newly transfer listed. 
Revamped UI elements breathe more life into the spectacle of Deadline Day such as a countdown timer to the end of the transfer window that features prominently throughout the day and a ticker bar revealing the latest breaking transfer news. 
Staff Meetings 
Staff Meetings streamline your interactions with key members of managers' backroom team to give them more time to focus on the elements of management that matter to them. Based on insight from football professionals, Staff Meetings are a weekly fixture in your calendar that allows managers to better organise their pre-match preparation, long-term player development goals and their team structure. 
Managers will have the ability to action their backroom team's advice from within the meeting along with a suite of new functionality additions to maximise the input from their backroom staff. 
Data Hub 
The Data Hub is a brand-new section on the sidebar in FM22 that is the go-to destination for everything related to data and performance analysis. 
From here managers can delve into team performance metrics to analyse where things are going right over the course of the 90 minutes of match action and where there is room for improvement.  There's also the ability to view analysis on individual players from within your squad, allowing you to identify strengths to build around and weaknesses to develop on the training ground. 
New data visualisations such as momentum graphs and zone maps alongside reworked pass maps make it clearer and easier than ever for managers to see how their decision-making affects their chances of success, to diagnose problem areas and to judge the most effective contribution from squad members. 
Managers wishing to fully immerse themselves in the world of data analytics can delve even deeper into the Data Hub and ask their analytics team to deliver bespoke reports on a wide range of topics,  such as the percentage of headers won by their defenders compared to the rest of the league. 
Real clubs are using the same metrics and reporting methods to power their performance on the  pitch, now FM players can too 
Match Engine 
The FM22 match engine marks the start of a new era in our everlasting pursuit to create the perfect simulation of on-pitch action.
A new animation engine delivers an even greater level of on-pitch authenticity than was previously possible in the series. Player movements now look far more realistic and natural due to the implementation of root motion while on-the-ball dribbles and touches have been reworked to ensure that players have a much greater range of movement, including the ability to pivot on the ball and perform Cruyff turns. 
Significant AI enhancements lead to a more lifelike flow to the passage of play over the course of a  match. A reworked pressing system means that players now have the concept of their sprint capacity and know when they can and can't press their opponent and accuracy has been refined to ensure that player condition has a greater impact on the accuracy of passes, shots and first touches. 
New for FM22 is the Wide Centre-Back player role that allows managers to have greater flexibility when operating with a back three. Wide Centre-Backs can be deployed in a defence, support or attack duty with an increasing willingness to overlap and create two vs one situations the more attacking the manager sets their duty.