Do you think you can do a better job than Ole Gunnar Solksjaer when it comes to managing Manchester United (or in this year's game, 'Man UFC')? Or have you ever wondered how'd Kylian Mbappe and Jude Bellingham fare playing together alongside Mohammad Salah and Trent Alexander-Arnold? Do you enjoy staring at endless data and graphs, extrapolating them into a meaningful football formation just so you are able to bump up your team's passing percentage by 0.3%?
If you answered "yes" to all of them and you prefer your football sim games to be free of predatory, loot-box style mechanisms, then step right up.
Football Manager 2022 (FM22) is the perfect game for you. Unlike EA Sports' FIFA or Konami's eFootball, FM22 puts you in the shoes (or tracksuit) of any professional football club on Earth rather than control of individual players on the field.
Football Is Life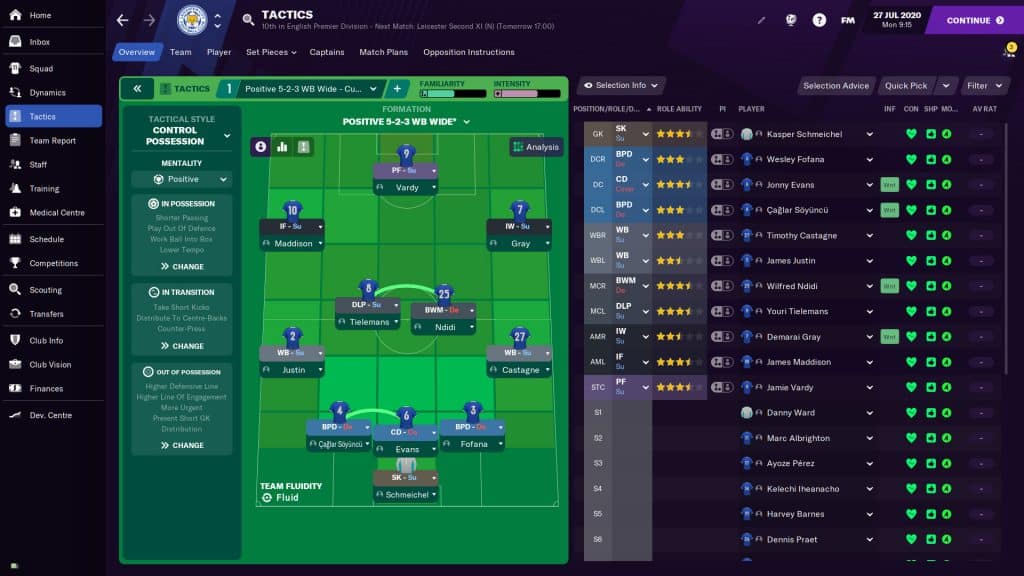 For a typical follower of football, the Football Manager franchise needs no further explanation. But if you're one of the many newly-converted football fans thanks to Ted Lasso, you essentially run the day-to-day operation of the club. From the recruitment of your analyst, to whether you want your left-winger to train his weak foot (the answer is a resounding 'Yes') to deciding where and when to start your senior squad's preseason camp.
It is living the ultimate fantasy of running your own club the way you feel fit. Impart your own tactical philosophy, man management skills, wheeling and dealing and if you fancy getting into the nitty-gritty of things, individual player trainings, even down to your under-18 squad players.
Myself, I enjoy the man management aspect of a football club and it goes without saying, Football Manager is one of those games that I, without fail, pick up annually.
Thankfully, unlike other games released on a yearly basis which receive only surface improvements and very little else to show when it comes to the meat of it, Football Manager games have always introduced new mechanics to their already stats-packed game. This, in return sees me coming back for more formation tweaks, pre and post-match news conferences, balancing team finances and opening the U-23 players database to meet the European Cup player registration rules.
Tinkering, Trading, Scouting & Selling
It goes without saying that any Liverpool fan would mostly stick with the tried and tested 4-3-3 Gegenpressing strategy but what worked in FM21 won't necessarily translate into this new edition. Opponents sniff out your tendencies faster than Nate betrayed Ted, and you will soon find yourself tinkering with selections and strategies to remain a step ahead of the next opponent. But this goes both ways.
Depending on how you deploy your scouting and sports science staff, you too can have a much more profound insight on what to expect. Despite being a data-heavy game, developers Sports Interactive ensures that these numbers and percentages are presented in an easier-to-digest graphs and scattergrams.
One of my best accomplishments to date in FM22 is to witness my players reach the top of the footballing world. Watching them develop from being just one of the top 50 players in the game to winning the biggest award available is cathartic.
If one asks me what the endgame of a Football Manager game is, my answer would simply be "you decide". Do you want to take a lower league club to the pinnacle of European football? Or you just want to break the dominance of a particular club in a specific league? The choice is yours.
Nothing brings me more satisfaction than seeing a youth player work his way up from the academy into the senior team before sealing a multi-million dollar dream move overseas.
Then again, herein lies my only gripe with the game. I prefer scouting for gems in the rough. High-potential teenagers who will one day become the next Lionel Messi or Cristiano Ronaldo. What irks me is that there isn't an evolving physical evolution of these youngsters as they mature as footballers. If you scouted a 16-year old weighing 50kgs and standing at 1.70m, that's his height for the rest of his playing career. I'd certainly love to see players' physical growth being reflected more clearly.
Those who have played more recent Football Manager games will find a similar game from last year, but with incremental yet significant improvements. The matchday game engine has improved and the players now move more realistically compared to last year's game. Transfer actions are more robust too. One step above scouting a prospect, you can immediately approach their agent to gauge interest. Contract negotiations are much more straightforward as players tend to stick to their guns if you appear desperate to land them while are more willing to give in if offered a significant improvement in playing time compared to what they are getting at their current club.
The shrewd dealers would be thrilled to know that if played right, they can sign superstars in the likes of Kylian Mbappe for free, and have him in their first team at the start of the second season in the current save. It takes careful planning but rewarding at the same time.
Or they can just do the boring stuff and manage teams with endless pockets like Manchester City or Chelsea. Or, God forbid, Newcastle.
Post-Match Analysis
Football Manager 2022 is definitely NOT a game you will finish playing in one, ten, or even fifty sittings. You will be coming back for more, possibly for a game or two, or at least until the next transfer window. But believe me when I say this – the sheer depth, scope and reach of the database available ensures this is one of the games you'll easily clock over a hundred hours worth of playtime.
As you can see in the screen capture above, as manager of Liverpool, I got to see Trent Alexander-Arnold become the best player in the world, for the second year running! Meanwhile, thanks to my meticulously crafted corner kick setups (it's actually just focusing the corner kicks to near post), Virgil van Dijk scored 27 goals in one season. Football Manager 2022 lets players approach the game however they want with all the tools that will immerse players into this life-sapping football management sim.
And best of all, it doesn't require a super-powerful machine to run.
One last bit; due to the recent firings and new appointments of managers, the game you will load once FM22 is available on sale won't 100% reflect its real-life ongoings. As detailed by game director Miles Jacobson:
Personally, it's not a biggie. The game editor is there for your tinkering. Now if you'll excuse me, I have a Champions League game to play and I am considering fielding this 16-year-old with the aim of making him my club's youngest ever goalscorer.
Pros
Still (and by far) the most immersive football management sim out there
Improved scouting and transfer dealings
Matchday game engine improvements
So much data
Presentation of said data
I love data
Cons
No option to edit player kits at the turn of a new season
Physical attributes for youth players are locked
Final Score: 90/100