Ghostwire Tokyo is now out for those who pre-orders the digital deluxe edition of the game from the PlayStation Store. However, the game will only be out for everyone else on PS5 and PC on 25 March 2022. While we found the game to be flawed in our review, the game is still a fun open-world jaunt through a yokai-infested Tokyo.
Here are some tips on how you can be the best exorcist:
There's No Fall Damage
You'll be doing a lot of exploring on the rooftops of buildings in Tokyo, but it's important to point out that there's no fall damage in this game, so you can grapple to the highest point, fall and still survive what would be a deadly fall in other games. As such, it doesn' matter if Akito can only glide for a few seconds. If you fall, you'll just have to try again, instead of dying.
Don't Ignore The Katashiro Paper Mechanic And Don't Bother Buying More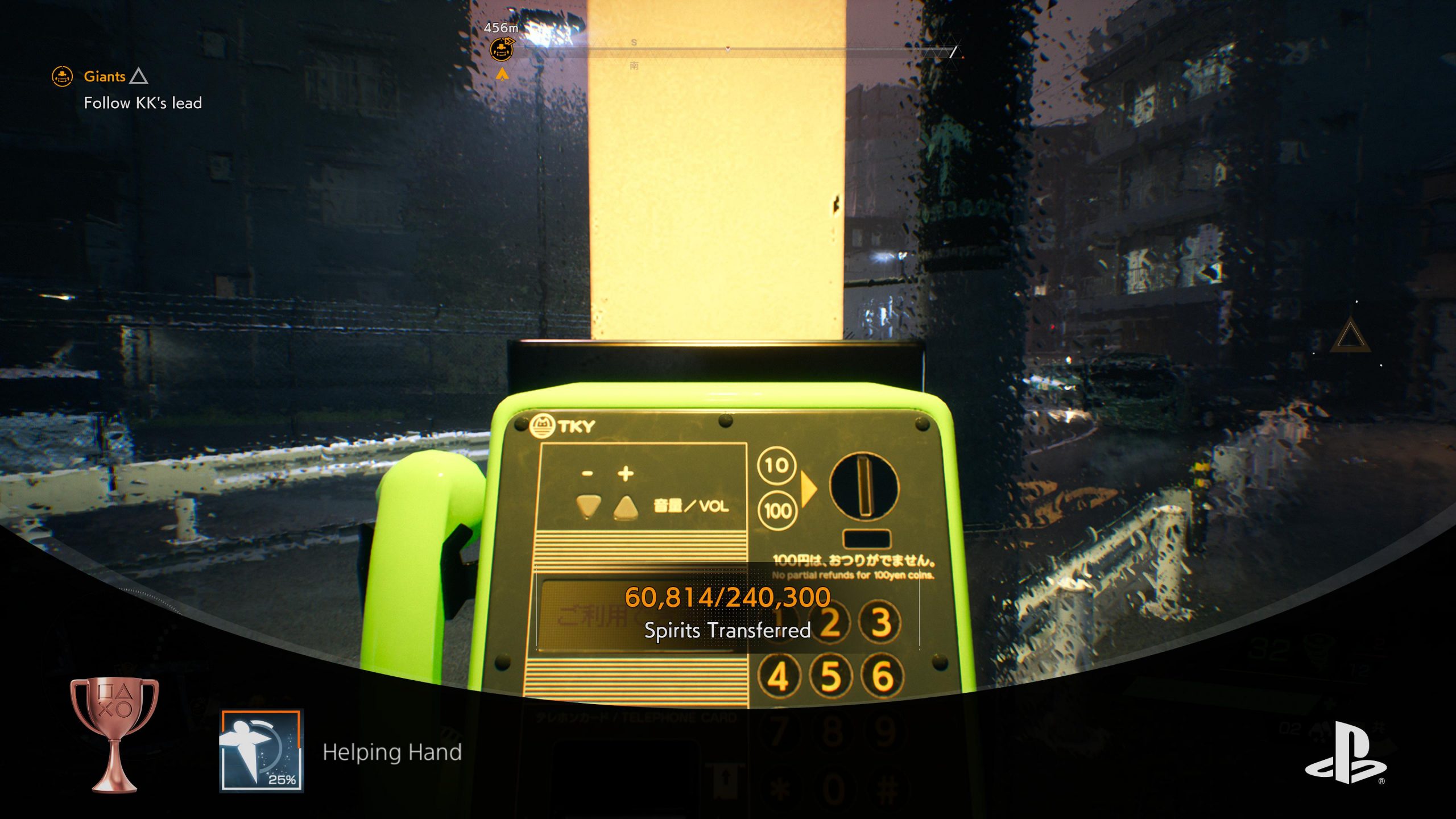 The Katashiro Paper mechanic is an important one in Ghostwire Tokyo, and doing it will net you a lot of XP and meiko (money) you'll need to progress through the game. Theoretically, you could ignore it, but that's where you'll get most of your XP and money, especially earlier on in the game. I know how annoying it is to keep visiting payphone booths to transfer your spirits, but it's how the game works.
Also, don't bother buying more Katashiro Paper from Nekomata merchants in the game. They're very expensive (3000 meiko each) and I managed to finish the game in 16 hours without buying a single one. The only downside is that you'll have to visit the payphone booths more often, but you'll have more meiko to buy other stuff.
Pick Up Those Plastic Bags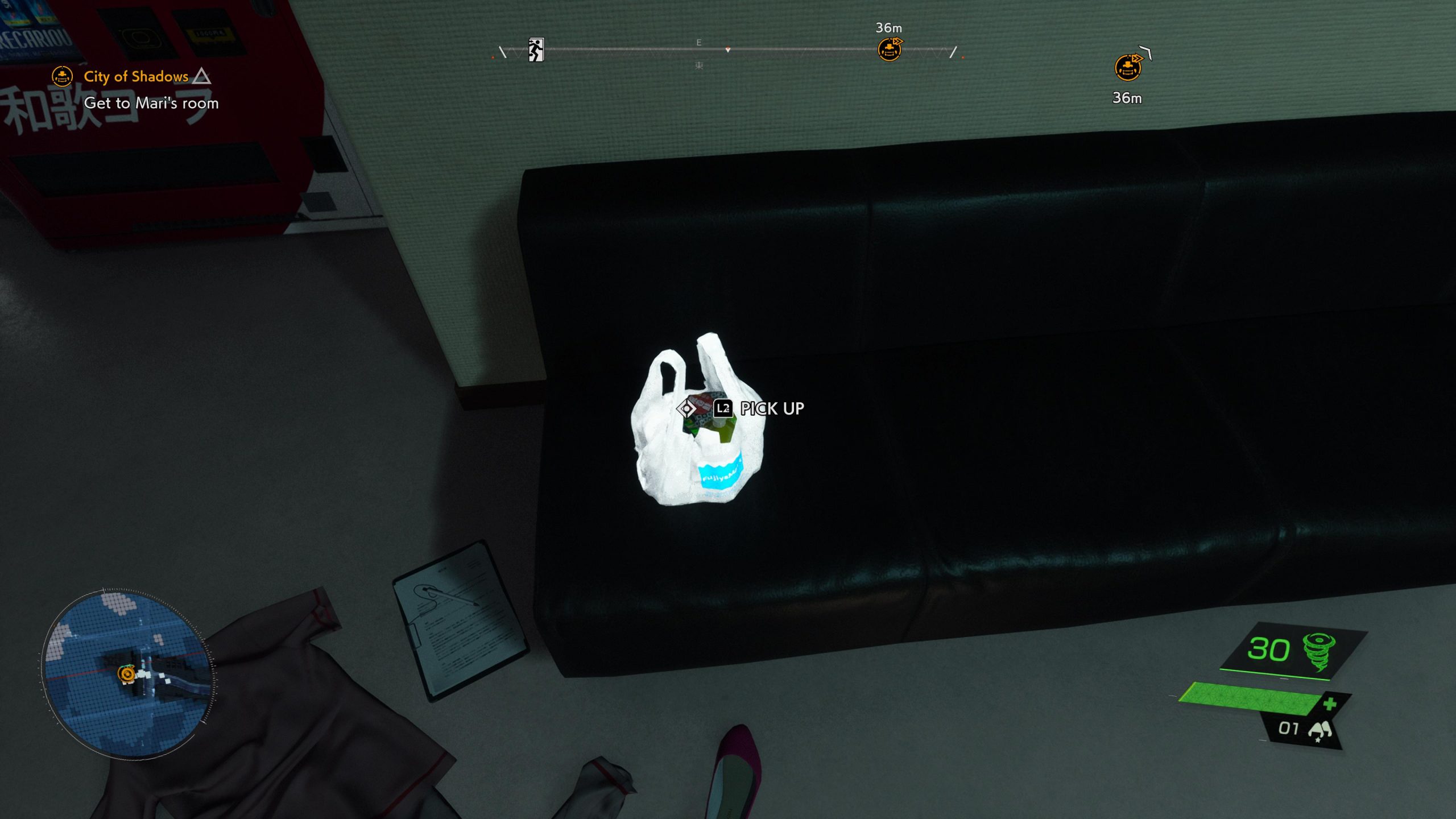 One of ways to increase your health is via consumables. If you pick up all the plastic bags you see or encounter, you won't have to go out of your way to buy any from merchants or vendors in the game.
The Only Way To Increase Attack Damage Is Via Beads From Torii Gates
One of the major problems with the game's magical attacks is that there's no way to increase your attack damage via the skill tree (at least, nowhere that it mentions doing so). I discovered that the only way is to find these beads from certain Torii Gates. Just head to these Tori Gates, cleanse them and the beads will be waiting for you at the alter. When you move the cursor to each Torii Gate, the details will mention what bead will be waiting for you there.
They're the Flame Beads, Gust Beads, and Aqua Beads. However, there are three of each you' ll have to get in order to get to the third and highest level, which means at least nine Torii Gates.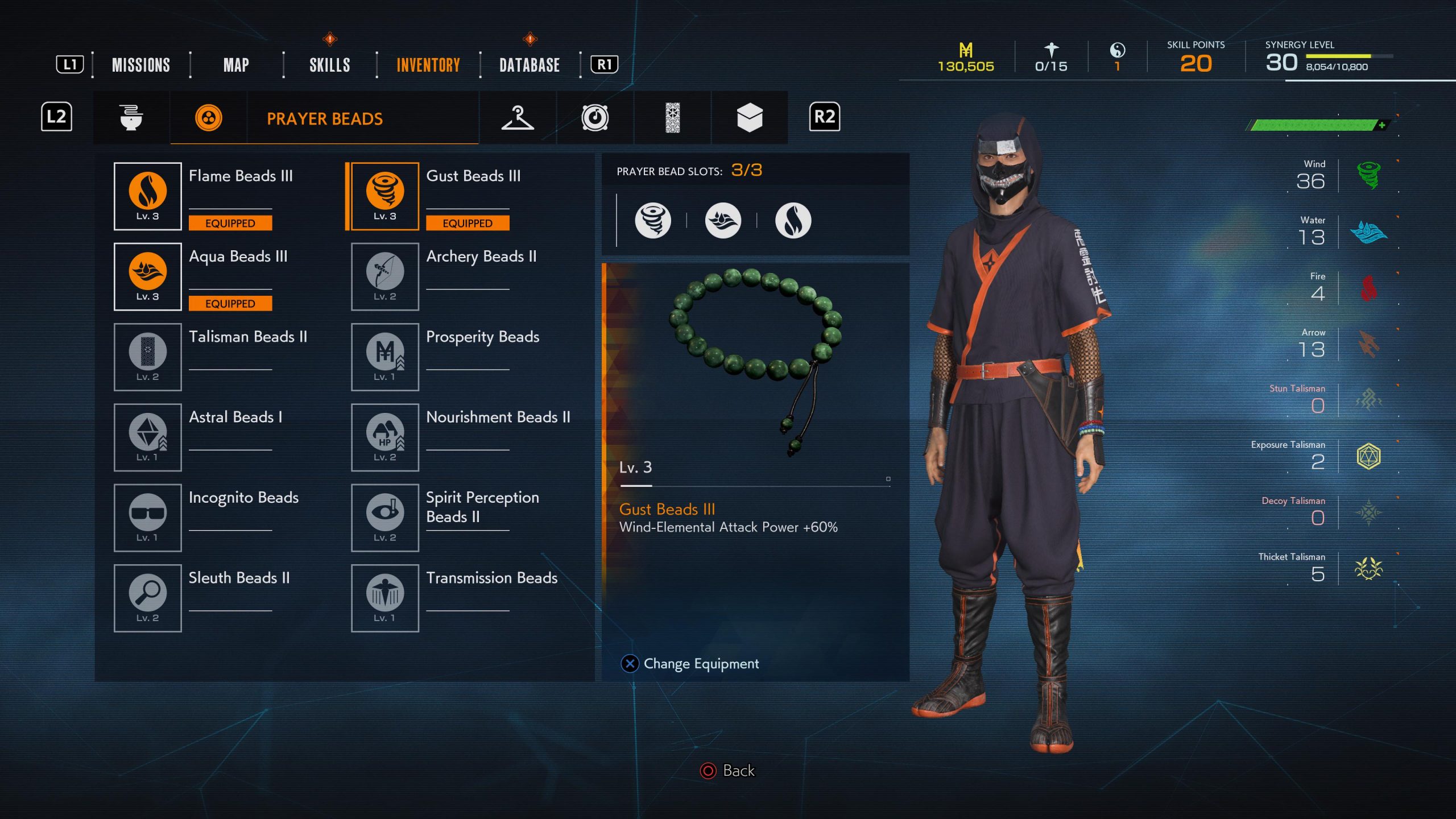 ---
Ghostwire Tokyo Best Skills
The skill trees and progression system in the game aren't that deep or complicated. You could pretty much do anything, but here are some of the best and most helpful skills:
Abilities – Omoigane III
You'll rely on Spectral Vision a lot in the game, since you'll be pressing square almost every minute just to highlight items you might miss. Increasing the range will help you notice or find things much more easier.
Abilities – Amenotori X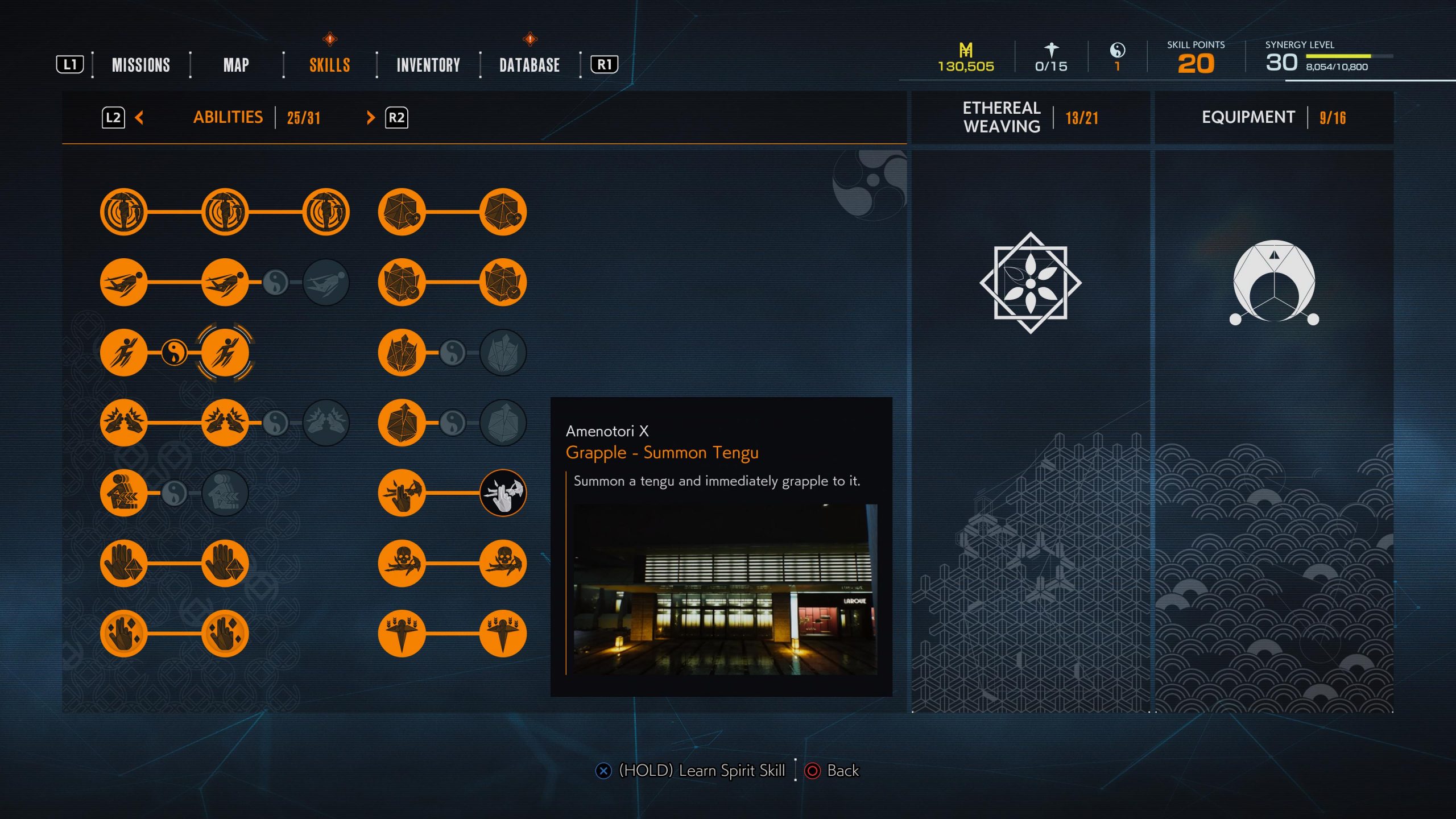 This is the most helpful ability in the game, especially for traversal. This allows you to creat a Tengu to grapple to anywhere you want on the edge of rooftops, which means that you no longer have to try and locate a Tengu to reach rooftops. It saves a lot of time and effort. However, this is also the most expensive skill in the game. 
MAKE SURE TO SAVE AT LEAST 7 MAGATAMA FOR THIS.
Equipment – Fukurokuju III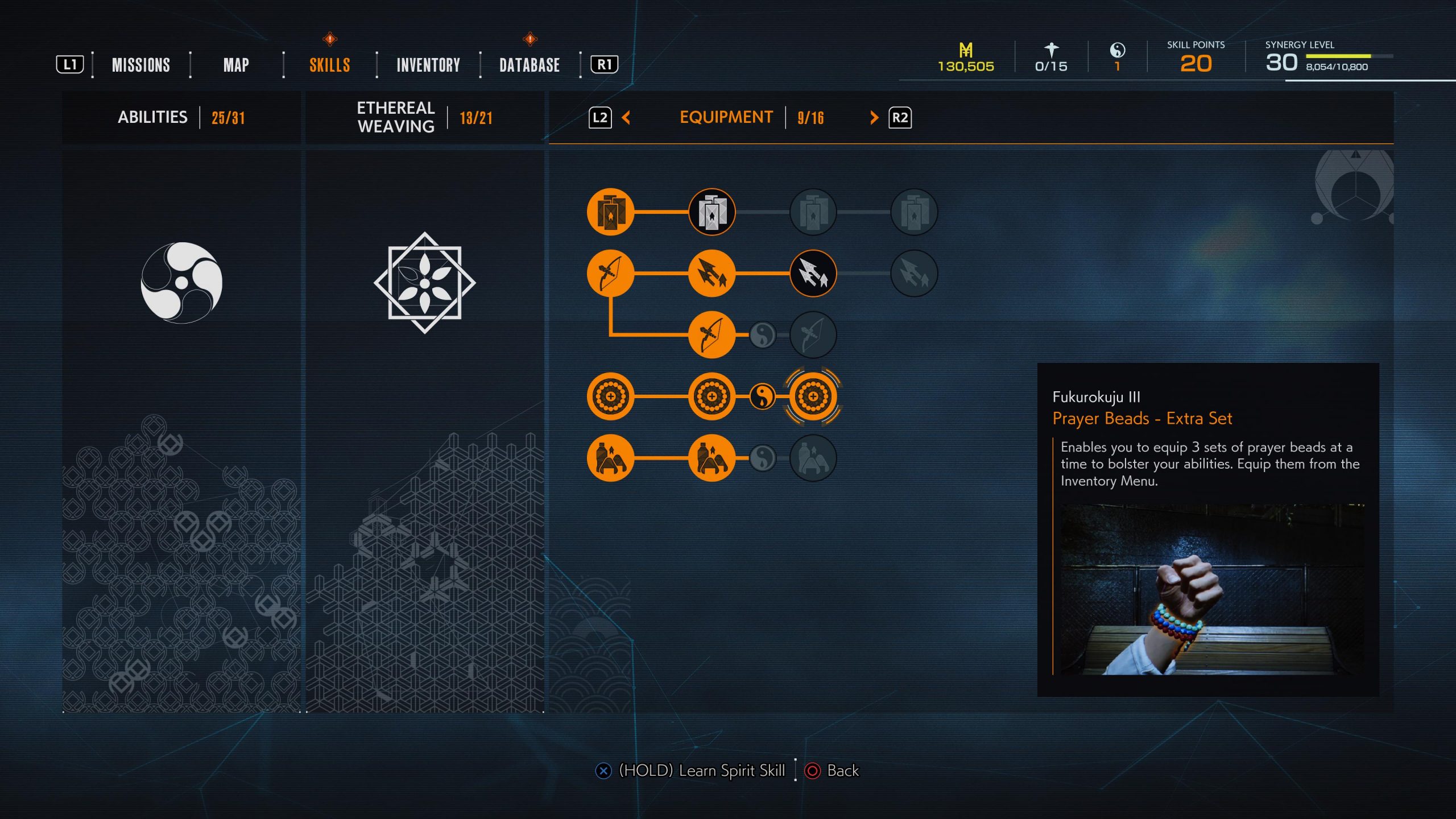 This is an extension of a previous tip. You'll need this skill upgraded to max in order to wield the three Beads I mentioned. This will actually make your attacks more powerful, so be sure to upgrade this.
Related