By Alleef Ashaari|March 31, 2022|
TGV Cinemas has announced the reopening of their gourmet cinema, INDULGE. With a growing number of blockbuster movies such as Fantastic Beasts The Secrets Of Dumbledore and Sonic The Hedgehog 2, it's the best time.
Celebrating the finer things in life, each INDULGE hall features a movie experience like no other where INDULGE guests are treated to premium recliner seating, comforter blankets, in-hall  services as well as a private lounge while guests relax, unwind and truly escape at the movies.
Tickets for INDULGE are now inclusive of TGV's signature food platters – Golden Treasure,  Gourmet Dim Sum and Vegetarian where each are accompanied by a refreshing Classic Lime  Mojito. Guests are free to select any one of the platters that compliments their taste buds. To further elevate the INDULGE experience, an Indigo welcome drink made of fresh lemon juice with butterfly pea flower is served upon guests' arrival at the lounge with TGV's crowd-pleasing popcorn samplers.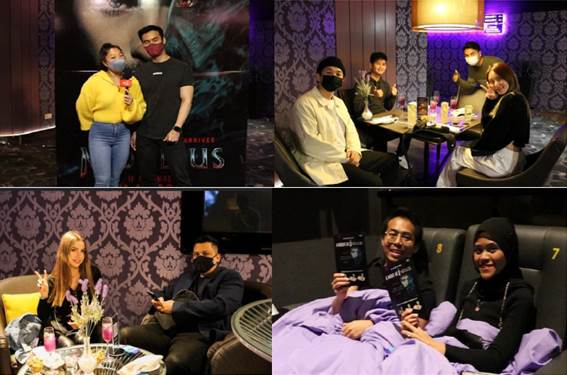 Mohit Bhargava, TGV Chief Marketing Officer said:
"We have been delighted with the response  from guests over the last few weeks of our soft opening, regular Indulge customers are delighted to return and have relished the new Indulge experience. We are looking forward to welcoming more moviegoers to come experience TGV Indulge over the coming months as more blockbusters return to the big screen."
During the reopening night of INDULGE, guests WERE treated to the full INDULGE experience accompanied with a premiere screening of Sony Pictures' Morbius starring Jared Leto as Michael Morbius. Check out my review of Morbius by heading over here.
TGV INDULGE is located at TGV 1 Utama, TGV Sunway Velocity and TGV Toppen JB. To book  tickets and get the best seats for your INDULGE experience, you can visit the website here.
Related