Tiny Tina's Wonderlands Is A Fun-Filled Fantasy Looter Shooter Trip, Albeit A Familiar One
Platform(s): PC (version played), Xbox Series, Xbox One, PS5, PS4
Genre: Loose fantasy looter shooter set in the mind of a deranged teenage dungeon master
The Borderlands 2 DLC Tiny Tina's Assault On Dragon Keep was a hit among Borderlands and looter shooter fans. It not only became a one-shot spin-off that did not require the base Borderlands 2 title last year, but also made Gearbox use the Borderlands 3 engine and assets to create an all-new self-contained game based on the eccentric Tiny Tina's Bunkers & Badasses game module (Dungeons & Dragons, but in the Borderlands universe).
This year, looter shooter players and religious Borderlands players will be graced with Tiny Tina's Wonderlands, the next entry in the FPS RPG saga and will act as the successor to Borderlands 3. Does it do a good job at doing so while keeping in spirit with how a dungeon master handles a tabletop role-playing game session? For the most parts, yes.
SAVING THROW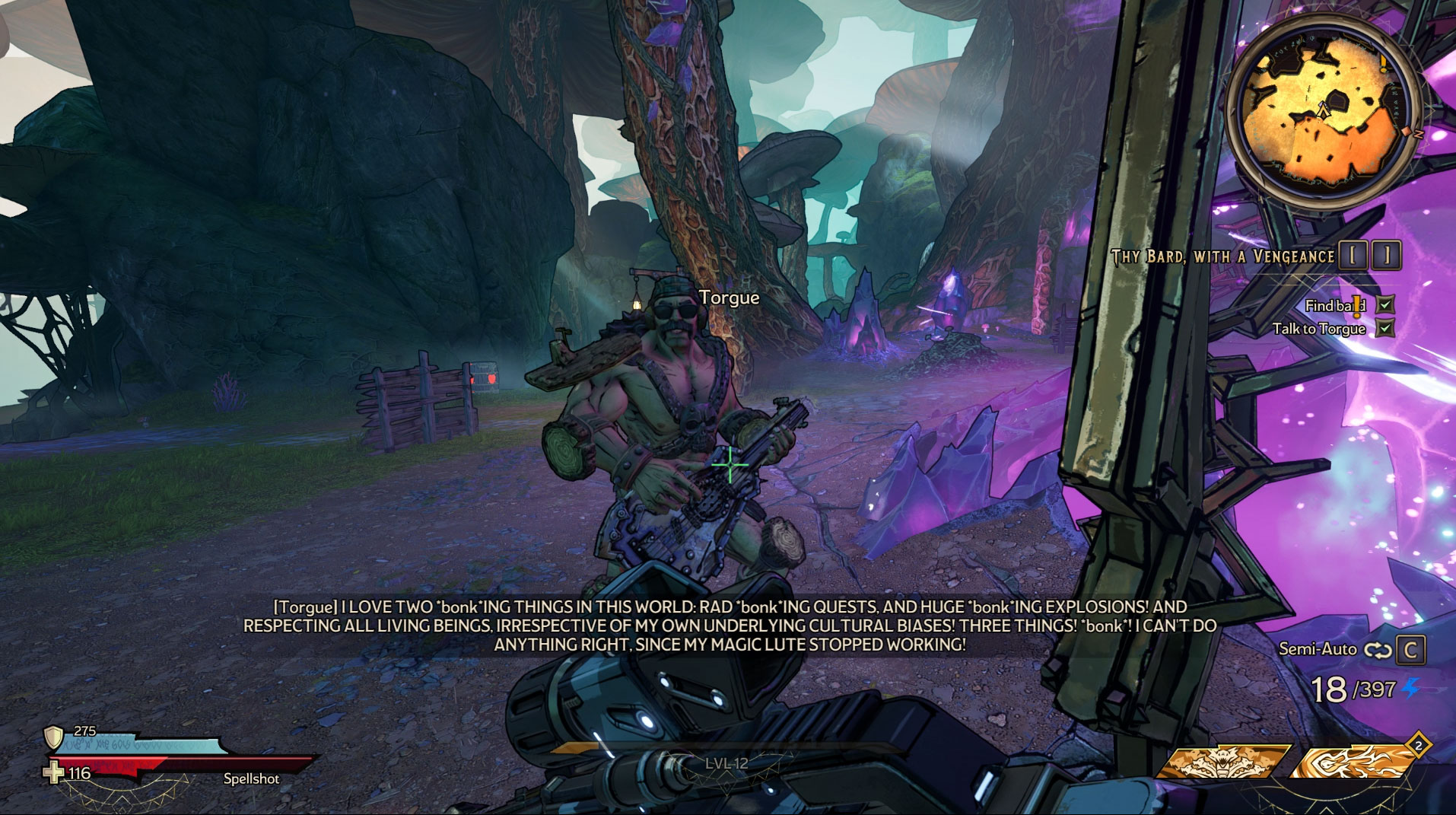 The best part about starting fresh and not worried too much about Borderlands canon is you can make brand-new self-contained stories for your side game. Tiny Tina's Wonderlands does this well and has no lore baggage to worry about.
It's just your eccentric dungeon master (voiced by Ashly Burch) handling an ever-changing tabletop RPG game, your two celebrity-voiced compadres Valentine and Frette (delivered eloquently by one Andy Samberg and Wanda Sykes), and your created character's one-liners and quips. The main story centers around certain key characters coming to terms with crippling loneliness, but it doesn't feel like it ups the stakes compared to the Borderlands 2 DLC it originated from. Still, the fun performances and scenarios do make the tale captivating and it doesn't really get in the way of the gameplay most of the time. And it doesn't feel like forced padding most of the time.
The humour is definitely all over the place, but there are more hits than misses, at least when compared to Borderlands 3's cringe-infested story bits and attempt at humour. My favourite quests and funny bits involve a beanstalk mission with a Borderlands character dolled up as a fairy, a battle between two gay pirate skeletons, anything with Claptrap in it, and one where a dialogue option involves you seducing everything you find (before you shoot them to death, of course). There's even one sidequest where said compadres Valentine and Frette are obsessed with a blue-hat wearing background character when they're supposed to be talking to someone else to get the quest going, prompting Tiny Tina to come up with stuff at the last minute. Plus, Will Arnett's delivery for the game's antagonist The Dragon Lord has the right amount of dark humour and snark.
It's very in-your-face with its quirky humour and goes meta at times, and I like it for just going with it. As someone who has played his fair share of terrible Dungeons & Dragons RPG sessions as both a DM and a player, I can certainly relate.
And for you RPG fans out there, there is a Witcher spoof inside that's worth participating in.
Spell Bound
Speaking of gameplay, how does it all pan out? If you've played a first-person looter shooter RPG-type action title for the past decade or so, you know what you're getting here. You play a custom character whose class and skills you can pick, you go through a bunch of fantasy quests filled with guns, spells, and other sorts of imagination bits concocted from the title 13-year old nutjob, fight enemies and bosses ranging from zombies to skeletons to land sharks, and get sweet loot out of it.
Your level cap is 40, with some main quest stages prompting you to go level up if you're not at its level requirements. For you Borderlands veterans, Tiny Tina's Wonderlands ditches the vehicles in favour of a Wonderlands Overworld where you move your character across a giant map going from point A to B, doing more sidequests and even fighting encounters along the way. The Overworld not only has some secrets, but also unlockable shortcuts and even shrines that give you permanent buffs if you collect the four pieces hidden within the shrine's vicinity. Optional areas like the Tangledrift and Sunfang Oasis let you grind for levels as well as procure more loot to power your character up.
What sets this Borderlands game apart from the others is character progression and customizability. Like I said earlier, you don't need to pick between four pre-determined Vault Hunters with set skill trees and skills. You get your choice of six different classes from the tanky Brr-zerker to the spell-flinging Spellshot; you start with one, then are able to multi-class to another class of your choice to mix and match between the two. As you level up, you get skill points and Hero points to allocate onto your skill tree and your character stat sheet. And true to character creation standards, you can change up your appearance, your garb, your voice, and also your banner.
You can also equip up to six different items plus the four weapons you can switch around with. Your character can use up to two rings, an amulet, a piece of armour (this universe's version of Class Mods), a Ward (Borderland's Shield Mods), and a spell. This definitely beats the Borderlands' series current equipment system, as more is always better.
Coupled with the game's weapon types being a tad different but still similar to Borderlands 3 -like crossbow guns with rapid fire, shotguns that fire Moonveil beams, an SMG that  lobs fireballs in addition to its rapid-fire bullets- as well as the multitude of spells that freeze, explodes, and even send shockwaves & tremors to enemies, there is no shortage of ass-kicking potential in Gearbox's latest.
I tried most of the classes, and I personally leaned towards the Spellshot/Graveborn combo. I not only can use two spells at once (a unique Spellshot skill), but I get a huge Dark Magic buff and life leeching from my default attacks thanks to the Graveborn's skills. I'm very sure you will find your favourite multi-class mix: Stabbomancer/Brr-zerker and Spellshot/Spore Warden combos seem to be promising, at least until a month or two has passed and the Borderlands community has decided the class combo tier list. But for now, Spellshot combos are the way to go to melt most enemies and bosses, at least from my 25-hour experience.
Kills For Skills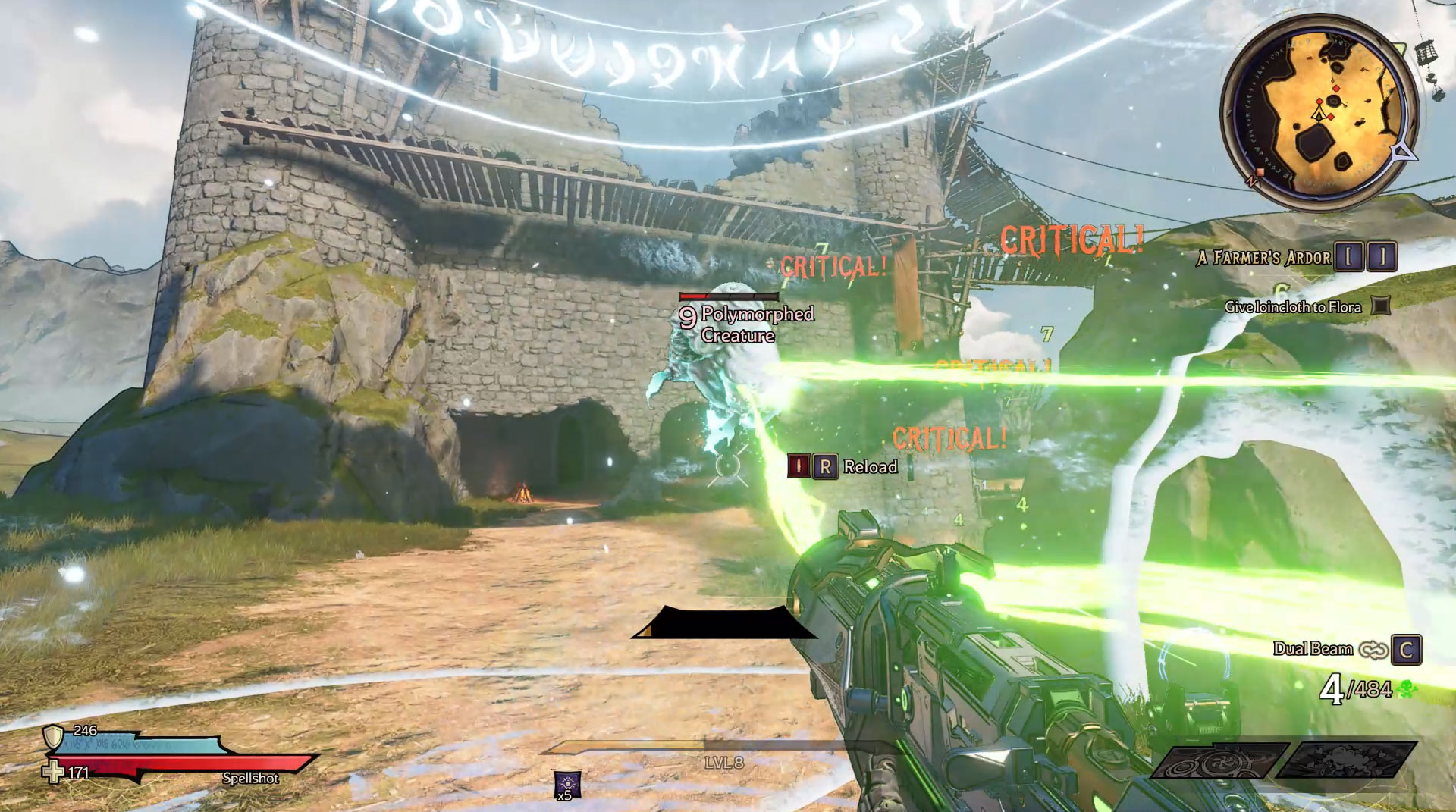 Speaking of which, there's a lot of enemy types to kill, each with their own quirks and sets of skills to hamper and challenge you. The Coiled warriors have ranged dominance, while the Skeleton goons the Dragonlord summons can only be killed effectively by Cold damage. The land sharks can bury themselves into the ground to avoid damage, while the Wyverns stay airborne, meaning your ground-based weapon and spells like Tremor are useless against them. You'll need to switch weapons and spells around, or at least farm enough to equip yourself for a "jack of all trades" situation.
Or you could just get a friend or three to join your game and make the experience a lot less tough and a lot more exhilarating. The Borderlands series has always been built with co-op in mind, and Tiny Tina's Wonderlands is no different. The challenges get buffed but your loot chances get higher too, so it's always going to be a pleasant experience co-operating with like-minded players who put in their weight. It'll be nice to have more communication UI options apart from pinging and standard voice chat, but at least apps like Discord exists.
Tiny Tina's Wonderlands also fixes the 2019 version of Borderlands 3: a randomized endgame section. Once you completed the main quest which should take you about 20 hours or even less, you can unlock the Chaos Chamber which lets you play through randomized levels with escalating difficulty, different side objectives to boost your rewards, and a ton of crystals to collect to cash out for more loot when you completed a run. A Chaos Chamber run also adds modifiers as you progress: you can either get hampered with double damage-dealing enemies or have them explode into elemental pools -my least favourite debuff since the elemental type is random.
Still, the challenge can be managed with skill, teamwork, and good loot to get through, thus adding a lot to Tiny Tina's Wonderlands' replayability. Plus, when the going gets too tough, you have the Mythic Rank system that powers you up beyond Level 40 with extra stat boosts like luck loot drops and even elemental damage, similar to how Diablo 3's Paragon system and Borderlands 3's Guardian Rank work.
A NATURAL 20?
Tiny Tina's Wonderlands might seem familiar if this isn't your first looter shooter game. And its UI and map navigation is incredibly cumbersome and is probably worse if you're on mouse and keyboard.
However, it's still a heckuva ball of a time if you love making your own builds and playing beyond the story campaign for more leveling up and loot opportunities. Gearbox did an excellent job in making a meatier and less padded-out affair.
Long story short: immerse yourself into the Wonderlands if you fancy a long-term first-person shooter loot-driven RPG experience. You won't regret it.
Pros
Fun action shooting and looting with improved controls and weapon feel.
Customizable classes and equipment galore.
Well-paced story with some appreciated humour & writing.
Chaos Chamber adds more endgame replayability.
Online co-op plays great.
Cons
Not quite a breakthrough from past Borderlands titles (solo game issues especially).
SHIFT crossplay and UI controls need some work.
Dedicated drop issues for the long-term.
Final Score: 80/100
Review copy provided by 2K Games.