Diablo Immortal is out now for mobile phones (iOS, Android) in select regions, and just like any action RPG of its nature, you can opt to level up as fast as possible to get to the endgame.
This requires you to be focused and not be too distracted. Here are some tips to do so and quick.
Do Some Research On Your Class
When you pick any one of the six classes, just keep in mind that they are all viable for all endgame activities. Do find out if there's a leveling guide for your class and the optimal skills to carry you from Levels 1 to 60. Here's a breakdown of each class and their best skills to stick with from start to finish:
Barbarian: Lacerate, Hammer of the Ancients, Whirlwind, Sprint, Wrath of the Berserker
Crusader: Punish, Spinning Shield, Falling Sword, Draw and Quarter, Consecrate
Demon Hunter: Crossbow Shot, Multishot, Rain of Vengeance, Daring Swing, Sentry
Wizard: Magic Missile, Teleport, Arcane Wind, Black Hole, Meteor
Monk: Fist of Thunder, Cyclone Strike, Seven-Sided Strike, Mystic Strike, Exploding Palm
Necromancer: Soulfire, Command Skeleton, Grim Scythe, Corpse Explosion, Skeletal Mage
Do Not Claim All Battle Points, Yet
When you complete activities, you get a chance to claim for Battle Points on the game's Codex. Don't do this yet. Wait until you're rank 10, then save those Battle Points until you are level gated from entering a new zone. Then start claiming those Battle Points for experience (XP) to reach that requirement; don't overshoot it.
Take Note Of Level Gate Requirements
Speaking of XP, these are the Level Gate requirements for each zone for your reference:
Level 35 – Library of Zoltun Kulle
Level 40 – Bilefen
Level 46 – Mount Zavain
Level 51 – Frozen Tundra
Level 56 – Realm of Damnation
About Equipment
Equip new items when your bag is flashing. Focus on the green arrows on each item and equip those, prioritizing your class' Primary Attribute for damage.
Remember to also visit the Blacksmith whenever you arrive at a town or encampment. Use the Salvage All buttons to empty your inventory. Then, if you have enough materials, upgrade your lowest-ranked gear.
Kill Large Groups Of Enemies When They Have Elites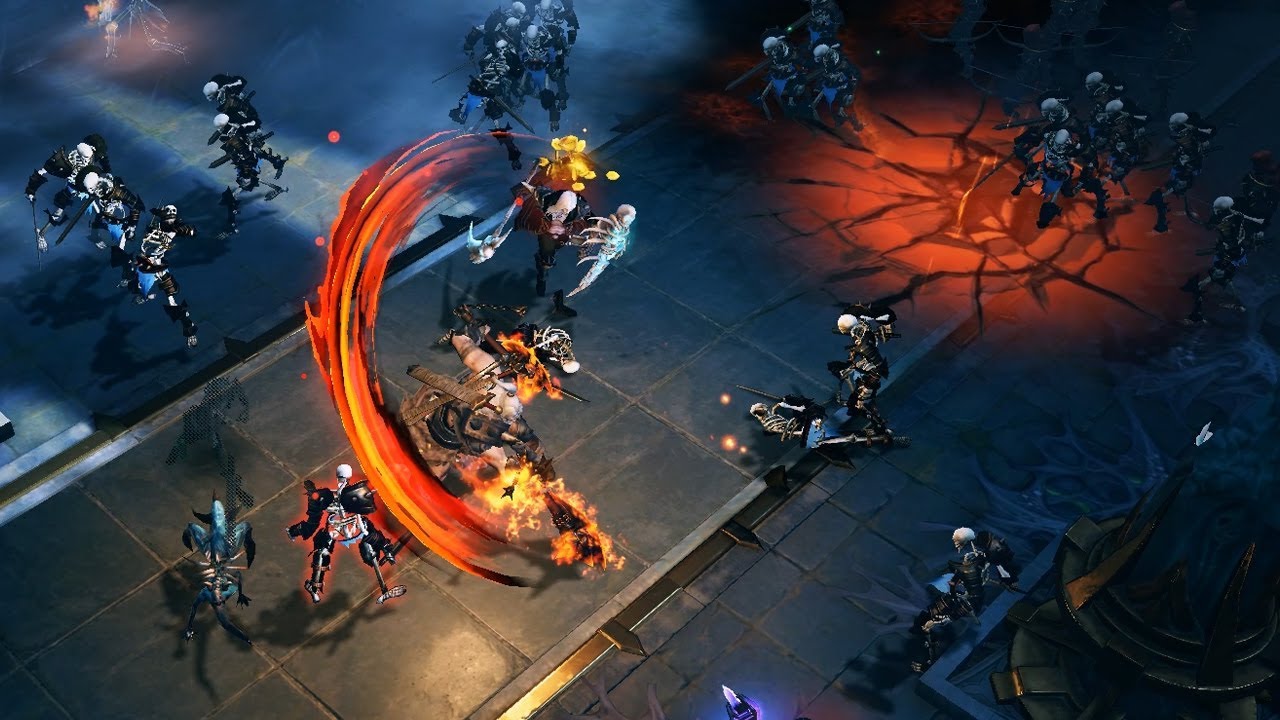 As you're walking from objective to objective, there will be mobs of enemies you can aggro. Only do this if the group is very big, and if they have an Elite or two hanging around. They might drop good loot and give out more XP.
On a related note, if you come across any Treasure Goblin within the vicinity
Collect Monstrous Essence
If you have 10 of these from quests and enemy drops, you must head to the Horadric Altar and cash them in. Otherwise, you're stuck with 10 and the game will not drop more than that for you to collect.
Skip Hidden Lairs and Cumbersome Blue Side Quests
Unless the Blue Side Quests are "kill x enemies" in a nearby location, don't bother with any of these sidequests and hidden lair quests.
Close To Level 60 & Have Leftover XP To Grind For? Head To These Locations
If you're close to 60, you should do multiple runs for Mad King' Breach and Forgotten Tower dungeon with a full party. Faming in a 4-party group means extra gems and faster clears if the group is competent enough. The dungeon activities here can help you net Battle Points for XP gain.
Alternatively, you can start a round of Bounties from Westmarch's bounty board. They offer great XP and Gold, but they have a daily limit.
Related