Viz Media reveals the newest trailer for the anime adaptation of Bleach's final story manga arc: the Thousand-Year Blood War. The video below highlights the antagonists of the arc: the Sternritter (Star Knights), which are a group of incredibly powerful Quincy (Uryu Ishida's race) who plan to wipe out the Shinigami (Ichigo's pals and associated group) using special techniques.
Viz Media also revealed the key art for the anime featuring both the Shinigamis and Sternritters.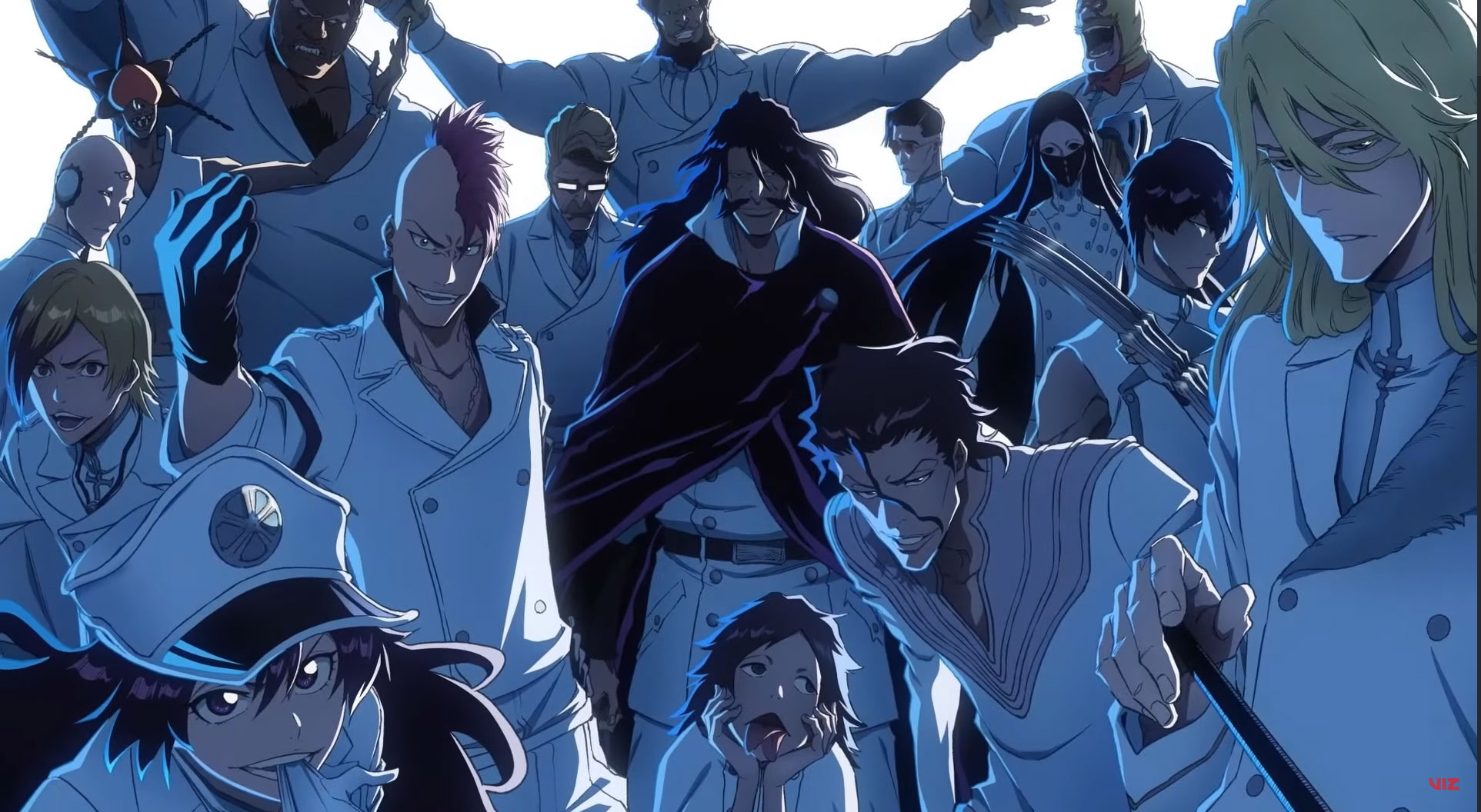 The anime will premiere on TV Tokyo in October, with the entire series covering the original manga up through its ending. An advanced screening of the first two episodes will be held in Tokyo on 11th September. The show will be directed by Tomohisa Taguchi, with Masashi Kudo returning as character designer and Shiro Sagisu on music.
Here's the full Japanese VO cast:
Masakazu Morita as Ichigo Kurosaki
Fumiko Orikasa as Rukia Kuchiki
Noriaki Sugiyama as Ury? Ishida
Yuki Matsuoka as Orihime Inoue
Hiroki Yasumoto as Yasutora Sado
Kentaro Ito as Renji Abarai
Shinichiro Miki as Kisuke Urahara
Satsuki Yukino as Yoruichi Shih?in
Binbin Takaoka (replacing Masaaki Tsukada) as Genry?sai Shigekuni Yamamoto
Houko Kuwashima as Suì-F?ng
Shouto Kashii as R?j?r? ?toribashi
Aya Hisakawa as Retsu Unohana
Masaya Onosaka as Shinji Hirako
Ryotaro Okiayu as Byakuya Kuchiki
Tetsu Inada as Sajin Komamura
Akio Ohtsuka as Shunsui Ky?raku
Tomokazu Sugita as Kensei Muguruma
Romi Park as Toshiro Hitsugaya
Fumihiko Tachiki as Kenpachi Zaraki
Ryusei Nakao as Mayuri Kurotsuchi
Hideo Ishikawa as Jushiro Ukitake
Naomi Kusumi as Ichibe Hyosube
Y?ji Ueda as ?etsu Mimaiya
Tomoyuki Shimura as Tenjir? Kirinji
Rina Satou as Senjumaru Shutara
Ayumi Tsunematsu as Kirio Hikifune
Takayuki Sugo as Yhwach
Yuichiro Umehara as Jugram Haschwalth
Shunsuke Takeuchi as Askin Nakk Le Vaar
Ayana Taketatsu as Bambietta Basterbine
Y?ki Ono as Bazz-B
Yumi Uchiyama as Candice Catnipp
Natsuki Hanae as Gremmy Thoumeaux
Satoshi Hino as Lille Barro
The trailer definitely did its job as it only showed a third (or fourth) of the entire anime arc. There's actually a lot more in store if you've kept up with the manga.