FIFA 23 is just around the corner and that means a new Career Mode for all you Career Mode junkies out there. In commemoration of the release, EA SPORTS have released a list of players with the largest growth potential so that you can poach them for your own Manager Career.
The player with the most growth is 55-rated Joshua Feeney of Aston Villa who has the potential to grow a whopping 25 points, bringing his potential up to 80. Obviously, that's just a rough number as he can go even higher if he is trained well.
The highest potential belongs to Fulham's sprouting centre-attacking mid in Luke Harris, who starts with a 61 rating but has the potential to grow up to 84.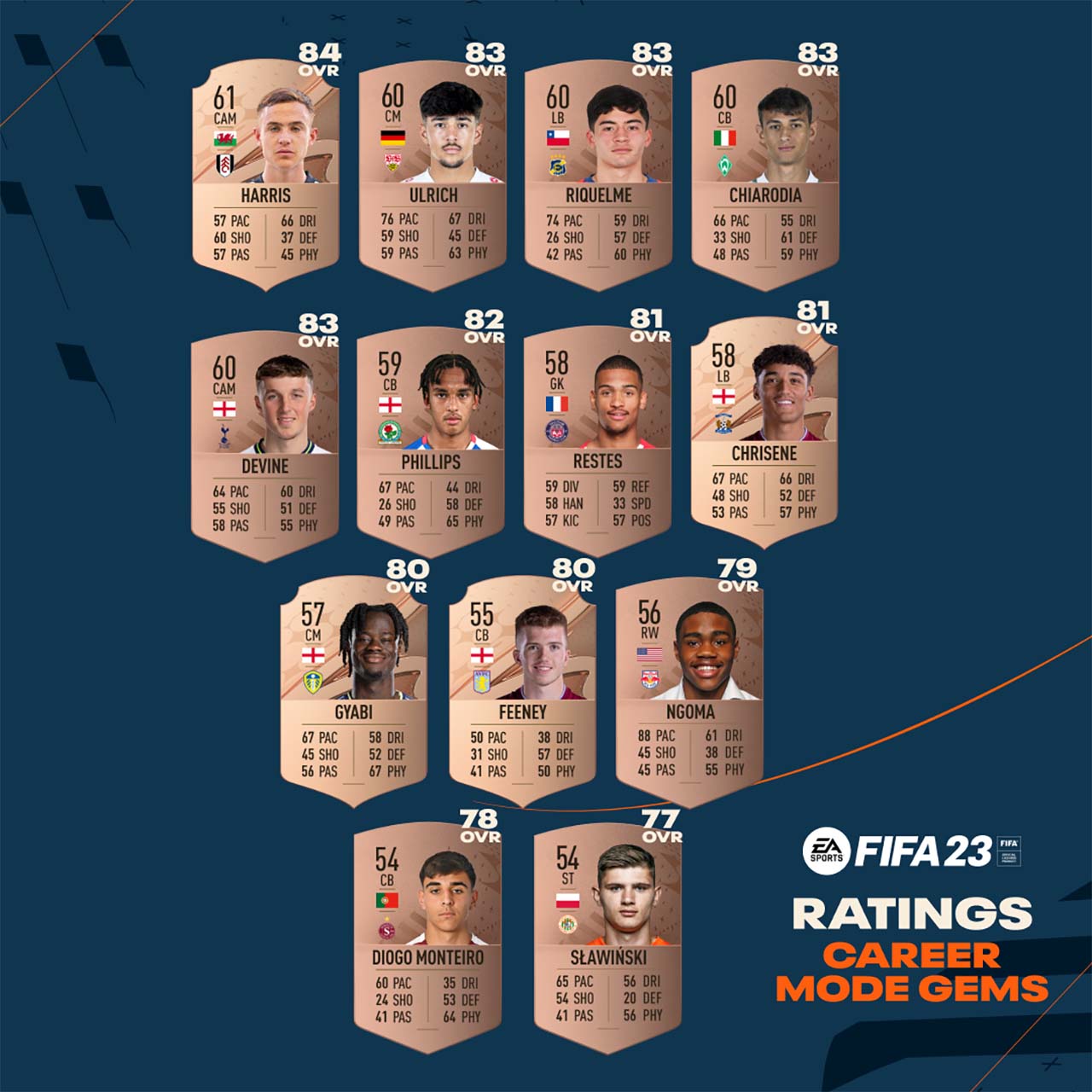 LIST OF FIFA 23 CAREER MODE HIDDEN GEMS
| | | | | | |
| --- | --- | --- | --- | --- | --- |
| NAME | TEAM | POSITION | OVR | POTENTIAL | GROWTH |
| Joshua Feeney | Aston Villa | CB | 55 | 80 | 25 |
| Felipe Valencia | Inter Miami | RM | 50 | 75 | 25 |
| Dylan Reid | St. Mirren | CDM | 54 | 78 | 24 |
| Diogo Monteiro | Servette FC | CB | 54 | 78 | 24 |
| Gavin Beavers | Real Salt Lake | GK | 52 | 76 | 24 |
| Attilio Morosoli | FC Lugano | GK | 51 | 75 | 24 |
| Andres Brinzea | Chindia Targoviste | GK | 48 | 72 | 24 |
| Luke Harris | Fulham | CAM | 61 | 84 | 23 |
| Laurin Ulrich | VfB Stuttgart | CM | 60 | 83 | 23 |
| Cristian Riquelme | Everton de Vina del Mar | LB | 60 | 83 | 23 |
| Fabio Chiarodia | Werder Bremen | CB | 60 | 83 | 23 |
| Alfie Devine | Tottenham Hotspur | CAM | 60 | 83 | 23 |
| Arnaud Dony | Union Saint-Gilloise | LB | 59 | 82 | 23 |
| Ashley Phillips | Blackburn Rovers | CB | 59 | 82 | 23 |
| Guillaume Restes | Toulouse FC | GK | 58 | 81 | 23 |
| Ben Chrisene | Kilmarnock | LB | 58 | 81 | 23 |
| Darko Gyabi | Leeds United | CM | 57 | 80 | 23 |
| Serge Ngoma | New York Red Bulls | RW | 56 | 79 | 23 |
| Oliwier Slawinski | Zaglebie Lubin | ST | 54 | 77 | 23 |
| Eirik Blikstad | Strømsgodset Toppfotball | CB | 54 | 77 | 23 |