Square Enix's underrated JRPG Legend of Mana is getting an anime series, and it's looking decent so far if the newly-revealed opening theme is of any indication.
Warner Bros. Japan just revealed the opening theme song of Legend of Mana: The Teardrop Crystal (via the Aniplex Online Festival livestream happening right now) featuring the song "Tear of Will" performed by Saori Hayami.
The show's latest anime visual showcases main hero Shiloh and female protagonist Serafina. It seems like the anime will feature Shiloh and Serafina as separate characters unlike in the game where either one or the other will be the main star.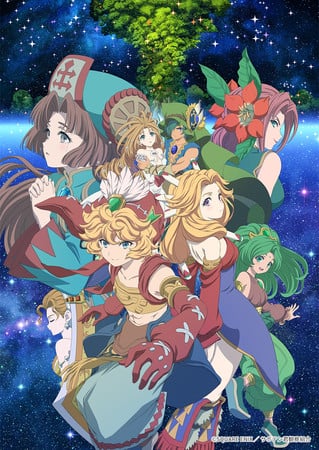 Here's the full voice cast:
Nobunaga Shimazaki as Shiloh
Yuichiro Umehara as Ruri/Elazul
Kaori Nazuka as Shinju-hime/Pearl
Saori Hayami as Serafina
Yuko Sanpei as Bud
Shino Shimoji as Corona/Lisa
Sachi Kokuryu as Duelle
Yurika Kubo as Li'l Cactus
Shinpachi Tsuji as Inspector Void
Chitose Morinaga as Kusabito/Sproutlings
Wataru Takagi as Nikita/Niccolo
Minami Takahashi as Rachel
Makoto Yasumura as Mark
Hiroshi Yanaka as Nouvelle
Misaki Kuno as Yuka-chan/Miss Yuka
Minako Kotobuki as Sandra
Ayane Sakura as Emerald/Esmeralda
Reina Ueda as Florina
Manami Numakara as Diana
Legend of Mana: The Teardrop Crystal will debut in Japan on 7th October.
Related