Malaysia Book Of Records Crowns MPL Malaysia As The Longest-Running National Esports Tournament
The Malaysia Book Of Records (MBOR) has awarded the Mobile Legends Bang Bang Professional League (MPL Malaysia), the longest-running esports tournament title in the nation.
Since 2017, the local league has produced over 500 esports talents and athletes that have enjoyed immense popularity and success from fans worldwide. The MBOR initiative was kickstarted by MPLMY fans and casters who've rallied together for the award by sharing several social media messages across various platforms, including TikTok to amplify their voices. The exchange of records will happen on 16 October 2022 during the Grand Finals of MPL Malaysia Season 10 at the Quill City Mall Concourse. The event will be open to all and will have a festival-like atmosphere, with multiple activities and prizes for the fans to enjoy.
Fikri Rizal Mahruddin, Business, and Marketing Lead, MPL Malaysia, said:
"We are honoured to receive this prestigious title, and it is a testament to the hard work from our community and team. We would like to thank MBOR for awarding the title to us, and we will do our utmost best to bring the best esports watching experience to our fans and work closely with our partners to deliver exciting on-ground activations to delight our audiences. This community-wide effort would not have happened without the support of our fans, and we thank you for your passion and hard efforts to make this happen."
Mohd Amirul Aiman bin Mohammad Kamal (Laphel) said:
"This is an incredible achievement and accomplishment by MPLMY fans, and I am proud to have played a part. Having hosted MPLMY for several seasons, it is well deserving of the award, and I look forward to many more milestones together with the league."
Jwan Heah, Chief Marketing Officer, MBOR, said:
"MPL Malaysia has played a huge role in shaping the direction and growth of the national esports industry. The league has created several opportunities for young players who have blossomed into great role models and veterans, and set an industry benchmark in terms of esports production and management. The award recognizes the league's efforts to help nurture the ecosystem and its objective to help Malaysia prosper as an esports hub."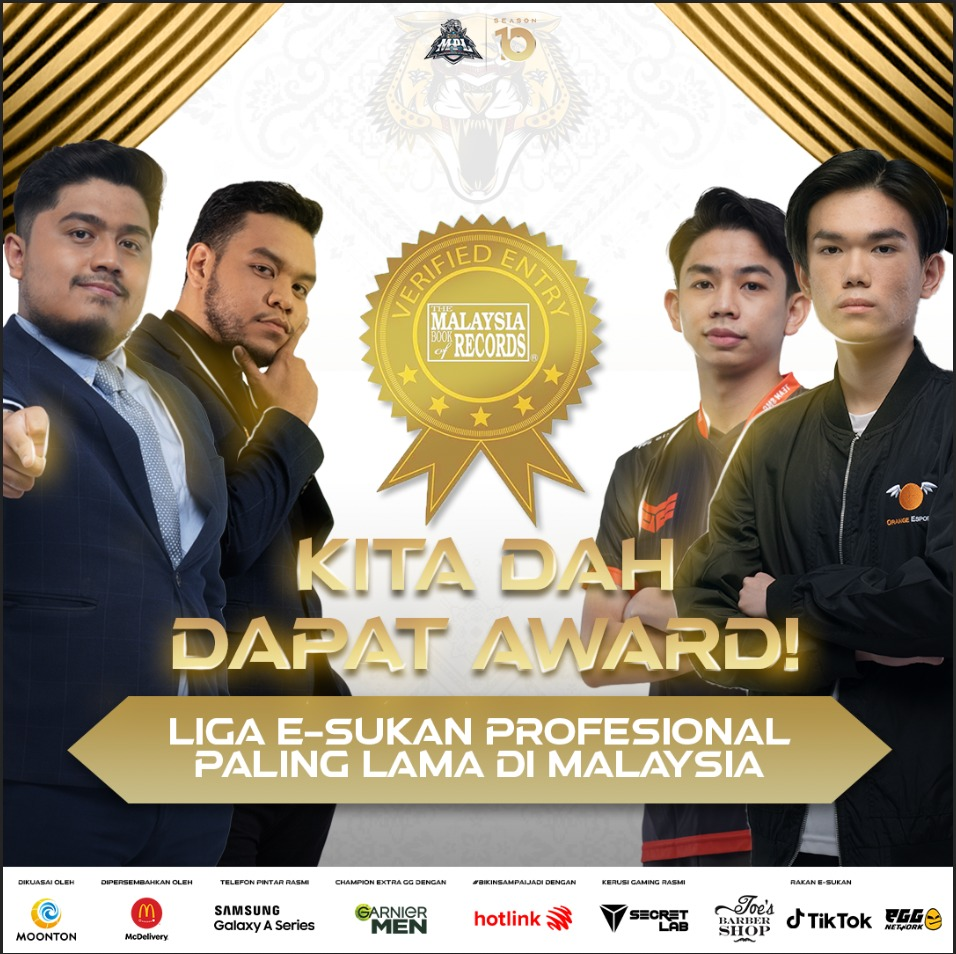 MPL MY is the pioneering esports league for Mobile Legends: Bang Bang, which saw IDNS SG become the first champion for its inaugural season. Geek Fam finally took home the national crown in Season 4, followed by many esports giants – such as RSG MY, TODAK, Team SMG, and more who have managed to dominate the competition and become national champions. Over the last few seasons, the national league has introduced new partners such as McDonalds, Joe & Barbers, Nescafe, and more to create more opportunities to reach out to a younger demographic through esports.
MPL Malaysia has also provided support to its players and inspired local esports organisations to develop their esports ambitions further, through various marketing and social media amplification campaigns in partnership with TikTok. This season, ten teams will fight for a lion's share of USD 100,000 and a spot to proceed onto the M4 World Championship held in Jakarta from 1 – 15 2023.
MPL Malaysia is powered by MOONTON Games, presented by McDelivery, alongside Official Smartphone Partner Samsung to support local champions with Garnier Men, #BikinSampaiJadi with Hotlink, Official Gaming Chair Partner Secretlab, and Partner in Esports; TikTok, eGG Network, Joe's Barber, Esports Insider, and Esports Chart.
For more information on MPL Malaysia Season 10, please refer to the following links:
MPL Malaysia Website: https://my.mpl.mobilelegends.com/
Facebook: https://www.facebook.com/mplmy.official
Instagram: https://www.instagram.com/mplmy.official/
TikTok: https://www.tiktok.com/@mplmy
YouTube: https://www.youtube.com/c/MobileLegends5v5MOBA/featured