It's been 13 years since 2009's Avatar and James Cameron's epic sci-fi movie remains the highest-grossing film in history with a whopping US2.9 billion worldwide. People often joke that despite its record-breaking achievement, the movie didn't make much of a mark on pop culture as a whole.
Whether that's true or false, the legendary director still returned with a sequel and this is only one of several planned sequels at that. Is Avatar The Way Of Water a worthy sequel to the biggest movie of all time?
An Improved Sea-quel
Let's not kid ourselves. While 2009's Avatar can likely attribute most of its success to how it pioneered new and advanced 3D technology as well as featuring some of the best visuals and special effects ever made, the movie's plot and characters were bland and forgettable. Fortunately, James Cameron learnt that lesson and Avatar The Way Of Water improves on the original in most ways that count.
What I mean by that is I actually felt invested in the characters this time around. There's a more emotional hook in the sequel, which comes in the form of the family of protagonists Sam Worthington's Jake Sully and Zoe Saldana's Neytiri. This movie makes me care about that, which is more than I can say about Jake and Neytiri in the first movie. How did James Cameron do that? He leaned into the emotional ties between family members.
Jake and Neytiri's family has grown in the time span between the first and second movie; adding Jamie Flatters' Neteyam, Britain Dalton's Lo'ak, Trinity Jo-Li Bliss' Tuk, and Sigourney Weaver's Kiri. There are not as many supporting characters in Avatar The Way Of Water and for good reason. Avatar The Way Of Water is three hours and 12 minutes long, but the majority of that runtime is focused on these new young members of Jake and Neytiri's family. You become emotionally attached to them throughout the course of the movie, which never happened with Jake and Neytiri in the first movie. The new family dynamics result in actual character development, most of which revolves around how the kids are coping with and adapting to a new way of life in the Metkayina Na'Vi ocean tribe. I won't lie, this movie is emotionally powerful and I didn't expect to find myself tearing up near the end of the movie.
The plot of Avatar The Way Of Water isn't mindblowing or offers anything much new, but at least the character development and emotional highs make up for that. A lot of that comes not only from the new family dynamics introduced in Avatar The Way Of Water but also exploring subject matter such as prejudice, wildlife preservation and the spiritual. The sequel also doesn't have the burden of setting up the world of Pandora like the first movie, so it could fully focus on expanding it instead.
Despite being three hours and 12 minutes long, I honestly never felt bored. The pacing is consistent throughout, though there are some moments that might drag on a bit too long. I went in expecting to be bored by a movie that's all style and no substance but I'm happy to say that that wasn't the case.
Nevertheless, yes, Avatar The Way Of Water is still perhaps one of the most beautiful movies I've ever seen on the big screen. That was the biggest strength of the first movie and the sequel continues that. Nearly every frame looks good enough to be wallpaper or a painting. However, what distinguishes the visuals and graphics in Avatar The Way Of Water is how 'alive' everything looks and feels. James Cameron could turn this movie into a 'real' nature documentary and I would believe it. The world feels like it's alive and breathing, almost as if it exists in real life. That's a huge part of the reason why I think the visuals look so good. The action scenes are also clearly-shot and intense, so there's really no fault in the looks department.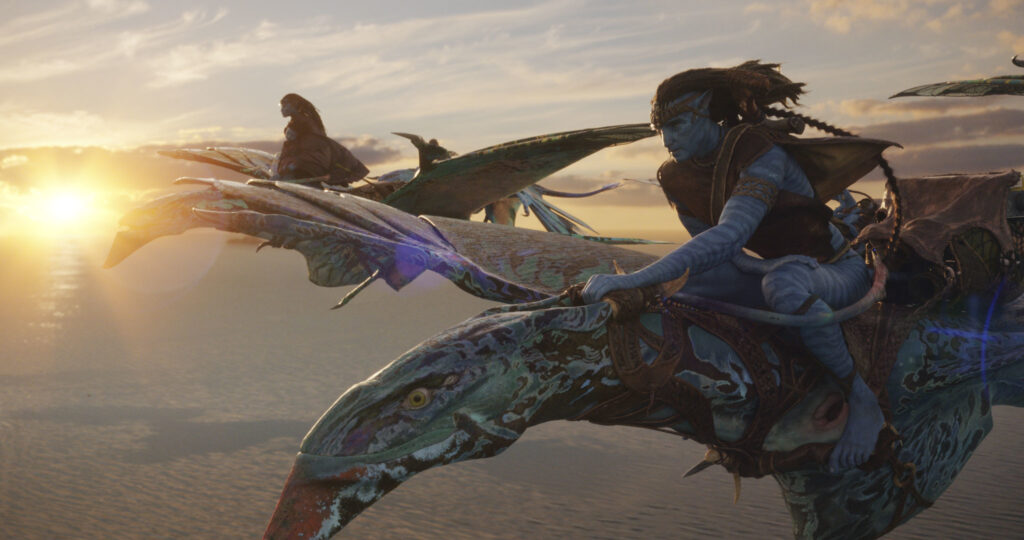 In addition, it's recommended that Avatar: The Way Of Water be watched in IMAX. It's a HFR (High Frame Rate) movie, which means that it runs in 48FPS. In comparison, normal movies run at 24FPS. Unlike movies like Peter Jackson's The Hobbit trilogy and Ang Lee's Gemini Man, James Cameron makes his movie more watchable than the aforementioned films. Kudos to him and the VFX teams who worked on this because this is how HFR films should always look in the future; it sets a new standard.
I've been mostly praising Avatar: The Way Of Water, but of course, nothing is perfect. The sequel essentially reuses the same antagonist (Stephen Lang's Colonel Miles Quaritch) from the first movie, albeit in a different way. The movie also bulldozes through a bit of rushed exposition at the very beginning, but that's probably just to get all that stuff out of the way to prevent the movie from feeling draggy. Last but not least, the movie's ending is both conclusive and at the same time, still teasing another sequel. That may make events seem somewhat anti-climactic.
Across The Ocean
Let me put it like this: I didn't like 2009's Avatar at all. It had a lot of flaws. Avatar: The Way Of Water is an immersive and epic movie with an emotional core.
Even if you didn't like the original Avatar, you should still give this a chance because you will probably feel differently about this one. I know I did. Do yourselves a favour. If you want to watch Avatar The Way Of Water, do it on the biggest and best possible screens available.
FINAL SCORE: 90/100
We attended an early screener of Avatar The Way Of Water courtesy of The Walt Disney Company Malaysia. Avatar The Way Of Water is slated to premiere on 15 December 2022 in Malaysian cinemas.
Related