Bethesda and Tango Gameworks' latest game Hi-Fi Rush is a nice hybrid of character action and rhythm game mechanics. You fight mechas as Chai, who has a robot arm and fights with a metal guitar, and your hits deal more damage when they're in sync with the background music. It's similar to 2020's No Straight Roads.
Hi-Fi Rush is fun, but it can get tough if your rhythm gaming know-how isn't up to snuff. Luckily we're here to help. Here are a few tips on how to get ahead. All inputs are following the Xbox controller.
Calibrate The Latency To Your Needs

Button timings too fast or two slow? Go calibrate the latency before the game starts!
Hi-Fi Rush relies on you to get with the game's rhythm so that your attacks hit for more damage. As such, timing and inputs do matter. Before you start the game, you can head to the latency calibration option in the main menu and determine how precise or imprecise the latency is.
When You Start Out, The Y, X,X Combo Is The Best
Chai's Y,X,X combo (followed by a final Beat Hit with any button input when you see the circle closing in) makes him perform a mid-ranged "projectile" attack that reaches a good distance and hits anything in its path. This combo is accessible at the start of the game and has saved us a couple of times in combat.
Until you earn enough bolts to buy new and better moves, this combo can carry you for most of the game. Besides, your teammate assists are more useful in the long-run as they can penetrate special defenses and can inflict stun onto enemies.
You Can Cancel To Dodges And Parries From Your Attacks

Chai's defensive options can be cancelled from attacks. This means you can wail on enemies, and then dodge/parry at the last second if you're using a regular X attack that's fast and chainable. Plus, the music and beats from the bass and rhythm can cue you in on when an enemy's loud attack is coming.
When Equipping Chips,Use The Ones That Lower Partner Cooldown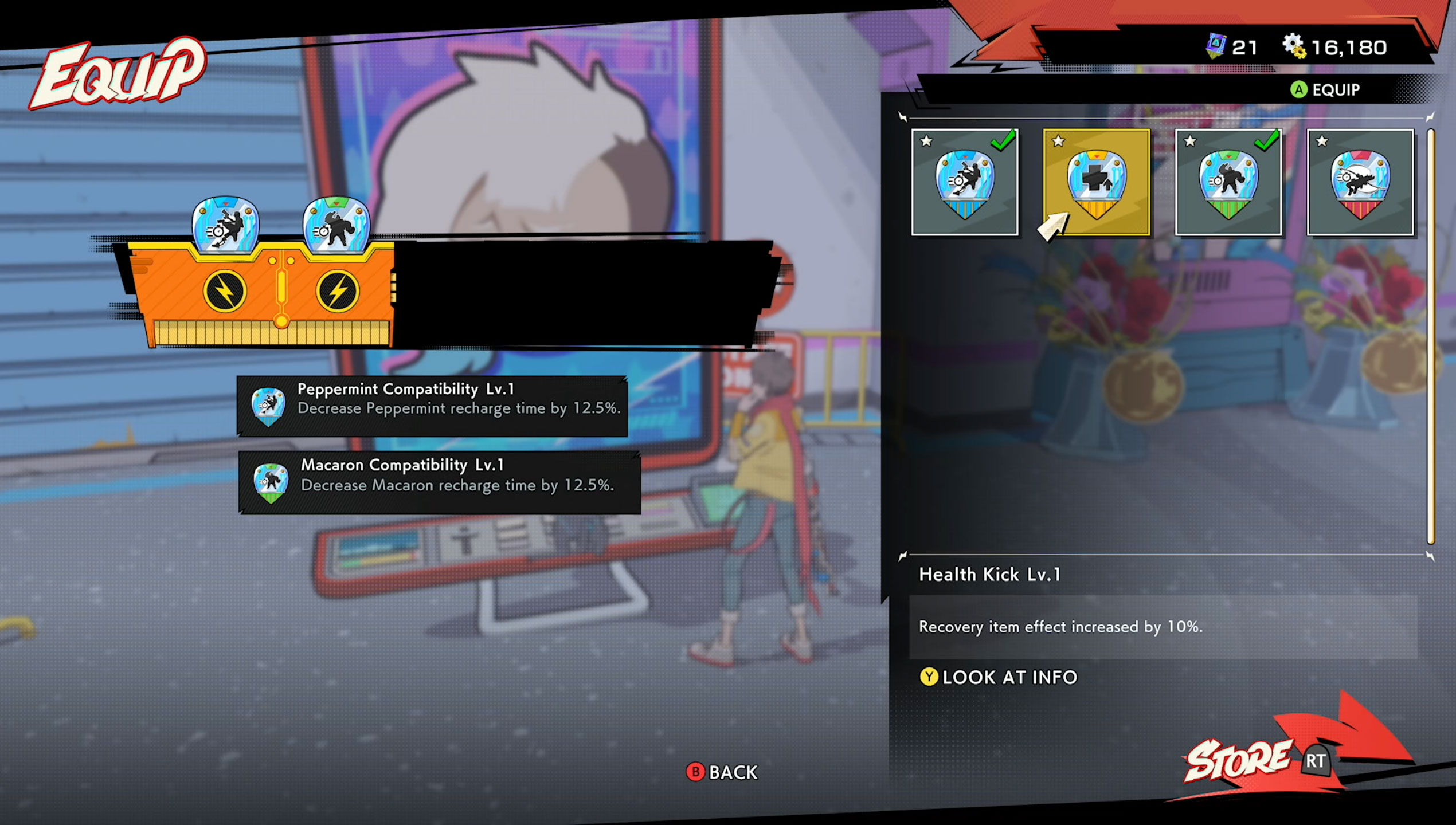 As you progress through the game, you can summon a teammate as support attacks. Peppermint fires plasma shots that takes down blue shields while Macaron can do a close-range ground pound that destroys Z-Shields.
After summoning them, you have to wait for their ability to cool down before using them again. Equip chips that reduce their cooldown so that you can summon them frequently. These support attacks are very useful in combat as they can make your life easier.
You Can Dodge Or Jump To Avoid An Elite Enemy's Sequence Attack
When you reduce an elite enemy's health to 1/4th, they go into a frenzy (indicated by the sharp orange aura they emanate) and can hit you with a special attack that requires you to parry their oncoming onslaught. If you successfully parry most of their attacks, you can deal a one-hit kill to end their lives.
However, you can avoid the initial shockwave attack that leads up to the sequence attacks by, you guessed it, jumping out of the way. You can see it coming a mile away as soon as they're in said frenzy.
You Can Only Replay Stages AFTER Finishing The Game
Unlike other character hyper-action games like Devil May Cry and No Straight Roads, you cannot replay stages in Hi-Fi Rush early on. Once you beat the game (which takes about 8+ hours), you have the option to replay any of the  12 stages in any difficulty. Plus, after you beat the game once, you can unlock Rhythm Game difficulty, where you automatically lose if your Beat grade drops to a D.
---
Boss Fight Walkthrough
Related