Platform(s): PC (version reviewed), Xbox Series, Xbox One, PlayStation 5, PlayStation 4
Genre: First-person shooter like Bioshock, but made by Russians who like steampunk & 50s robots
Trade the 2007 first-person action-adventure title Bioshock's objectivism and 50s art deco-slash-sci-fi setting for communism (and the discussions & conflicts that go with it) and sleek post-World War 2 steampunk and sci-fi trappings; you'll get Atomic Heart. True, you have to exchange the deep sea utopia-gone-wrong setting with a floating sci-fi machine-filled city with its mechanical denizens turning to killers, but the idea and template stay the same. And even its gameplay tropes and structure for good or ill.
At the very least, developer Mundfish has batted really high with its first game though it isn't without its issues.
Hammer & Sickle Complex
You play an agent codenamed P-3 with a murky past who is thrust into a dystopian situation, getting advice from your talking glove Char-les, listening to audio tapes that flesh out the world, scurrying around for resources for crafting and blueprints for better gear, and fighting enemies while on limited resources. You save your assault rifle bullets/shotgun shells for the big boys, but also have access to special energy weapons and powers from your hands (glove in Atomic Heart's case) like lightning (Shok), ice (Freeze), and default telekinesis.
You go to "vending machines" to craft new weapons, ammo, and items, though you do banter with the sexually-charged and perverted machine with a woman's voice, so there's a bit more levity in this Russian-developed game. There's a great mix of puzzles and shooting to mix it up, with an open-world hub that ties it all together as you find out why the robots in the Russian-made utopia went berserk. The cityscape you're in also features a number of sidequests in the form of massive underground test labs. These house some devious platforming and logic puzzles, but also some noteworthy upgrades and weapon blueprints.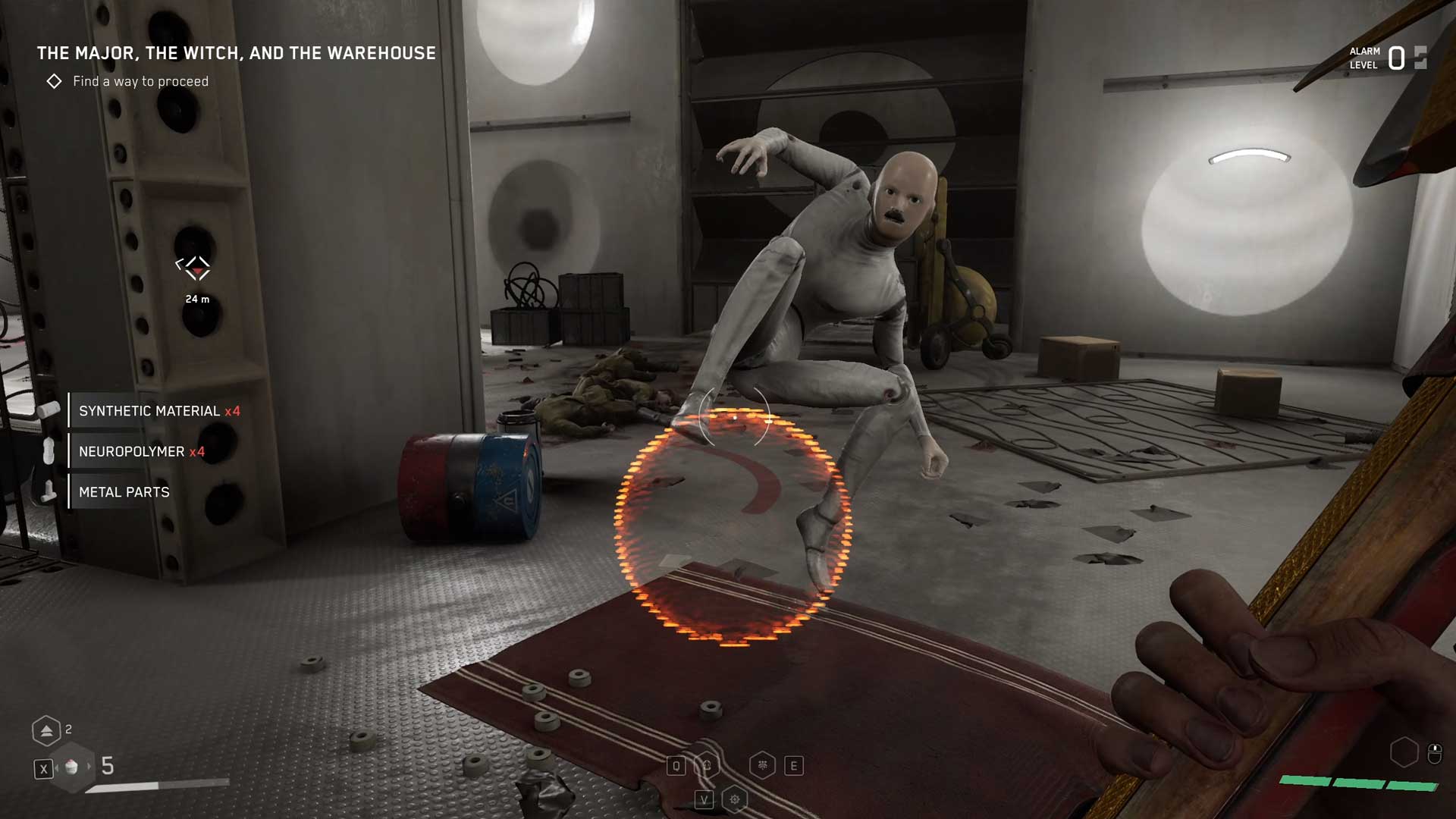 My favourite puzzles and stages involves using your Shok to reverse the polarity of magnets in a puzzle that requires you to raise up platforms in a particular order. The door lock puzzles (from connect-the-right-dots to unlocking nodes within a time limit) are different enough to not be monotonous. And the jelly-like polymers that you can ride from point A to B in some of the open-space labs; swimming through these pathways is quite an ephemeric feeling, especially when you hear the collective thoughts of former people being spoken to you while swimming through it.
I'd go on about the later stages like the theater, but that would be marching into spoiler territory. Atomic Heart sure has some great ideas that are pulled off well from a gaming and immersive standpoint; one that's executed fairly well.
Then again, the story can get cut-and-dry at times, but not for lack of trying. If you've played a lot of games with similar narratives and structures, you can see the twist coming a mile away narrative-wise. The lore bits from the "audiotapes" to the incessant chatter between P-3 and Char-les do add some colour, even if I'm not a fan of some of it. In fact, P-3 may be everybody's least-favourite protagonist in a long while, being a soldier who follows things to the letter, responds negatively to most things around him, and tries to make certain words become memorable catchphrases.
Metal Health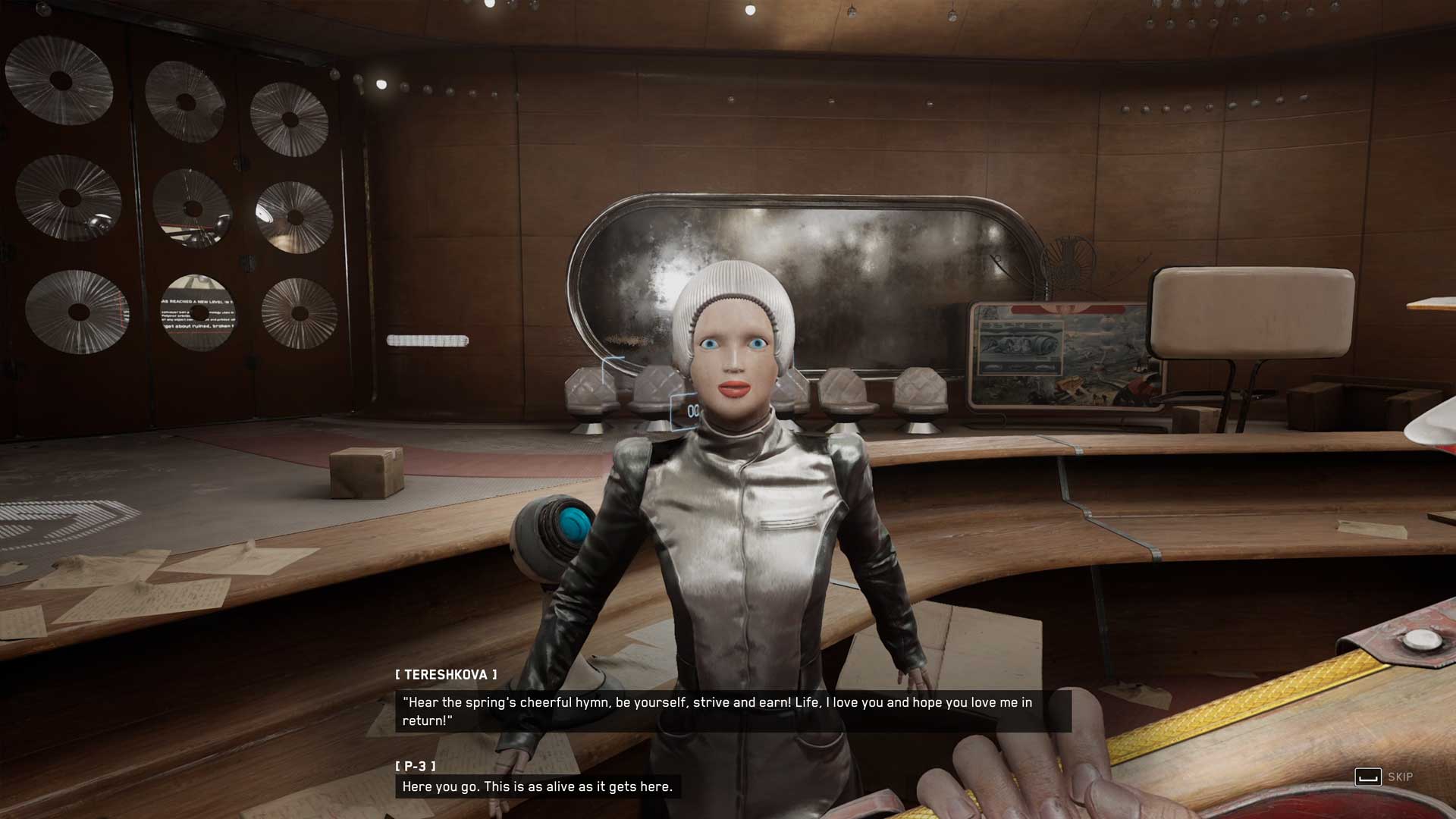 While some parts of Atomic Heart may seem familiar for FPS and adventure enthusiasts, the game feels wholly unique with its world, narrative, and gadgetry. The combat works and feels fun especially when you unlock most of your character's abilities and powers like better chain lighting tools and mass telekineses that work on enemies. Many fights do get challenging on the default difficulty, perhaps a bit too intense at times especially when against multiple foes.
It gets a tad frustrating when some of these encounters take place in cramped spaces with spots full of furniture and scenery objects that can get your character stuck, unable to evade or even dodge out of the way. There were also some bugs that require a restart: one robot boss did not trigger a cutscene or open passageway to an area after it was defeated, making me go through the ordeal all over again. But thankfully the game has the courtesy to create multiple automatic save states to go back a few steps. And the checkpoints aren't too far apart and are plentiful (especially in the open-world bits) and you usually can get enough materials for extra ammo. I usually get a lot of these for other guns I have yet to craft, so perhaps it's my fault for being too loyal to my shotgun and Atomic Heart's version of the plasma rifle.
In any case, you should at least give Atomic Heart a bit of love; the team's size and dedication seem to match its scope and ambition, pulling off what could be an alternative take on the first-person System Shock-like immersive sim-style gameplay, which can come off as a bit standard in retrospect. With a unique post-Cold War alternate sci-fi setting and some interesting-if-familiar gameplay mechanics, Mundfish has sure as heck made a memorable debut with Atomic Heart. It does need a bit more spit and shine to go full platinum though; perhaps its 20-hour runtime could be trimmed a tad so that it's not a thoroughly padded experience.
Pros
Unique Cold War and sci-fi setting.
Some interesting gameplay ideas and puzzles.
Fun-if-familiar shooting & combat.
Cons
Some bugs require reloading some segments.
Plays it safe gameplay-wise, especially in the latter half.
Divisive protagonist.
Final Score: 70/100
Review copy provided by official distributor 4Divinity.
Related