By Xandria Morden|February 16, 2023|
Korean pop culture or "K-POP" fever has finally hit LEGO! KPOP has been mainstream for a while now, so it's no surprise that LEGO who is known to collaborate with many big names would get down with the fever too.
Yesterday, LEGO teased a familiar catchy tune on their social media. Response to the teaser was instant as the BTS Army went wild after hearing the tune. Yes, that's right! The BTSxLEGO Collaboration will be lighting it up with fans with their latest set. The LEGO Ideas BTS Dynamite Set was designed by a LEGO fan as a tribute to the global pop icon, BTS. It features the seven-piece band, on the video set of their award-winning single "Dynamite". The song, which was released in 2020, was BTS's first number-one hit worldwide, and also happens to be the first song they recorded entirely in English.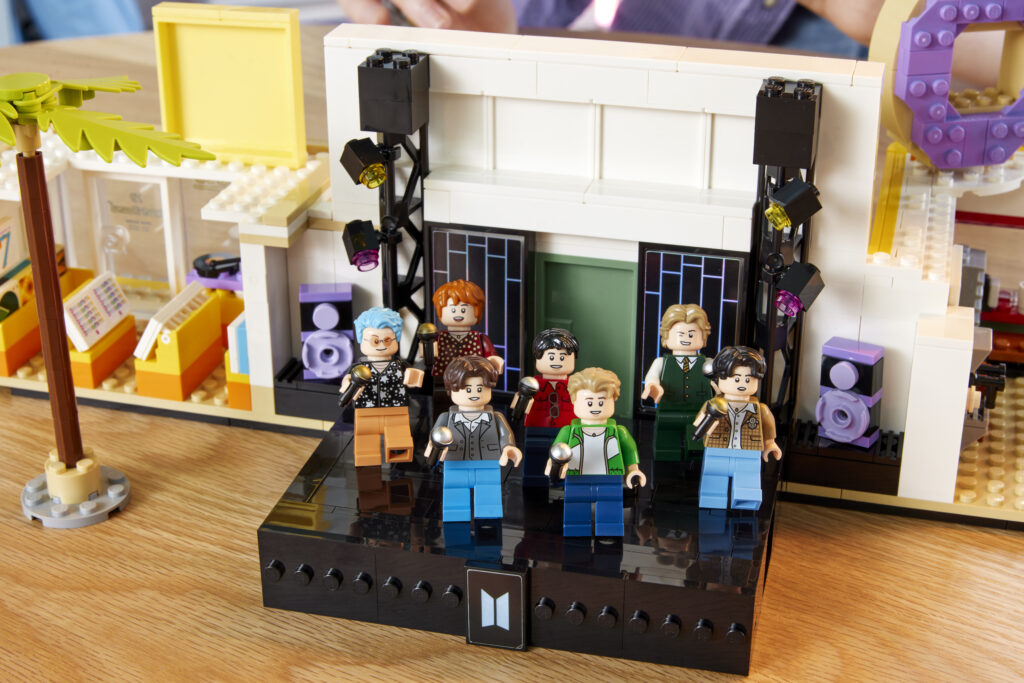 Get your fancy choreography out with Dynamite as you build the 749-piece LEGO set which mirrors scenes from the music video. From hustling to disco tunes and jamming in the record shop, you can also build the scene at the doughnut store. Each scene includes authentic details, plus the ice-cream truck, basketball hoop and even down to the 2 palm trees you see in the background from most scenes. The set would not be complete of course without our favourite boy band, who will now be able in mini-figures! All seven members, RM, Jin, SUGA, j-hope, Jimin, V and Jung Kook will be included to sing and dance with you.
LEGO fans and friends, John, 20, from Indiana and Jacob, 21, from New York were the brains behind the LEGO Ideas BTS Dynamite set.
Head of LEGO Product Group, Federico Begher, said:
"When we saw Josh and Jacob's colourful design we knew it would be a hit and this was proved by how quickly they reached 10,000 views in the LEGO Ideas voting. The BTS fans have already got behind the design and so it was important that we were as faithful to the original creation as possible. The set highlights creativity, passion and most importantly, fun!"
The LEGO Ideas BTS Dynamiter set goes on sale in early March 2023 for RM449.90 at LEGO Certified Stores (LCS). Shoppers can also redeem limited edition vinyl-packaged postcards and sticker sheets when they purchase the set for a limited period of time.
Related