By Alleef Ashaari|December 1, 2021|
Age Of Empires 4 launched on PC and Xbox Game Pass on 28 October 2021. Since then, it's had a very good launch, even exceeding a whopping 70,000 concurrent players at its peak.
Now, developers Relic Entertainment and World's Edge have revealed a roadmap for the upcoming updates that will be coming to Age Of Empires 4. Check out some of their plans for Winter 2021 and Spring 2022, as well as future content and balance updates.
Age Of Empires 4 Winter 2021
Make the choice to turn on and view in-game player scores! Based on community feedback, the developer has made the decision to implement in-game scores for those who wish to have them. You'll be able to enable in-game player scores on a case-by-case basis for custom lobby multiplayer and skirmish matches.
We've moved the Chinese Dynasty button and user interface to a less prominent position on the screen. You'll now find it in the lower left-hand corner.
The ability to view the map post-match. Starting with the Winter 2021 update, you'll be able to pan across the map of a completed match after finishing up your game – the developer is looking to fold in additional options to allow you to easily switch back and forth between the completed map view and post-game stats in Spring 2022.
Refinements made to the in-game mini-map to improve readability are also coming in Winter 2021. Improvements include reducing the size of icons, ensuring the Wonder icon on the mini-map matches the icon displayed in the HUD, increasing the size of the Primary Town Center in comparison to other Landmarks, and adjusting the colour of certain resources.
For balance and bug fixing, these include:
French Hulk ship tweaked to no longer rule the high seas.
Crossbowmen, Spearman and Elite Crossbowmen will pose a greater threat to Cavalry.
Significantly reducing the cost of the Chinese civilization's Repeater crossbow.
Fix to HRE Prelate unit to allow them to continue inspiring after being pushed.
Mongol "Superior Mobility" is adjusted to ensure the speed modifier is appropriately applied. Thanks to the community for calling this out!
Fix issued for the Rus civilization to eliminate infinite Relic duplication.
Age Of Empires 4 Spring 2022
Coming in Spring 2022, the developer will be adding two new ways to enjoy the game:
User-Generated Content and tools allow you to bring your ideas to life.
Spring 2022 will also see the start of Ranked Seasons. Ranked Seasons will span 12 weeks, allow players to compete head-to-head, climb the ranked ladder, and earn exclusive in-game rewards based on performance.
There will also be some minor improvements to the post-game map in Spring 2022, introducing the Patrol move and exploring the inclusion of other features and fixes based on player feedback.
Age Of Empires 4Â In The Future
Besides all that, the developer is also actively looking into adding features below:
Global Build Queue
Improvements to the Unit Stat card
Hotkey Improvements
Taunts and Cheats
AI Difficulty
Waypoint Indicators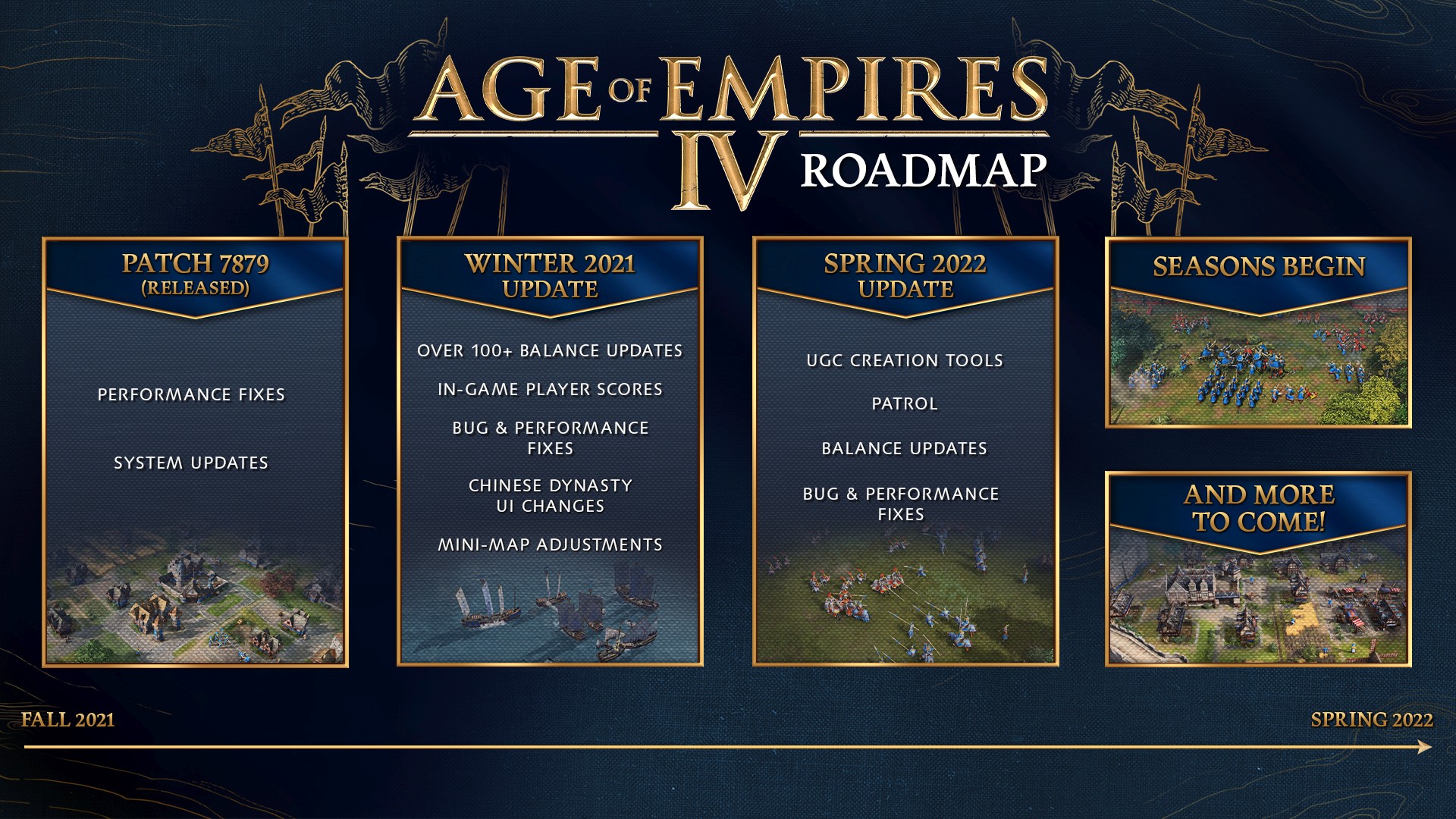 Related