Destiny 2's next expansion Lightfall is out right now. While the whole DLC story is far from complete, the game features great quality-of-life changes and updates. Also, more Destiny 2 is always good news for fans of Bungie's sci-fi first-person PvE shooter.
And like any other looter shooter game, Destiny 2 has new Exotics in its new expansion. Here's the list.
Destiny 2: Lightfall Exotic Weapons List
Destiny 2: Lightfall brings three new Exotic weapons which you can unlock after finishing the Lightfall campaign.
Final Warning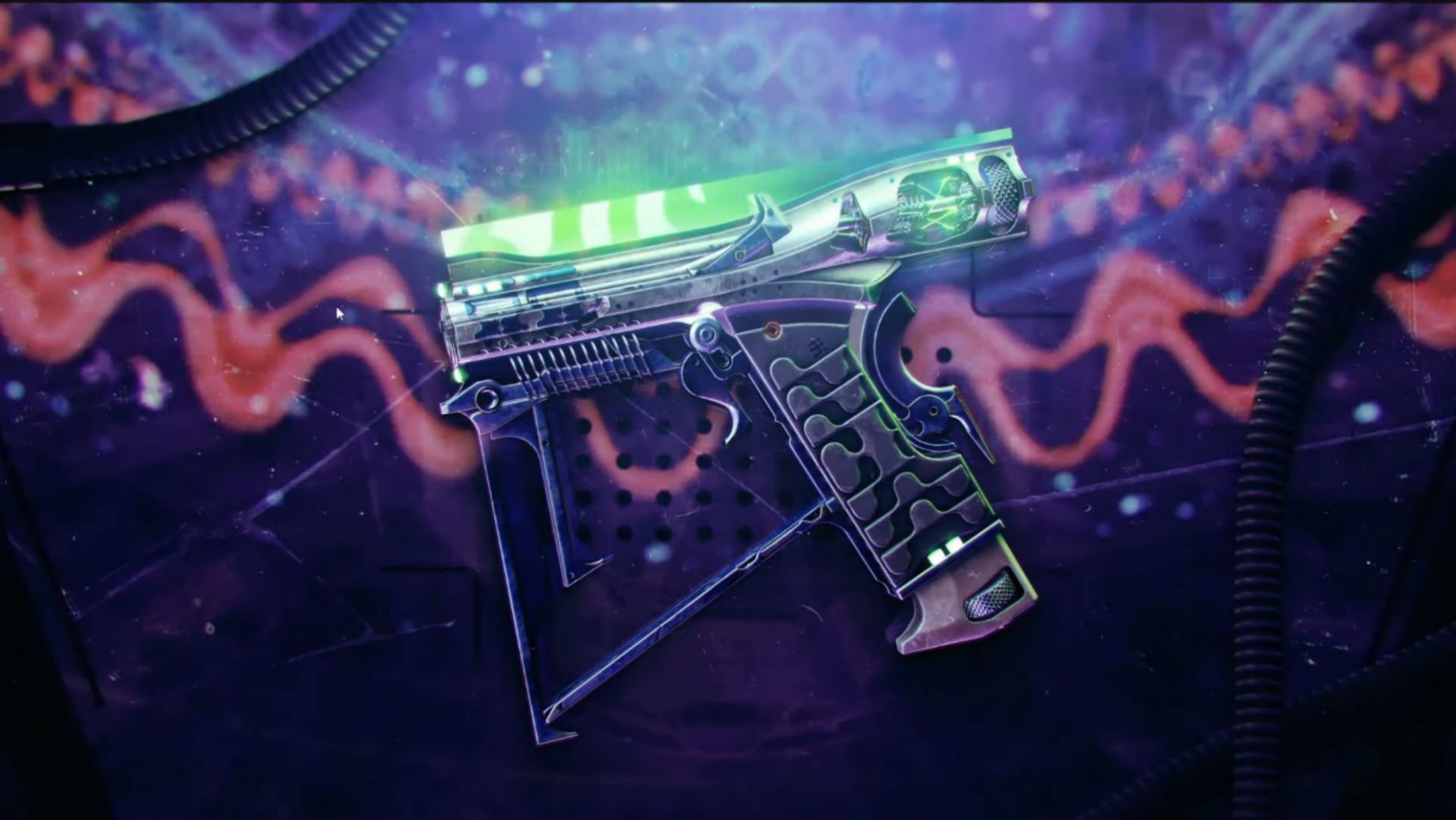 Gun Type: Sidearm
Exotic Perks: Hold down the trigger of this Kinetic slot Strand Sidearm to mark targets within range and load a burst of bullets. When hip firing, projectiles track aggressively toward marked targets.
How to unlock: Finish The Final Strand quest, which you can pick up from the Pouka Pond in the Hall of Heroes on Neomuna. This quest is currently locked behind unlocking all Strand fragments, which won't be available until after the Root of Nightmares raid is completed on 10 March.
Deterministic Chaos
Gun Type: Machine Gun
Exotic Perks: While holding the trigger, every fourth bullet of this Void Machine Gun becomes a heavy projectile that weakens targets on impact. Every fourth heavy projectile makes targets volatile on impact.
How To Unlock: You need to complete the Unfinished Business quest to unlock Deterministic Chaos. You can start the quest in the Hall of Heroes after finishing the Lightfall campaign.
Winterbite
Gun Type: Glaive
Exotic Perks: This Heavy slot Exotic Stasis Glaive fires a large ball of energy that locks onto nearby targets and freezes them.
How To Unlock: Beat the Lightfall campaign.
Destiny 2: Lightfall Exotic Armour List
Cyrtarachne's Facade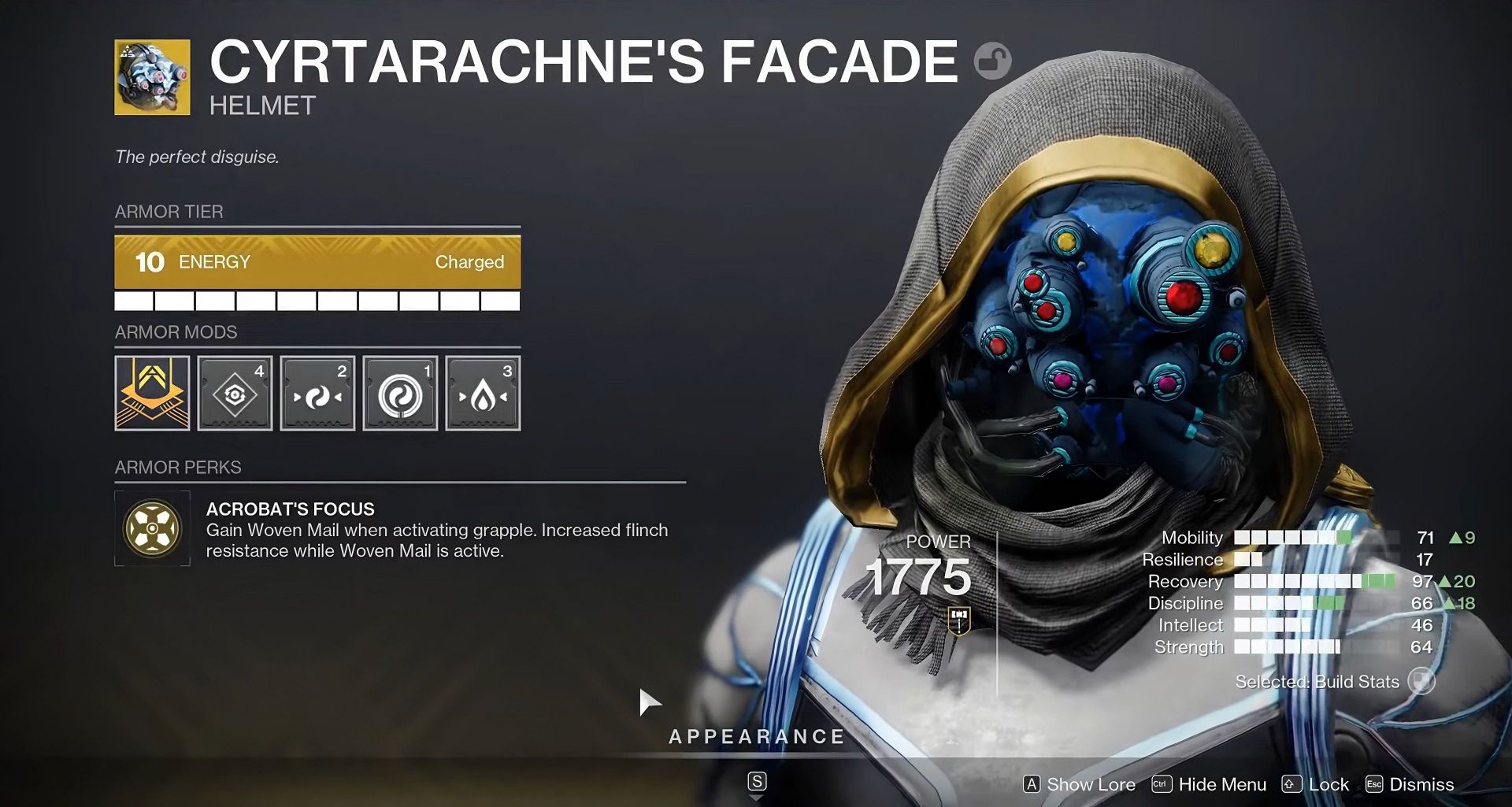 Type: Hunter Helmet
Exotic Perks: Acrobat's Focus. Gain Woven Mail when activating grapple. Increased flinch resistance while Woven Mail is active.
Speedloader Slacks
Type: Hunter Leg Armor
Exotic Perks: Tight Fit. Dodging boosts reload speed, handling, and airborne effectiveness for you and nearby allies. While the buff is active, final blows and additional dodges increase the buff strength and resets the timer. Maxes out at 5 stacks.
Abeyant Leap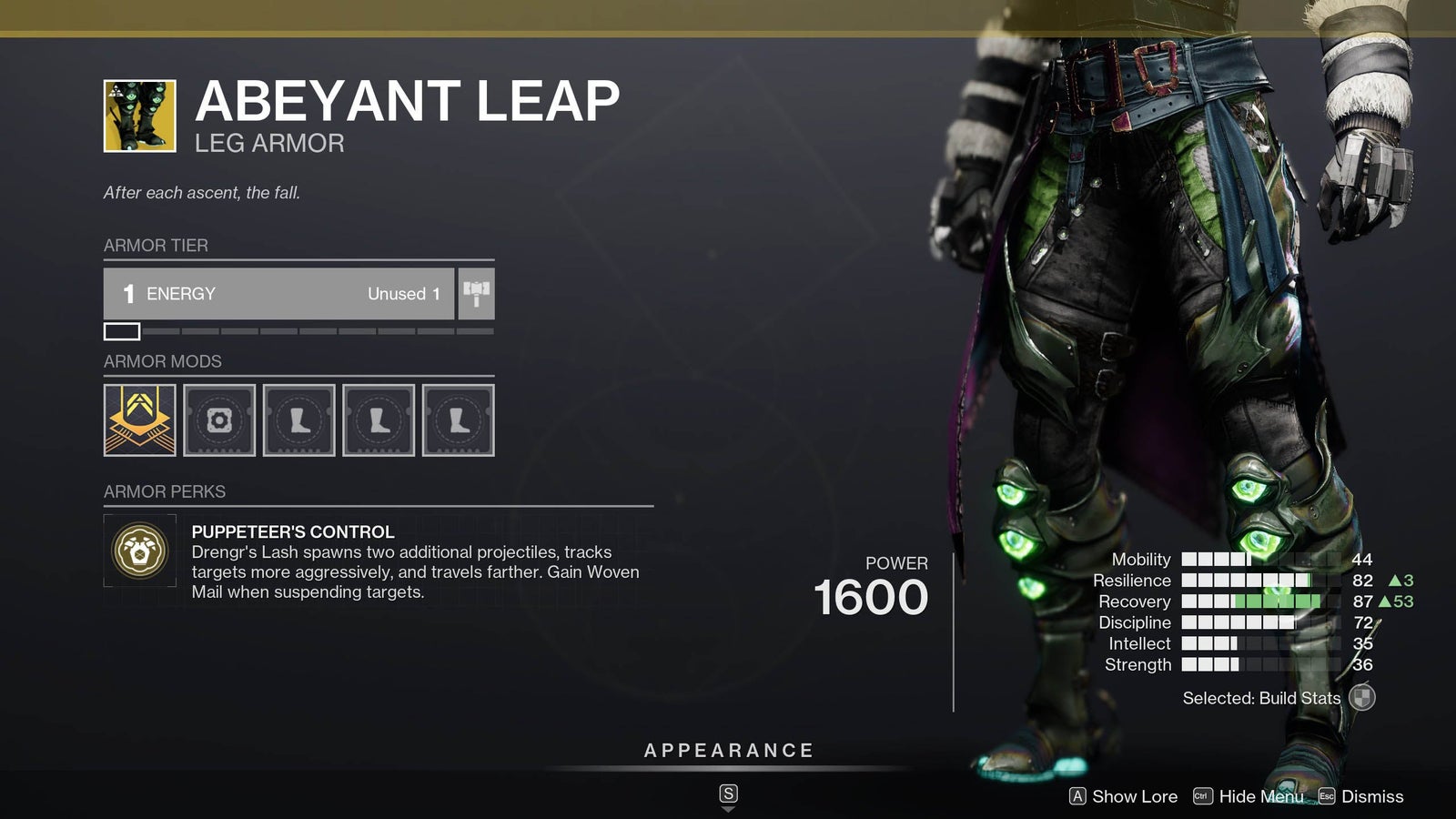 Type: Titan Leg Armor
Exotic Perks: Puppeteer's Control. Drengr's Lash spawns two additional projectiles, tracks targets more aggressively, and travels farther. You also gain Woven Mail when suspending targets.
Cadmus Ridge Lancecap
Type: Titan Helmet
Exotic Perks: Lancer's Vigil. Diamond Lances create Stasis crystals on impact when thrown, with more crystals created by hitting bosses and vehicles. While using a Stasis subclass and behind your rally barricade, rapid precision hits and combatant final blows with a Stasis weapon creates a Diamond Lance near you.
Swarmers
Type: Warlock Leg Armor
Exotic Perks: Swarmers. Destroying a Tangle spawns a Threadling. Your Threadlings unravel targets that they damage.
Ballidorse Wrathweavers
Type: Warlock Gauntlets
Exotic Perks: Hearts of Ice. Your Winter's Wrath Shockwave deals increased shatter damage. Allies in range of your Shockwave gain an overshield and increased damage with Stasis weapons.
Related