If you've never heard of Falloutt, Jon Kefaloukos, aka Falloutt, is the life of the party when it comes to shoutcasting for the Apex Legends Global Series! Even if you're not an avid follower of the Apex Legends esports scene, there's a good chance you'll become a fan watching him shoutcast (I know I did when I first saw VikkiKitty). With his charisma and infectious energy, he's the kind of person who can make any game exciting and entertaining to watch.
On the 17th of February 2023, Falloutt posted the image below showing a critical analysis of the current competitive ecosystem pyramid in Apex Legends.
Falloutt talks about the large gap that is unexplored between casual players and pros. It is without a doubt that game publishers will spend all their resources and time to maximize the lowest part of the pyramid, which is the casual players since that is the biggest part of their player base.
There is always a HUGE downtime after Challenger Circuit ends and aspiring pro players have nowhere to grind but ranked, and we all know Apex Legends ranked is… well, it's something… And imagine, all these aspiring players, watching ALGS, getting pumped and motivated to only have ranked to play. Many players have repeatedly asked for a more community-based competitive scene outside of the main event ALGS circuit series, and that's what we're about to get! So, let's talk about –
APEX RISING
What is it? Well, the answer to our problem! Apex Rising is a new tournament series, and it's all about giving the fans, community members, and aspiring pro players a chance to experience competitive Apex Legends like the pros do. The ultimate goal is to provide the resources, support and opportunities needed to help aspiring pro players and Apex Legends fans succeed and bridge the gap between the community and the pros.
Here, they will be able to showcase their skills, and take their game to the next level. But here's the thing, it's not just about the competition – Apex Rising is also dedicated to growing the game through grassroots. community-driven events, tournaments, and broadcasts that will bring players of all skill levels together.
What's great about this series is that it isn't just about competitive gaming – it's also about making a difference in the world. Apex Rising is committed to supporting leading and deserving charities through significant fundraising efforts when they can. By participating, you're not only showing off your crazy movement and skills, but you're also contributing to an important cause! And the best part? This is all just the beginning. Apex Rising has a long-term roadmap and vision that includes even more charity fundraising and community-driven events.
APEX RISING: CHARITY PRO-AM INVITATIONAL
Well, hold on to your weapons, and get ready for the ultimate Apex Legends philanthropic showdown! The Apex Rising: Charity Pro-Am Invitational is a two-day esports tournament that brings together 40 teams of pro players/ content creators, and 2 deserving community members in a double elimination, Apex Legends Global Series (ALGS) format. 40 of the world's top professional players and influencers will be paired up with 80 amazing community members who have earned their spot, not just based on their skills mechanically in game, but also their leadership as well as personalities. We're talking about a diverse group of players from all over the world, all coming together to showcase their skills and also have a blast. This itself makes for a unique and exciting competition that's all about giving back.
The goal is to raise US$1, 000, 000 for charity while promoting pro players, content creators as well as amateur rising stars in the process. With great viewership expected, this event is sure to drive a significant impact to both the Apex Legends esports scene and charities.
So mark your calendars, for 20 to 21 April 2023, root for your favourite players, and watch as the community comes together in support of a great cause!
Who's running Apex Rising?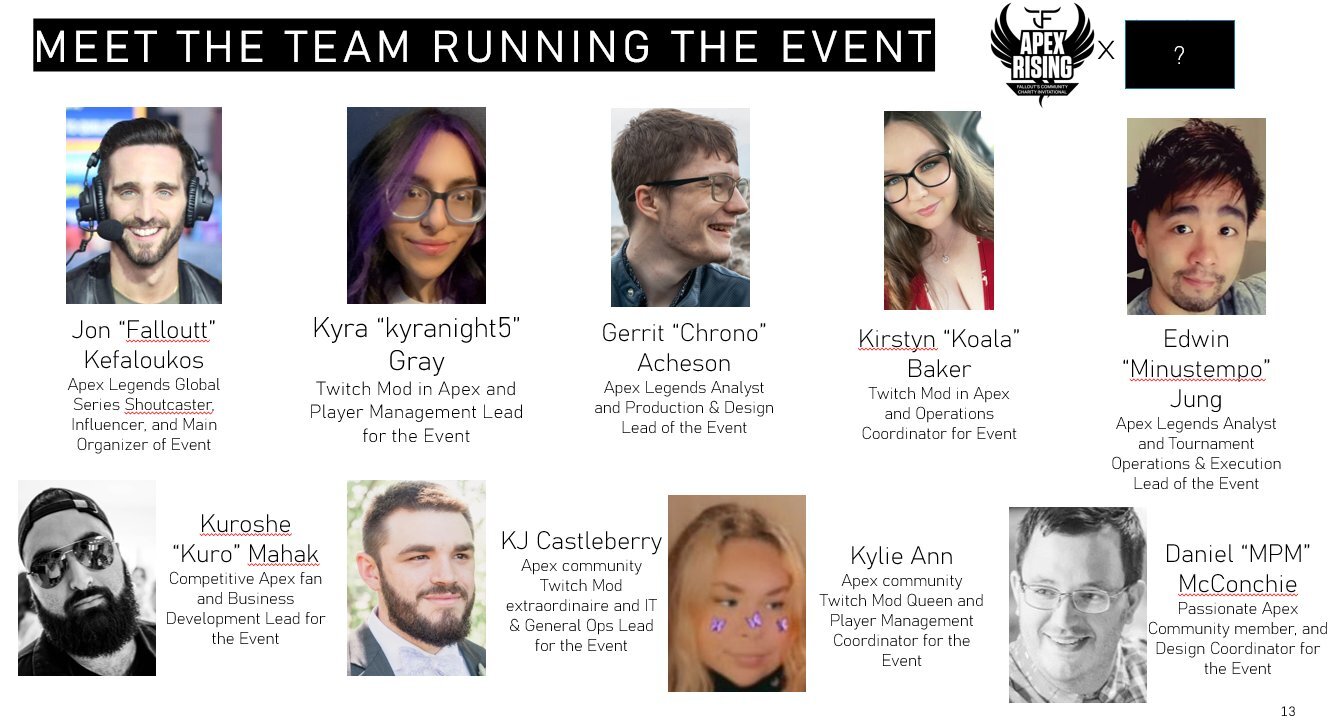 Well, as it is a community-driven event, there will be many amazing people they're relying on to make it happen. From staff members and community members, everyone is coming together to create this event. Here's the main crew who will be hard at work, be sure to give them all some love while you're at it.
We'll keep you guys updated on what's next for Apex Rising, so stay tuned!
Related