Infinite Lagrange is launching a special return server on April 19th, inviting all former Pioneers to come back and experience the excitement of the game once again. The Lagrangian galaxy owes its development and expansion to the intrepid Pioneers, whose past efforts have left an indelible mark on the galaxy's history. Even those who had to leave temporarily for various reasons are crucial to its ongoing growth.
Infinite Lagrange warmly welcomes all former Pioneers to return and rediscover the game's thrill. For those who may have missed out on some of the exciting activities and benefits during their absence, Infinite Lagrange has a surprise gift in store.
As the name suggests, the return server is exclusively designed for our returning Pioneers. To join, returning Pioneers need to meet the simple participation conditions and register within the specified time limit. The newly launched return server has been thoughtfully designed to help you get up to speed with the latest developments and changes in the Lagrangian universe. It offers a range of customized activities and benefits to make your return journey as smooth as possible, allowing Pioneers to rediscover the excitement of the game.
It can be disappointing for returning Pioneers to have missed out on exciting events and benefits. To make up for this, the "Reconnect with the Lagrangian Galaxy" activity will be launched after this update, consisting of two parts: the "Lagrange History" event and a new feature "Galaxy Information".
The "Lagrange History" event allows returning Pioneers to unlock up to three missed events, purchasing and obtaining exclusive Tech Files related to their choices, with a half-price discount on Pioneers' first purchase. When opening the Tech Files obtained from these events, Pioneers will enjoy a higher chance of getting valuable battleship and fighter blueprints.
For instance, the Heart of Thunderbolt – Integrated Arsenal Ship introduced during the 2023 Beacon Festival event comes equipped with Thunderbolt Group's ultrahigh energy Ion Cannon and a mobile military integrated system, making it an outstanding performer. Another excellent example is the Hayreddin Follower Pulsar Fighter, which debuted during the 2022 Dawn Celebration. This fighter boasts a 25% dodge rate, full-area air defence capability, and a pulse cannon that can gradually increase damage when attacking the same target continuously. With its comprehensive range of functions, this fighter is a must-have for Pioneers.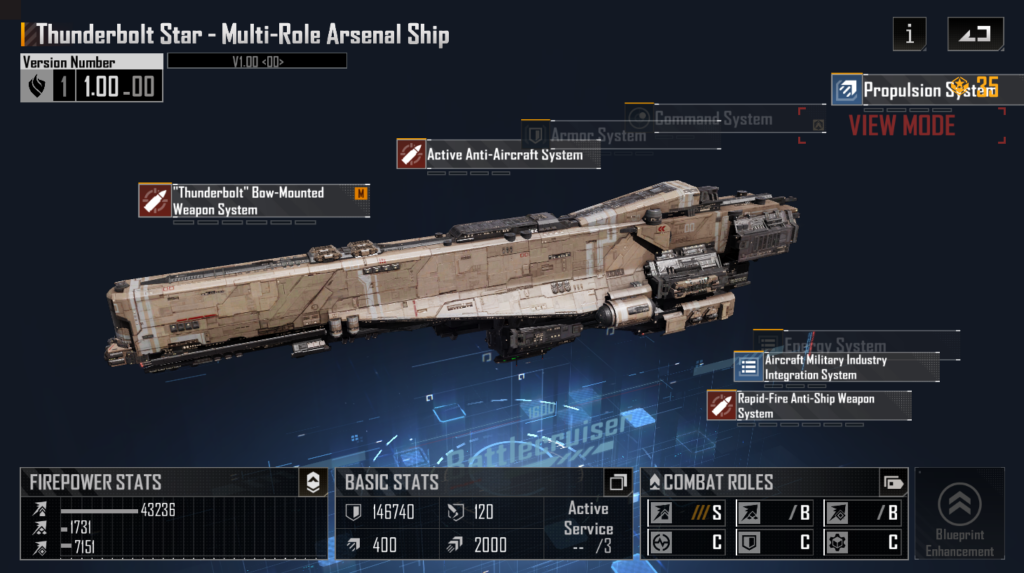 The "Galaxy Information" is a new feature which provides returning Pioneers with easy access to get to know the latest missed events and new updates from the past year. This allows them to quickly comprehend and adapt to the current environment of the Lagrangian galaxy. For instance, the flagship ability launched in November 2022 in "Infinite Lagrange" enables Pioneers to grant the entire fleet various bonus effects or abilities by selecting different ships as their flagship, significantly expanding their tactical options. The new "Nova Agreement" introduced this year offers a stable and less competitive setting for Pioneers who meet its conditions, empowering them to explore and progress freely.
Furthermore, the return server has introduced a "Return Channel" for returning Pioneers to share their experiences and foster emotional connections with each other. Orgs can also quickly recruit Pioneers through the channel to collaborate on development.
The "Infinite Lagrange" return server registration will open from 19 April to 3 May 2023. The eligibility application conditions and registration process have been simplified to make it easy for Pioneers planning to return. Starting from 5 April 2023, Pioneers who haven't logged in for 30 days or more and have successfully expanded their base to Area 5 can register. Simply click the return activity button on the game login interface to view your qualified characters.
The "Infinite Lagrange" team is excited to welcome back all returning Pioneers. By offering a fully immersive space exploration experience with customized convenient activities and rich benefits. We aim to ensure a smooth transition for everyone into the new environment of the Lagrangian galaxy.