Picture this; in the school canteen, hungry kids waiting for their meal. You're the kakak in charge of serving them, and you've also got to make sure they eat something balanced; all good for their growing bodies and changing minds. All within a time limit, too! 
Enter: Suku Suku Separuh (translation: Quarter Quarter Half), a new edutainment game aimed at primary school students from ages 9-12. The game was developed by local studio Kindling Interactive, in collaboration with Universiti Putra Malaysia and the Health Ministry of Malaysia.
Using your keyboard and mouse, you'll drag and drop the student's desired food onto their plate. Once the food pyramid bars are up to green, you're good to go! But how long can you keep it up before time runs out? Here's what you need to know about one of this year's more unique regional educational offerings.
Healthy eating is the way!
The player takes on the role of a "kakak" in a school canteen, serving balanced and nutritional meals to children during their recess period. However, the menu changes up every time you play.
The game places emphasis on the food pyramid and portion sizes, educating students on what it means to eat a balanced meal. The in-game food menu even features scientific nutritional information on the items, provided by KKM themselves. 
A familiar art style!
The game's character art is also heavily inspired by the Kampung Boy series by Lat, as well as "It's a Durian Life" – which has an instant nostalgic and eye-catching appeal to players of all ages. The choice to rely on this distinctively Malaysian caricature style was to also present a very strong Malaysian artistic identity. 
Students featured in the game were also designed with the diversity of Malaysian students in mind, featuring characters of different races and body types.
Aligning with that, the game's menus and interfaces are based on familiar aspects of the Malaysian school canteen – from the tiled walls, to the rolling shutters of the food counter, to even the menu board and metal trays that the food is served in.
Edutainment For All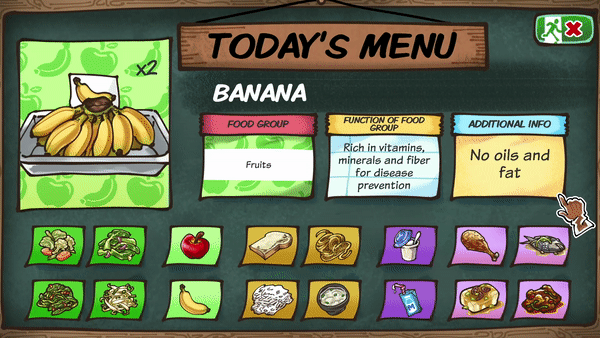 Suku Suku Separuh is being made available on primary school computers nationwide, as well as for download on the developer's itch.io account. 
The version available on school computers are also set to feature a back-end database that records the data of a student's playthrough, making it easier for teachers to identify students who need external help understanding the importance of healthy eating habits, and the food pyramid. 
Games are an amazing medium that can not only entertain and engage, but also educate. Major kudos to the development team of three for putting this all together!

You can download Suku Suku Separuh for FREE on itch.io today!