The highly anticipated Polis Evo 3 is finally here, and it's causing quite a buzz! And you know what's even better? PUBG Mobile, that insanely popular mobile game, is teaming up with Polis Evo 3 to give fans and players some exclusive goodies and voice packs.
Starting today until 4 June, you can dive right into the action-packed Operasi Evo Event within the game itself. By taking part, you'll have the chance to score the official Polis Evo 3 voice packs featuring Inspektor Khai and Inspektor Sani. Oh, and did I mention that the catchy tune "AYUH," the official soundtrack of Polis Evo 3, will be playing as the Game Lobby Music when you launch PUBG Mobile? Talk about getting fully immersed in the experience!
On top of the voice packs and epic music, you can also grab some cool rewards like Profile Frames, Profile Pictures, and even a Graffiti Spray to complete the whole set. It's like a treasure trove of Polis Evo goodness.
Below is an overview of all the available items from PUBG Mobile X Polis Evo 3:
Operasi Evo (27 May – 4 June)

Mission

Reward

Login 1 Day

Lobby Music – AYUH (OST Polis Evo 3)

Stay online for 30 Mins

Profile Frame + Profile Picture

Complete 3 Matches with friends

Graffiti Spray

Finish 7 Times in the Top 5

Inspektor Sani (Basic Edition) – 3 Voicelines

Eliminate 30 Enemies

Inspektor Khai (Basic Edition) – 3 Voicelines
Inspektor Khai & Inspektor Sani Voice Packs (27 May – 30 June)

Item

Requirement

Inspektor Khai (Enhanced Edition) – 8 Voicelines

80 Ocean Crystals

Inspektor Sani (Enhanced Edition) – 8 Voicelines

80 Ocean Crystals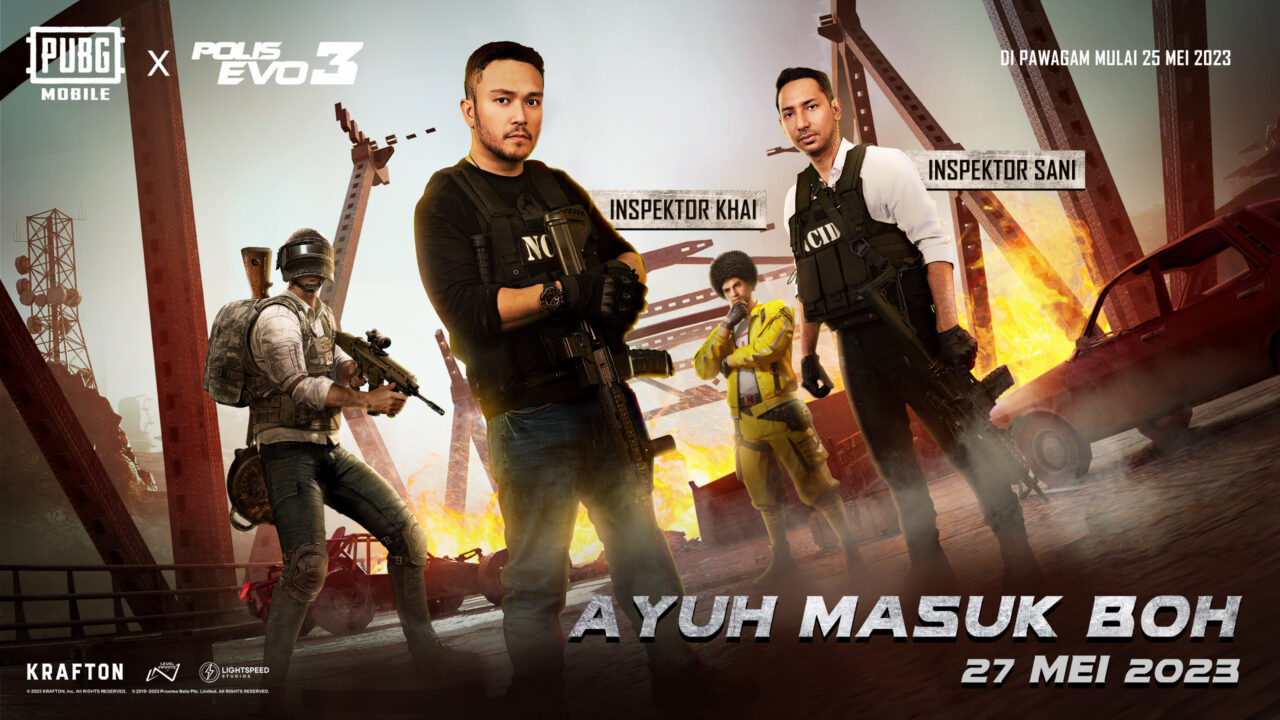 Adil Hisham, the Marketing Manager for PUBG Mobile in Malaysia, couldn't contain his excitement, saying, "We're thrilled to be teaming up with Polis Evo 3 for this special in-game event. With Polis Evo 3 being the third instalment of the hugely popular franchise, this collaboration brings the PUBG Mobile community together, just like the bond between Inspektor Khai and Inspektor Sani." It's all about building that camaraderie, folks!
To make things even more exciting, PUBG Mobile has released an official collaboration video across their social channels. Trust me, you don't want to miss it. In the video, you'll see our favourite crime-fighting duo in action, on a mission to defuse a bomb. And guess who makes a special cameo appearance? Yep, none other than a PUBG Mobile character, joining forces with our "supercops" on their daring adventure.
While you gear up for your own thrilling missions on PUBG Mobile, don't forget to catch Polis Evo 3 in cinemas right now. As of now, the movie has already made a whopping RM3.4 million in early screenings and sales on its premiere day. So, you know it's gotta be good!