Roguelite games have gained immense popularity in the gaming industry, and it's not hard to see why. These games are designed in a way that keeps players engaged and coming back for more. A well-crafted roguelite game introduces a core gameplay loop that becomes addictive, making players want to continue playing. Additionally, these games are filled with a plethora of enjoyable content, ensuring that players are constantly entertained and never get bored. The gameplay is designed to be brief enough for quick sessions, providing a satisfying experience within a short timeframe, either playing solo or with friends.
Easy said than done, creating an outstanding roguelite game is already a challenging endeavour, but imagine the added complexity of incorporating tactical action and tower defence elements into it. A prime example of a game that successfully merges these elements is SEGA and AMPLITUDE Studios' Endless Dungeon. After 6 hours with the Closed Beta, I came to one conclusion: it's a potentially fun-filled experience for fans of the genre and even for those who never played roguelite before, such as yours truly.
Twist & Turns
Endless Dungeon is an immersive game that transports you into the heart of a mysterious and abandoned space station. Within this enigmatic setting, your primary objective is not only to find a way out but also to safeguard the Crystal Bot from the onslaught waves of merciless monster hordes. The stakes are high, as failure means starting from scratch once again. However, in the endless cycle of the game, there is always an opportunity for another attempt.
Throughout each level, you will be able to generate resources such as Food, Industry, and Science using generators or obtained through exploring and opening doors. In generating these resources, you will have to gamble in a way about how to spend the resources they have in hand — either to generate more of them or utilise them to unlock doors.
However, it is imperative to note that each door not only represents a new path toward the exit but also serves as another avenue for monsters' invasion. Each wave gradually builds up the more doors you unlock. It gets longer and monsters are tougher to defeat while protecting the Crystal Bot from getting hit. If you're playing solo, you get to control the heroes you selected and even command them to either follow you or stay put protecting the Crystal Bot. Also, you get to switch to any heroes during the adventure.
In terms of guarding the Crystal Bot, you can build turrets around it but better be safe than start from scratch right? Once you find the exit door, it's prime time to plan the shortest path to the exit, build turrets on certain areas (better not spend all your resources) and command the Crystal Bot to move. And yes, this also triggers a horde of monsters, unleashing their relentless attacks.
Squad Up
While Endless Dungeon primarily focuses on its gameplay mechanics, there are additional features that enhance the overall experience for players. One such feature is the inclusion of personal quests that can be completed with each character. These quests are not directly tied to the main storyline or gameplay progression, but they offer a chance to delve deeper into the world of Endless Dungeon.
One constant location is the Saloon. It serves as a central hub where players can regroup and strategize after dying in the district. Here, they have the opportunity to upgrade their heroes and weapons, ensuring they are well-equipped for the challenges that lie ahead. Additionally, the Saloon provides a platform to engage with the locals, exchanging valuable information and insights. Furthermore, players can take advantage of different stat boosts available at the Saloon, which can significantly impact their performance in subsequent runs. The importance of making smart choices within the Saloon cannot be overstated, as these decisions can ultimately determine the success or failure of the next adventure.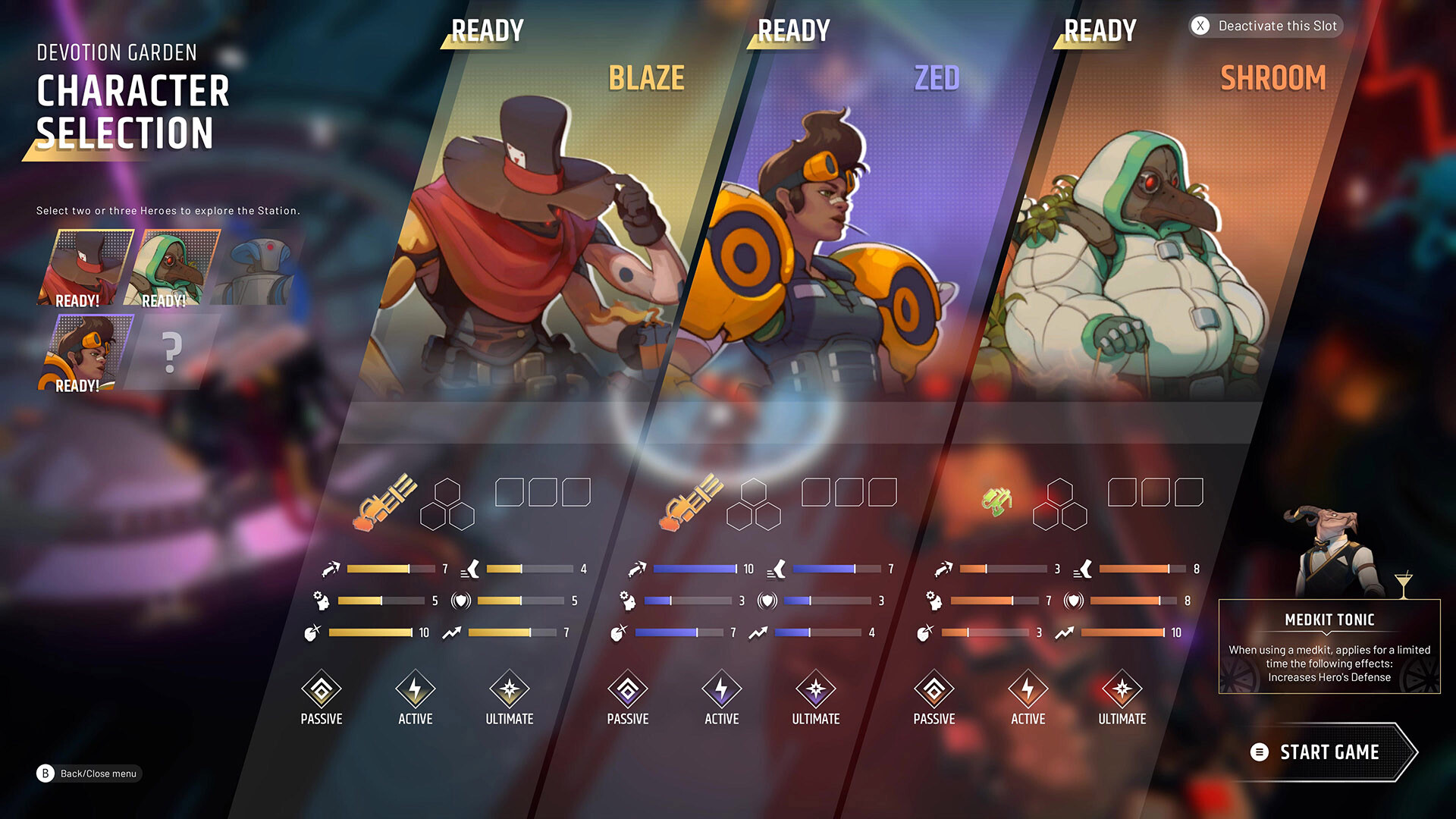 Endless Dungeon features a unique three-player co-op experience. The dynamic gameplay allows for strategic teamwork and coordination among players. It offers a diverse range of characters to choose from, each with unique abilities and playstyles. One such character is Zed, who excels at being a tank and is equipped with giant-sized armour and a powerful machine gun. On the other hand, there is Shroom, a support-type character who specializes in healing others. She collects Souls resources and utilizes them through her Wincense skill to heal her allies during battles.
One of the most impressive aspects of Endless Dungeon is its ability to keep players coming back for more. The game instils a sense of determination in both the players and the characters in the game. As players progress further into the dungeon, they are constantly driven to prove to themselves that they can overcome the odds and reach new heights. Plus, the game is chaotic fun with easy mechanics that you can master in no time.
Endless Dungeon is a game that goes beyond its initial appearance. It offers a combination of simplicity and surprising complexities that keep players engaged and addicted. The shared determination between players and characters adds an extra layer of immersion and emotional investment. With its compelling gameplay and rewarding challenges,  Endless Dungeon has the potential to be the definitive roguelite game for 2023, perhaps even overtaking the throne of the ever-monumental Hades.
Endless Dungeon is slated to launch for PS4, PS5, Xbox One, Xbox Series X/S, Nintendo Switch, and PC via Steam on 19 October 2023.