It's that time of year again as Thailand Game Show has come and gone for its 2023 instalment. In case you're not familiar, Thailand Game Show—or ThGS as it is often abbreviated to (because calling it TGS would just be confusing)—is the country's premier video game expo where mostly AAA companies come by to show off their latest games or upcoming games.
Venue-wise, for another year in a row, the expo returned to the Queen Sirikit National Convention Centre as its official venue. I have to say, I love this venue due to its convenience. Yes, it may be packed shoulder-to-shoulder with con-goers and cosplayers. Still, the environment it's surrounded by is something to behold as right outside the entrance, you're met with the beautiful scenery of a park-lark with the Bangkok city skyline behind it.
Speaking of making a return, for the past two years, the big boys on the playground that is ThGS have been Japan's very own Bandai Namco and Sega followed by HoYoverse also making a return. It should be noted Xandria and I were able to go on this trip all thanks to Bandai Namco so I owe them a lot of appreciation for flying me out for a second year in a row, so let me show a little bit of love and share with you what they had in store at the convention.
Bandai Namco probably had one of—if not—the biggest booth at the convention that was divided into three sections. The biggest and most impressive section they had was the Tekken 8 booth which was designed to be a literal MMA octagon. Inside were five set-ups all equipped with arcade sticks for everyone to try out. The fifth station, located right in the centre of the octagon was reserved for show matches on Days 2 and 3 where the one and only Michael Murray, producer of the Tekken Project and Tekken 8 would play against fans and pro players alike.
There was also a really cool Final Fantasy-themed bar set that had every alcoholic liquor imaginable on display. As cool as that was though I was more intrigued by what stood next to it. A streaming booth for local Thai content creators to play Tekken! It was cool to see it in action as the box was separated from the public by a glass pane so that obviously drew a crowd when streamers were in the booth.
Just behind the octagon were the play-test stations and there was a wide variety of games to play test, some new and some unreleased. First up was SYNDUALITY: Echo of Ada, a new PvPvE third-person looter-shooter where you control a mech assisted by an A.I. called a Magus. It looks pretty promising if you ask me, not only graphically but also as a multiplayer game as we see the rise of other looter shooters such as Escape from Tarkov and Arena Breakout on mobile. Funnily enough, Xandria described the game as:
The Cycle: Frontier but third-person and before they made it more like Escape from Tarkov.
As many who are interested in the game may be aware, SYNDUALITY: Echo of Ada has been delayed and at ThGS it was further confirmed that there's no news on when it will be released as stated by the producer Yosuke Futami.
Another, game that I'm really glad to have gotten the chance to play test was SAND LAND. If you're a fan of Akira Toriyama's manga and anime works, you're in for a treat. In SAND LAND, you're transported to a harsh desert realm where folks and demons alike are grappling with a major water crisis. You get to step into the shoes of some intriguing characters, including the Fiend Prince, Beelzebub, the lawman Sheriff Rao, and a sly demon known as Thief. Together, they embark on an epic quest to hunt down a fabled oasis hidden deep in the dunes. From the short demo I did play, my biggest takeaway is the graphics. I absolutely adore the cel-shaded art style that really helps enhance the grittiness of the environment much like it does in the Borderlands series. Again no news on when this will be coming out for the time being but you'll obviously hear it here when news does finally arrive.
The last game Bandai Namco game I want to talk about here is probably the one that everyone is looking forward to and that's Final Fantasy VII Rebirth. Now I do need to preface one thing, unlike most gaming connoisseurs who fondly reminisce about their Final Fantasy adventures, during my gaming infancy, I was busy forging my digital destiny in the Xbox realm. While they and probably many of you were summoning Chocobos, I was mastering the art of teabagging in Halo. So, in the epic tale of my gaming life, Final Fantasy was the elusive unicorn to my Xbox-riding knight. Now with that said, I'm not completely oblivious to the change in game genre that has occurred in the FF franchise over the past couple of years. It's just I didn't really get the memo that Rebirth's combat was a hybrid between the action combat games we see nowadays like God of War sprinkled with some of your bog-standard turn-based combat menu features. And let me tell you, I was bad. Like REALLY BAD.
To put it into perspective, the playtest area only had five stations, hence you could only enter in groups of five… I was the last person there and let's just say the next group did not look too happy that I had kept them waiting longer than anticipated after probably waiting four hours to play this game too. I think the thing that stumped me the most was that accessing the combat menu works in real-time, so as I'm fighting for my life to figure out who has enough action points to give a potion to Red XIII and Barret, Cloud is taking the beating of a lifetime. That's definitely not to say that the combat system is bad. It's just that I'm bad.
My fighting prowess aside, the game honestly felt phenomenal and it's blatant that Square Enix is really pushing the PS5's capabilities to the absolute max with this iteration of the game. One thing I know for sure though is that the combat system is definitely going to give me nightmares for a while. But who knows, maybe when 29 February comes around I'd have figured it out by then.
Sega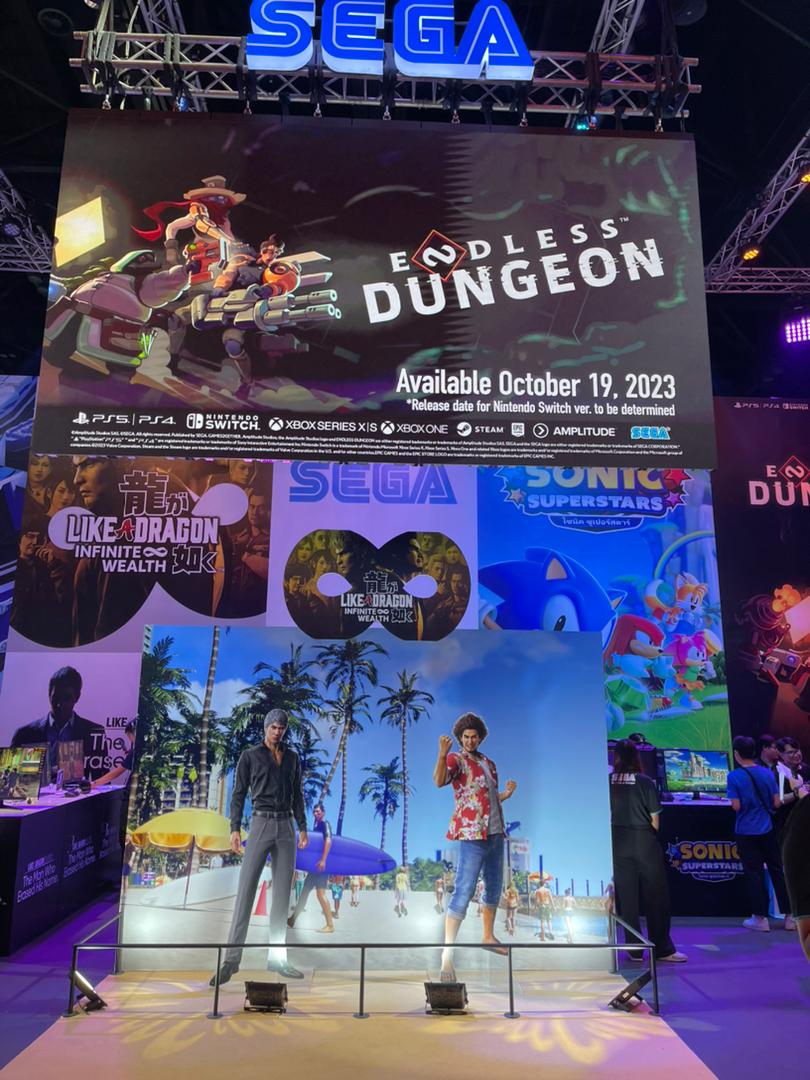 Sega's booth which was located just opposite Bandai Namco's streaming booth was also something to behold. Mainly because they would blast hardstyle music every time an emcee came on to announce a lucky draw (I can imagine that made it quite hard to stream at times). Although much smaller, Sega's booth was primarily set up for playtests for four separate games which were Persona 3 Reloaded, Like a Dragon: Infinite Wealth, Sonic Superstars and Endless Dungeon. For the latter two, we already have reviews which you can check out here and here respectively.
I, unfortunately, did not get a chance to playtest Persona 3 Reloaded but I did get to try out Like a Dragon: Infinite Wealth, I think I'm going to hold my tongue—or in this case—fingers, as I did not have the smoothest experience at my playtest station as my controller was experiencing severe input delays which made the game unplayable for the most part. What I will comment on though is that the demo I played definitely focused on the minigames which are a vital feature of the Like a Dragon experience. I attempted to play the iconic karaoke minigame but given the input delays, it's safe to say that I failed it miserably.
The jury's still out on my thoughts on the turn-based combat due to the controller issues but I will say that I did really like the action combat in Ishin! but then again, I've never been the biggest fan of turn-based combat.
Sights & Sounds
All in all, Thailand Game Show 2023 was just as much fun as I remembered it being. Wondering around the venue, surrounded by like-minded gaming nerds and cosplayers is just an experience that's just so surreal that it's incredibly hard to put into words. I do also want to comment on the cosplayers. Boy, do Thai cosplayers know how to show out? I swear, one in five people were cosplaying. I'm sure there's a cultural aspect to it but I can't quite put my finger on it, but I'm going to try anyway.
I feel as though Thai con-goers really do not care about what others think about them, which—when it comes to cosplaying—plays a massive role. They're just not afraid to express themselves in the form of cosplaying and it's so awesome and wholesome to see. It's almost inspiring.
Once again, a very big THANK YOU to Bandai Namco for flying us out to Bangkok once again! I totally wasn't hoping all year round that I'd get a chance to go again… I guess wishes do come true. And lastly, be sure to check out the recap video Xandria and I did below!