This Holiday, The LEGO Group is ringing the festive season in by encouraging the gifting of superpowers one can obtain through LEGO Play. From November till December 2023, The LEGO Group will be bringing The LEGO Santa's Superpower Christmas Cove across three malls.
Families can look forward to fun-filled adventures as they experience the gift of superpowers through LEGO Play at Sunway Carnival in Penang from 10 to 19 November 2023, Sunway Velocity in Kuala Lumpur from 23 November to 3 December 2023 and Sunway Pyramid in Kuala Lumpur from 7 to 17 December 2023.
In the spirit of giving, The LEGO Group will also be launching its first-ever Build to Give (BTG) initiative in Malaysia, and will be partnering with charities to spread the superpower of play to support children in need of play by building a LEGO brick heart and sharing the joy at the event. For every LEGO heart built, The LEGO Group will be donating a LEGO set to a child from the appointed charity partners. From 1 November, shoppers can also enjoy exclusive discounts on selected LEGO sets in-store and online, to encourage shoppers to give the gift of superpowers this Holiday through LEGO Play.
Play experts have found that play is a fundamental aspect of every child's development, allowing them to develop crucial 'superpowers' and cognitive skills that benefit them both now and in the future. The focus on the superpower of play this Christmas is driven by insights from new research by The LEGO Group which found that 85% of parents surveyed in Malaysia saw play as beneficial in developing their children's skills and abilities. 4
1% of these parents also found that these skills were necessary for their children's future wellbeing and success.This alignment in the importance of play in a child's development and impact on their future has strengthened The LEGO Group's emphasis on the importance of sufficient play time for children, inspiring activities and experiences that gift children with these 'superpowers' or skills that carry them through life. With a series of activities touching on the benefits of play, The LEGO Santa's Superpower Christmas Cove offers an immersive yet powerful opportunity for all to experience the superpower of LEGO Play this festive season.
Rohan Mathur, Marketing Director, Southeast Asia, The LEGO Group said:
"At The LEGO Group, we have always been a strong believer of play as a core facet of a child's development, and we believe that it is an essential skill that should be nurtured from a young age. This Christmas, we are excited to be sharing the gift of play with more children and empower them with skills that will go on to inspire them to explore limitless possibilities of their imaginations and in life through LEGO play. By experiencing the superpower of play with us this holiday, we hope to empower more children to create lasting memories, and take away superpower skills that will carry them through life."
Experience the superpower of play at The LEGO Santa's Superpower Christmas Cove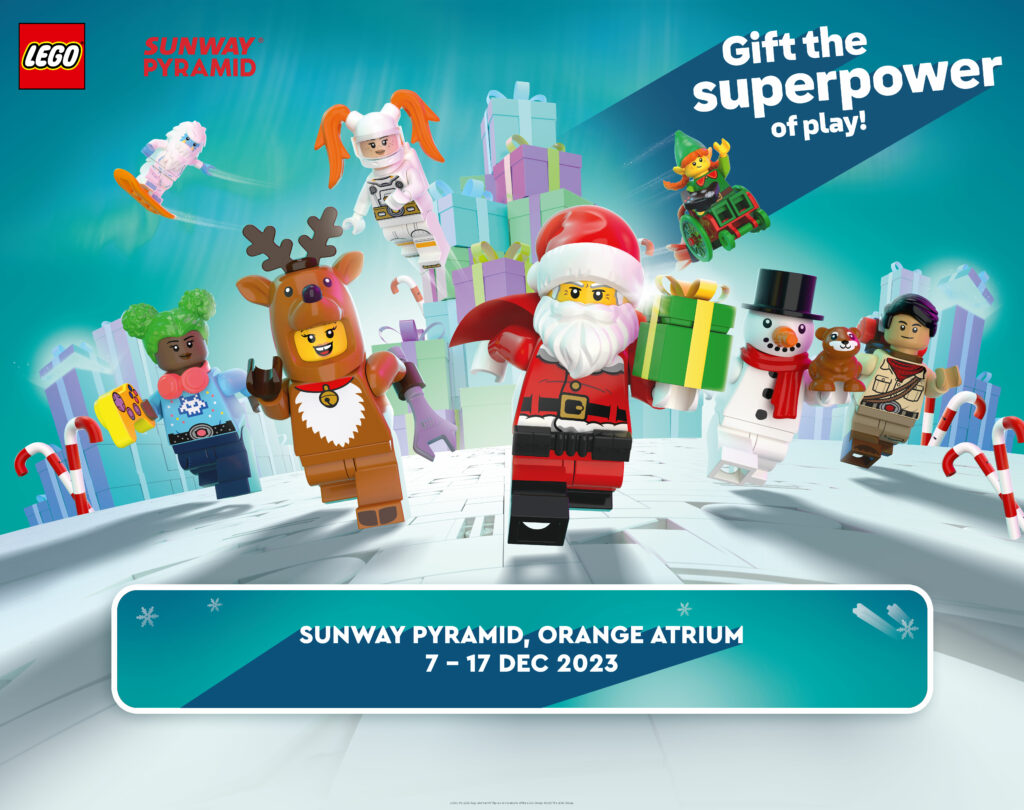 In partnership with Sunway Malls, the mall will be transformed into a Christmas superpower cove with countless opportunities and activities for children to discover a myriad of superpowers.
To kickstart their adventure, each participant will be given a mission card to complete a series of activity stations and help Santa and his Elves get supercharged for Christmas to locate the missing presents. From saving Santa's falling presents with the superpower of agility to putting your superpower of sharpness to the test in the Christmas Village diorama, families can come together to complete themed challenges and redeem an exclusive Santa Minifigure, while stocks last. With the range of engaging activities, participants can put a series of superpowers to the test and discover how LEGO Play can enhance these skills, such as coordination, concentration, and their attention to detail.
To soak in the full Christmas spirit, visitors can catch special appearances and take photos with LEGO Santa Mascots at selected times over the weekend.
Loo Hoey Theen, General Manager of Marketing, Business Innovation & eMall at Sunway Malls said:
"Sunway Malls is excited to be partnering with The LEGO Group to ring in the holidays this year through a meaningful and engaging event that brings families together for the holidays. We are proud to be able to join The LEGO Group to share the gift of play with more children and families this year, and we are happy to be helping children create new memories and play experiences this Christmas."
Additionally, you can also do your Christmas shopping at Sunway Malls during the event dates to receive an exclusive 4-in-1 Christmas Ornament with a minimum purchase of RM249, while stocks last.
You can visit LEGO Malaysia for more information, as well as the latest offerings and promotions. Shop LEGO sets at all LEGO Certified Stores.