Platform(s): PlayStation 5 (version reviewed), PlayStation 4, PC, Nintendo Switch
Genre: 90s scifi Japanese role-playing game with an HD-2D coat of paint & more
Development team Tri-Ace had quite a history stemming back from the days when it split off from Wolf Team back in 1995 to form Tri-Ace. Proving to the world that they could make real-time action-packed combat JRPGing work in the 90s and 2000s, Tri-Ace stuck to their guns and made the Star Ocean games -scifi JRPG clearly influenced by Star Trek- with the second entry Star Ocean: The Second Story arguably being the peak of their illustrious game-making career.
Unfortunately, they couldn't recapture that magic, though they still are around making off-kilter JRPGs and even continuing to make Star Ocean sequels with dwindling budgets. So parent company Square Enix decided to tap into the retro gaming well again and remake Star Ocean: The Second Story proper. Since the company has developers who know how to make the HD-2D aesthetic work (see Octopath Traveler games and Live A Live), they recruited game studio Gemdrop to make lightning strike one more time.
The results? A respectful throwback to the Star Ocean game that's worth checking out, especially with its new look and upgrades. It also proves that Gemdrops' history with JRPGs under Square Enix have paid off in keeping the second game's allure intact.
Land Of The Lost
Star Ocean: The Second Story R is about a boy named Claude, the son of a renowned space captain on the game's equivalent of Star Trek's Enterprise, who ends up getting teleported to a strange alien planet called Expel, a place filled with swords and sorcery. The game is also about a young girl named Rena who wishes to find out more about her birthright after finding out her mom isn't her birth mom.
Both Claude and Rena's path cross with each other, and together they go on a long trek through Expel (and other places) to solve the world's crisis stemming from a contraption called the Sorcerer's Globe. Players can choose whose story to start with, as they offer different characters you can recruit and new scenarios, companion-bonding scenes called Private Actions, and various endings you can unlock. Choice companions include a sexily-dressed spellcasting treasure hunter, an edgelord who doubles as Rena's proxy brother, a swordsman with two dragons strapped on his back through a freak magic accident, a journalist who knows kung fu, and a snotty scientist kid who happens to create the world's nuclear bomb option. If you want party member variety personality and skill-wise, this Star Ocean sequel has it in spades.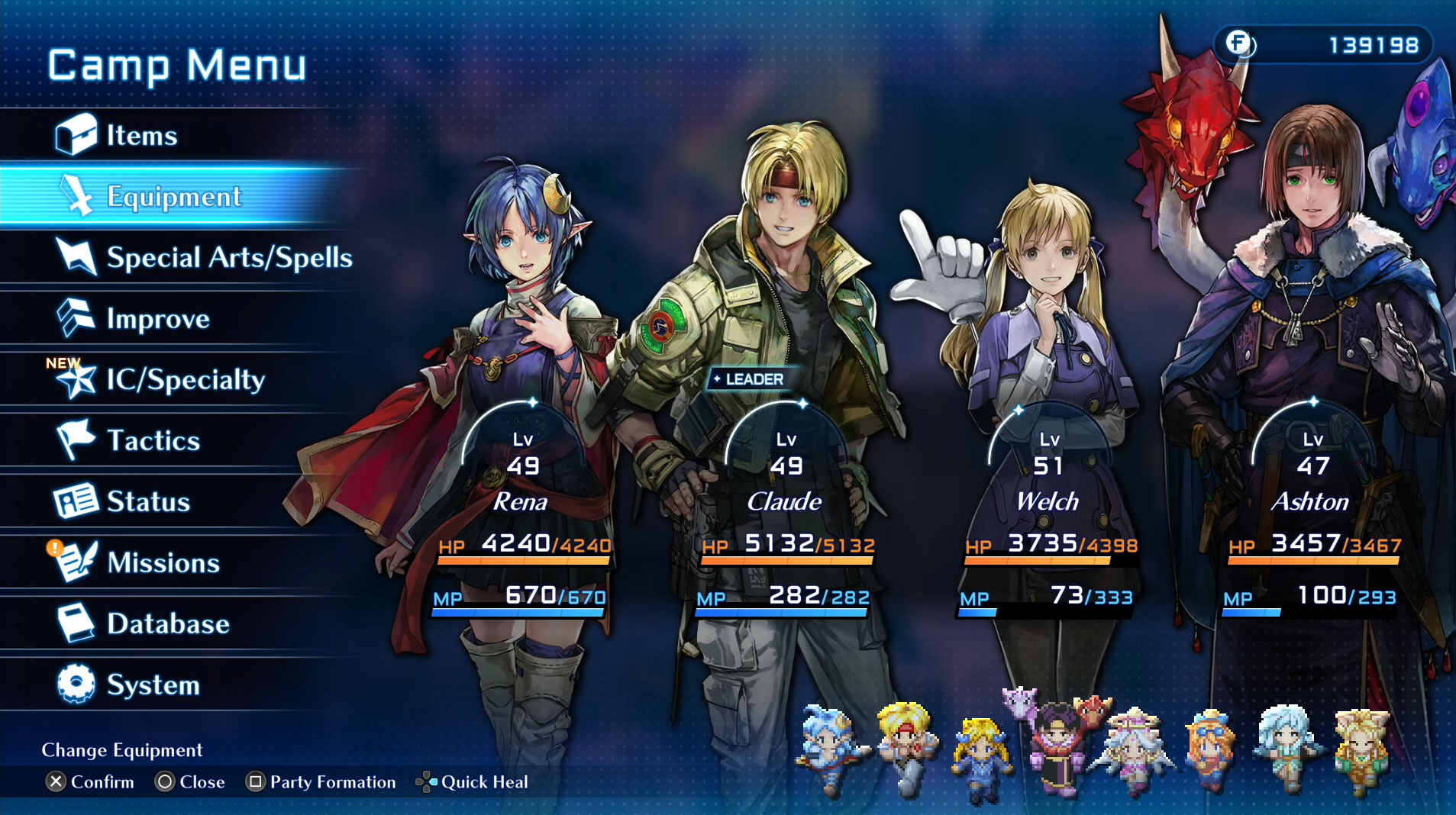 Yes, Star Ocean: The Second Story was ahead of its time back in its PlayStation One 1999 days, and even up to now there aren't that many games that have this amount of flexibility and approach to character-building. That said, the game's main plot isn't the most groundbreaking, but it gets the job done by upping the stakes, especially given the Star Trek motif of the series.
The remake makes it easier for you to keep track and check out all the limited-time quests and Private Actions; all you have to do is open up the minimap and look for the PA and hourglass icons, then teleport to that specific area to experience them. Or don't; it's really up to you.
Furthermore, the game has a New Game+ mode. so when you're done with the final sections of the game in your first playthrough (which should take you about 25 hours or so), you can play it a second time around with most of your stats and weaponry carrying over. And you can pick the other starting character to see how that plays out. The remake is tailored for veterans of the series, so these features are welcome if they want to get 100% in this version. My only gripe is that you have to switch back and forth between Normal and Private Action mode to deal with one character's scenario, then switch back and forth again to deal with another character's scenario.
Star Wars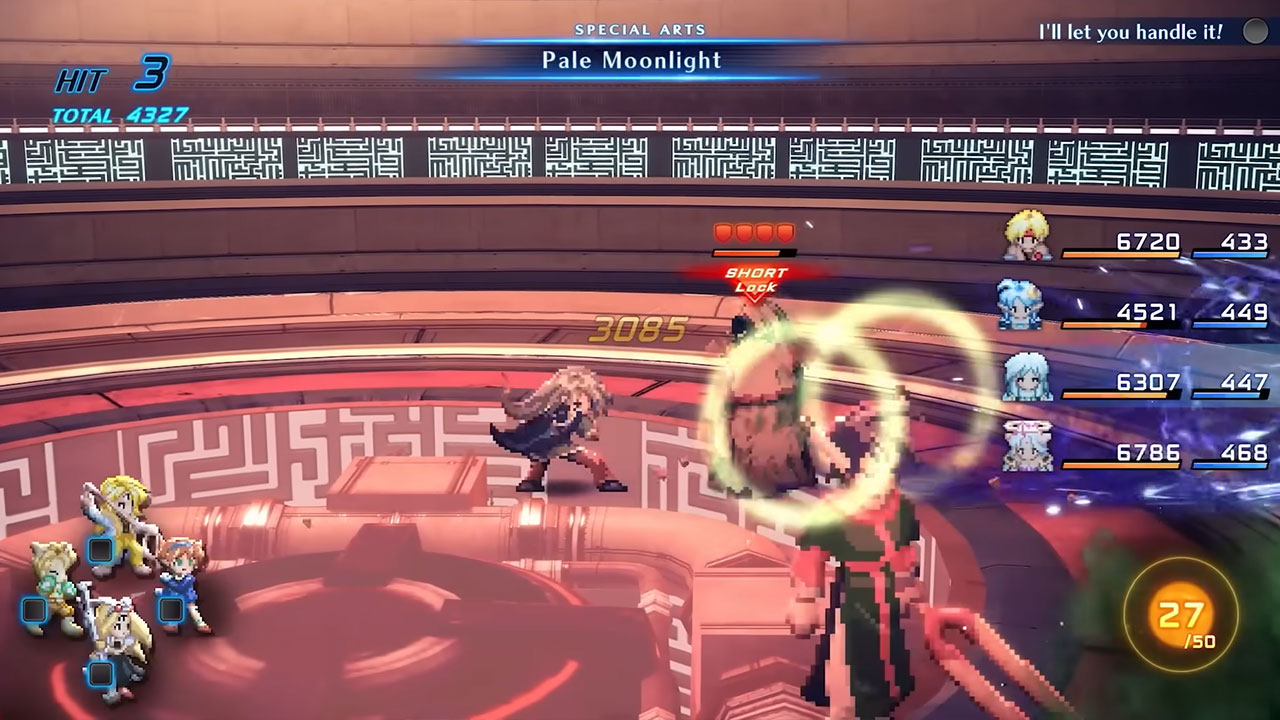 As with all JRPGs, conflict is inevitable. Star Ocean: The Second Story R's combat is real-time and action-heavy, as all characters use their skills and fight enemies in real-time. You can pause the game to change up tactics, assign commands, use items, or even escape if the situation gets hairy. You control one character at a time as you can either attack with your regular moves or special attacks, or cast spells that have different wind-up times.
The remake adds in a counter and defense break option: pressing the dodge button at the right time before an enemy attack lets you instantly dash behind an enemy. You can also break down enemy defenses with Break-focused skills to temporarily stun them, piling up more damage while they're in a vulnerable state. Combat does get hard with enemies hitting like trucks with their spells and various cutscene blowup attacks, but once you get to grinding levels and unlocking your character's many, many passive skills and abilities, they'll become powerhouses soon enough. The most significant, and personal favourite, upgrade is non-random enemy encounters: you can see enemy icons flying around in the overworld and dungeons, so you can choose to avoid them or approach them from behind for a back attack that stuns them momentarily at the start of battle.
See, each character will get Skill Points (SP) and Battle Points(BP) from levelling up or completing various tasks in-game. You can allocate SP to different skills like crafting, making art, cooking, creating literature and music, and even replicating items. Levelling up complementing skills open up Super Skills which let you create better items or cook better food. For instance, levelling up two to three character's Cooking skill will open up the Master Chef skill, which lets you create ultimate party-healing and MP-restoring food with added benefits.
Of course, the best group skills require the most SP, which means you need to undertake a ton of sidequests and even grind on the world map/dungeon to level up and open up more SPs and BPs for your allocating. These skills are worth investing, as nothing is stopping you from crafting your own equipment and gear, as well as curatives along the road. Hell, sell the items you make or even open up a pickpocketing racket in town to gather more money for your party.
Star Ocean: The Second Story R takes the best part of the classic JRPG -the ability to go hog wild and break the game- and just tweaks it enough to amplify the experience a tad. Your old tactics from the past games may work here; I stuck with my party of Rena, Claude, Welch, and Ashton as they destroyed almost the entire main questline with the power of healing and pure brute force. It worked on the PSP remaster and it worked too well here on this version.
Coupled with an inviting HD-2D look that combines pixel art and 3D graphics that really invites you to play/replay it for copious amounts of time, this Star Ocean remake is worth diving into. If you crave 90s JRPG action with a lot of unlockables and power-up options, optional party members with backstories to uncover, and fast-paced combat, Star Ocean: The Second Story R is a no-brainer that will get you into its scifi hooks. Just don't expect a huge leap from its decade-old storytelling, as it revels in its numerous anime tropes from the "will they, won't they" main couple dynamic to the aforementioned edgelord's character development.
Final Score: 80/100
Review copy provided by Bandai Namco Asia.