Word on the street is that Devil May Cry 5 will feature optional microtransactions to save players from grinding your Neros and Dantes. According to a GameSpot report during Tokyo Game Show 2018, players can pay real-world money to purchase the series' in-game currency, red orbs. Much like halos in Bayonetta, red orbs can be used to buy moves, weapons, upgrades, and one-off items.
Here's what director Hideaki Itsuno have to say about it, justifying it by saying it's player choice:
"With giving people the ability to purchase Red Orbs, it's something we want to give people as an option. If they want to save time and just want to get all the stuff at once, those people can do that."
There are just so many things wrong with this PR-laden nonsense and corporate greed-influenced decision that I can go into. However, folks like Angry Joe and Jim Sterling have said enough on the matter.
Rather than just repeat what they said, we should bring up other single-player games with microtransactions that affected gameplay and devalue the worth of the weapons and rewards you get through sheer skill and tenacity.
Dead Space 3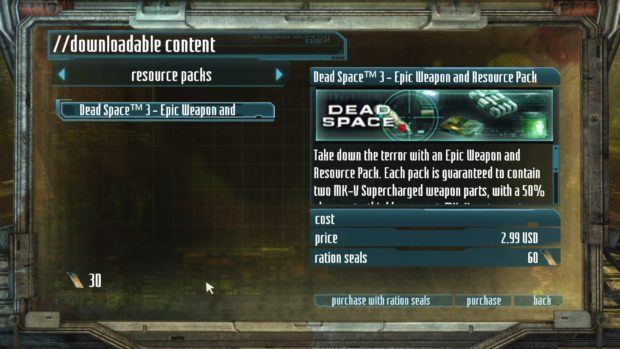 Let's go with the first offender of the list, starting with everybody's favourite sequel-churning publisher EA. The first two Dead Space games were awesome action horror games in their own right -god bless the now-dead Visceral Games. The third game was tolerable at best thanks to its expanded Dead Space universe and co-op play; if it worked with Resident Evil 5, surely it might work in Dead Space, right?
Alas, the crap on the mediocre sundae turns out to be the microtransaction screen where you can speed up the scavenging process to craft better weapons with a little moolah. "You can buy resources with real money, but scavenger bots can also give you the currency that you can use on the marketplace," said Dead Space 3 associate producer at the time Yara Khoury. "So you don't have to spend [real world] dollars."
Deus Ex: Mankind Divided
As if having the Kickstarter-esque reward system for pre-orders isn't bad enough, the actual game has mandatory features that you have to pay with real money. Reddit at the time brought up and complained about the single-use and single-save pre-order items.
Once the DLC items were transferred to an inventory in one game, they could not be used again even on another playthrough. As if that wasn't bad enough, players are given the choice to pay real money for the in-game items below.

So why was this added in a game that really did not benefit from it? An Eidos Montreal community manager said that these "consumables" and other microtransaction nonsense was because of "first-party constraints" involving Sony and Microsoft.
To quote Adam Jensen, we never asked for this.
Forza Motorsports 7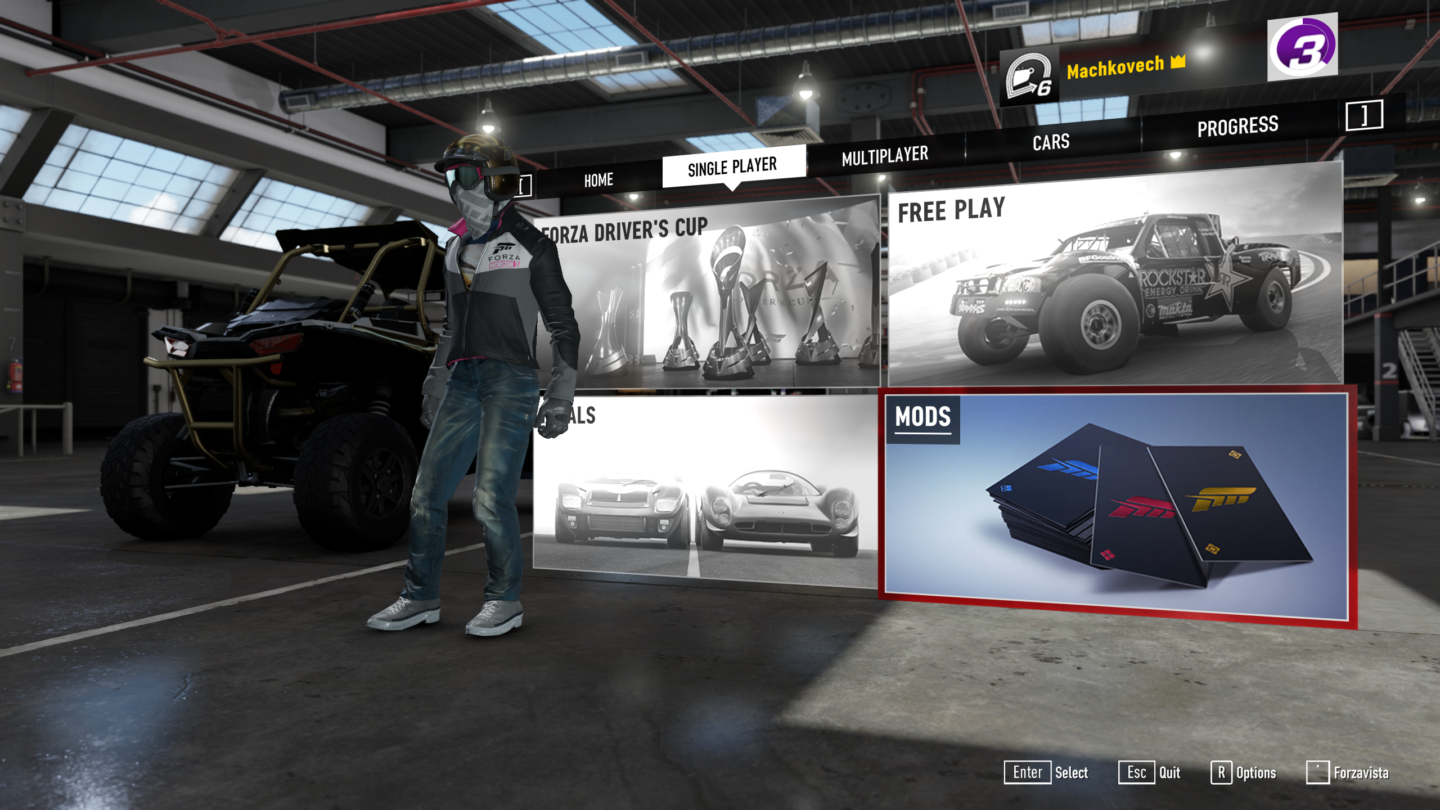 So far, there hasn't been any lootbox or microtransaction shenanigans in Forza Horizon 4, thank god. Microsoft and Xbox have hopefully learned their lessons following the uproar and attention Forza Motorsports 7 received.
Why? Because you can actually pay real money for Forza 7's loot boxes to get mods, items which help boost your CR-earning rate (in-game money, btw) in various circumstances and conditions. So you're paying real money for a chance to get better items that can help you earn in-game money? In a game where you can tweak the difficulty to your liking and can rewind segments of your race? Come the f*** on, guys.
At least they came to their senses; Forza 7's microtransactions and loot box system will be removed this Winter.
Metal Gear Solid V: The Phantom Pain
Hideo Kojima's last Konami game before he was let go unceremoniously is an epic Metal Gear experience even if it's soured by two things: its ending and its microtransactions system. We'll focus on the latter.
Thanks to Konami's meddling, players are given a choice to buy Mother Base Coins using real-world money. You use this to expand your base in the game's multiplayer mode. As you expand your base, you can boost the resource-earning rate in your single-player campaign. So yeah, another clear example of real-world money affecting the single-player game in some shape or form.
Here's another kicker: Mother Base Coins cost at most US$79.99 for a 6,000 coin bundle. Jesus.
Assassin's Creed Syndicate and Assassin's Creed Origins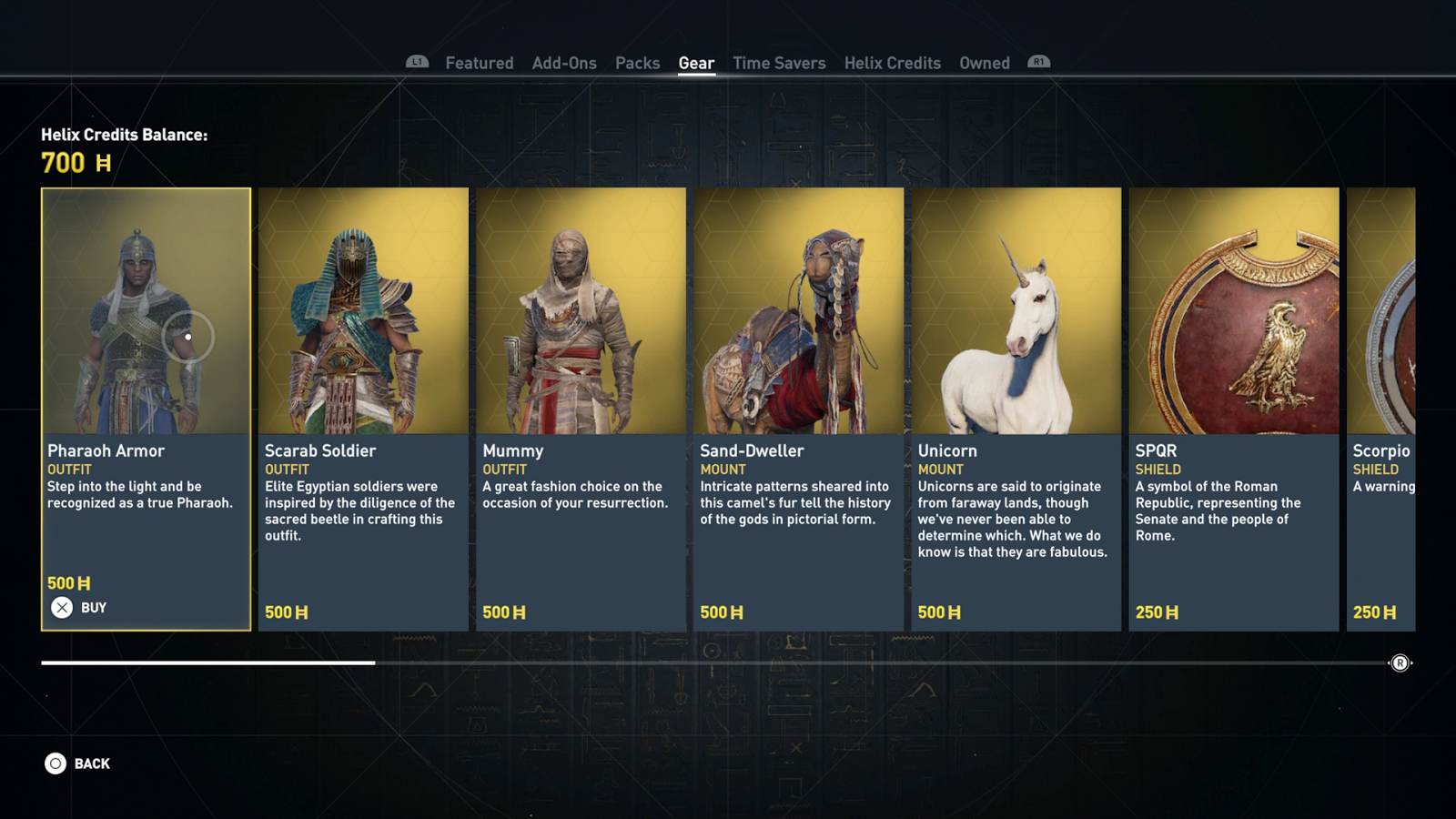 Not to be outdone by Konami, Microsoft, and EA, Ubisoft also went the single-player microtransaction route with their flagship games. Players can buy Helix Credits to buy most of the items you can earn online.
A Ubisoft rep said the following during the time of Assassin's Creed Origins release last year.
In Assassin's Creed Origins, anything that players can purchase with real money is also unlockable by just playing the game.
Though to their credit, some of the items you can buy are cosmetics like the Unicorn and the extra assassin garbs. Why not put them as unlockables or something instead?
Middle-Earth: Shadow of War
Probably one of the biggest and most recent offenders in the space, Warner Bros really done f***ed up with the sequel to Middle-Earth: Shadow of Mordor, a pretty awesome Lord of the Rings action adventure game. How so? As soon as you're done with most of the game, you'll be given a bunch of endgame content and fortresses to deal with.
The problem? You have to grind for more powerful orcs and weapons. To skip that or at least make the endgame grind bearable, you can go to the in-game market option, spend real money on War Chests, and then enjoy your "hard-earned" loot.
Good job in making your almost-perfect and improved LOTR game into a clusterf*** of obsolescence, all because of corporate greed.
Money, Money, Money…
These are the most egregious examples of single-player paid games that gives you "player choice" to skip the grind or power up your character using real-world money. What irks many, including myself, is that the publishers are using the same "player choice" justification to have these options available.
I also bring up two recent single-player games that did gangbusters and do not have microtransaction options: God of War and Marvel's Spider-Man. Publishers & developers: please have more respect for your single-player games; it's always a red flag when you toss in some form of power-up and grind-reducing method via credit card transactions.
Can you imagine what the reception would be like if PlayStation put in the option to pay money for souped-up Leviathan Axe in God of War or even a quick jump to Level 50 in Marvel's Spider-Man? PlayStation fans and gamers will be out for blood.
Long story short: single-player microtransaction player choices can go f*** themselves.
Related