Update: A lot has happened with this game from 2018 up to 2021. Forza Horizon 4 has received significant improvements that warrant a score increase. Plus, with Forza Horizon 3 gone, this entry is the best arcade racing game with open-world trappings by default, which you can also play as a sim. 
Platform: Xbox One, PC. Also available on Xbox Game Pass on launch day as part of the S$14.90/US$9.99 monthly subscription to the service. 
Genre: Racing, Open World, British Countryside-Terrorizing Simulator
Original review
I adored Playground Studios' Forza Horizon 3 back in late 2016 because it's essentially the car-featuring real-time RPG game I wanted.
I loved the Australian outback backdrop, I cherished the freeform open-world gameplay, and most importantly, I respected the fact that it allowed me to switch back and forth between a driving simulator and an arcade racer via its difficulty settings.
Oh, and the Forza games-patented Rewind feature means I can redo my silly-ass momentum-breaking mistakes on the course. Naturally, my inner skeptic starting blaring when Forza Horizon 4 was announced at this year's E3. Forza Horizon 3 was near-perfect; what can the sequel do to top these racing game expectations?
After 15 hours, I'm still not sure because I'm still getting a slight case of déjà  vu. But at the very least it's still a really fun sequel with a number of worthy additions & changes.
There are still a few significant additions that make this open world racer feel a tad fresh to change up the "earn influencer points by racing a lot and qualifying for main campaign events". And it's not like Playground Studios are slacking off in the gameplay and race immersion department; these are developers who know their racing games inside and out.
They know full well to pepper the game with so many countryside and racing events with decent course designs that you'll lose track of your main goal. And that's usually a sign of a good open world game.
I'll break down my thoughts so far during my 15-hour stint.
It's Pretty
No doubt about it; Forza Horizon's graphical engine just keeps getting better and more polished over time. With its new setting and landscape (which we'll get to in the next point) and its 450+ vehicles including ginormous semis and the Halo Warthog jeep, graphics enthusiasts will find something to chime about and appreciate in here.
Personally, I would love to see the game running at max resolution in 60fps+, but even in Medium and Low/Potato settings, the aesthetics and art design still shine.
The Setting & Seasons System Works Seamlessly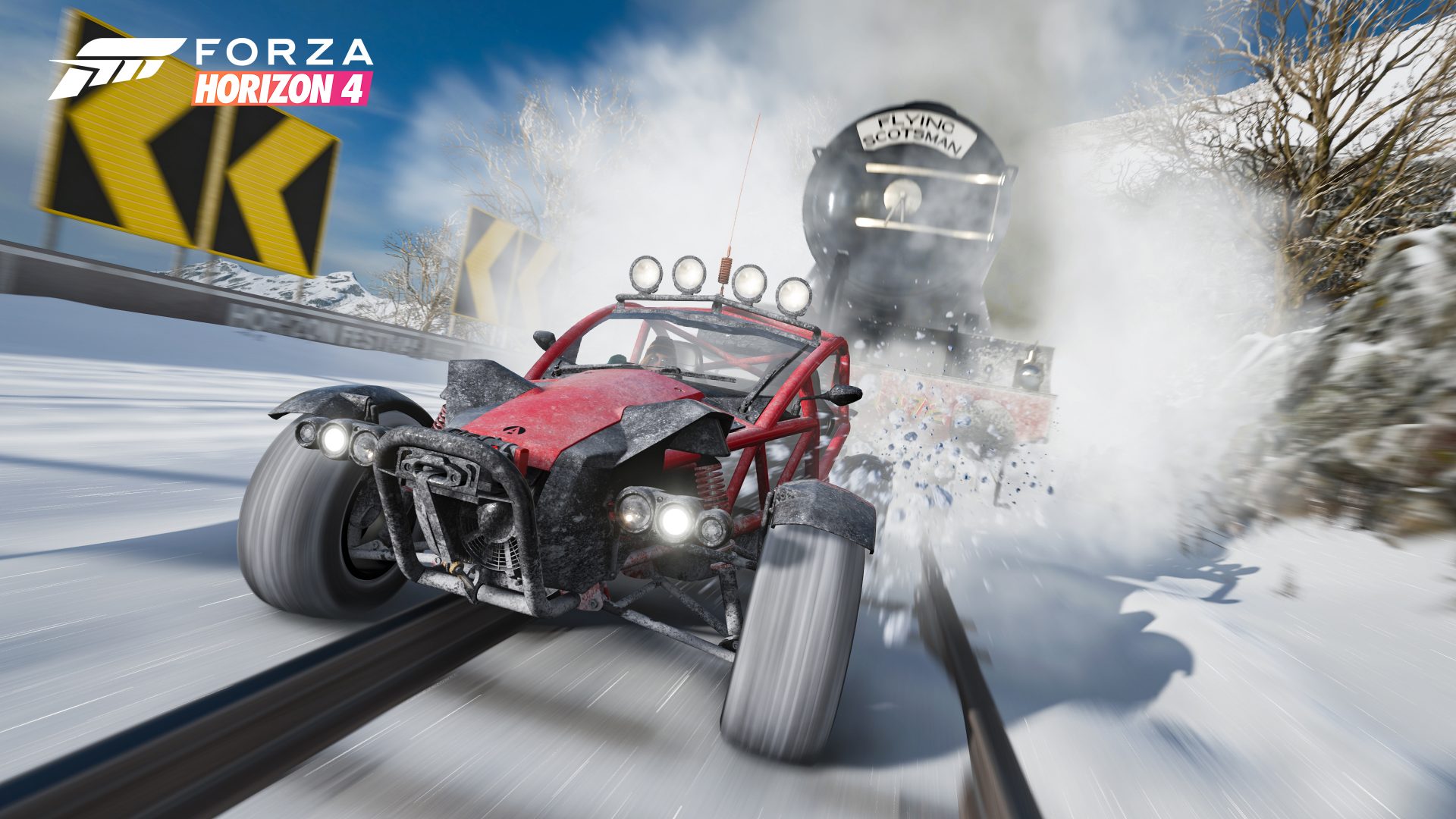 Forza Horizon 4 takes place in the United Kingdom, south of Edinburgh. The area you'll spend all your time driving in is a fictionalized speedster-friendly state filled with lots of forest trails, mountain ridges and pathways, sunny beach vistas, long-spanning roads meant for speedsters, countryside lodges you can terrorize, and little sign of people hanging out at the Forza Horizon hub and random town cafes.
Oh, and indestructible sheep.
While the map itself is incredibly large, filled with gorgeous views, and features a lot of races and events, the kicker here is the four seasons mechanic. You start off with summer, then to autumn, winter, and spring respectively.
The weather will make a ton of changes in the map itself: lakes that are deep will now become extra pathways when it hits winter. Easy courses on the south side of the map are harder to drive on when it's either spring or autumn due to heavy rain.

It's not a groundbreaking idea, but the season rotation, timed events, and the effects that follow help invigorate some zest in your open world racing shenanigans.
You may have to buy an extra car or jeep to cater to the changing seasons. Your jacked-up Wrangler Rubicon may work well in the snow and rough terrain, but it can't do squat against sports cars in your usual Forza Horizon course races. Simply put, the in-game money you earn -called CR- will be put to good use. You can buy different cars for each race type and seasons, or buy houses and lodges so you don't have to start all the way from the south.
Your 450+ Cars Can Be Customized
Speaking of which, the tune-up options are still prevalent here so you can do a schematics and engine overhaul to bump your car class at the cost of its original racing function. You can even use online designs and the design editor to create and customize your car's paint job.
When Forza Horizon 4 goes deep, it really throws you into the deep end but not without help. As someone who favours arcade racers over driving simulators, Forza Horizon 4 follows the footsteps of its prequel and lets me just focus on the driving and the faffing about in-between courses.
But for you car aficionados out there, there's a lot you can do to make your own collection stand out. Just get ready to save up those in-game CR points.
There's ALWAYS Something To Do
If you have 30+ hours to spare and if you like driving a ton of fast cars, you are going to adore Forza Horizon 4. You have Forza Horizon regular races on standard windey courses. You have dirt and cross country races that take you to muddy waters and lush snow -depending on the weather. You can do stunts involving ramp jumps, property destruction, and driving antique vehicles to the classic tune of Tchaikovsky.
Or if you're like me, once you get a few Land Rovers, Subarus, or any car that traverses well over snow and off-road terrain, you can just drive off-course and find your own pathways and shortcuts. Or just take your James Bond Alfa Romeo 2010 sports car and push past 200mph, driving through speed traps and danger ramps.
This is where the RPG aspect of Forza Horizon 4 comes in: if you compete and place high in races and events, more will open up and you're eligible for the next season's races. The open world checklist opens up once you go through four seasons in the main campaign, with Live Season races made available for a limited few days before the seasonal shift and Forzathon challenges. The latter requires you to work together with other online racers to hit a goal, be it a collected amount of miles for a speed trap or distances for a ramp stunt.
Let's also not forget the Main Showcase races where after all your hard work grinding and driving, though not as arduous as other open world and RPG titles, you get to race against dirt bikers, a giant hovercraft boat, and a train. Oh and also go through a course built out of Halo assets complete with Pelicans, Warthogs, and Banshees.
Does it feel overwhelming? Yes it does, if you're aiming for a Level 80 for your Drivatar level. But just like any Western or Japanese RPG, if you take your sweet time and aren't in a hurry, Forza Horizon 4's expanded racing world is worth exploring in. And careening in, if that's your cup of English tea.
The Destruction Effects Just Feels So Good
Want to sate your wanton desire to terrorize a quiet English countryside south of Edinburgh? While you can't make explosions and crazy crashes ala Burnout Paradise, you can still cause some property damage by driving through the cobblestone walls, fences, hedges, and cafe tables outside respected English establishments. And you get Drive Skill points for it, provided you don't crash to a standstill.
In fact, there's a skill that allows you to keep your multiplier even if you crash once, but it'll cost you 25 Skill points. Per car you drive and own. Yikes.
This is where the other RPG aspect of Forza Horizon shines as well: you need to level up the cars you own with Driver Skill points so that they can earn you better multipliers.
But back on point: driving through the countryside, suburban areas, and even the cityscape at breakneck speed without a care in the world is one of Forza Horizon's most definitive trait.

The fourth game maintains that tradition while giving you a good chunk of England to faff about in and wreck.
I Didn't Care About Fast Travel At All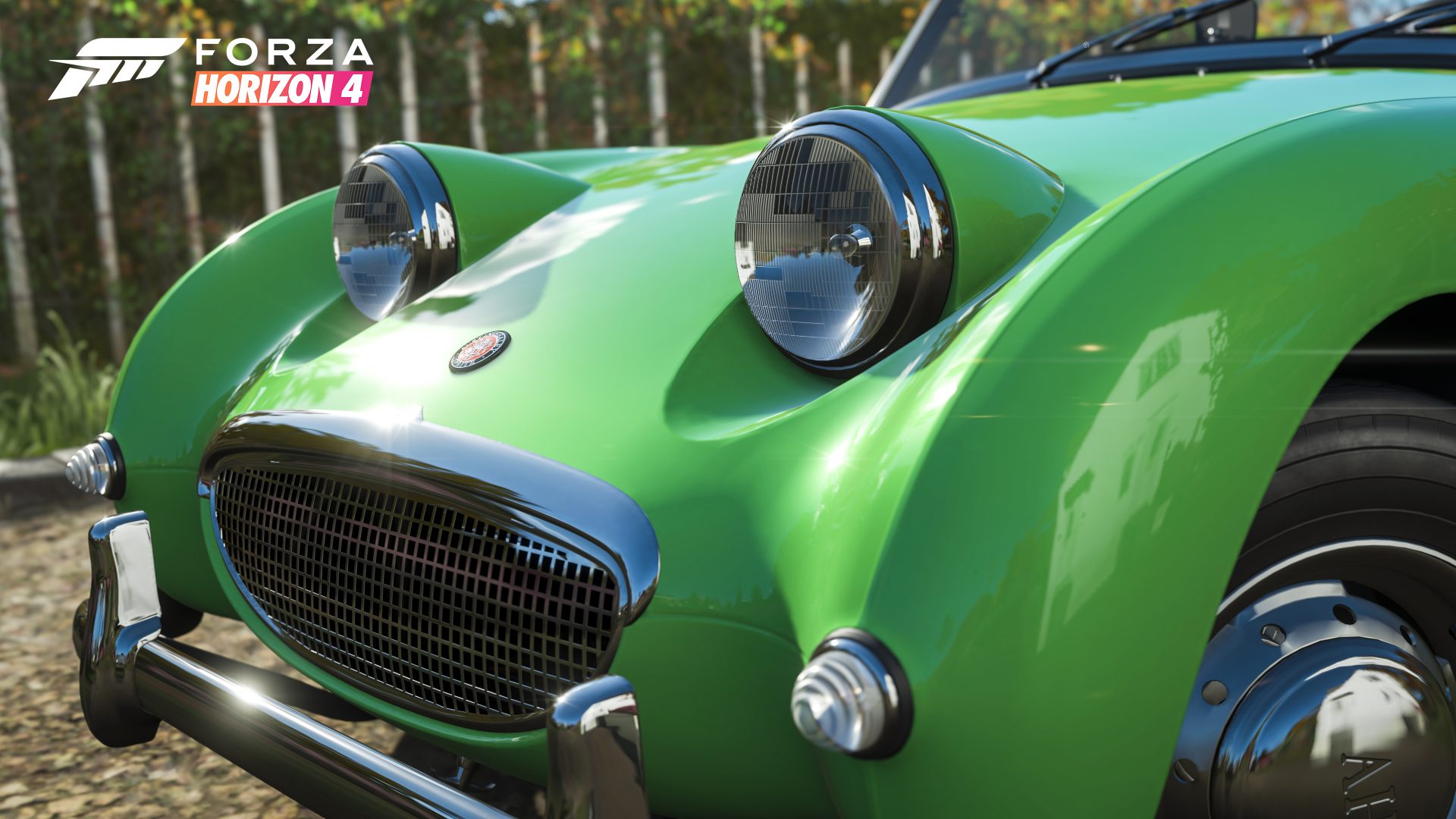 There's also a Fast Travel option which costs in-game money, but why do that when the cars you drive can take you there a few short minutes? You can break down all the Fast Travel billboards if you want, but the overall map and roads are laid out really well with tons to do.
Your GPS nicknamed Anna can just plot short destinations to the nearest unchallenged race and driving activity, so unless you really, REALLY need to skip travel from the west side to Edinburgh, you might as well enjoy the drive and the view that comes with it.
The fact that Playground Studios refined the driving and the open world layout from the near-perfection that is Forza Horizon 3 speaks volumes. After all, if it ain't broken, why fix it, right?
There Are Online Modes, But…
I only managed to check out a number of them thoroughly like the random Forzathons and the online team/versus versions of the Forza Horizon 4 course. I, unfortunately, have to wait until the game goes live to the public this Thursday to check out Team Adventure mode in all of its live server glory.
Basically, it's a 6v6 mode where you partake in team cross country races, modified enclosed events like Forza Horizon's version of tag, and ad-hoc racing activities for fun and in-game profit. It's a modified take on the online multiplayer versions of the course races scattered throughout the map.
While this particular feature is wasted on solo racing players like me, at least it's not a forced option. Besides, the Forzathon challenges are arguably the best method for me to help out my randomized racing team in my own special way.
All In All
While Forza Horizon 4 retains its driving feel & immersion levels, its open-world racing concept, and car collectathon, there's still enough to set this apart from the last FH game. The new setting, the new weather conditions, and various race types for each kind of car mean that you'll be kept busy showing off in this make-believe festival.
It ain't the mind-blowing revelation of racing games like its prequel (which I did mention a lot in The Last King podcast), but it's not like Forza Horizon 3 is around anymore. Simply put, it's the year's sole pick for the"Most Racing You'll Do At The South of Edinburgh" award. Or the "Best Racing Game To Piss Off British Countryside Folks" award. And it does a tremendous job in doing so.
Whether you want to collect a bunch of cars and drive them really fast in the English countryside in any of the four seasons, or just do offroad and dirt racing and wished there was a decent game that satisfied that itch, you can't do any wrong with Forza Horizon 4.
Whether you're getting the Standard Edition or the extravagant Ultimate Edition with the James Bond cars and the early access date, Playground Studios' next entry is a solid ride that still has yet to top its past record. stands as the sole winner in the open-world arcade-slash-sim racing game department.
Pros
Great location & four seasons implementation.
Lovely aesthetics.
Driving feels great.
Loads of stunts, races, and miscellaneous stuff.
Smooth online integration.
Invincible sheep.
Cons
Music selection needs work.
Price hike for Ultimate Edition is insane.
Final Rating: 90/100
Review copy provided by Xbox. 
Related