Warframe's latest expansion just came out a few days ago, and it is a doozy of an update. We're talking about a new open world area filled with Corpus soldiers, wildlife, fishing, mountains, pretty sights and scenery, and ample places to use your hoverboard. It's awesome but also daunting.
We're here to help you out. Here's a quick guide to get you started with the basics and a little-known currency called Solaris United Standing. Oh, and if you're not sure what Warframe's deal is, check out our beginner's guide.
How To Get To Fortuna
In order to gain the necessary access to Fortuna, you'll need to have checked off each of the following requirements in order to access Venus. Why? Because that's where Fortuna is.
First, you need to complete the quest "Vor's Prize". This is the introduction story quest and is mandatory to complete for newer players. This quest requires you to kill a Grineer officer, though he's surprisingly easy to defeat as long as you keep moving around and kill enemies he summons.
Next, you'll need to collect 20 mods. This is done simply by playing the game: killing enemies and completing missions is all you need to do to get basic mods. You'll then need to apply four of them to a single Warframe or a weapon.
Finally, to upgrade your mods to rank 2 or higher, you'll need to collect a resource named "Endo", which is a large blue/gold orb that is obtained from slain enemies. You can also dissolve unused mods to get them.
You'll then need to defeat the Rhino Spectre that stands in your way, residing in a Junction. Just dodge its charge attacks and have a weapon that can strip its shields quickly.
When you have accessed Venus, you'll additionally need to complete all the missions leading to and including the Unda node, which is required to unlock access to the underground city. It is also worth noting that you need to open Fortuna before you can access Orb Vallis.
Note: even though the enemies start off easy in Fortuna, the difficulty and enemy level will scale up quickly. It's best you have a decently-modded warframe and appropriate weapons.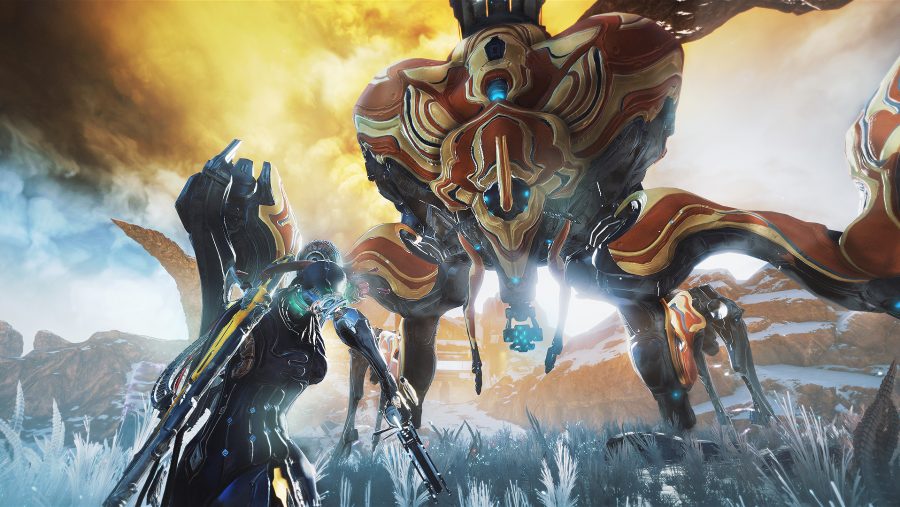 What To Expect In Fortuna & The Fortuna Update
Fortuna gives you a sizeable open world to explore, full of intrinsic cave systems to go spelunking in, and bounties to collect above ground. They work a little differently; you now don't have to head back to the city hub to cash them in immediately after completing them, allowing you to finish tasks at your leisure.
Fortuna has a city that allows you to build new kit guns with resources collected, as well as Moa companions that follow you around into battle, spouting quips as they assist in the enemy slaughter. Fishing is also back with new fauna to ensnare on your new EMP-based fishing rod, with 14 species that you can hunt down.
Also included at the same time, but not intrinsically linked with the Fortuna area is the 37th warframe called the "Garuda". It's named after a legendary bird-like creature in various mythologies; Southeast Asians should recognize the name as it's from Indonesia. The warframe is known for draining enemy blood to use as your "mirror" shield, putting enemies on stakes so you and your pals can gain health via "blood drain", and even use your own blood to pump up your damage.
When Do I Get The Damn Hoverboard?
The hoverboard in Warframe is called a K-Drive. You can channel your inner Tony Hawk/Bam Margera, pulling off some neat tricks as you fly across the map at breakneck speeds. There will also be the chance to race these hoverboards, 20 different courses are available. You can challenge other players to see who's the fastest frame in the universe.
This isn't just one board though as increasing your standing with the new faction: the Vent Kids, will grant you skins for your board, or even new models of K-Drive. You'll also be able to alter the vehicle's stats of your board, which can have an affect on races, and be useful for any daily missions that involve the K-Drive.
One More Thing…
There are giant spider robots that will skulk across the land are perhaps the biggest challenge. They're provoked by killing a large number of their smaller offspring and will be utterly relentless in their pursuit.
What The Heck Is Solaris United Standing? (via Warframe Wiki)
Solaris United represents the oppressed occupants of Fortuna. They work all hours of the day to work off Corpus debt. As a civic-minded Tenno you might be tempted to help them, out of the goodness of your heart, also to earn standing and gain access to their coolest loot. It's all for a good cause. But mostly for the cool loot.
There are six levels of standing if you include being neutral. The expansion is fresh so we're still discovering the requirements for the highest tiers.
Neutral
Maximum standing: 5,000
Outworlder
Maximum standing: 22,000
Sacrifice: 13 Training Debt-Bonds
Rapscallion
Maximum standing: 44,000
Sacrifice: 12 Training Debt-Bonds, 15 Shelter Debt-Bonds
Doer
Maximum standing: 70,000
Sacrifice: 10 Training Debt-Bonds, 15 Shelter Debt-Bonds, 13 Medical Debt-Bonds
Cove (TBC)
Maximum standing: 99,000
Old Mate (TBC)
Maximum standing: 132,000
How Mastery Ranks Tie In With Standings
Your Mastery Rank determines how much standing you can earn every 24 hours for each faction in Warframe. To know your limit, multiply your Mastery Rank by 1,000 and then add an additional 1,000. So, if you're MR 10, you would have a daily cap of 11,000 standing.
As you can see, unlocking higher rankings with Solarus United requires a lot of standing, so increasing your MR is something you shouldn't ignore. You do that by leveling up new weapons, warframes, and basically anything else that has individual ranks like sentinels and kubrows. Check the wiki for more information.
Here are a few ways to work your way up through the ranks.
Take bounties from Eudico
You'll find Eudico perched at the end of the entrance hall to Fortuna. Once you've completed the introductory quest you can take bounties that will reward you with Solaris United standing.
In addition to Garuda blueprints, relics, mod sets and resources, bounties can also reward you with Debt-Bonds. You can visit Ticker to exchange these for Solaris United standing, or hold onto them to meet the sacrifice requirements you need to rank up.
Buy and exchange Debt-Bonds from Ticker
You'll find Ticker at the top of a ramp to your left as you enter Fortuna. You can buy the Debt-Bonds of poor Solaris workers facing punishment. You can then trade in these debt tokens for Solaris United standing, or hold on to them to meet the sacrifice requirements for your next rank.
There are five debt types arranged in three tiers of effectiveness.
Common:Â Training Debt-Bond
Uncommon:Â Medical Debt-Bond, Advances Debt-Bond
Rare:Â Familial Debt-Bond
Trade Gems
Smokefinger is ahead and to your left when you enter Fortuna. He's represented by a little pickaxe symbol. Speak to him to buy the Sunpoint Plasma Drill, and then use it in Orb Vallis to mine ore and gems.
When you return to Smokefinger with your loot, you can trade it in for Solaris United standing. You can also buy gems using Warframe's real-money Platinum currency to save time.
Tranquilize Animals
You need to spend some standing to make standing using Fortuna's animal conservation system. To start conserving you need to spend standing on a Tranq Rifle and Echo Lures from The Business. He's just to your left as you enter Fortuna, beneath Ticker.
With your Tranq Rifle and Echo Lures equipped to your gear wheel, head out into Orb Vallis to track creatures. The minimap will indicate last-known animal sightings. Activate these, follow the trail, set out the correct lure for the beast, then stealthily shoot them with the Tranq Rifle. You get standing immediately for each successful catch.
Go Fishing. No, Really.
The Business will also sell you shockpods and stunnas to catch servofish from Orb Vallis' coolant rivers. You also need to spend some standing on bait. Check the descriptions and pick bait based on the servofish you're trying to catch.
You don't get standing for the act of catching a fish, but you can turn them in to The Business in Fortuna using the 'provide servofish' option to earn a bit of standing.
This guide is powered by Dell Alienware because we've been using the Alienware 15 gaming laptop to play all of our PC games. Including Warframe. 
Related