By Alleef Ashaari|February 21, 2019|
The mainstream gaming industry has been dominated by the battle royale genre ever since PUBG reared its ugly head in 2017. Ever since then, developers and publishers have scrambled to launch their own battle royale titles to capitalize on the booming genre. Fortnite later arrived to kick PUBG's butt and become the undisputed king for a while, enchanting the mass with its charming and silly dancing emotes.
Some games, like H1Z1, restructured their gameplay model to become battle royales, while other games preferred to just introduce battle royale modes like Call of Duty Black Ops 4's Blackout and Battlefield 5's yet to be released Firestorm. The turnover rate for battle royale games is fast and hard, as gamers get tired of the mind-numbing and senseless gameplay after a few months. However, there is currently a new king on the throne, Respawn's Apex Legends, who took the world by storm on 4 February 2019.
What is the secret sauce to Apex Legends' meteoric rise? According to statistics provided by Newzoo, there are two major reasons. The first is that Respawn and EA decided to forego the games media and typical marketing conventions by adopting a streamer-first and streamer-exclusive approach. They did this by involving popular streamers during the game's early development process and holding a streamer-only event shortly before the game's launch.
This unorthodox approach also meant that streamers played Apex Legends by the droves, making it the most-watched game by live hours across Twitch and YouTube Gaming within two weeks of release. That's over 63.7 million hours of live viewership on Twitch alone.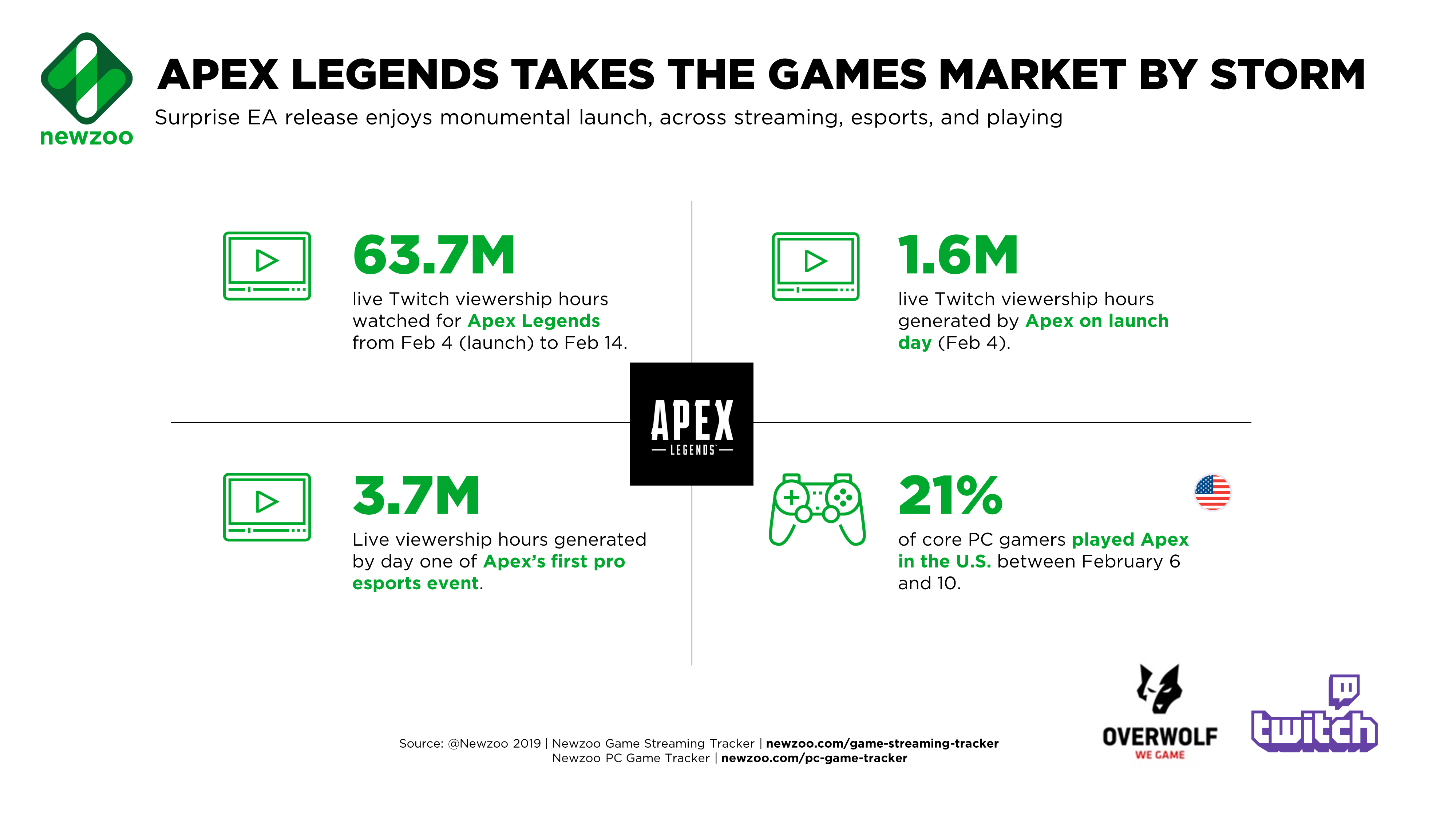 The other major reason for Apex Legends' meteoric rise is that Respawn has learned from the mistakes of previous battle royale games by introducing many quality-of-life improvements and even lifting elements from other popular online games like Overwatch. Check out our review of Apex Legends here to find out more about what makes the game unique in a sea of derivative battle royale titles.
Despite not even being a month old, Apex Legends already boasts a burgeoning esports scene with the Twitch Rivals Apex Legends Challenge, which featured top streamers like Ninja, DrDisrespect, Summit1G, CocoTaco, Shroud and more. Ninja's team won the first tournament on 12 February 2019, while former Overwatch League player Lucas "Mendo" HÃ¥kansson's team, Scotts Tots, won the second and final tournament on 19 February 2019.
A meteoric rise often leads to a similar meteoric downfall. It happened to PUBG and Fortnite, and it is inevitable that it will happen to Apex Legends. It's just a matter of time before another new game releases and pushes it off its pedestal. For now, however, it remains the undisputed number one battle royale game.
In other related news, Respawn recently released the second patch for Apex Legends on all platforms. Take a look at the official patch notes below for all changes and updates, courtesy of Reddit:
Fixes for PS4 crash issues – Addresses issues we saw with GPU hangs and fixed crash when pressing button early in the load process.
Fixed issue where players would sometimes move slowly after revive.
Fixed issue with Mirage Ability causing crashes.
Fixed issue with Gibraltar Epic skins on Xbox One causing crashes
---
Related