Google's GDC 2019 Gaming Panel Reveals Stadia, A New Streaming Platform For "Gathering Around"
This story is still in development…
Yep, you guessed right: Google will be releasing a gaming platform called Stadia. But it won't be physical at all; it'll be a digital platform that lets you play the latest games without any powerful hardware.
You'll be checking the game out through your browsers, regardless of how powerful or weak your PC/laptop is. Or even on your phone for that matter.
Its tagline: "gather around". That's according to Google vice president Phil Harrison, who plans to turn Stadia into a hub, to bring developers, players, and creators together into one platform. To do this, it will be using its huge data centres to stream the data with little to no lag.
Stadia offers instant access to play a game; 5 seconds of playtime after viewing it on YouTube. That thing where people preview and hear their music via Spotify instantly? Well, Stadia is doing that with games. Or at least, give you a 5-second preview of a game, hands-on.
Not only that, Google will be releasing a Stadia controller which is wireless, can connect to whatever game you were testing and playing on your Chrome browser, and has buttons like Google Assistant to help players out (assuming the devs added that feature into the game's programming). Think of the Google Assistant button as the one-stop FAQ and hint section, searching for the best ways to solve your in-game problem.
At launch, Stadia will stream games up to 4k with 60fps. In the future, it'll stream up to 8k with 120+ fps. Stadia will be a bit more powerful than your current consoles, as shown here. This is mostly for developers when it comes to working and creating games. Google did not state what internet speeds are needed to run Stadia optimally.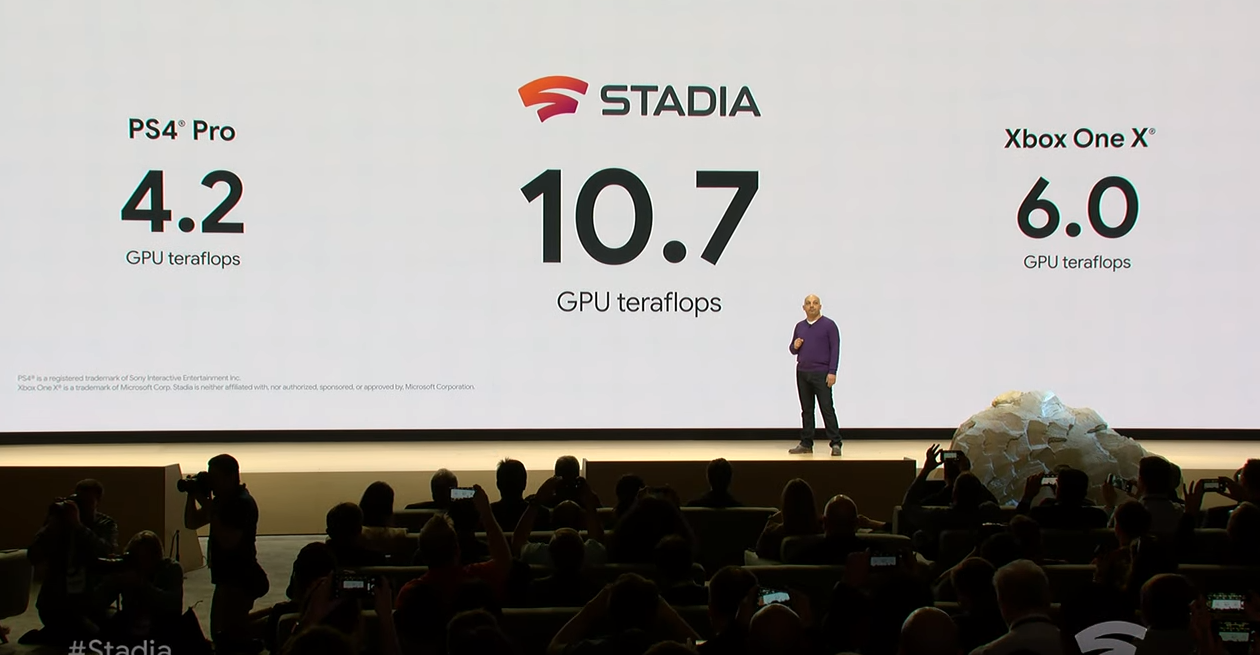 Who Will Be Providing The Assist?
Here are the partners who will be helping out Stadia. These include Vulkan, Unity, AMD, Unity, and more.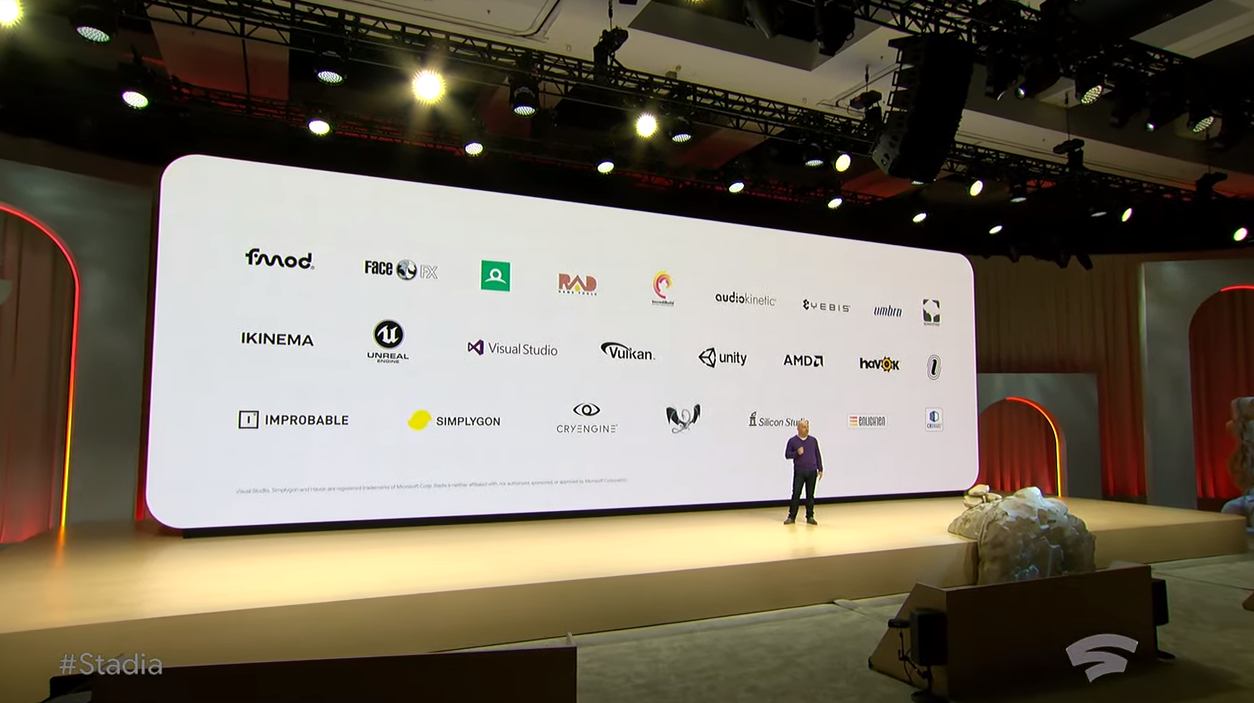 Stadia also had id Software on board to test out Stadia. During the panel, id Software announced that Doom Eternal will be available on Stadia, streaming on 4K resolution with 60fps. No date for the game was announced.
Cross-platform play will also be possible with Stadia. Multiplayer-wise, stream connect will be a Stadia idea where players can play together on a couch with splitscreen view on any device they have. Google showed off a tech demo called Night Forest where multi-screen split-screen gaming is possible without sacrificing hardware and processing power.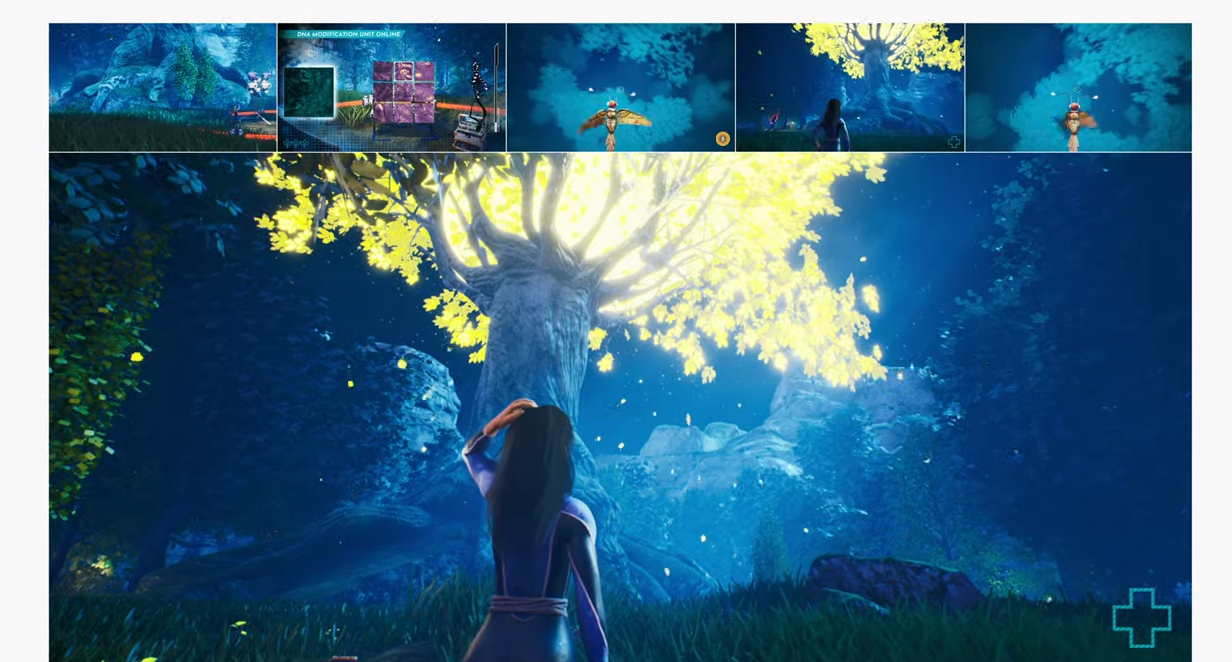 In addition, Stadia will also have an option called Style Transfer. This lets artists take a gray box world and instantly apply an artistic style to it in the cloud, in real time. Yes, those styles include the vintage art of Pac-Man.
Q Games' Dylan Cuthbert (who programmed Star Fox, Star Fox 2, and so forth) talks about working with Stadia and using State Share where players can share their best times and community stuff.
YouTube's Ryan Wyatt said Stadia will bring YouTube content creators and the community together by letting creators create highlight reels directly from Stadia. The platform's Crowd Play lets viewers join in a content creator's live game on their browsers/phones/machines of choice.
And for you parents out there with kids, Google Stadia will also have parental control.
Google will also have its own first-party studio called Stadia Games and Entertainment, led by new head Jade Raymond. She used to be from Ubisoft and EA, FYI. And if you want to develop games for Stadia and under this exclusive umbrella, just head here to the newly-launched dev site.
Players will get to check out the platform in 2019 for US, Europe, UK, and Canada. No word on whether it'll be available in Southeast Asia though. Also, no price point has been mentioned yet; we highly doubt this service will be completely free.
So Where Does That Leave Xbox, PlayStation, Nintendo, & Twitch.tv?
It's hard to predict the future so fresh right now, but as long as these three companies are still making top-quality exclusive games for their platforms, they won't see Google Stadia as a threat.
However, Twitch.tv might be in a precarious state. Since Stadia promises to bring YouTube content creators and their respective communities closer with their Crowd Play and State Share features, be it for post-production vids or live streaming on YouTube, this may make Twitch.tv redundant in the very long run.
Long story short: hooray for game makers and developers, not-so-glorious for some third-party companies who complement gaming in other methods.