Razer attended CES 2020 last weekend, and they announced a bunch of new gaming tech for the new year. This includes the new Razer Kishi universal mobile gaming controllers, the Razer Sila 5G Home Router, the Razer Tomahawk Gaming Desktop, and a new Razer Eracing Simulator concept created in collaboration with several game publishers and technology vendors.
Razer Kishi universal mobile gaming controllers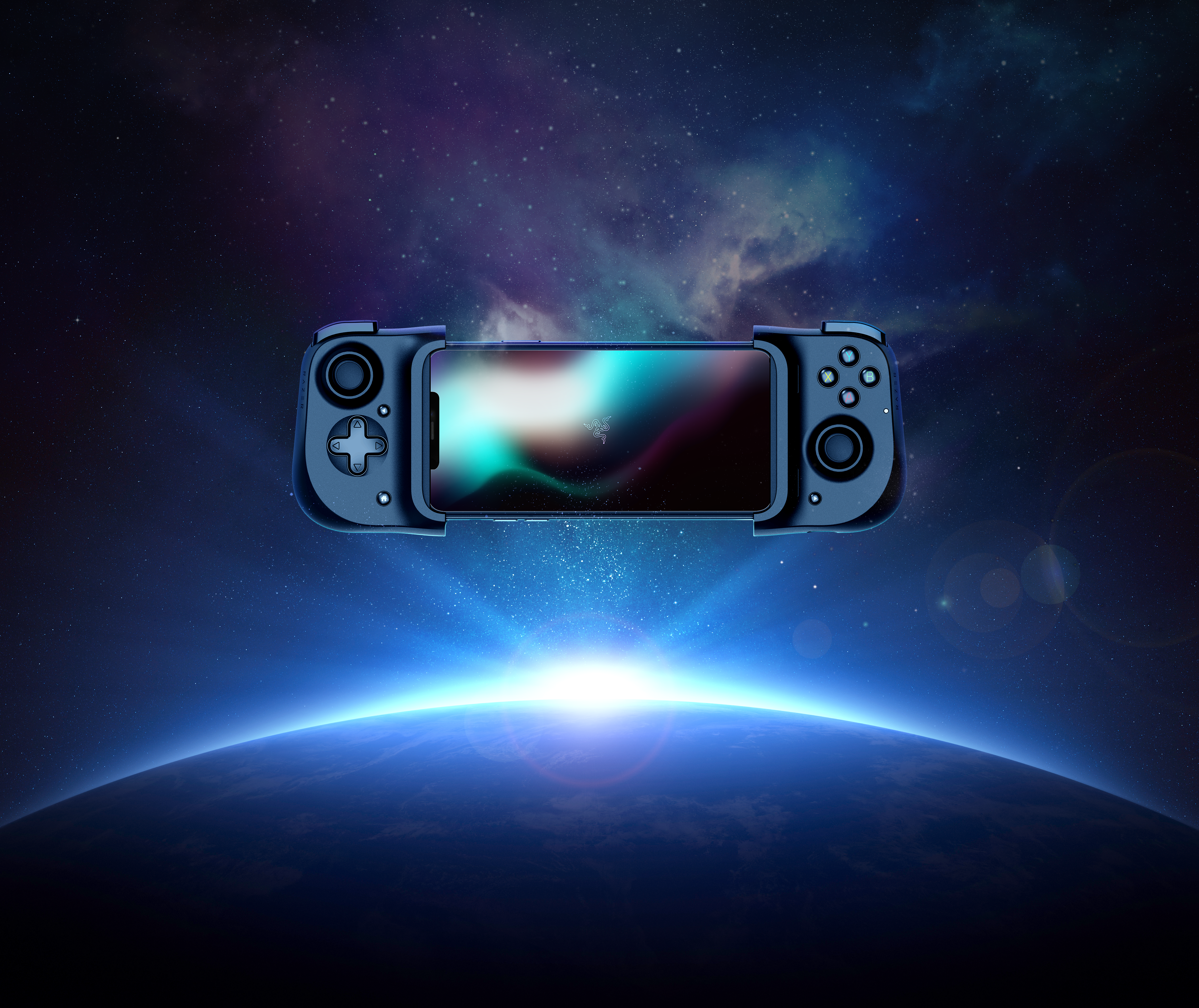 This new universal cloud-gaming compatible controller for iOS and Android phones not only support low latency gameplay but also provide clickable analogue controls and thumbsticks on both sides of the phone with a universal fit.
It achieves this via a hidden USB-C or Apple Lightning connection, as pass-through charging ports on the Kishi allow for device charging even during gameplay. It is slated to be available for purchase sometime in early 2020.
Razer Sila 5G Home Router
This high-speed networking router is tailored for gamers to offer ultra-low latency during both stationary and mobile gameplay, featuring Razer's proprietary FasTrack engine. A built-in rechargeable battery also adds capability as a mobile 5G hotspot for impromptu, latency-free tournaments wherever you go.
In addition, it allows users prioritize between client hardware, such as Xbox or desktop PC, and is designed to optimize cloud gaming services.
Razer Tomahawk Gaming Desktop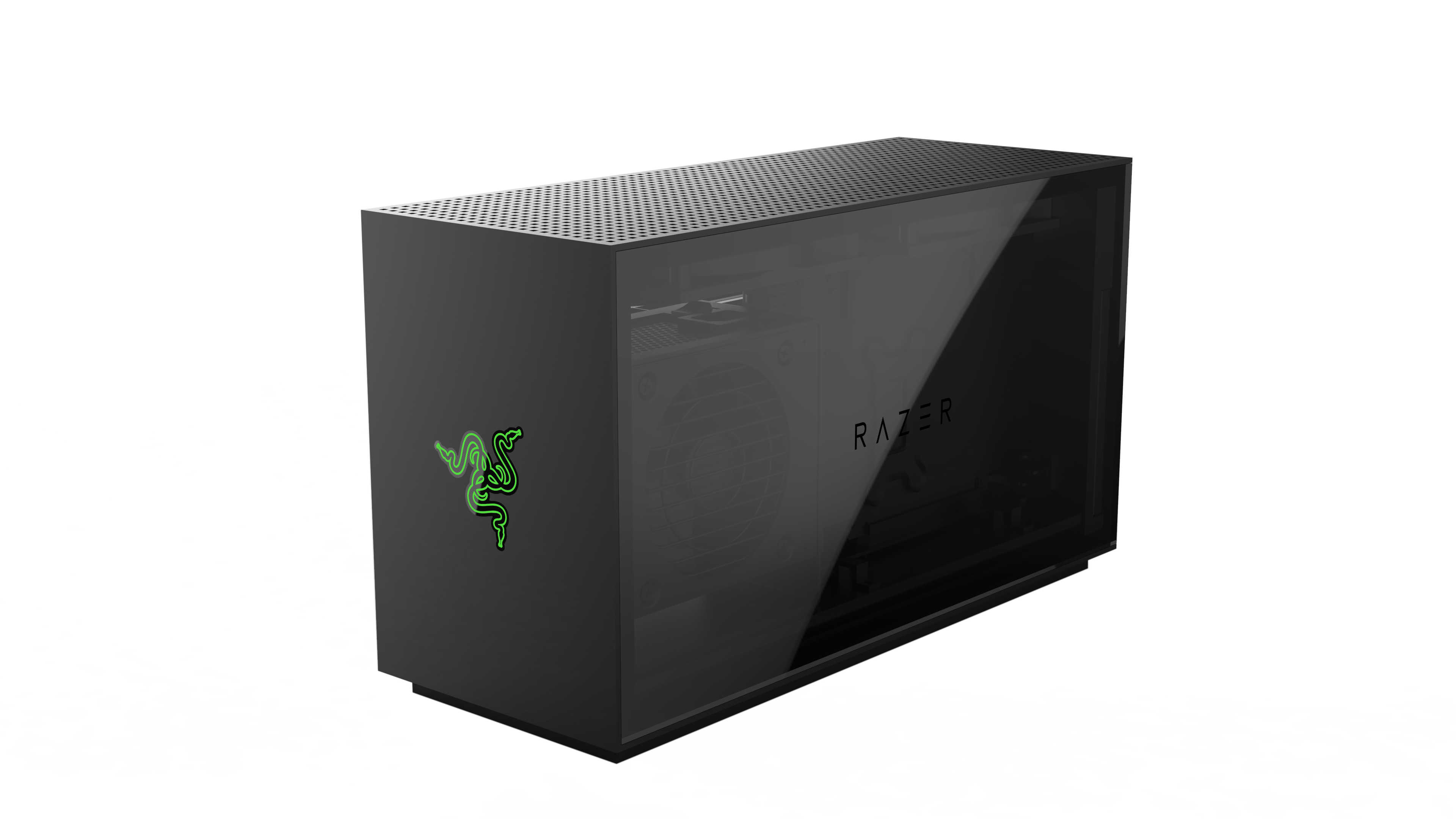 This is the first truly modular desktop system utilizing the new ultra-compact Razer Tomahawk N1 chassis.
The Razer Tomahawk N1's all-aluminium body is flanked by tempered glass on both sides, with an open vent design at the top to maintain cooling performance. The rear features a lock-and-slide sled mechanism that opens with minimal effort, allowing for quick access to internal components without the need for tools.
It features up to an Intel Core-i9 processor, 64GB of DDR4 RAM, and NVIDIA GeForce RTX 2080. Both the RAM and SSD modules on the NUC card are upgradeable as well as the fans, GPU and NUC itself.
The Razer Tomahawk Gaming Desktop will be available in the first half of 2020, alongside the next generation of Razer Blade gaming laptops later this year. These will feature the latest 10th Gen Intel Core H-Series Processors, 300Hz refresh rate panels, powerful graphics processors, and optimized designs.
Razer Eracing Simulator concept
Running Project CARS Pro, the concept model features technology from Vesaro, Simpit, Fanatec and Synthesis VR, resulting in a thrilling and immersive eracing setup with a 202-degree projection system, a hydraulic racing platform, full manual controls, and a steering wheel with paddle shift.
Real surround visuals provided by Simpit come from two Full-HD projectors beaming onto a 128-inch custom black projection surface with 202-degree field-of-view with vibrant colours and deep blacks.
Driver controls from Fanatec feature an anodized aluminium and carbon fibre steering wheel sheathed in smooth leather, magnetic paddles and adjustable buttons for gear shifting and precise driver aide, paired to a three-pedal system below.
The racing harness simulates the effects of G-forces by applying pressure, allowing the body to feel the fast acceleration speeds and tightest corners.
---