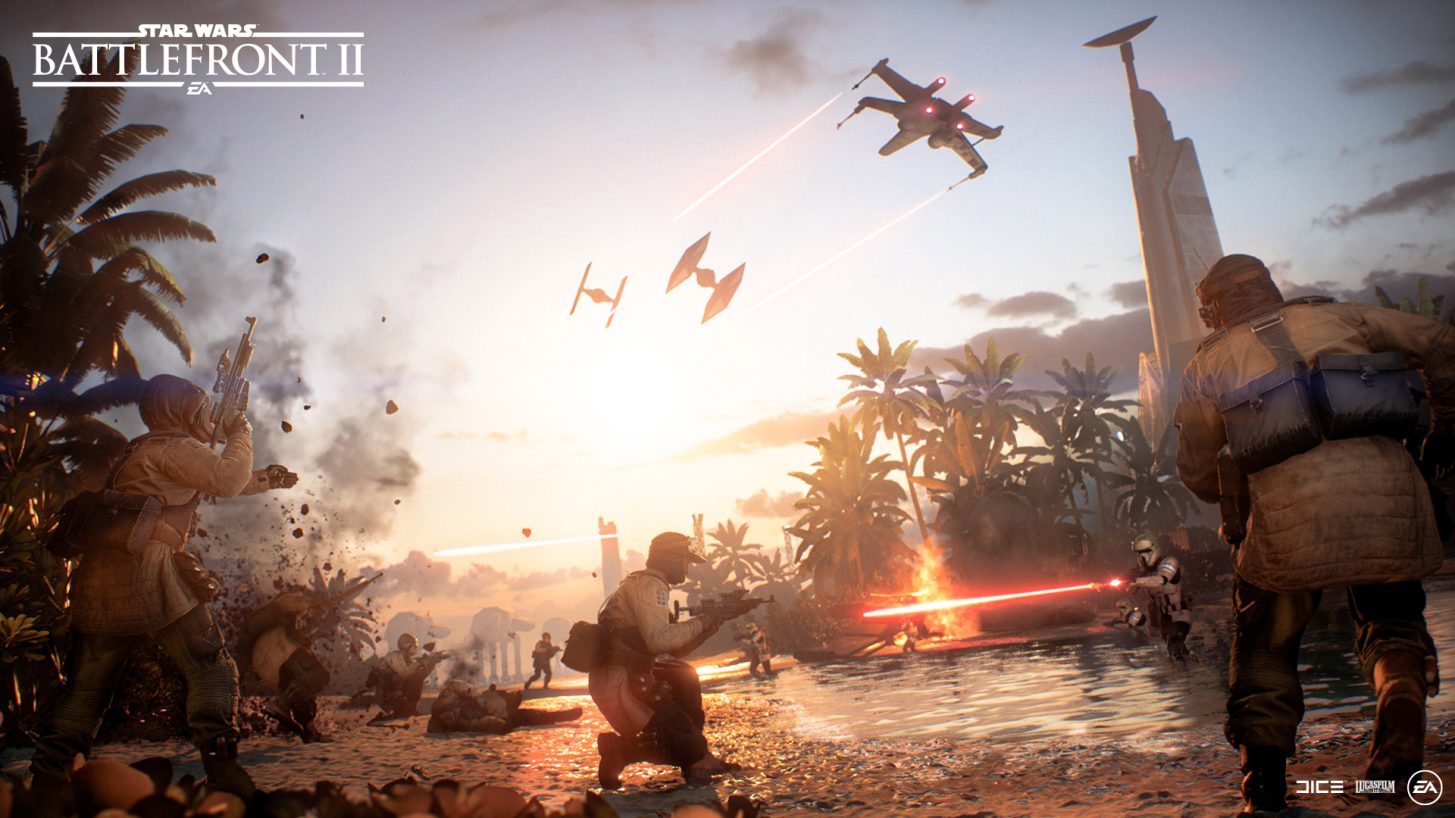 by in
Yesterday, EA DICE confirmed that the Rogue One: A Star Wars Story's Battle For Scarif update for Star Wars Battlefront 2 will be the 2017 game's final content update. Today, it goes live, bringing a bunch of new content for players as we say goodbye to the almost three-year-old game.
Firstly, the list of Supremacy planets adds Scarif, Hoth, Death Star II, Tatooine, and Yavin 4, each of which will also be arriving into Instant Action mode, making the Age of Rebellion Supremacy experience available both offline and online.
Scarif has also been added to the list of available Age of Rebellion locations in Co-Op mode, along with the Age Of Resistance's MC85 Star Cruiser and Resurgent-Class Star Destroyer.  With this update, Co-Op has been renamed to Co-Op Missions.
In Instant Action,  faction select is now possible, enabling both attack and defend gameplay options, as well as supported by every Co-Op location available in the game, across all three Star Wars eras.
Meanwhile, the Heroes Vs. Villains mode receives the planet Crait, as seen in Star Wars Episode VIII The Last Jedi. Fans of Rogue One will be happy to know that troopers will have new appearances based on the movie's Shoretroopers, while the Rebel troops will have access to their Pathfinder variants.
New hero and villain skins have also been added, including Darth Maul's look from Star Wars Rebels, complete with robotic legs.
Another is the Star Wars The Rise Of Skywalker's version of Emperor Palpatine with red robes, Rey with her hood down and wielding her new yellow lightsaber, as well as Kylo Ren with his hood up.
In the meantime, check out the trailer below.
---