When Square Enix's Marvel Avengers was announced during E3 2019, people were wondering what the hell kind of title it was thanks to buzzwords like "live services" and "online play" thrown into the mix. Now that it's closer to the game's release month of September, we know what it is: a team-based third-person action title that developer Crystal Dynamics will let loose with graphics-wise.
Say what you will about the game's past trailers, but the Marvel Avengers beta controls & plays just find and dandy. Once you're done with the HARM tutorial segments where you learn the ins and outs of your selectable heroes -Iron Man, Ms. Marvel (Kamala Khan), Hulk, and Black Widow – and the co-op partner bits, you can jump right in the story mission slices and War Zone/Drop Zone online co-op modes.
The early story bits give you a broad scope of the story: the Avengers are in hiding after a catastrophe on the Golden Gate Bridge in San Francisco. Captain America is dead(?) and there's a disease turning everyone into Inhumans (basically the terragen mist story in video game form). The science-based organization AIM plans to find a cure, but if you've at least read a single superhero comic book in your life, things will go sideways.
Embiggen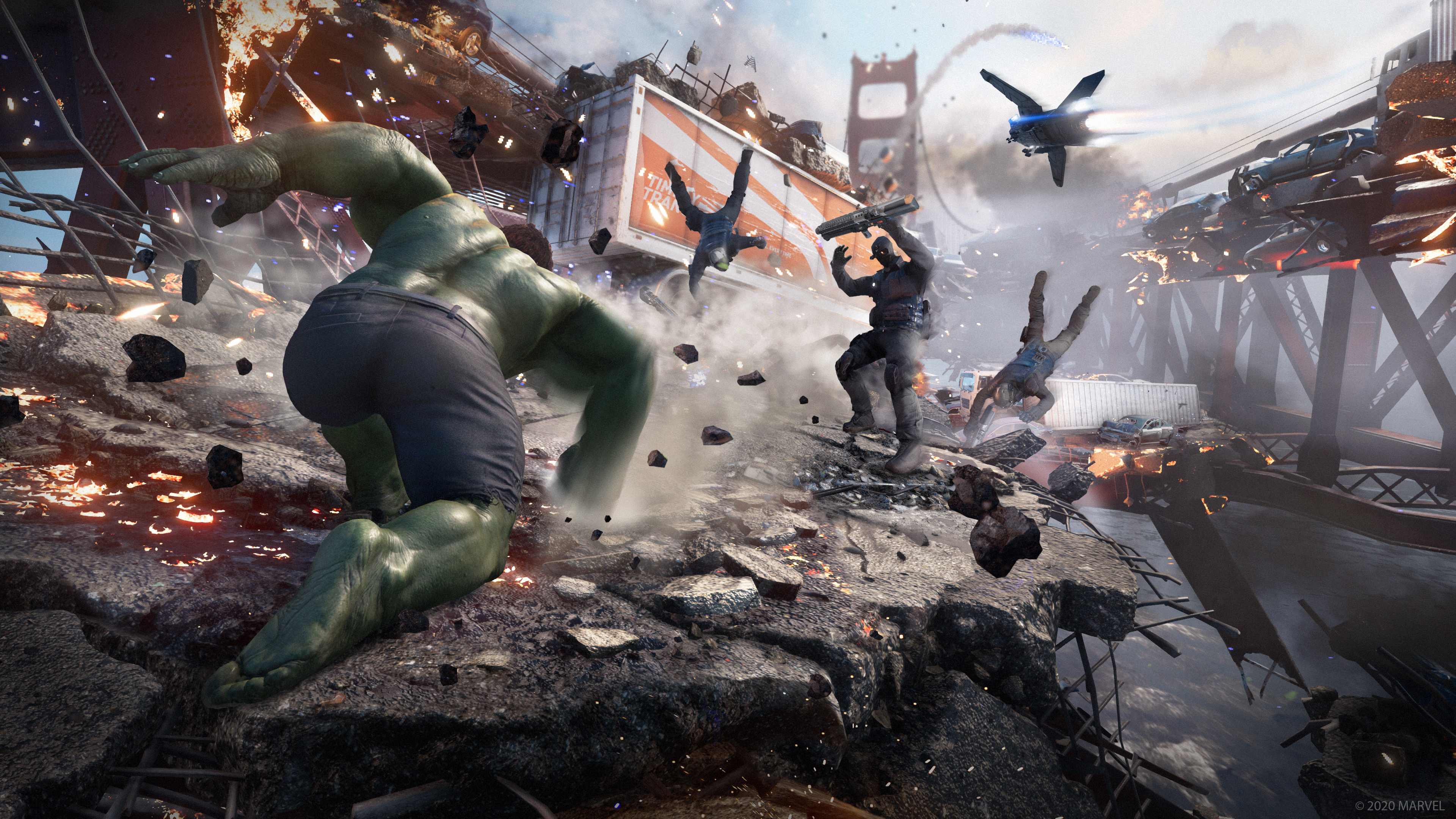 This is where Kamala Khan comes in. She gets affected by the disease, ends up getting superpowers, somehow meets Bruce Banner/Hulk by sheer coincidence, and plans to bring the Avengers back together again in this new video game comic book adaptation story. This is a great way to introduce folks to your already-common story: bring someone who is green like Kamala and tell the story through her perspective. It's not unique, but the VO who portrays Kamala and the rest of the cast makes the story all the more enriching.
When you start playing, each character has the same basic control scheme and set of moves. You have your light melee attack, a heavy attack, a ranged attack, a dodge, a parry, and the hero's distinct special and ultimate moves with cooldown timers. Each character will have an Intrinsic Meter that lets you use a character's special unique skill once it's filled up. To do that is entirely dependant on the character: some of them fill it up by just letting it recharge while idle, while others fill it by busting AIM heads.
And these abilities do help: Hulk's Intrinsic Meter lets you tank and keep enemies distracted while soaking up damage, while Ms. Marvel's skill let her power up her large sweeping melee attacks by extending their range a lot more than usual. Black Widow zips around the field and does burst damage and combos like Tifa in FFVII Remake, while Iron Man focuses on long-range shooty shooty bang bang laser abilities. The game's multitude of skill trees for each character extends their skillset further: you can either prioritize Ms. Marvel's light or heavy attacks, or make Iron Man focus either on rocket attacks or DPS-consistent laser beams.
To add further customization and play styles, Marvel Avengers is really taking the online action-adventure RPG route with its mission structure and gear system. The story missions are about what you expect: follow the pathway and beat up enemies, or survive waves while protecting something. Maybe some platforming or two. Then you have the multiplayer missions where the whole point is to team up, fight enemies, get your gear, and repeat ad nauseum. While not as fun as the story missions, they serve their purpose for end-game looting.
Gear Box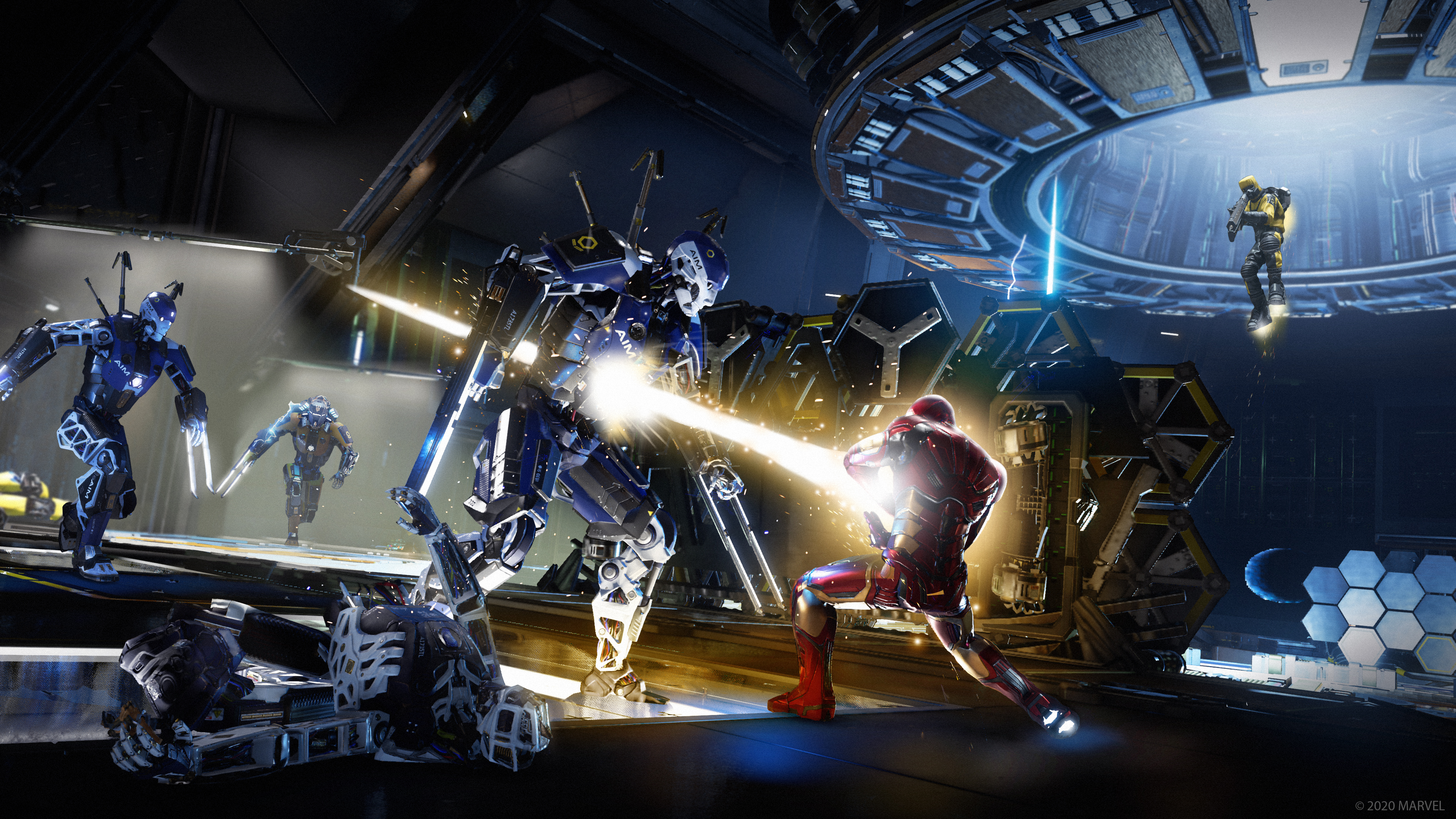 And loot you will! Marvel Avengers' gear system is similar to titles like Destiny, where you improve your stats with high-numbered gear that come with various colours that represent tiers. The best ones will give you additional buffs like inflicting more elemental damage or adding extra attacks and kits to your Avengers' existing attacks. The better your gear, the higher your Power level is, and the higher that value is, the tougher the stages will get that will become available.
So far, the entire experience is pretty solid. It's basically what happens when last year's Marvel Ultimate Alliance 3 gets a sorta-serious Marvel Cinematic Universe-esque makeover, have tweaked third-person controls and better group dynamic, and is give the Crystal Dynamic touch that's prevalent in the company's Tomb Raider and Soul Reaver titles. Think Destiny 2 but using Marvel characters, and you're pretty much on track.
And it holds a lot of promise for both story-savvy comic book gamers and folks looking for a Marvel-themed online instance-based action game. Even if there are some unknowns that will only be debunked once the full game is out, there's a lot to like here.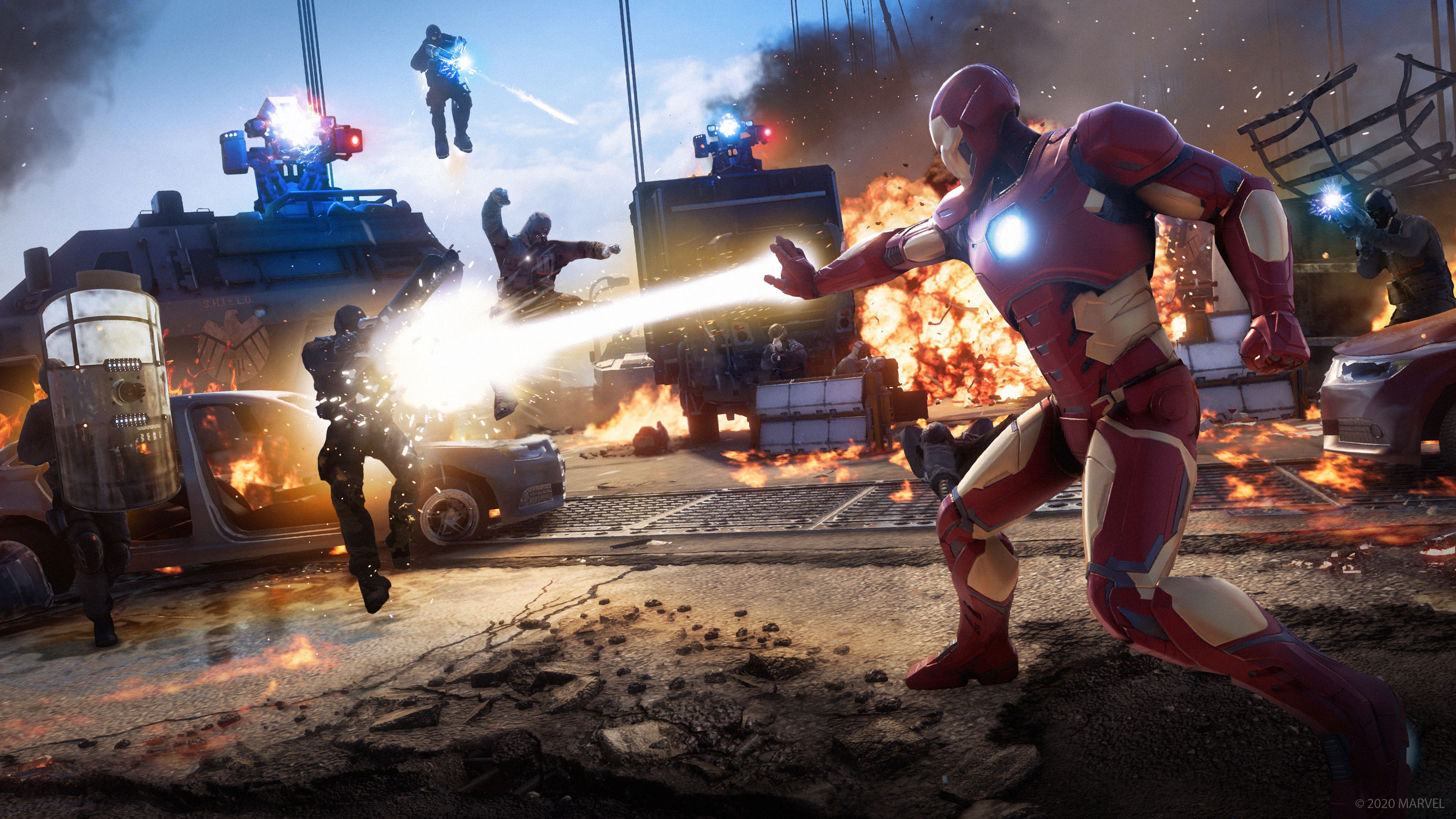 So What's The Problem?
In a recent announcement, people who will buy the PC and Xbox versions of Marvel Avengers will not be getting Spider-Man post-launch. Essentially, it seems that the PS4 version is the "correct" version of the game you should buy if you want some hot 2020 Marvel action. To put it simply: a good chunk of the final game will be locked out for non-PlayStation users.
Since Spider-Man is an IP that is mostly owned by Sony (game, movie rights, and so forth), this is not surprising. But it is still disappointing from a consumer perspective. This is an extreme version of a publisher locking out content for exclusivity's sake (ie: Call of Duty maps & Destiny content for PS first) that should be in a Marvel game, considering the insane popularity and significance of Spider-Man.
I do hope PlayStation can play ball and at least allow Crystal Dynamics, Square Enix, and co. to allow access to the web-headed wizard for all console versions of the game because this is pretty unfair for others. Yes, a sizeable number of folks in Southeast Asia have PlayStations and will probably get the PS version of the game, but that's not the point here.
The point here is that a marketing decision is excluding a game of its post-launch content that should be shared by all. It isn't really a competitive decision if you're devaluing or nerfing your own product on other consoles you aren't making exclusivity deals with.
Marvel Avengers will be out 4th September and will be Spider-Man-less on non-PlayStation platformers.