Cyberpunk 2077 features iconic weapons, which are basically one-of-a-kind weapons that can be upgraded to Legendary status any time during the game. One of these is called the Kongou pistol; it's not only beefy when upgraded to high levels, but you can score this early in the game.
Here's what you need to do to get this iconic pistol.
Participate in the story mission "The Heist"
Without spoiling anything, you can only get the gun in Konpeki Plaza during this early story mission. You'll come across it within the first few hours of the game and it's the mission set in the prologue phase of Cyberpunk 2077.
Note that the Konpeki Plaza will be in lockdown after this mission. Which means you can miss out on getting this gun early on.
Get to this point in the story mission (see below)
Once you're in this location with this objective, start your search at his bedroom. The gun is on the right bedside desk.
The stats may not be impressive right now at this point in the game, but it's worth upgrading to Legendary status later on. Why? Because its Power ability does not require any cyberware unlike other weapons of its ilk and class. You can equip cyberware that focuses on Smart modules and Smart class weapons, and still exploit the ricochet properties of the Kongou.
Check out its final form below: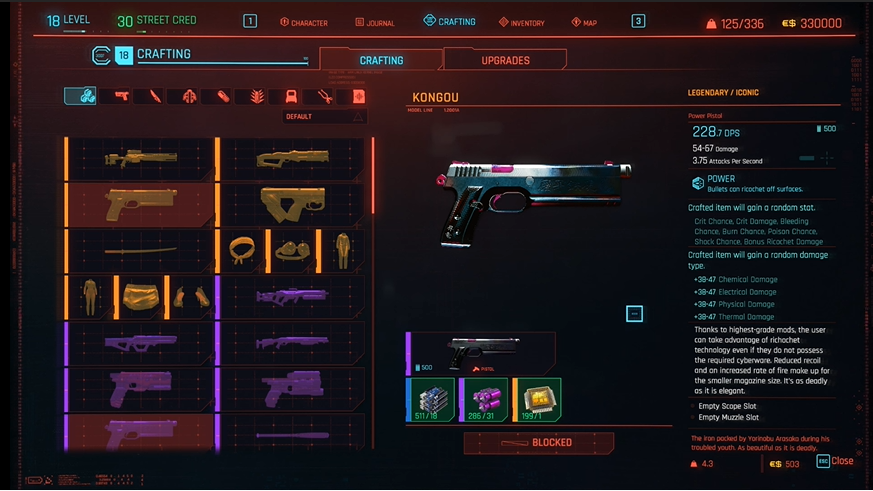 Big thanks to ESO for the tip. For more tips on Cyberpunk 2077, head over to our skill guide and recommendations list.