The premiere date for Amazon's Invincible adult animated series was announced during a live stream celebrating the 18th anniversary of the comic book created by Robert Kirkman, who also created The Walking Dead franchise.
Invincible will debut exclusively on Amazon Prime Video on 26 March 2021. The premiere will include the first three episodes, with a new episode released every Friday until the finale on 30 April 2021 for a total of eight episodes in its first season.
Created by Robert Kirkman (and artists Cory Walker and Ryan Ottley), Invincible revolves around 17-year-old Mark Grayson who learns that he has inherited incredible powers from his superhero alien father, Omni-Man. The comic series ran for 144 issues from 2003 to 2018, with many spinoffs and its own cohesive shared universe.
I'm not mincing words when I say that Invincible is quite possibly one of the best comics I've ever read in my entire life, and it's definitely not like anything you've ever read before. It feels like part Spider-Man and part Superman, with a lot of subverting genre tropes along the way.
Kirkman also revealed that the first full trailer for Invincible will be released in the next few weeks.
Invincible stars Steven Yeun as Mark Grayson, J.K. Simmons as Nolan Grayson, Sandra Oh as Deborah Grayson, Gillian Jacobs as Atom Eve, Mark Hamill as Art, Zazie Beetz as Amber Bennett, Khary Payton as Black Samson, Walton Goggins as Cecil Steadman, Zachary Quinto as Robot, Chris Diamantopolous as Doc Seismic, Jason Mantzoukas as Rex Splode, Grey Griffin as voice Shrinking Rae and Amanda (Monster Girl as Girl), Melise as Dupli-Kate, Andrew Rannells as William Clockwell, Kevin Michael Richardson as Mauler 1 and Mauler 2 and Monster Girl (as Monster) and Seth Rogen as Allen the Alien, with Lauren Cohan as War Woman, Chad Coleman as Martian Man, Michael Cudlitz as Red Rush, Lennie James as Darkwing, Ross Marquand as The Immortal and Aquarius, Sonequa Martin-Green as Green Ghost, Mahershala Ali as Titan, Clancy Brown as Damien Darkblood, Nicole Byer as Vanessa and Fiona, Jeffrey Donovan as Machine Head, Jonathan Groff as Rick Sheridan, Jon Hamm as Steve, Djimon Hounsou as Martian Emperor and Ezra Miller as D.A. Sinclair.
Check out the official synopsis and poster below, as well as a first look at the upcoming animated series:
From The Walking Dead creator Robert Kirkman, and based on the Skybound/Image comic of the same name by Kirkman, Cory Walker, and Ryan Ottley, Invincible is an adult animated superhero show that revolves around seventeen-year-old Mark Grayson (Steven Yeun), who's just like every other guy his age — except that his father is the most powerful superhero on the planet, Omni-Man (J.K. Simmons). But as Mark develops powers of his own, he discovers that his father's legacy may not be as heroic as it seems.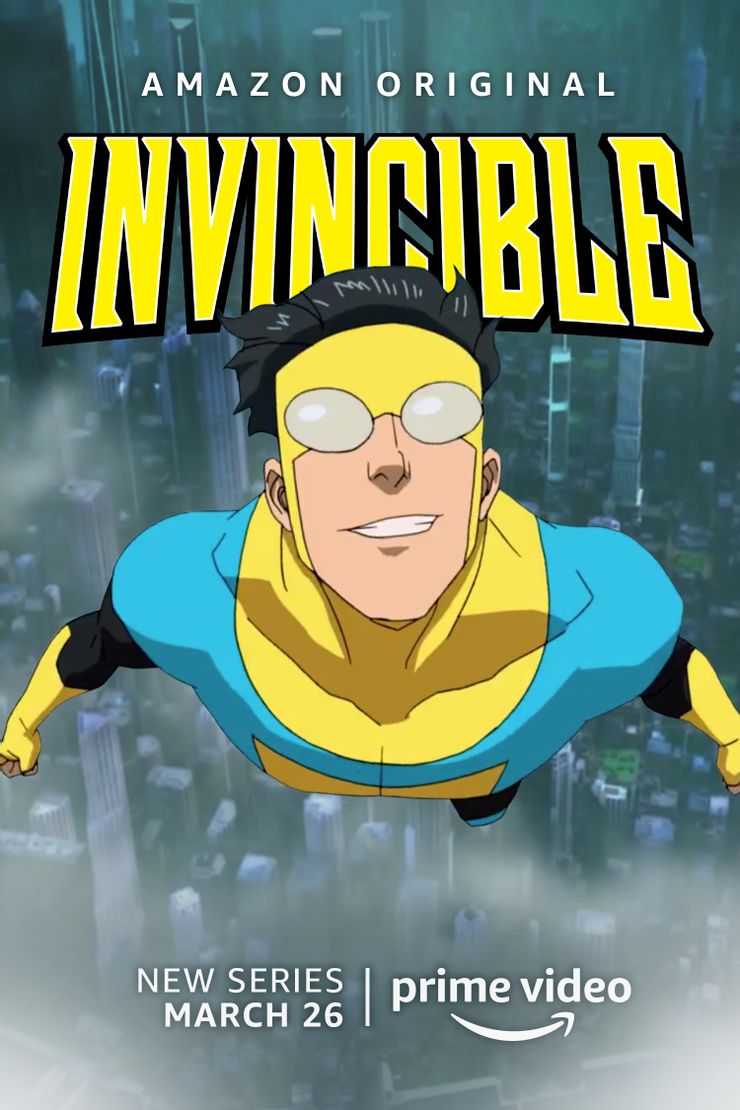 Related