As part of PUBG Mobile version 1.2 update, which brought new features including a new Runic Power theme gameplay in Erangel map, this month PUBG Mobile officially launched Royal Pass Season 17 with a "Runic Guard" theme. Delivering an unprecedented game variant with added equippable powers, in this latest season players can collect all-new collectable rewards by completing in-game challenges.
The Royale Pass Season 17 content update delivers 100 ranks of tiered rewards, all unlockable through new activity missions and weekly challenges. Players can spin the added Wheel of Fate to choose between the Resplendent Dawn and Deadly Sickle, when they have reached the 60th Royale Pass (RP) rank. The rewards given will get more attractive from rank to rank, at Rank 100 players can obtain Guardian Armor outfit and weapon collection from the majestic Guardian Armor Set, Uzi and M16A4.
Additionally, players can increase their Royale Pass rank with the new RP Team feature, by joining and completing various missions given to players and RP team. Through teamwork, together all members are able to move to a higher rank, unlock more attractive and valuable rewards, align with the RP that the team obtains. Mission Activity Packs can also be completed and converted into UC currency, which can be spent at the in-game shop for additional loot.
Some rewards that can be obtained during the Royale Pass (RP) mission is as follows:
| | | | | |
| --- | --- | --- | --- | --- |
| Royale Pass | Item | | Royale Pass | Item |
| RP 1 | Faceless Clown Set and Resplendent Dawn-UZI | | RP 50 | Teal Terror-Vector and Deadly Sickle-Sickle |
| RP 5 | Faceless Clown Headgear | | RP 60 | Resplendent Dawn Set or Resplendent Dawn Headgear |
| RP 10 | Resplendent Dawn Ornament | | RP 70 | Resplendent Dawn Backpack |
| RP 20 | Shoulder Dance Emote and Resplendent Dawn Helmet | | RP 80 | Guardian Armor Emote |
| RP 25 | Party King Emote | | RP 90 | Guardian Armor-M16A4 |
| RP 30 | Deadly Sickle Parachute and Deadly Sickle Grenade | | RP 100 | Guardian Armor Set |
| RP 40 | Dayman Airplane | | | |
Season 17 also delivers new content to the PUBG Mobile x Metro Exodus collaboration in the form of Metro Badges. As players collect exclusive supplies, they can unlock the story and earn one of two sets, including exclusive vehicles and other valuable treasures. Similarly, players can now choose between UC and AG currency at any time, which an increased payout at lower Royale Pass ranks.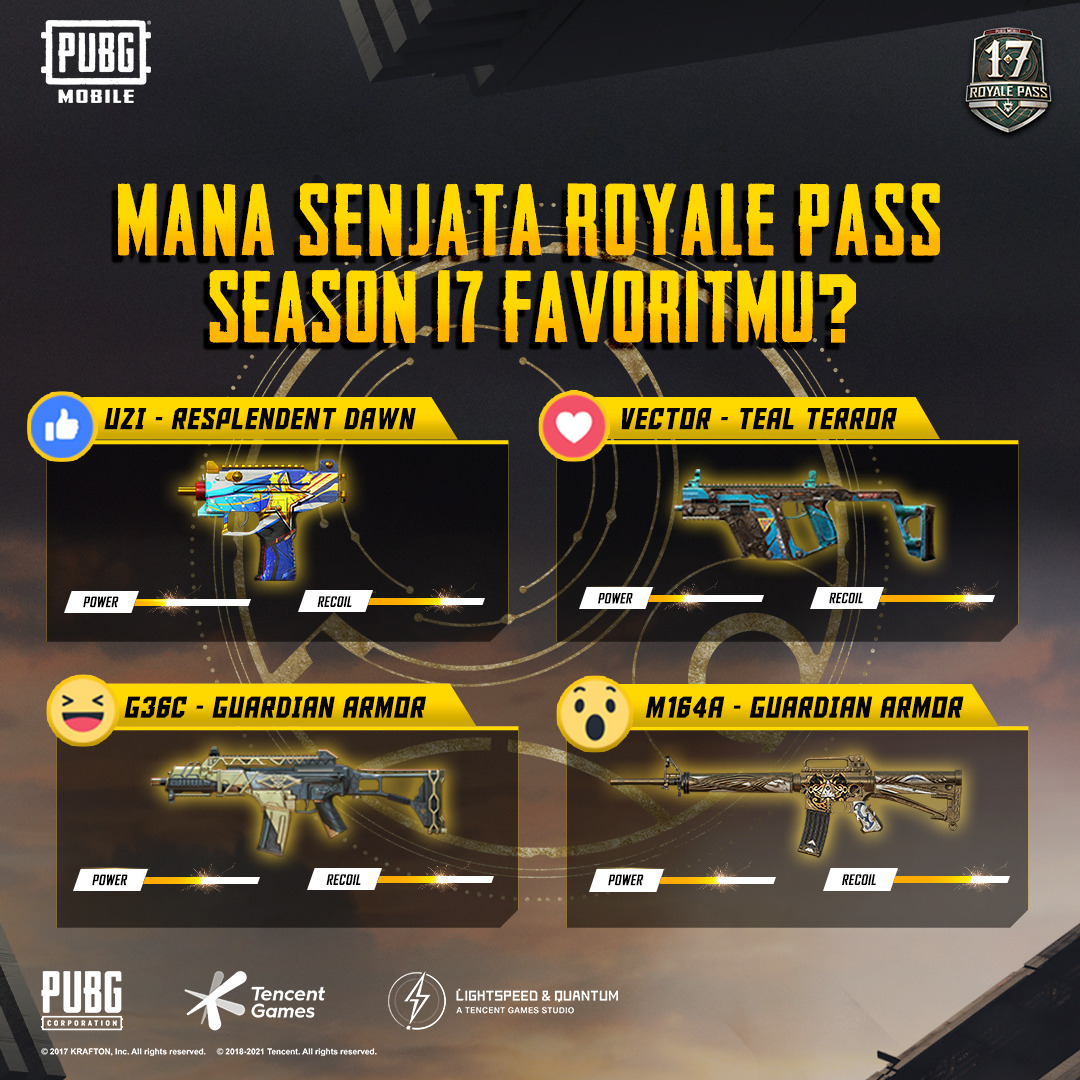 PUBG Mobile Marketing Manager Jenny Zhuang said:
"Royale Pass Season 17 theme was inspired by our newly introduced gameplay Runic Power mode as part of version 1.2 PUBG Mobile update.

We also added a new element, Opening Cinematic in Season 17 to visualize all the variety of exclusive items that are available.

Through continuous updates and innovation, we dedicated to deliver an unprecedented mobile game variant and a new gaming experience to all players."
Royale Pass Season 17 version 1.2 update today is available on App Store and Google Play and can be downloaded with the Lightweight Installation Function for Android users. The feature reduces file size up to 70 percent but offers the same gaming experience. Now players who have limited memory capacity on their mobile, can also customize their own game, add or remove sections according to their preference.
Earlier this month, Runic Powers arrived in PUBG Mobile 1.2 update. In the meantime, check out the trailer below: