At first glance, the mid-ranged tailored Samsung Galaxy A52 Android OS phone is sleek. It's got a medium-sized frame with decent bezels surrounding its ultra-clear screen -not too thick, not too thin- that's designed for this generation of phone users and comes with a ton of bells and whistles out of the box.
Upon further testing & inspection, it's safe to say that this new Samsung phone is a beast that can do a lot of phone-related things at once. Photo-taking, browsing, stuff-loading, and even gaming. Samsung's flagship mainstream brand line is done justice with the new and improved A52.
Oh, and it does calls just fine. Can't forget about the sole reason why people want phones in the first place, right?
Picture Perfect
Jesting aside, the A line of Samsung Galaxy phones are meant to be "all-in-one" multimedia phones but without the absurd price tag & power of the S line. For one, the Super AMOLED screen is hard to pull away from. It's not only has a fast touch panel, but it's bright and comfortable to use outdoors even with the sun around. The 90Hz high refresh rate also helps in making all your on-screen scrolling and action a lot smoother and responsive (which you can also turn down to 60Hz to save battery).
It's also nice to hold and comes with nice and sleek colours, like Violet here. The phone comes in Black, White, and Blue, but Violet is the clear winner in the aesthetics department here.
The phone also features water and dust resistance, meaning that the phone is still fine even if it drops in a puddle. Just don't forget to dry it if that happens. Oh, and don't submerge it in freshwater deeper than a single meter for more than 30 minutes.
Based on the multiple lenses at the back of the phone, it's clear that the A52 wants you to use its camera to the fullest. The highlight feature, a Quad Camera setup that has night photo options, can make objects and subjects pop up even in the dimmest of environments. The camera also comes with ultra-wide features (for wide-as-heck shots), a multi-lens feature that makes your shots/video-recording stable and sharp, and a 5MP Macro Camera that captures a ton of detail from subjects and viewpoints it takes. You can also choose to take photos with manual light settings, or just use the fun tools for your selfie/chat group-sharing purposes.
Here are a few examples of the detail I was talking about, with just regular lighting:
Video features include 4K@30fps capture, which is pretty darn good for its price tag. This is as close as you can get to a "pro-consumer" digital camera in a decent frame, and is a good contender against the Google Phone's camera offerings without destroying your wallet.
Since this Samsung Galaxy phone is from the A line, some compromises have to be made to make sure it doesn't cost a bomb. While the A52's Octa-Core CPU does a good job loading apps and doing functions just fine, it can heat up a bit after an hour or so. It's not the worst thing to happen, but it's something to keep in mind if you like your phones at a regular temperature. The grip of the phone is smooth and rubbery at the same time; it has some heft to it but it isn't too thick and heavy.
Beyond that, all other smartphone activities like emailing, typing, messaging, internet browsing, and loading/switching between apps is all seamless and manageable. All that RAM in the A52 is put to great use, with Samsung's in-house memory and space manager app to periodically clean up your phone and sort out some messes; the kinds you find from torrent, streaming and illegal-hosting manga/comic book sites. Not that we do that, of course.
It's also nice that this particular smartphone has the decency to retain its 3.5mm that other phones of this age and class usually ditch.
But Does It Play Games Well?
Yes, that's what you're here for: the headline on this phone review. With other expensive offerings in the market like the bats*** expensive Asus ROG phone, is the Samsung Galaxy A52 a good and practical choice? Yes it is, but I'm speaking as a person who owns his own gaming consoles and a gaming PC, but also dabbles in mobile phones because it's pretty stupid to run Bluestacks on your PC when you have a phone like the A52 to sort out your mobile gaming and gacha jollies.
The majority of my short-spanning game time is pretty comfortable and hassle-free. The phone's frame makes it optimal for prolong usage, the heat generated from gaming is negligible at worst, and the touchscreen is responsive and feels great when you're furiously tapping in rhythm games like Project Sekai or mobile RPGs like Dragalia Lost.
The phone works with most games save for a particular popular mobile RPG: Genshin Impact. For some reason, it's not optimized to run on the Samsung Galaxy A52's current specs. You can only run the game in Low to Medium settings lest you want to overheat your phone in less than a few minutes. Games that are intensive on phones and require faster chipsets will suffer on the A52, unfortunately.
Speaking of game sounds, the phone's stereo speakers are pretty loud at max volume; just nice if you want to play without headphones for a few minutes. It's a good enough speaker that can even play over a regular crowded coffee shop (both the hawker and Starbucks variant). When it comes to battery life, the A52 isn't too shabby as it can last you a day if you're constantly doing short gaming sessions and switching between apps with the display brightness set to medium with adaptive brightness turned off. If the latter is turned on, you can save more power and have the battery lasts for a day and a half. That's pretty nifty given the phone's multi-tasking and all-in-one functionality.
All I'm saying is your current mobile games like Call of Duty Mobile, League of Legends: Wild Rift, and your anime-laced gacha RPG will run just great and dandy on the A52. Sure there's going to be one or two games that need work when running it on the phone, but a "4 out of 5" hit count isn't too shabby. And they run on 90Hz by default, at least the less intensive titles.
This is especially helpful if you want a "jack of all trades" kind of phone that masters a few essentials with a good mid-range price tag. In fact, you're doing yourself a favour by saving an extra RM1,000+ by picking the Galaxy A52 over any competitor's smartphone. Unless you really want your gacha games to run at 120fps, this particular Samsung mainline phone favours value for money and then some, without feeling like you're being shortchanged. This mid-ranged smartphone deserves its alphabet for sure.
Final Score: 80/100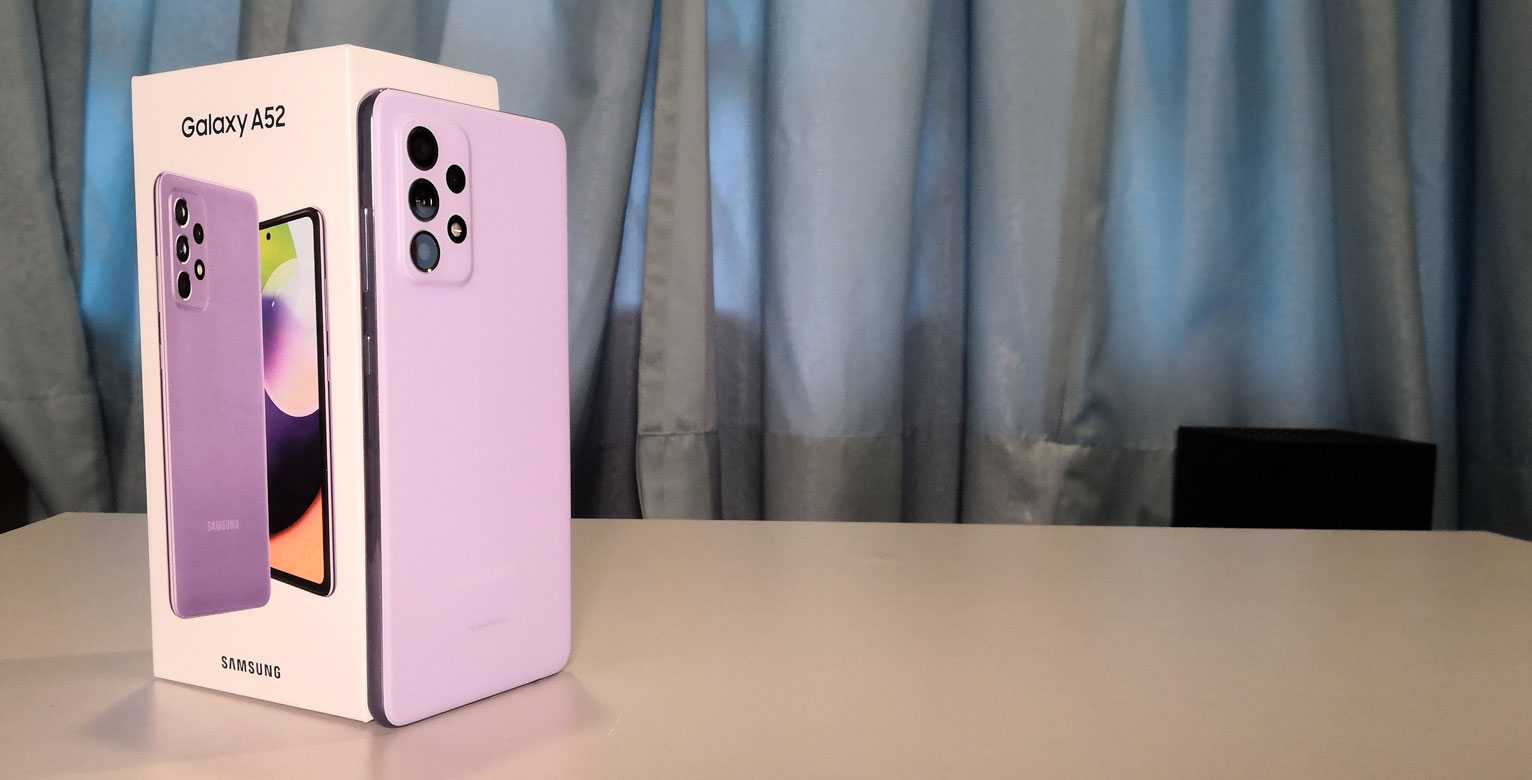 ---
Vital Statistics
Platform: Android 11 OS, One UI 3.1
Body: 159.9×75.1×8.4mm, 189g
Frame: Plastic back, Gorilla Glass 5 front with IP67 dust/water resistance
Chipset: Qualcomm SM7125 Snapdragon 720G (8 nm)
CPU: Octa-Core 2.3GHz, 1.7GHz
GPU: Adreno 619
Display: Super AMOLED 120-Hz, 6.5 inches, 101cm
Memory (Internal): 256GB 8GB RAM
Main Camera: 64 MP, f/1.8, 26mm (wide), 12 MP, f/2.2, 123Ëš (ultrawide), 5 MP, f/2.4, (macro), 5 MP, f/2.4, (depth)
Sound: Stereo speakers, 3.5mm jack
Battery: Li-Po 4500 mAh, non-removable
Price: RM1,499
Related