Update (15 June): Added new information.
In case you missed it or weren't awake just before 4am today for the Summer Gaming Festival Kickoff 2021, Bandai Namco announced the release date of the upcoming From Software action RPG Elden Ring. And obviously a ton of gameplay.
There's a lot to take in. Let's break down what's going on in here.
There's A Story Behind The Madness
Here's the plot synopsis of Elden Ring: find the Elden Ring and become the Elden Lord.
"The Golden Order has been broken.

Rise, Tarnished, and be guided by grace to brandish the power of the Elden Ring and become an Elden Lord in the Lands Between.

In the Lands Between ruled by Queen Marika the Eternal, the Elden Ring, the source of the Erdtree, has been shattered.

Marika's offspring, demigods all, claimed the shards of the Elden Ring known as the Great Runes, and the mad taint of their newfound strength triggered a war: The Shattering. A war that meant abandonment by the Greater Will.

And now the guidance of grace will be brought to the Tarnished who were spurned by the grace of gold and exiled from the Lands Between. Ye dead who yet live, your grace long lost, follow the path to the Lands Between beyond the foggy sea to stand before the Elden Ring."
Horseback Riding
New to From Software's line of action RPGing is the ability to ride a horse. Your warrior (called the Tarnished) gets to explore a now-open world kind of area with wide-open spaces. And with that comes a required traversal tool to cover more ground. Hence, horses.
This also means that enemies will have the same benefits, and they might even have faster and better mounts. This was kinda leaked a while back though, but watching it in an official capacity is pretty glorious.
There's A Giant Glowing Tree In The Middle Of The World You're In
We're guessing that the giant tree in the trailer will be your hub to the surrounding area, connecting all the dungeons and overworlds you'll be visiting in your quest for the Elden Ring.
You May Have To Climb Onto This Giant…Thing
This four-legged giant looks like a level you can explore in.
Your Tarnished Warrior Has Some Elite Magic Skills
I'm not sure what the terminology here is, but it seems that your player character will be able to kick some ass with some super-powered weapons. One of your swords has light emanating from its blade, while in one other scene the same hero is using a wand to cast a blue bolt of energy. He can also summon phantom allies to aid him.
There's A Lot To Kill In The Game
Like with recent From Software games, Elden Ring will feature a huge number of big enemies and bosses to fight against. These include a multi-legged undead king…
…a sword-wielding werewolf,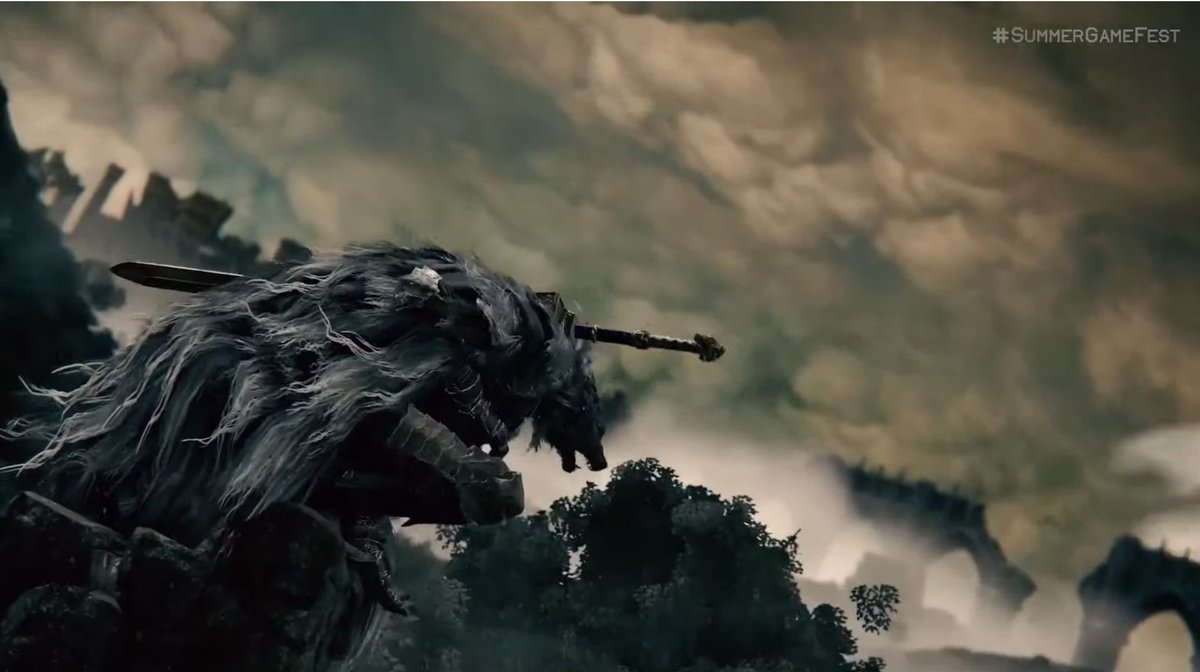 this multi-legged mutant with a long tail and a magic club,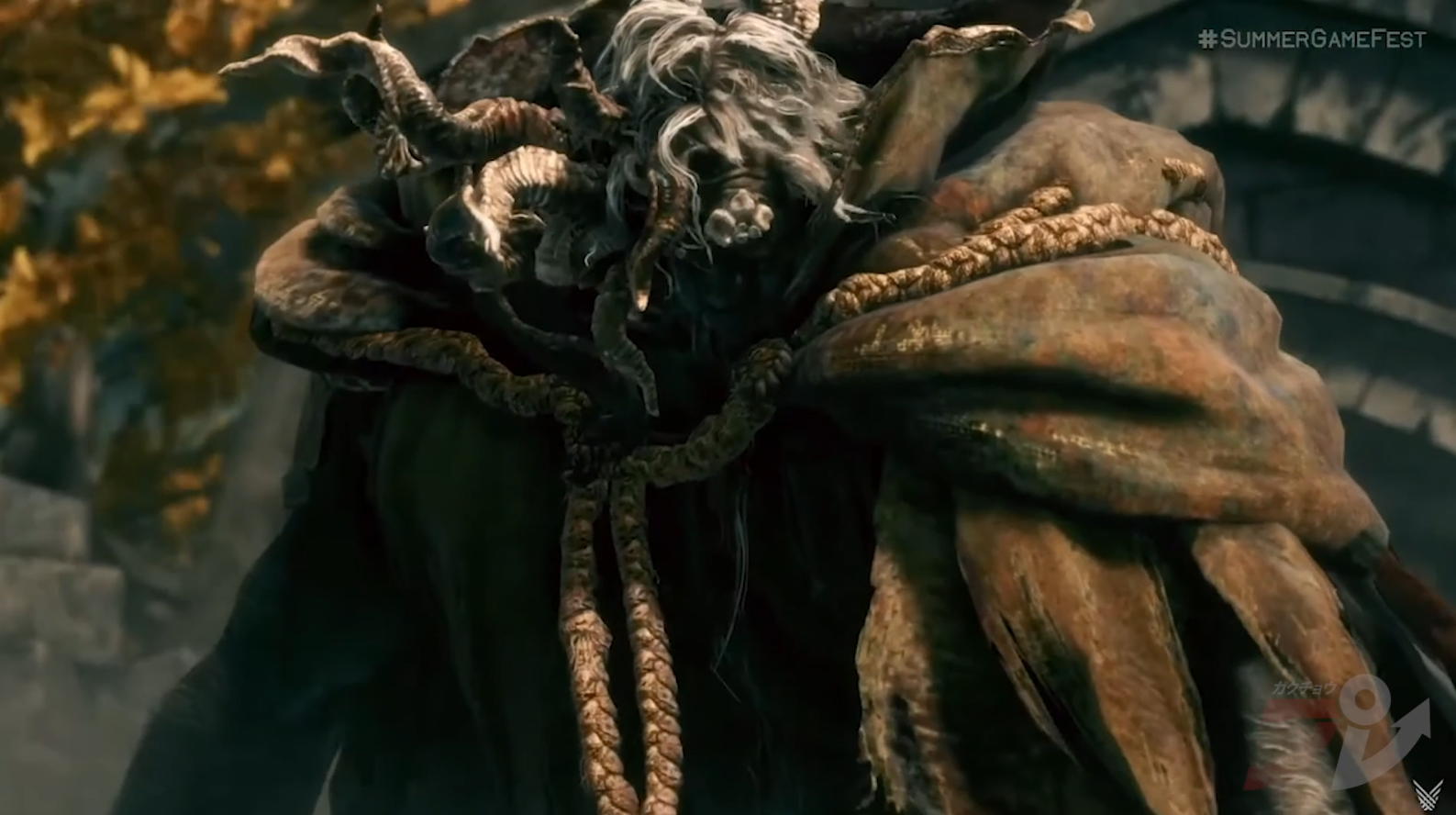 …this tall knight lady,
…this giant dragon who can bring lightning down,
…and this giant king with a ton of arms, and tiny arms on his body. He also has a giant axe on his right hand and a dragon's head on the other.
There's actually a few more from the trailer, but these big bads are the highlights. Prepare to die. A lot.
This Will Be From Software's Largest Game Map Yet
According to a recent Famitsu interview, Elden Ring will feature a really hefty and large open-world map, though the actual dungeons do not have maps and require players to memorize the layout somehow. The game will also have a crafting system with materials which you'll have to scour the world for.
And speaking of exploration, fall damage in Elden Ring will be low so that players can get motivated further to explore every nook and cranny of the dark landscape, horseback or no.
Multiplayer Options
Asynchronous multiplayer will be returning in Elden Ring. Players can set up groups and give their messages and their dead bodies higher priority over everyone else's when online.
Elden Ring Will Be 30 Hours Long
That's just the main quest stuff "without too many side trips" according to game director Hidetaka Miyazaki. We're guessing the game will be on average about 50 hours or so with all the sidequests and the dying.
Elden Ring will be out on 21st January, 2022, for Xbox Series, Xbox One, PS5, PS4, and PC. Oh, and famous fantasy author George R.R. Martin is behind the story of this game. Enjoy more screenshots of the game in the meantime.