It's been a long time coming, but Star Wars has finally gone anime. It took more than four decades but considering that the roots of Star Wars owe themselves essentially a lot of Japanese and other Asian elements. These include Darth Vader's samurai-like design and George Lucas being inspired by Akira Kurosawa's The Hidden Fortress (1958), as well as deriving the idea of Jedi and the Force from Buddhist and Shaolin monks.
This time a total of seven different has been given the reins to bring their unique talent and perspective to the first season of Star Wars Visions, an anthology animated series. These include Kamikaze Douga, Geno Studio (Twin Engine), Studio Colorido (Twin Engine), TRIGGER, Kinema Citrus, Science Saru, and Production I.G. Each studio will use their signature animation and storytelling styles to realize their own visions of the galaxy far, far away.
A Long, Long Time Ago…
These studios have managed to bring their unique and stylish anime flair to the franchise in a way that's never been seen before in four decades of Star Wars content. There are more Japanese elements in this series than in anything Star Wars before, so
The episodes are pretty short. On average, most are between 10 to 15 minutes, and that means a brisk pace that's perfect for an anthology series like this. It's not as long as the episodes in say, Disney+'s own Marvel's What If…? series. The only exceptions are two out of nine episodes in the first season which are as long as about 20 minutes but the rest are around the aforementioned average duration.
Some episodes are balls-to-the-walls action from beginning to end, while others are slower in their pacing. However slow the episodes are, you can rest assured that every episode has at least one or two climactic action scenes to look forward to. While that may lend certain predictability to the episodes or seem formulaic, it works. Still, each episode is visually different. For example, one episode even invokes the style of Akira Kurosawa with a black and white animation style.
The episodes in Star Wars Visions also pay homages not only to legendary anime like Astro Boy and Akira Kurosawa movies (Seven Samurai, etc.) but also to the Star Wars movies themselves as well. One scene in a particular episode was clearly a direct recreation of a visually iconic scene from Star Wars Episode VIII The Last Jedi (you'll know it when you see it).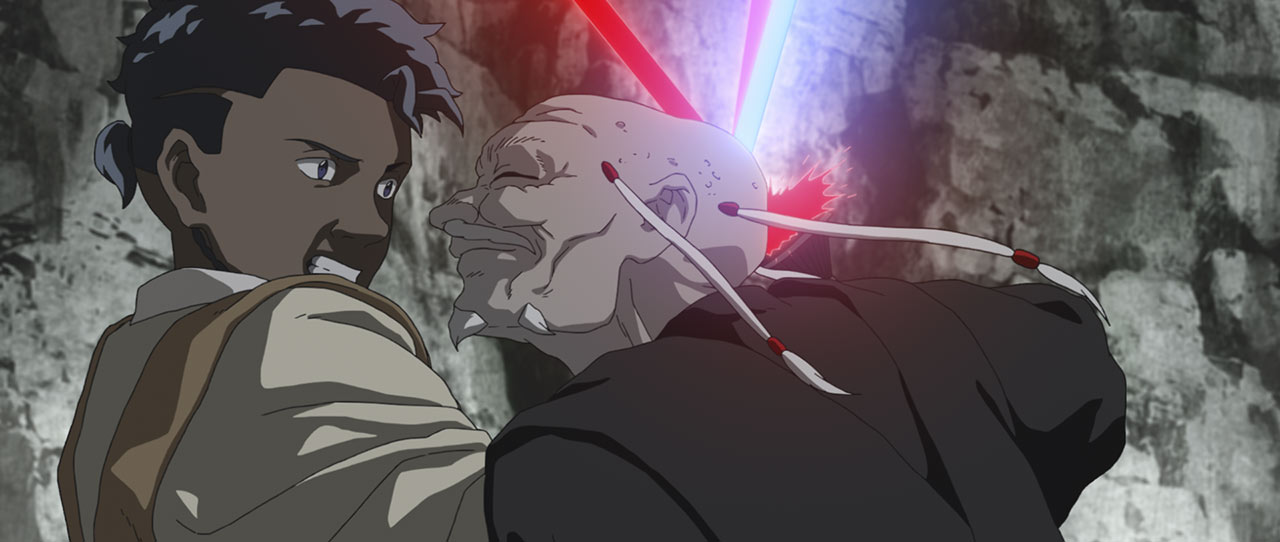 In A Galaxy Far, Far Away
I watched the series in both English and Japanese dubs, so I can tell you that both are incredible so there's no reason for so-called dub wars between fans of dubbed or subbed (anime fans will surely know what I'm referring to). Still, it's clear that the character's speech and mouth movements are more natural and in sync with the Japanese dubs (since they're made by Japanese studios, after all), but you certainly won't notice any awkward out-of-sync for the English dubs either.
In addition, there are at least one or two big stars in each and every episode (check them all in my feature article here). Just to give you a taste, they include Lucy Liu, Joseph Gordon-Levitt, Neil Patrick Harris, Alison Brie, Simu Liu, and many more whom you'll recognise when the credits for each episode rolls.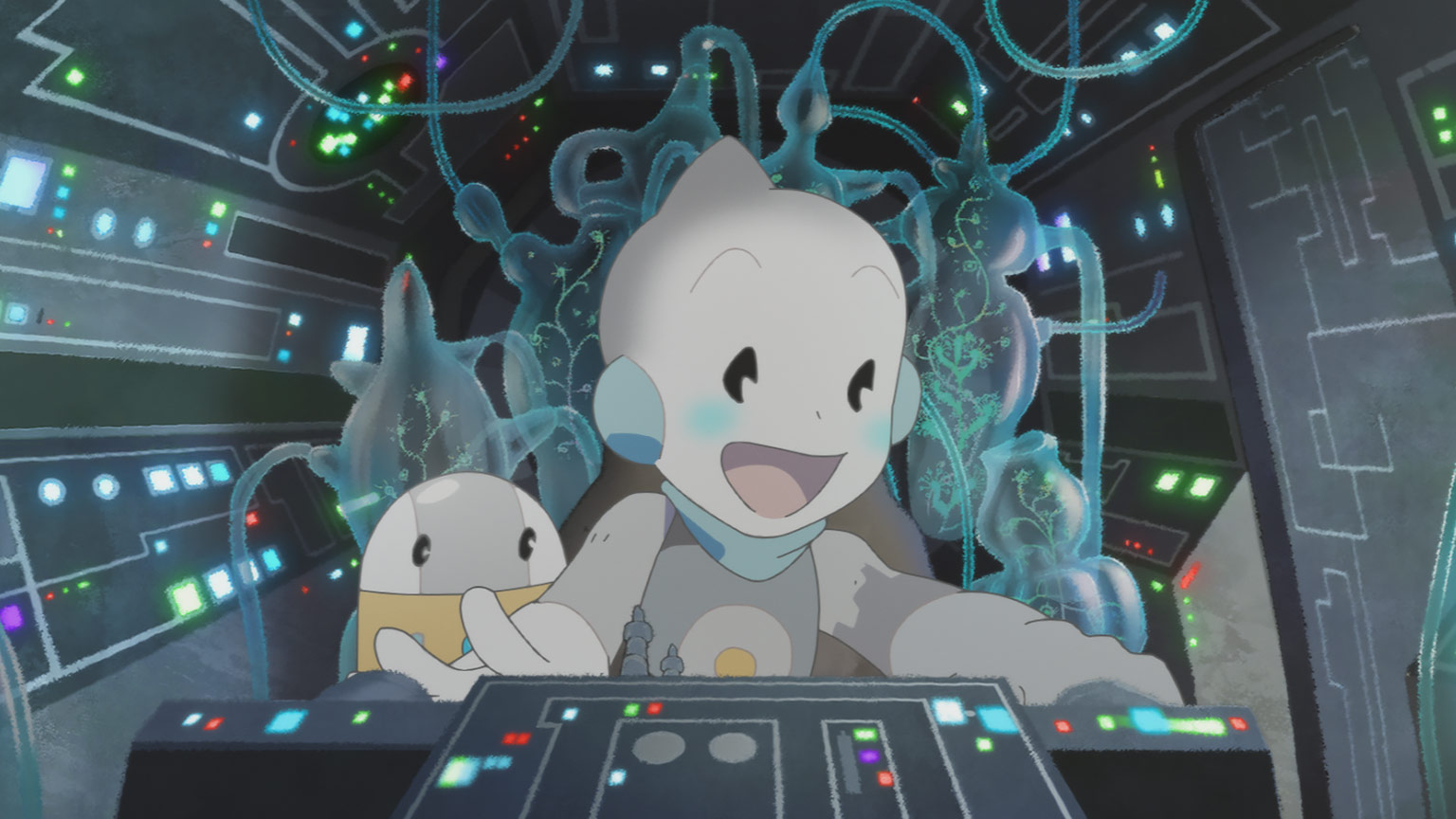 As an avid Star Wars fan, I've always maintained that an essential part of what makes Star Wars, well, Star Wars, is the authentic and iconic music. The music and sound effects in Star Wars Visions are unmistakably Star Wars. The magic of the music and sound effects make it so that the franchise can work in any medium and that includes anime. Of course, the music is also unique for each episode. For instance, one particular episode boasts the same epic composer as Maid In Abyss.
Obviously, the appeal of Star Wars Visions is getting to witness the signature animation style of each Japanese studio in each episode. This series proves even further that anime is as varied as any medium out there. Not that anime fans have to be told this, of course, but the fact that this is Star Wars alone will probably attract many casual viewers to the endless creativity of anime.
Star Wars Will Never Be The Same
Without spoiling anything, the best episodes and highlights include The Twins and The Elder by Studio Trigger, The Ninth Jedi by Production IG, T0-B1 by Science Saru, and Lop & Ocho by Geno Studio. Star Wars Visions will probably be a gateway for casual viewers to the world of anime and that's great. Most, if any, of all this is canon, but that's the fun of an anthology series like this. The endless possibilities make it endlessly watchable.
The only caveat would be that most of the episodes aren't really canon to the franchise lore. Ultimately, adding to canon is not the point of the series, but I'm sure that veteran fans will be able to overlook its non-canon status considering that they're used to a lot of content being non-canon (like the entirety of Star Wars Legends, which includes most of the old comics, novels and even Star Wars KOTOR).
There's something here for every Star Wars or anime fan. A black and white Akira Kurosawa episode? Check. A 'furry' episode? Check. An episode where a Jedi uses a big-ass lightsaber to cut through a Star Destroyer? Check. Do you want more? Wait until the series premiere soon to check it out, and you won't be disappointed.
FINAL SCORE: 80/100
We received an early access screener of Star Wars Visions courtesy of Disney+ Hotstar Malaysia.
All nine episodes of the first season are slated to premiere on Disney+ Hotstar on 22 September 2021.