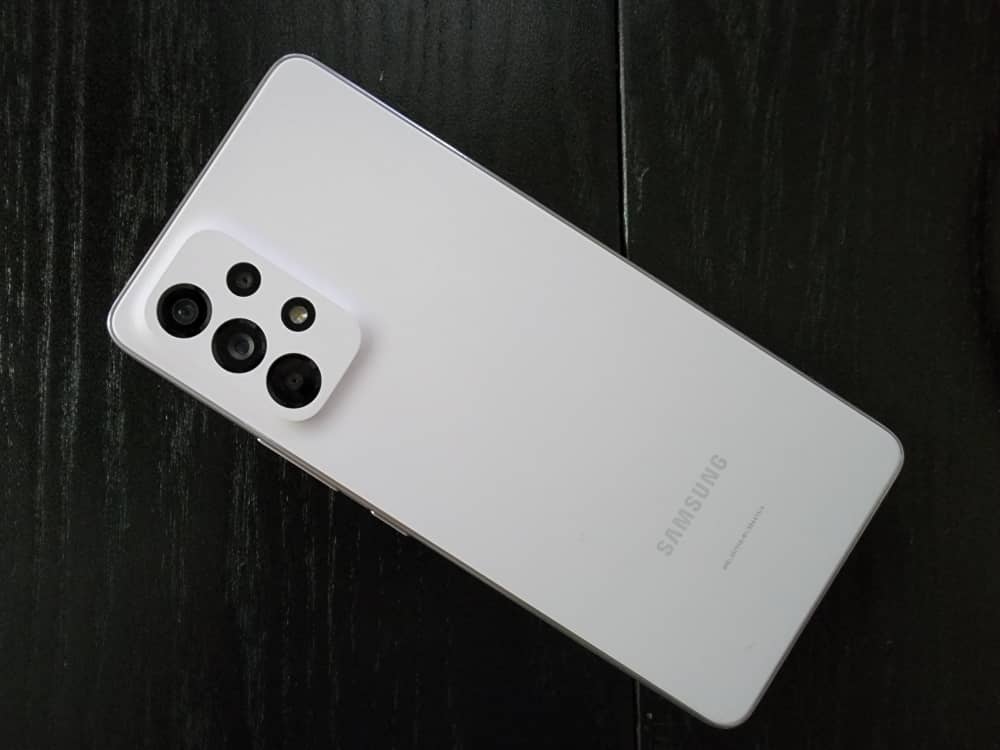 by in
The Samsung A-line has always been considered the "mid-tier" range when it comes to Samsung phones. Often seen as the go-to line for the more cost-conscious customer, selecting the A-line over the more glamorous S-line models was akin to being more sensible with the bog-standard version of a car instead of the range-topping model. This was due to the glaring gap when it comes to specs and build quality and of course, price.
But for 2022, this is no longer the case. That gap has shrunk and in some areas, blurred. We know you'd love to hear it, so here it is. This year's A-line, the A33, A53, and A73 has no right to be this affordable yet possess the specs they carry and yet here they are.
Today we are reviewing the Samsung Galaxy A53 5G which for all intents and purposes, sticks squarely in the middle of Samsung's mid-range phone lineup for 2022. Looks-wise, it does not differ from its predecessor, the A52, save for the missing 3.5mm headphone jack. Not a deal breaker in our books, but we thought it is worth pointing out. In fact, the A53 pretty much carries over everything that made the A52 5G an awesome mid-ranger, upgraded the battery capacity with incremental improvements across the board. We recently reviewed the awesome Samsung Galaxy S22+ and in the A53 5G, it is obvious that Samsung has toned it down a notch or two to cater a different subset of consumers without sacrificing the user experience.
The pricepoint for the A53 5G may appear like it's geared for the 'average consumer' but the overall package delivers more than a pedestrian experience.
"A" for all-rounder
No, the phone does not feel as premium as the aluminum and glass construction of the S22 range. However, the plastic back makes the A53 5G feel much more assured in hand making it a perfect device for your fumbling teenager's first phone, or even serve as your backup device. The A53 comes with  Gorilla Glass 5 for its main screen making it a tank of a device. The rear is plastic but is presented in matte finish, bordered by a super glossy frame. From a distance, this can be easily mistaken as aluminum. It is worth pointing out that last year's S21 models, save for the Ultra also came with plastic backs. Sea turtles may disagree with us, but plastic equals a more assured phone in hand.
With an IP67 rating, this device should be able to withstand outdoor activities and pass your beach weekend with flying colors. The A53 is proof that phone makers need not sacrifice a device's toughness even when using more affordable material. Speaking of colors, the A53 comes in four distinct yet boring named colors; 'Awesome' black, white, blue and peach.  Personally, we are fans of the white one as it carries the most premium look of the lot. Compared to its predecessor, the camera bump is less angular this year. Instead, it has a faint slope which when viewed in certain lighting conditions, forms a shadow making it look as if a sticker was stuck onto the back of the phone. You will most definitely be slapping a phone cover on your phone anyway but this portion is a fun eye trick you can play with your loved ones.
The screen is bright enough and should be more than adequate for your daily use under super bright conditions. The 5000mAh battery holds up very well for daily use even with the 120hz screen refresh rate turned on and can easily cover to days worth of medium usage for all but the heaviest users out there. Obviously the battery life can be stretched further by capping it at 60hz and disabling auto brightness but why compromise? The A53 is easily a day-and-a-half phone and even when you require extra juice, it comes equipped with a 25W fast charging capability. It is a shame that you won't be getting a wall charging block out of the box.
We are also not fans of Samsung's decision to basically port the A52's camera setup lock stock and barrel into the A53 but we somewhat understand that decision; any additional upgrade to the camera would definitely bump up the price of the A53. In the most layman way of explaining, the camera works and does its job as intended.
The images are as expected of Samsung devices – skewing more on the extra vibrant side of things. We are happy to report that all the fun editing features found in more expensive 2022 Samsung models such as improved foreground detection, object eraser and photo remaster are all included in the A53. This is especially useful for those who love restoring older photos and/or want to remove certain elements from their photos sans the hassle of resorting to editing them on the PC for example.
This slideshow requires JavaScript.
Under low light, the A53 performs surprisingly well and is able to hold up when pitted against its more powerful S-line cousins. Although the overall camera performance of the A53 is nowhere near the S22+ or Ultra, its overall delivery is something worth shouting about as you are getting all these 'almost flagship' level of performance from a sub-RM2000 device!
But the A53, despite its 'modest' offering, carries a trump card over any of the S-lines combined. Expandable memory slot. In our books, that's always a definite plus.
Mid-Card MASTERCLASS
For the price the A53 5G is going, it is a very solid package. If you are a tech enthusiast who regardless of cost, want the best in the market, then the A53 is definitely NOT for you. However, if you appreciate value, always in search for the best bang for the buck when it comes to your purchases and put great emphasis on substance over style; then the A53 is a perfect device to stretch your hard-earned bucks.
Those have been reading our tech reviews for a while now surely are familiar with our analogies when describing tech. And since we are fresh from WrestleMania season, here it goes: If the S22+ Ultra is Ruthless Aggression Era's John Cena -most reigns as WWE Champion- of smartphones, then the A53 is like Attitude Era's Chris Jericho – most reigns as Intercontinental Title – often considered as the second-most important Championship in the WWE.
Score: 90/100
---
Vital Statistics
Platform: Android 12, One UI 4.1
Body: Gorilla Glass 5 front, plastic frame, plastic back
CPU: Octa-core (2×2.4 GHz Cortex-A78 & 6×2.0 GHz Cortex-A55)
GPU: Mali-G68
Display: Super AMOLED, 120Hz, 800 nits (HBM)
Memory (Internal): 256GB (Malaysia market), expandable microSDXC (uses shared SIM slot)
Main Camera: 64 MP, f/1.8, 26mm (wide); 12 MP, f/2.2, 123? (ultrawide); 5 MP, f/2.4, (macro); 5 MP, f/2.4, (depth),
Video: 4K@30fps, 1080p@30/60fps; gyro-EIS
Sound: Stereo speakers, no jacks given
Battery: Li-Ion 5000 mAh, non-removable
Price: RM1,849 (256GB)
Review unit of the Samsung A53 5G was provided by Samsung Malaysia. You can purchase your own unit of the A53 5G from their official website here.