As Michael Fassbender's Magneto said in X-Men: First Class.
Very few things in life deserve to be called perfect. A steaming bowl of ramen while it's thundering outside. A chocolate sundae during your day at the beach. A cat giving you a head bump.
But a perfect piece of tech can never exist. That's just how things are. Designers and manufacturers are limited by the laws of physics and cost but if there's one smart phone which comes closest to achieving that status, you are reading about it now.
In fact, the S22 Ultra is closest ever to achieving a full score of 100/100 if not for some minor (negligible to some) factors.
Still smarting from their super brilliant 2021 flagship the S21 Ultra, Samsung had work cut out for them when it comes to what to do next. Having the unenvied task of superseding the beefy yet sleek flagship which still holds its own even against rival flagships, Samsung had to deliver with their 2022 flagship model. And they aced it again in spades.
The S22 Ultra is, quite easily in my books, the best smartphone I have ever laid my paws on.
Colour Me Impressed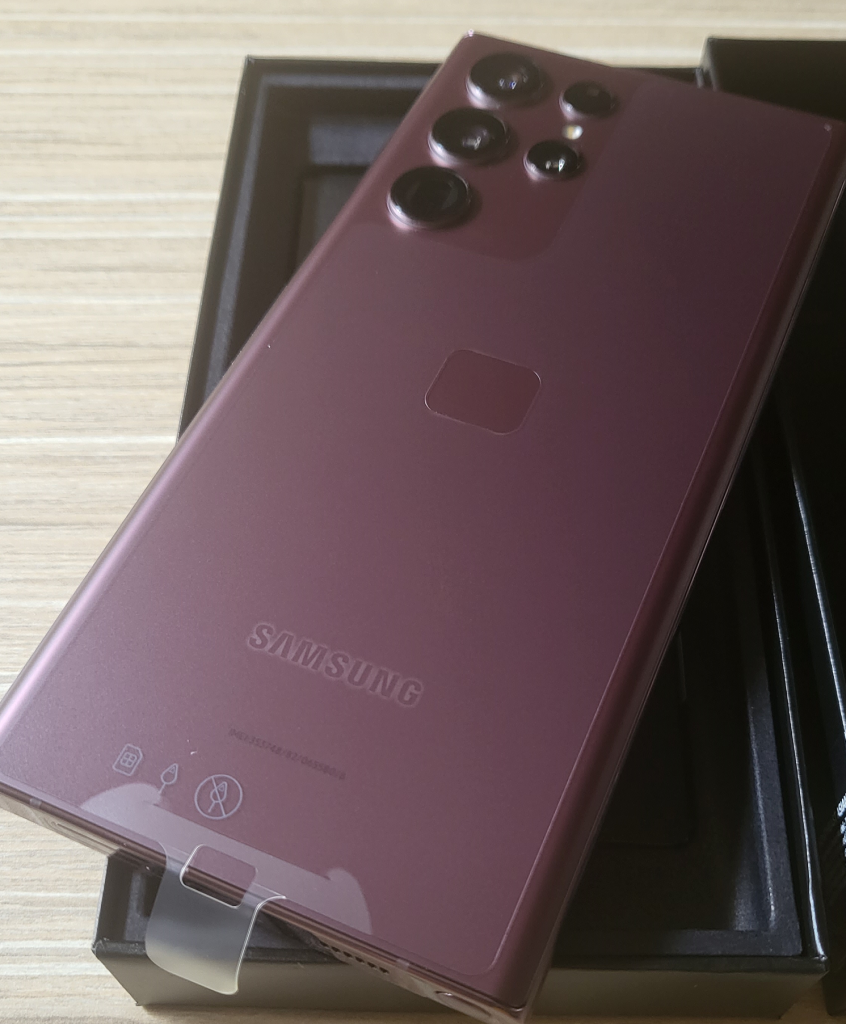 This year's Ultra comes in four main colours; Phantom White and Black, Green and our favourite of the lot, ̶p̶o̶r̶k̶ ̶b̶l̶o̶o̶d̶ ̶j̶e̶l̶l̶y̶ burgundy. Right out of the box you'll receive the following; the phone itself, USB-C to USB-C cable, sim card remover pin and a small stack of instruction manuals. No charging block but you should already own one by now anyway.
We do wish Samsung to have included an extra S-Pen with the set as we have no doubt that we will lose ours soon enough.
Regardless of whether you are a returning Note user, an Android army, a Galaxy S-Series loyalist, or even an iPhone user looking to test the waters, the Ultra delivers on all relevant fronts. It is safe to assume that moving forward, annual releases from Samsung bearing the 'Ultra' label will sport all the top end bells and whistles we've always associated with the Note line.
The writing was on the wall last year anyway with the S21 Ultra coming bundled in with the S-Pen support.
Noteworthy Specs
Powered by Qualcomm's flagship chip for 2022, it's basically top of the shelf stuff under the hood for the S22 Ultra. The base model comes with 8GB of RAM and 128GB of storage space and scales up to 12GB RAM for the 1TB worth of storage at the tippy top. Assuming you have access to a chunk of storage on Samsung Cloud or Google Drive, the mid-range models ought to be adequate for an average user.
In hand, the phone feels very similar to last year's model. It weighs almost identical too. A general user won't have any issues wielding the phone, all but for those with smaller-than-average sized hands. Some reviewers pointed (ha!) at the sharp angles the phone possesses which digs into the palm of your hand when operating it. Not an issue for us as we feel it kept the phone in place. The issue arises when it comes to storage as you will have to fit all of that real estate into your jeans back pocket or risk an awkward-shaped bulge from the front.
The fingerprint scanner remains under the main screen and carries the most responsive sensor we've ever come across.
Robust All-Rounder
The aluminium frame returns and the construction has been upgraded this year with Gorilla Glass Victus+ which theoretically makes it more robust. Like last year, the S22 Ultra is IP68-rated so you don't have to baby it during your daily use although we highly recommend slapping on a protective case and screen protector on it.
The curved-edged screen makes a comeback and may split opinions but this is instantly remedied with phone cases anyway. Bright and vibrant, the fantastic Dynamic AMOLED screen adjusts very well between varying ambient lighting conditions.
Depending on your needs and battery consumption requirements, you are able to adjust its crispiness and reactiveness in the Screen Resolution and Motion Smoothness settings. We went all out with the 'Adaptive' option which allows a range of between 1 – 120Hz depending on what's on-screen. Even with the screen qualities maxed out, we were still able to conveniently squeeze out a full day of medium to heavy use with this phone with plenty to spare.
A weekend spent by snapping and uploading photos to social media, navigation, S-Pen doodles and note-taking, countless QR-code scanning, videos and random apps in between left us with about 30% by 9PM.
The non-removable 5000mAh battery is no slouch but we do wish Samsung paired the S22 Ultra with something substantially bigger. The Ultra is aimed at the power user anyway. With a 45W fast charging capability, juicing up the device does not take long and wireless charging/ reverse wireless charging are also available.
But the main selling point of the S22 Ultra is the built-in S-Pen which slots snugly into the bottom left port. Truth be told, we were never much of a Note fan in the past as we always felt a jarring delay between strokes of the S-Pen and what appears on the screen. That issue is long gone this time around, as we have not only grown accustomed to the smoothness and near-instant on-screen response, we have learned to embrace this feature by returning to sketching and doodling.
Samsung forwent the sleek camera module which became the S21 Ultra's signature look for a more subdued five rings setup for the rear cameras. We assume this was deliberate to make this year's Ultra distinct from the last. Apart from easily collecting dust and lint around these individual rings and causing the phone to rock when placed screen facing upwards, nothing negative to report here. Slapping on a protective case instantly nullifies these issues as well.
It's as if Samsung was well aware of these design 'issues' but were also confident of their self-solving nature once users put on the expected accessories.
Camera-wise, you'll find it hard to find a better camera than the S22 Ultra in the current market. We are far from being the artsy or technical photographer, focusing instead on snapping pictures of our cats, action figures, food, green scenery and the occasional low-light photographs in the dark.
The camera is much more intuitive this year which is great for casuals like us. For example, by bringing your camera closer to the subject, the system immediately turns on the macro mode. The 108MP camera makes a come back as well, alongside the party trick – the 100X zoom. We struggle to find the real-world use of this feature but nonetheless, is handy when capturing nature, especially wildlife. For selfies and portrait shots, the software does a great job in separating the subject from the background, with the best edge-detection result in the market.
Those who enjoy image editing are going to have a field day with the built-in image manipulation softwares, especially the ability to specifically remove shadows, reflections and background objects, although with mixed results. The presence of the S-Pen makes photo editing a pleasant experience. You can also access older phones to give them a remastered look making the S22 Ultra a dream device for shutterbugs out there.
For the more 'professional' users, they can download the Expert RAW app from the Samsung store which allows them to capture high-quality photographs in RAW format.
But this machine isn't just for photographers. A workhorse in every sense of the word, the S22 Ultra fulfils all the important criteria regardless of what type of user you are. DeX transforms any compatible second screen into a makeshift laptop or workstation, and the superb top and bottom speakers fire out high-quality stereo speakers with Dolby Atmos processing built-in.
Gamers would love the symmetrical build and almost bezel-less screen and although there is a punch hole for the front-facing camera, you can hide it simply by blacking out the strip of screen around it in the settings, giving you an unhindered viewing experience.
The "U" In Ultra
Smartphones normally come with a bunch of glaring caveats. But not the S22 Ultra. We fail to think of any reason NOT to go for it – even when it comes to the retail price. Samsung has packed in the most sophisticated and complete package seen in a mobile phone model in years this time around. Starting at RM5,099 for the base model, the S22 Ultra will easily outlive and outperform its rivals in the market and become the benchmark other phone makers can only dream of. Sure there are some flaws but these are either easily remedied or just us plainly nitpicking.
We love it. You will too.
Score: 90/100
---
Vital Statistics
Platform: Android 12, One UI 4.1
Body: 163.3 x 77.9 x 8.9 mm (6.43 x 3.07 x 0.35 in), 228g
Frame: Glass front (Gorilla Glass Victus+), glass back (Gorilla Glass Victus+), aluminum frame with IP68 dust/water resistance
Chipset: Snapdragon 8 Gen 1 (4 nm)
CPU: Octa-core (1×3.00 GHz Cortex-X2 & 3×2.40 GHz Cortex-A710 & 4×1.70 GHz Cortex-A510)
GPU: Adreno 730
Display: Dynamic AMOLED 2X, 120Hz, HDR10+, 1750 nits (peak); 6.8 inches, 114.7 cm2
Memory (Internal): 128GB 8GB RAM, 256GB 12GB RAM, 512GB 12GB RAM, 1TB 12GB RAM; UFS 3.1
Main Camera: 108 MP, f/1.8, 23mm (wide); 10 MP, f/4.9, 230mm (periscope telephoto) x10 zoom; 10 MP, f/2.4, 70mm (telephoto) x3 zoom; 12 MP, f/2.2, 13mm, 120Ëš (ultrawide),
Video: 8K@24fps, 4K@30/60fps, 1080p@30/60/240fps, 720p@960fps,
Sound: Stereo speakers, no jacks given
Battery: Li-Ion 5000 mAh, non-removable
Price: Starts from RM 5,099 (128GB)
Review unit of the Samsung S22 Ultra provided by Samsung Malaysia. You can purchase your own unit of the S22 Ultra from their official website here.