Ys VI The Ark of Napishtim (Ys 6), the cult classic JRPG and sixth installment of the Ys series is making its way to mobile platforms (Ys 6 Mobile) in Malaysia with an Open Beta starting from 6 May 2022.  The port of the highly rated 2003 console JRPG made its mobile debut in Japan in July 2021 and soon thereafter entered the Taiwan, Macau and Hong Kong markets topping the charts in both the iOS and Android app stores accumulating over three million downloads thus far.
"We at VNG Games, are delighted to announce that we are bringing the Ys 6 Mobile to Malaysia. Ys 6 was the sixth entry in a 35-year-old RPG series. This is a game that won so many hearts close to 2-decades ago when it was first released on PC and consoles. The fascinating story, loveable characters and enticing gameplay made it a classic. Now we are excited to allow fans and newcomers alike the chance to experience the vast and wonderful world of Ys.

We were even more motivated ever since we witnessed the overwhelmingly positive feedback when Ys 6 was first launched in the other regions. For many players out there, Ys could have been a childhood memory and it is our pleasure to allow them the opportunity to revisit the experience of journeying across this beautiful JRPG."
In anticipation of this much-awaited debut, the publisher – VNG Games, has announced a pre-registration initiative from now to 5 May 2022, accessible at: https://ys6.vnggames.com/sgmy/say-yes.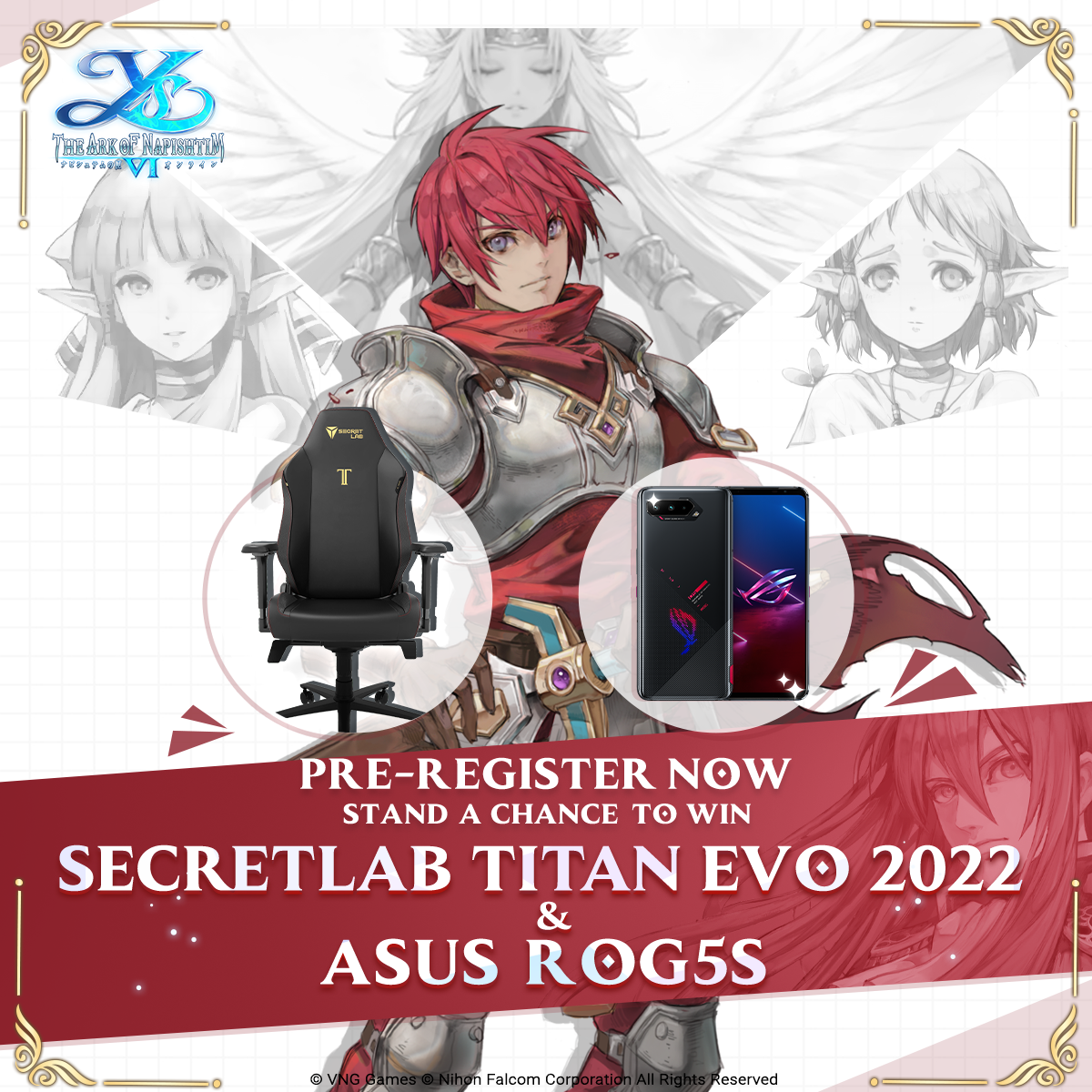 The pre-registration initiative will reward gamers who sign-up with in-game bonuses that are incremental based on the number of total sign-ups. For instance, at 20,000 pre-registrations these users will receive 50,000 Silver (one of the in-game currencies) each. At 50,000, users will also receive 6 Gaia Stones and so forth with users getting  300 Emelas (bound) each when pre-registrations hit 1 million. Registered users will also stand a chance to win their share of exciting physical prizes worth up to RM10,000 including an iPhone 13 Pro Max, Secretlab Titan series gaming chair and Razer Hammerhead earbuds. Users have the chance to earn up to 10 spins to win by completing a list of tasks including sharing the registration link on Facebook.
For a full list of in-game bonuses and physical prizes visit: https://event.vng.games/ys6sm/pre-register.
These rewards hope to provide players with a kickstart on their journeys, be it for purchasing attractive cosmetic items for characters or for gearing up with powerful weapons. Towards this end, VNG Games is encouraging players to invite their friends and family to pre-register so as to not miss out on this bountiful event. 
Immerse yourself in the world of Ys with Cross-player functionality & Enhanced graphics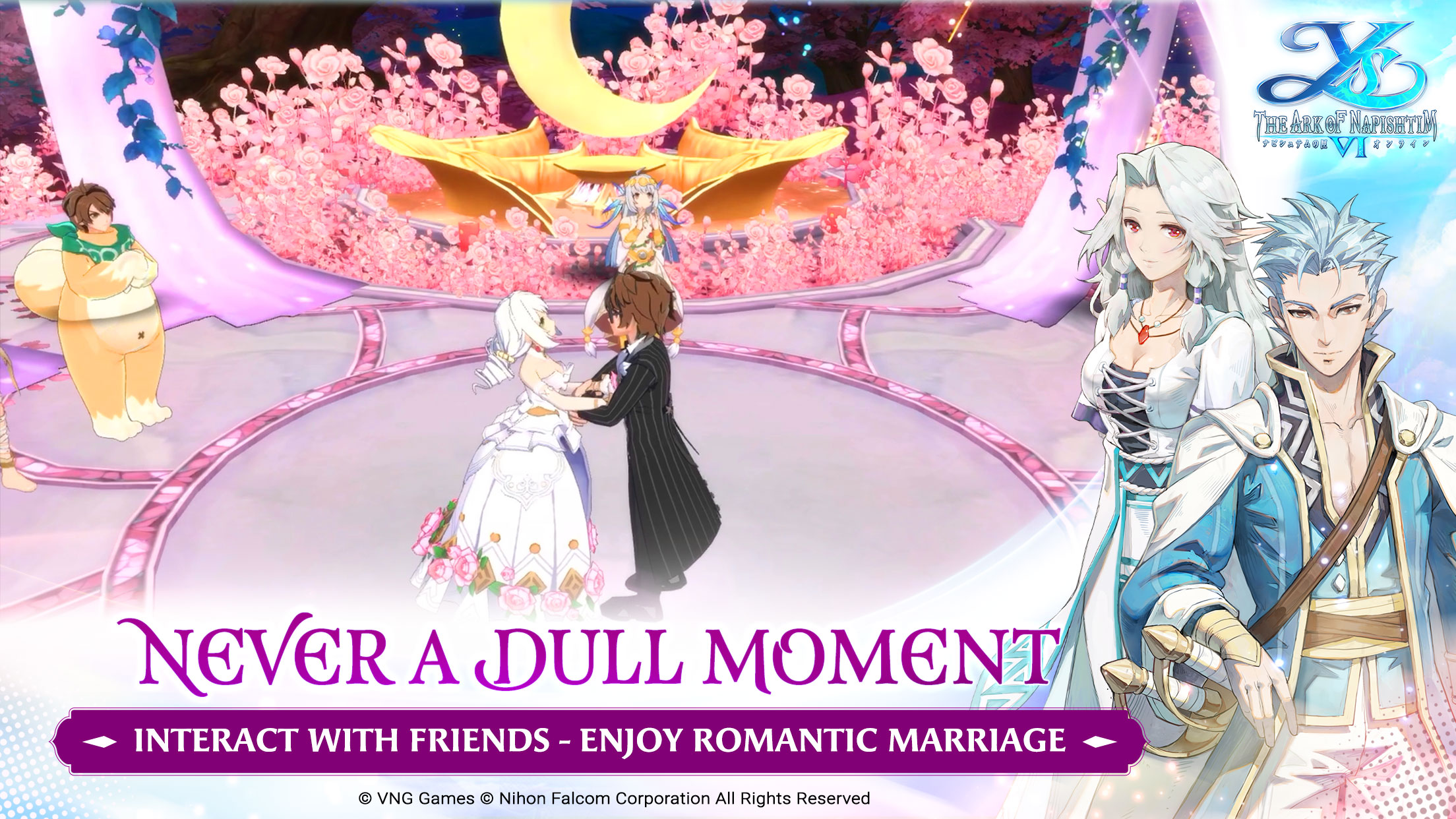 With Ys 6 Mobile, Nihon Falcom, the pioneers of modern JRPG and developers for all Ys titles alongside the publishers VGN Games are inviting familiar players and new explorers alike to delve into the world of Ys. Featuring the classic story and majestical world with stunning new graphics and other exciting features, Ys 6 Mobile promises to have something for fans old and new alike.
Ys 6 Mobile features major graphic updates, bringing the visuals on par with modern JRPGs while still retaining its classic PS2 aesthetic to provide fans with a dose of that beloved Ys style. The mobile port also comes with a thrilling soundtrack and background music throughout as well as a variety of in-game challenges to keep fans coming back frequently for more exciting adventures. 
In addition to upgraded graphics, Ys 6 Mobile comes with cross-world adventures, meaning adventurers will be able to meet other players online and build a roster of comrades to support them along their fantastical journey as they do battle across dungeons, story mode, boss raids and treasure hunts.
The vast world of Ys is now more social and interactive than ever – adventurers will be able to engage in a variety of multiplayer activities from enjoying leisure activities such as home furnishing, farming and collecting herbs together to building a guild and forming raid parties to defeat challenging bosses. 
Ys 6 Mobile gives players the chance to forge romantic relationships that can culminate in grand in-game weddings that come along with exciting couple gifts. Players can also conjure pets to accompany them on their adventures, whilst also improving their pet's combat abilities and giving them stylish makeovers.
Journey across the beautiful lands of Ys
In Ys 6 Mobile players will embark on a breathtaking adventure across Canaan Island exploring every corner from the Holy Zemeth Santum, Rehda Village, Rimorge Port to the wild mountains and mysterious underwater caves, and unfold the ancient secrets of the land.
Adventurers will play alongside Adol, a world-famous adventurer who has penned thousands of travelog volumes, and his pet companion. After an attack launched by a fleet of Romun ships, Adol finds himself on the Canaan Islands by the daughters of the chieftain of the nearby Rehda village. It is from here that the adventure and story in Ys 6 Mobile begins to unfold.
Right from the get-go, players can customize their character appearance to their liking and select from 5 different classes according to their role preferences. Whether it be a brutal warrior, agile ranger, stealthy samurai, clinical assassin,  or a spellbinding mage, players are given the flexibility to pick the role they want. Character progression is an indispensable aspect of each adventurer's journey in the world of Ys, in The Ark of Napishtim, advancing through the game will allow characters to spec their characters towards one of 9 sub-classes.
With these new functionalities and features, Malaysian gamers can now join in with the millions across the world and Say Yes to Your Destiny and take on the Ys 6 Mobile adventure when the game launches in open beta on 6 May.
For more info on Ys 6 Mobile and to pre-register visit: https://ys6.vnggames.com/sgmy/say-yes. Also follow Ys 6 Mobile on social media at: 
Facebook: https://www.facebook.com/YS6SGMYVNG/?brand_redir=110916521532446 
Community Group: https://www.facebook.com/groups/ys6sgmyvng 
Instagram: https://www.instagram.com/ys6vngsgmy/
Related