Marvel Studios has unveiled the second trailer for the upcoming Thor Love And Thunder, which is slated to premiere in cinemas on 8 July 2022.
The official synopsis of the movie reads:
The film finds Thor (Chris Hemsworth) on a journey unlike anything he's ever faced – a quest for inner peace. But his retirement is interrupted by a galactic killer known as Gorr the God Butcher (Christian Bale), who seeks the extinction of the gods. To combat the threat, Thor enlists the help of King Valkyrie (Tessa Thompson), Korg (Taika Waititi) and ex-girlfriend Jane Foster (Natalie Portman), who – to Thor's surprise – inexplicably wields his magical hammer, Mjolnir, as the Mighty Thor. Together, they embark upon a harrowing cosmic adventure to uncover the mystery of the God Butcher's vengeance and stop him before it's too late.
Jane Foster As The Mighty Thor
The previous trailer showed us a glimpse of Jane Foster as the Mighty Thor but this is the first that this is acknowledged by Thor Odinson and the others. Natalie Portman is reprising her role for the first time since 2013's Thor The Dark World. It's a long story about how or why Jane Foster is now Thor, but if you want to know all that from the comics, head on over here for my article explaining all that for your convenience.
Our First Look At Gorr The God Butcher
Christian Bale is set to play the main antagonist of the movie, Gorr The God Butcher, who was originally introduced in Jason Aaron and Esad Ribic's Thor God Of Thunder run from 2013.
In the comics, Gorr wanted to kill all the gods because none of them helped his family and people, who died on their planet. His main weapon is All-Black The Necrosword (which is actually a weapon originally from Knull, God Of The Symbiotes And The Void). He uses that to kill gods and wants to set off the Godbomb to wipe out all gods in the universe.
We can actually see that weapon in the trailer.
Overall, Gorr looks decent, but different from his comics counterpart.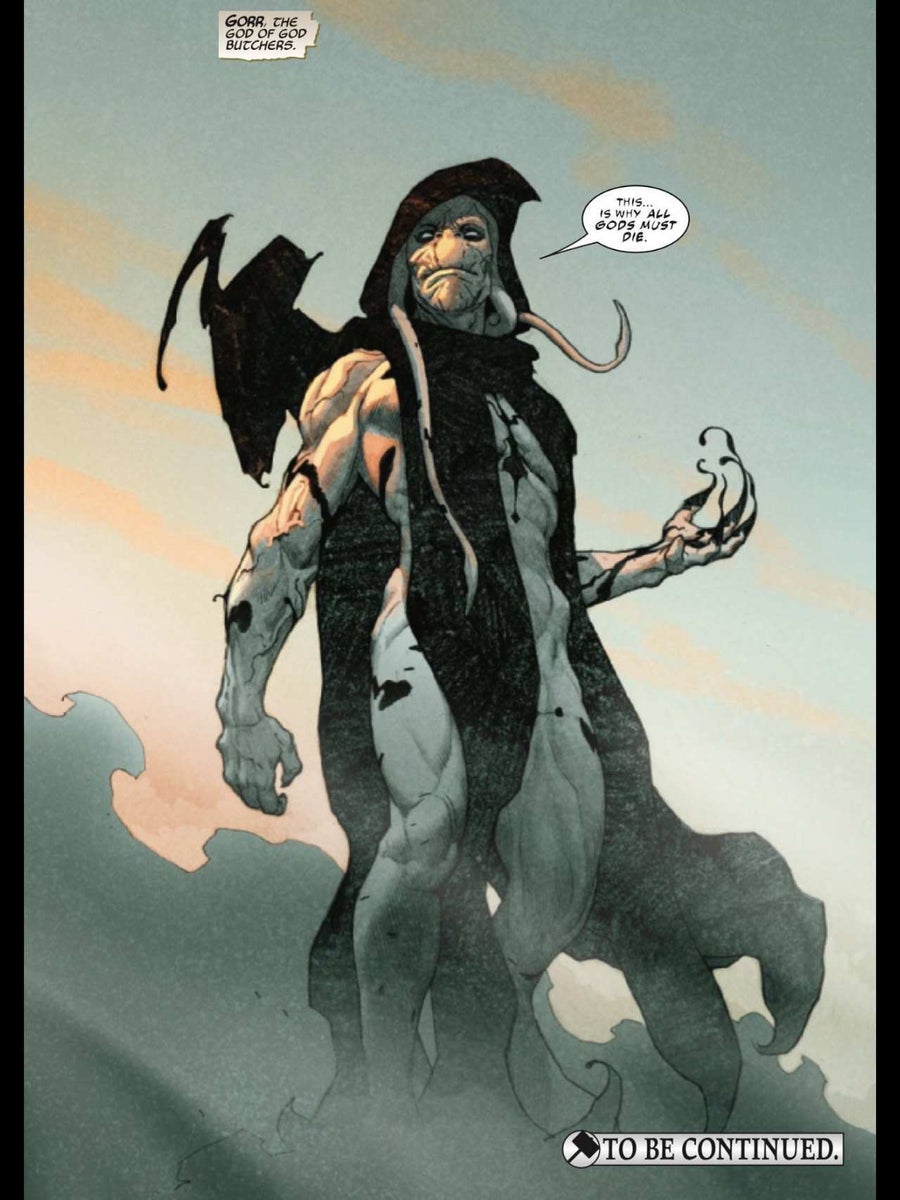 The Guardians Of The Galaxy
Let's not forget, the Guardians Of The Galaxy are also in this movie. Here's a look at Nebula and Drax shooting at… something.
Zeus
Other divine pantheons also exist in the Marvel universe, and that includes the Egyptian pantheon in Moon Knight, as well as the Greek pantheon. Here we get our first look at Zeus, who will be played by Russell Crowe.
With the introduction of Zeus, it might not be long until we meet Hercules, who was once part of the Avengers in the comics:
In the meantime, check out the trailer below: