HoloCure is a free game you can check out now which plays similarly to another 2D action title: Vampire Survivors. In HoloCure, you pick any of the VTubers to survive the stage you're in, collecting experience points and weapons while defeating enemies with your auto-attacks as you move around the giant battlefield.
The game's creator is Kay Yu, who is renowned for their work for Boruto, Castlevania, and River City Girls, which is why the game looks lovely and heavily animated. It's also as addictive as Vampire Survivors as you'll spend hours upon hours trying to power out your VTuber  avatar as much as possible. Here's a quick guide on how to make it far in HoloCure.
Disclaimer: the game literally came out a day ago, so we'll be updating this guide periodically.
Who Is The Easiest Starter VTuber To use?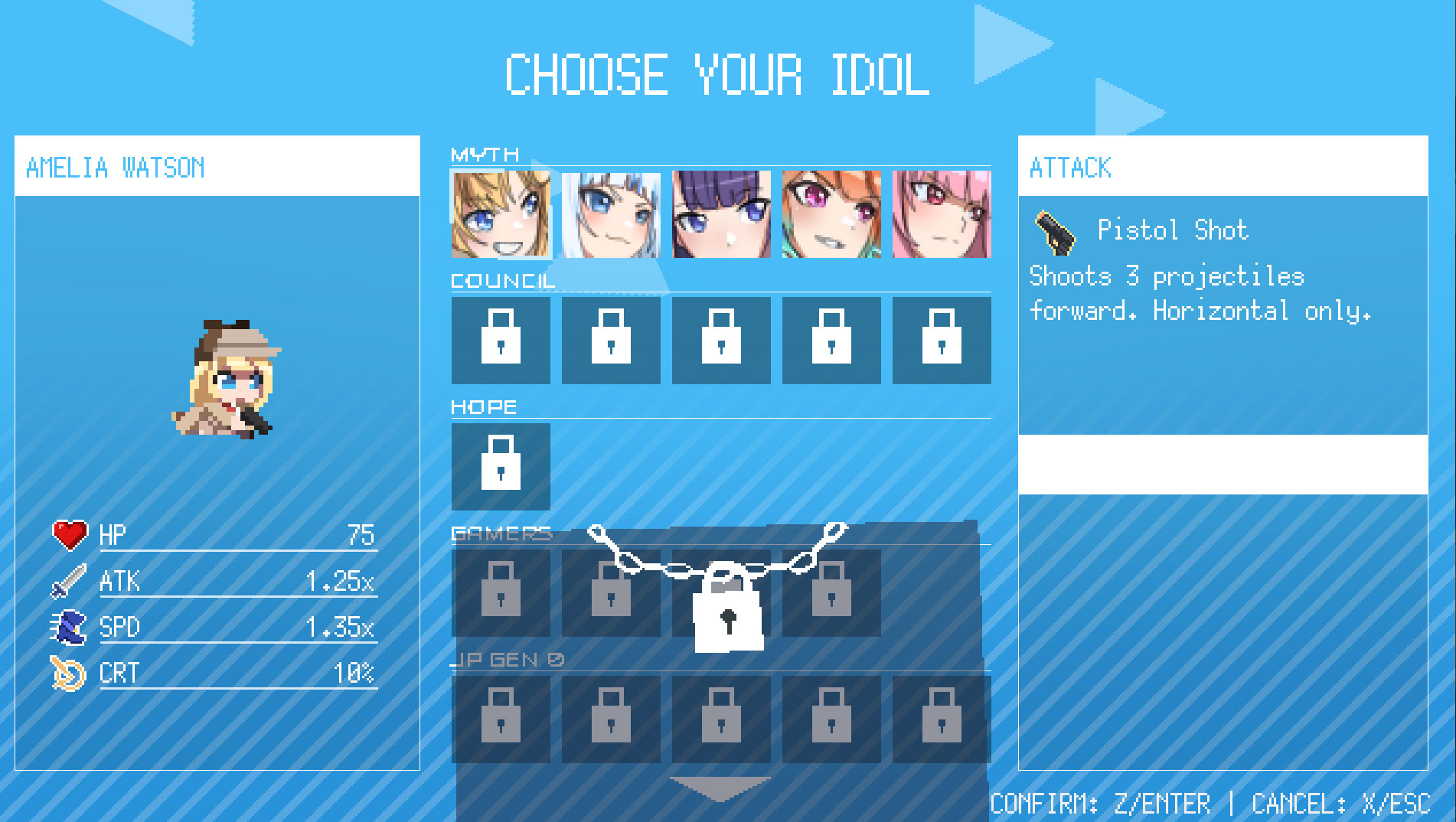 Personally, we would go with Gawr Gura. Her mid-ranged spear attack and its upgrades (as well as the whirlpool special) is generally helpful with keeping enemies away while you damage them from a good distance.
There Are Weapon Combinations
Just like in Vampire Survivors, you can unlock powerful weapons if you pick the right two-item combination during your run. For example, picking up the Elite Laval Bucket and Psycho Axe will have treasure boxes drop the powerful MiComet.
Here are the weapon unlocks you can get. You can combine them if you find a Gold Anvil pop up on the map:
Elite Cooking = Elite Lava Bucket + Spider Cooking
BL Fujoshi = BL Book + Psycho Axe
Light Beam = Glowstick + Fan Beam
Dragon Fire = Plug Type Asacoco + Fan Beam
Idol Concert = Glowstick + Idol Song
Breath-In Type Asacoco = Holo Bomb + Plug Type Asacoco
Flattening Board = Holo Bomb + Cutting Board
Mi Comet = Elite Lava Bucket + Psycho Axe
There Are Secret Items To Unlock
Here are the unlock conditions for some of the items in HoloCure (via Reddit).
Super Chatto Time: Obtain 5000 coins total.

You must win/lose a run with at least 5000 coins total (in hand and winnings from run combined).

You can refund your purchases to get 5000 coins and then win/lose a run to unlock it.

Energy Drink: Survive for 10 minutes using Calli in one run.

Cutting Board: Survive for 10 minutes using Ina in one run.

Idol Song: Survive for 10 minutes using Irys in one run.

Plushie: Survive for 10 minutes using Bae in one run.

Study Glasses: Reach Level 50 in one run.

Injection-type Asacoco: Beat Stage Mode with an Asacoco product.

Only Tail Plug and Breathe-In Type Asacoco works.

Does NOT work with Dragon Fire.

Idol Costume: Use special once.

Credit Card: Find an Anvil once.

Fan Beam: Defeat Fubuzilla once.

Gorilla's Paw: Defeat Smol Ame once.