Stormgate is a new real-time strategy game made by Frost Giant Studios, a team made up of ex-Blizzard developers who made WarCraft 3 and StarCraft 2 among others. The team felt that 2023 really needs a new genre-defining RTS to bring back the glory days of strategy games, and so far there's hope for the new company and its idea.
Here's a deep dive interview with the Frost Giant Studios team consisting of:
Tim Morten – Executive Producer
Tim Campbell – Game Director
Jessie Brofy – Art Director
Kevin Dong – Lead Game Designer
Trevor Houston – Global Esports Strategy
Ryan Shooter – User Generated Content Lead
What is the vision of Stormgate?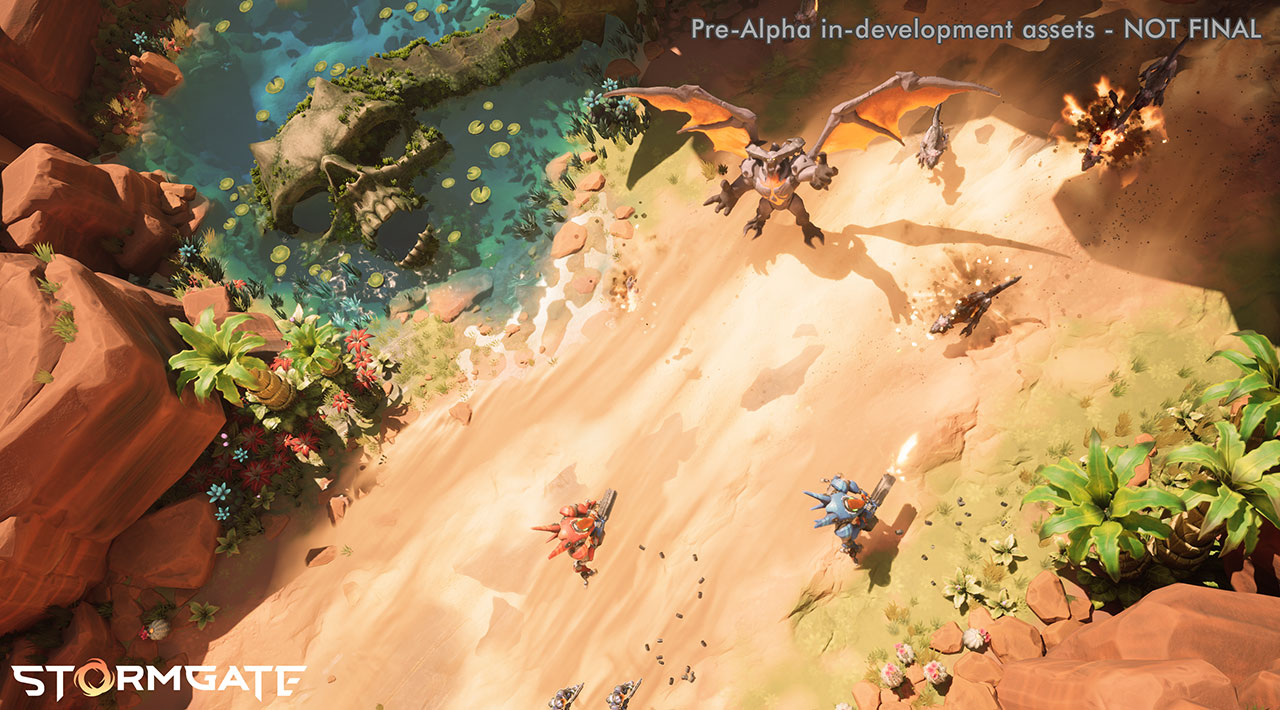 Tim Campbell, Game Director: The vision here is of a future earth that's been shattered by powerful aliens coming through the Stormgate. The story is about humanity's struggle for survival. The game takes place in the future after the struggle.
About the game's inspiration, we went through an exploration period where we tried out different settings from superheroes to Westerns to vikings. We settled on this scifi universe because it really resonated with us and fueld the gameplay we're after. We wanted a setting that can tell epic stories and make heroes players can root for. The setting can also feed in to different factions with asymmetrical power. This really hit home for us.
The fun part about creating a new universe is building out the world and history, create things for players to find out and explore. Stormgate is going to extend and have ongoing stories and content well after launch. To fuel that, we build our world with layers so that there are horizons for players to explore that are visible right at the start. We push into extreme and colourful territories with this, with bigger stakes and powerful creatures.
Will Stormgate Have Horde Mode Ala There Are Billions?
Tim Campbell: We love that type of real-time gameplay. There are so many different ways to explore
Tim Morten, Executive Producer: I must confess; I'm a There Are Billions addict. But for Stormgate, we are making modes that we are familiar with back in our Warcraft 3/StarCraft 2-making days. The opportunity to make a game that has a long term plan and long term audience (hopefully) means more opportunities to add new modes to the game. A Horde Mode won't be in the game when it launches, but we can explore that idea post-launch.
Why Use Unreal Engine 5 For The Game's Engine?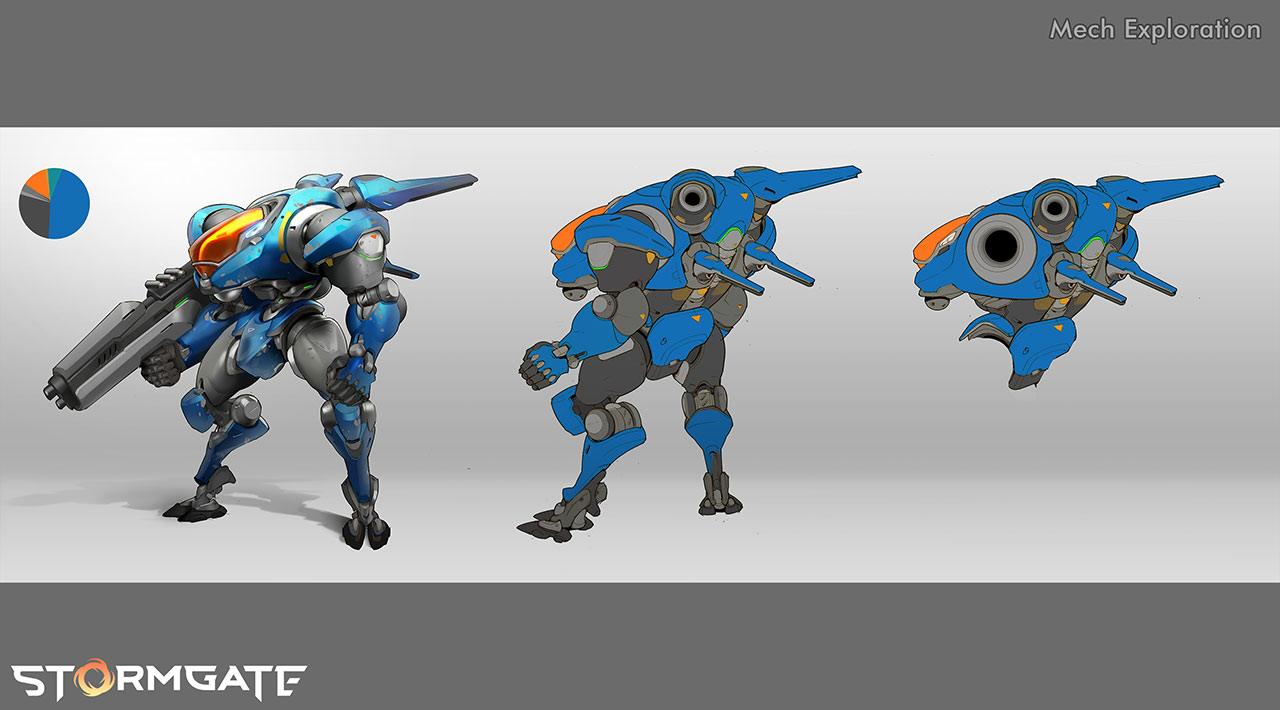 Tim Morten: We looked at a few different options from an engine perspective. The things that stood out for UE5 were the tool pipelines for art team and for the design team. The prototyping phase was great with the Unreal Engine, with UE having a great track record. Epic has been tremendously supportive of what we're doing too.
In terms of impacting the game, I hesitate to say that it's enabling us to drive more units on-screen. Yes, we're exploring gameplay reasons to want to do that, but from an engine perspective, there's still a cost to push a lot of triangles regardless of which engine you use. We just have to be sensitive in keeping performance optimization in mind. Things that UE will empower will be the art style and direction.
Jessie Brofy, Art Director: Yes, the UE5 helps with the art pipeline; we can make a lot of changes really fast just by setting up our materials in certain ways. We're getting everything sorted in real-time while we're working and looking at it. It allows us to get stuff in quickly and get things changed fast. The speed which we can iterate and create with UE5 is a pace I've never experienced before.
Will The Game Have A Day/Night Cycle From An Artistic Perspective?
Jessie: We don't have one planned, but we do have levels with an afternoon to sunset sort of vibe. The big problem with doing that accurately is the movement of the sun. Units don't read as well if you have a day/night cycle going on, so we decided to just keep the direction of the sun the same. We rather do the colour changes and exposure changes for gameplay reasons; making the units readable on the terrain.
How Will Player Profiles Look Better?
Ryan Shooter, User Generated Content Lead: We're still pretty early in talking about this. There are some ideas on the table and some self expression for players to truly make Stormgate a social RTS experience, even on the load screens and menus.
Will We Get Stats Like Win Rates And Ladder History Stats?
Ryan: Yes. We love stats because that's how we're balancing the game.
Will The Game Have Hero Units Ala WarCraft 3?
Kevin Dong, Lead Game Designer: We went to Reddit and get feedback from our community on what they want out of heroes. There's a wide spectrum in-between people who don't want heroes and people who want heroes like in WarCraft 3. The two primary pieces of feedback were concerns of overcentralization and snowballing. The former is the hero is so powerful that other units will surround and protect the hero like a deathball, while the latter is the hero getting more powerful with each kills to the point that it's hard to catch up if your opponent is behind.
We do not have a plan to have a leveling system for our heroes in Stormgate. The closest comparison is something like Mongul Khan in the Age of Empires franchise.
What Is The Game's Economy Like?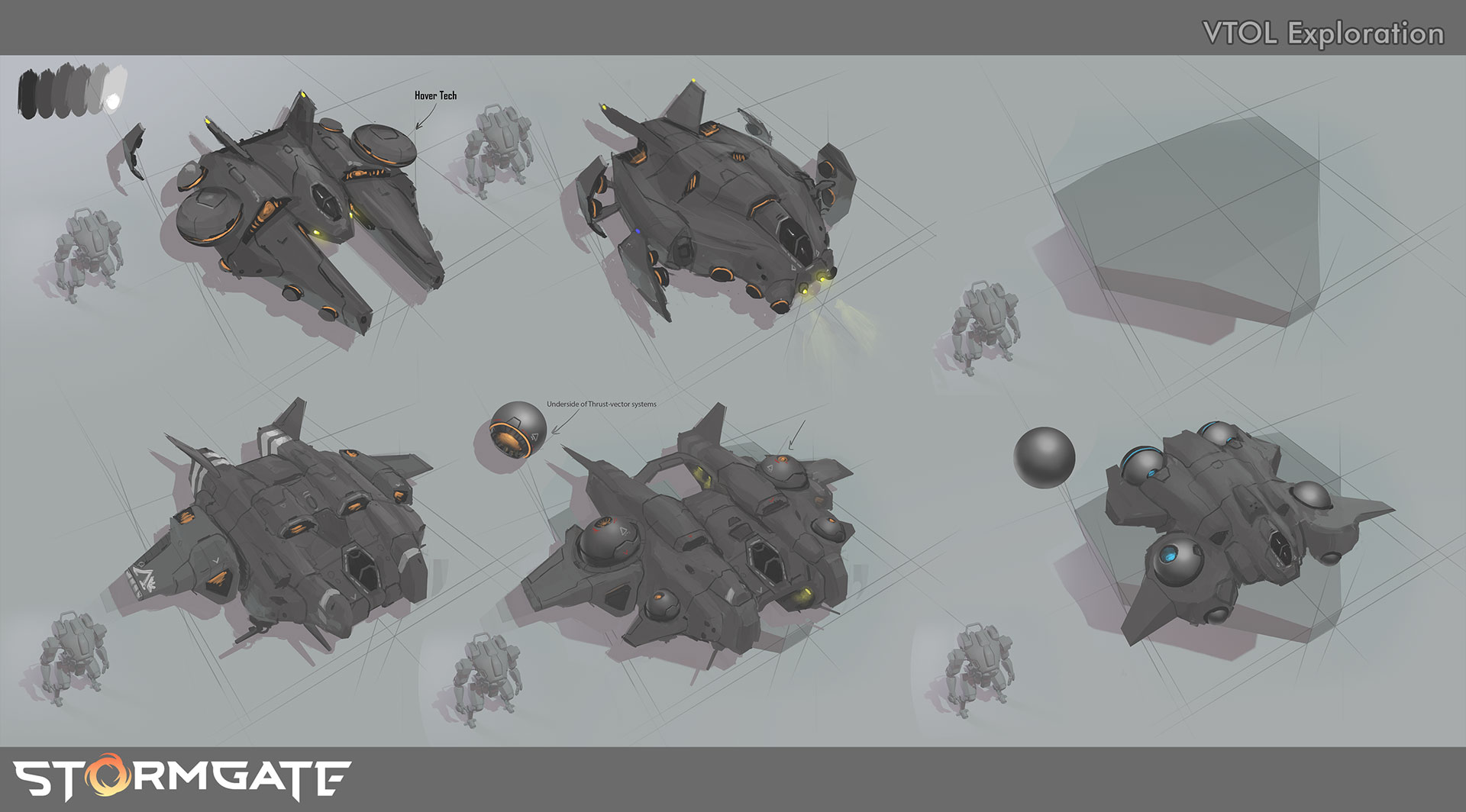 Kevin: Our inspiration comes from two main ideas: the first being StarCraft 1. When you build a worker in part 1, you get diminishing returns and encourages players to expand on a high level, since it also diminishes harassing options on their end. If you lose half your workers, you don't necessarily lose half your economy.
The other is other RTSs like Age of Empires, where there's a lot of asymmetry in terms of mining resources. This allows for racial advantages and disadvantages, figuring out the shape of building and expansion, as well as how you approach enemy harassment.
Currently, Stormgate has 2 resources, similar to StarCraft. There's a main resource and rate limited tech resources. An example of the latter is if your opponent has a Colossi, that means he cannot build certain units as his gas resource is fully spent, meaning I can adjust my playstyle and building based on the limit.
What About Population Capacity?
Kevin: Right now, we're aiming for 200. What we're aiming for, however, is more diversity in how large your armies can be. We're aiming for higher army count than what the Zerg had in StarCraft 2.
How About Neutral Units On The Map?
Kevin: The idea of creeps on the map is something we're experimenting with. Creeps help reinforce territory control, and players who deal with creeps in a location will control that territory.
We're experimenting with respawnable creeps; this means a consistent objective of keeping key pieces of objectives important. Back then, in WarCraft 3, if you kill creeps on a map, that's it; there's nothing left to do and the territory doesn't seem that important in hindsight.
Is There A Race in Stormgate That Plays Similarly To The Zerg?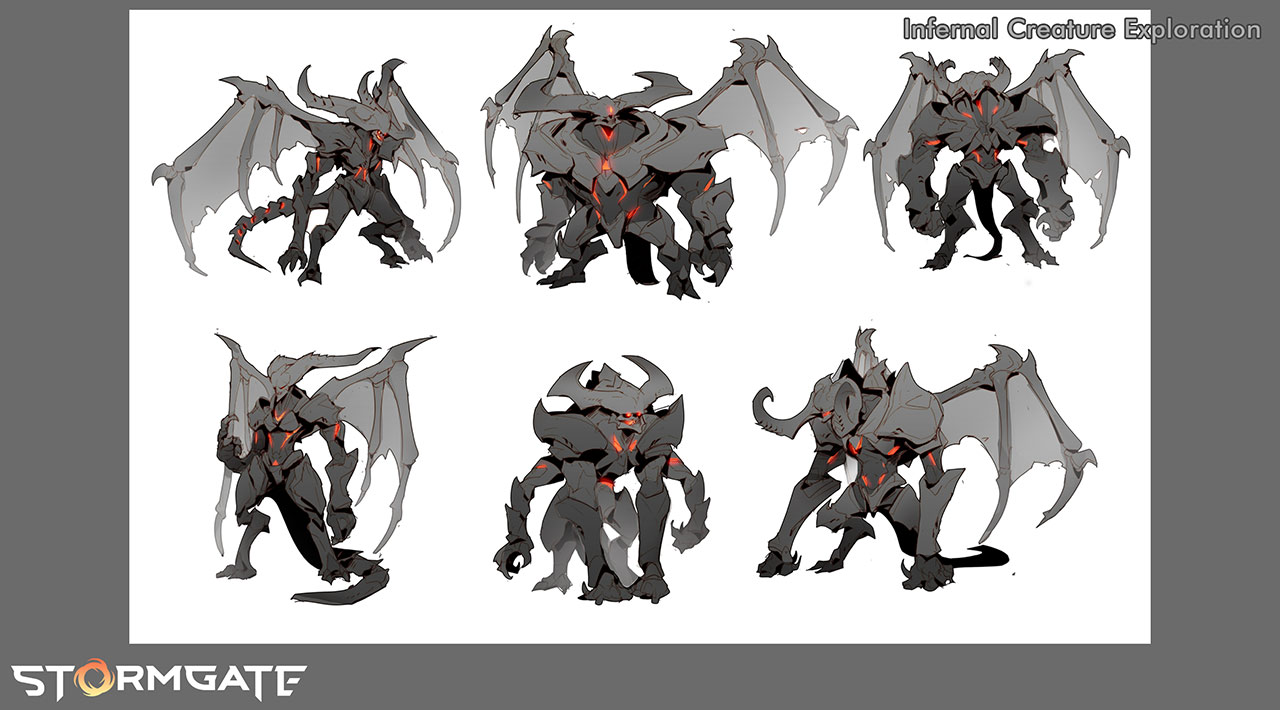 Tim Campbell: We're still early in development with our factions. I can confirm we are experimenting with lots of asymmetry, moreso in WarCraft 3 and StarCraft 2. We are pushing for big ideas that will make each faction fundamentally different from each other.
This is an area where feedback is definitely welcome. One of the big reasons we're announcing now is because we want interaction in the community. If you have faction ideas you want to see in our game, please be vocal about them.
Kevin: Goo from Grey Goo is one of the most interesting factions I've seen in any RTS. The Goo is a great example of a faction that is too asymmetrical. As a designer it teaches me that factions need to obey rules in a specific RTS game. The Goo limits map design a lot because the Goo faction can traverse through and ignore all terrain. Our game has focus on territory control and factors terrain in its map design as its core gameplay pillars; the Goo is too asymmetrical a faction to bring into this fold.
What Is The Future Of The RTS Genre? And How Will Stormgate Boost That?
Trevor Houston, Global Esports Strategist: We feel really lucky to build from the learnings from Blizzard and other esports games out there. We are consciously building our program in a way that we continue to iterate as we go along.
We hope not to completely reboot the program year to year, but with feedback, we're here to make sure to target what's working and what needs to be improved upon to hit the goals of the community.
Why Focus On 3v3 In Stormgate?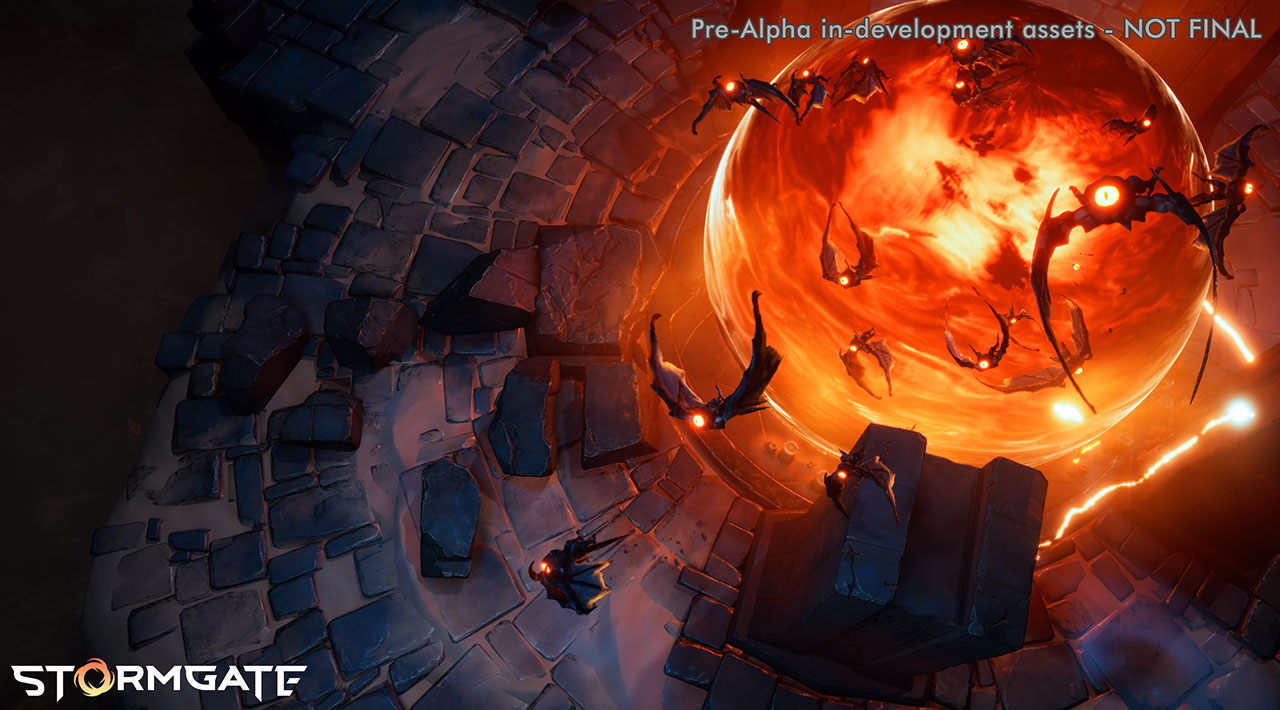 Kevin: We wanted to aim for a team mode that has greater opportunities for socialization. We want players to bring their friends and play Stormgate with them. RTSs can be complicated; you have to keep track of yourself, and also your friend's army, and your enemy's army. We found the sweet spot for 3v3 based on this balance for PvP.
What Is The Game's Matchmaking Approach?
Tim Morten: We're still working on that. StarCraft 2 is inspired by ELO matchmaking, but I'd be interested to hearing feedback on the StarCraft 2 system and what could be changed for a future game mechanic like ours.
What Are Your Plans For Accessibility? How Complicated Would It Be To Implement This?
Ryan: It's going to be complicated. We really want to capture that core audience who love this game, which constraints us in approaching accessibility. Our solution is using quick macro panels for building and laying down units for beginners. Over time and practice, they'll use it less and less.
On-boarding people with friends is a good way; there will be special maps and the 3v3 modes to get together and get newbies together into the RTS mentality.
Will Stormgate Be Out On Consoles As Well?
Tim Morten: Right now, we're just PC-focused for Stormgate. The game will be out internationally for global and Korea; we may need to find a partner if we plan on distributing Stormgate in China.
Stormgate will be out in beta on 2023 for PC. Check out the sweet cinematic trailer below featuring humans and demons starting a fight.
Related